In a project the owner can only call "the most ridiculous, obscene, and incredibly complicated thing I've ever built," a set of 46" Mickey Thompson knobblies is being mated to the 160hp heart of a KTM 1190 Adventure for the world's most insane "Monster Chopper." 
If you don't know whether to laugh or cry, you're right up there with the rest of us – and in this most recent episode, the incomparable Ethan (Grind Hard Plumbing Company, see below) and his team of mates are going to be working on the rear tire / swingarm situ of this Frankenbuild.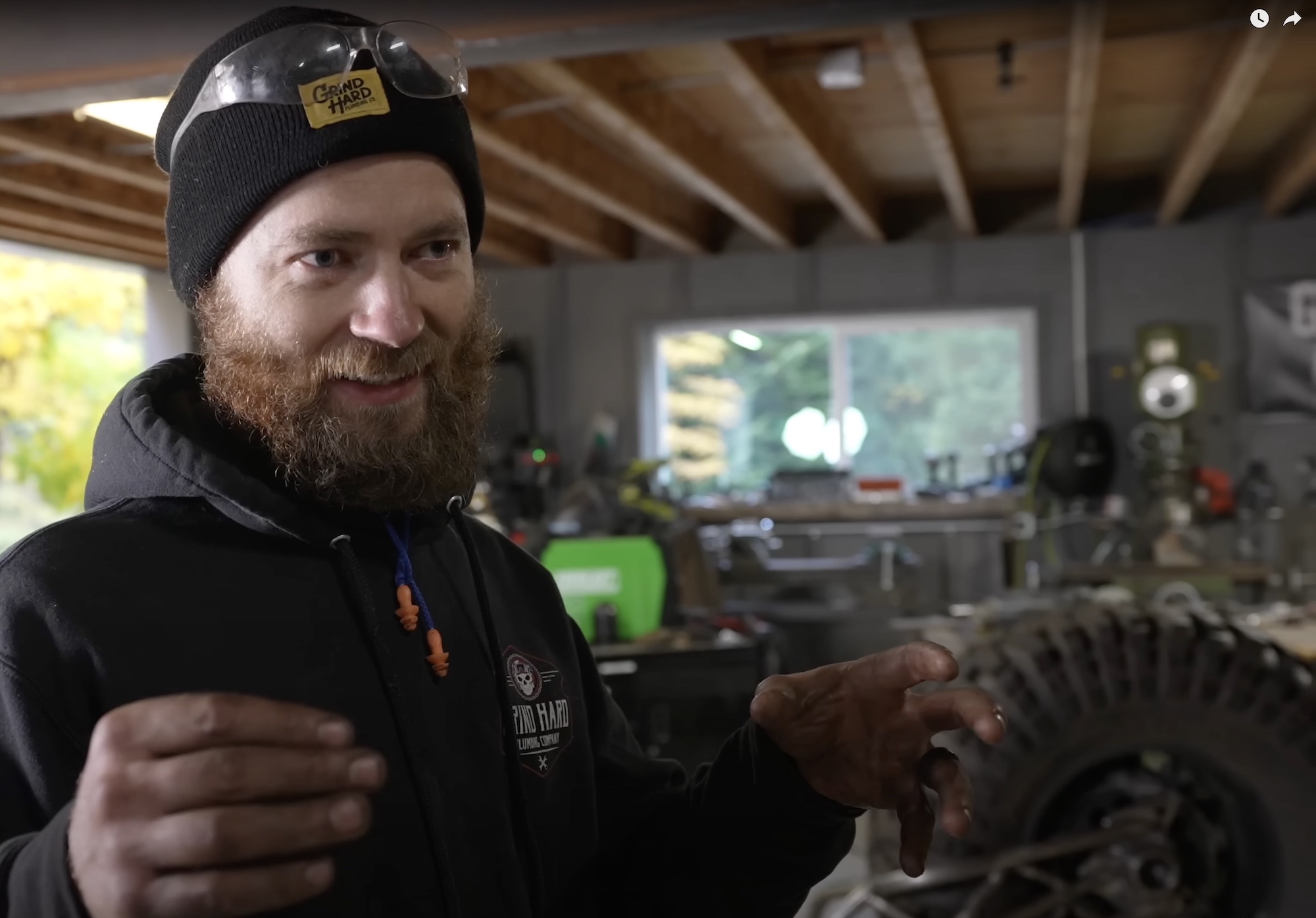 Did we mention this episode's got the guys fitting a 46″ car tire to a bespoke single-sided swingarm?
Yup, definitely one for the grungealicious books… at least, until we figure out how the guy's going to work out the load-bearing capacities of the motorcycle chassis.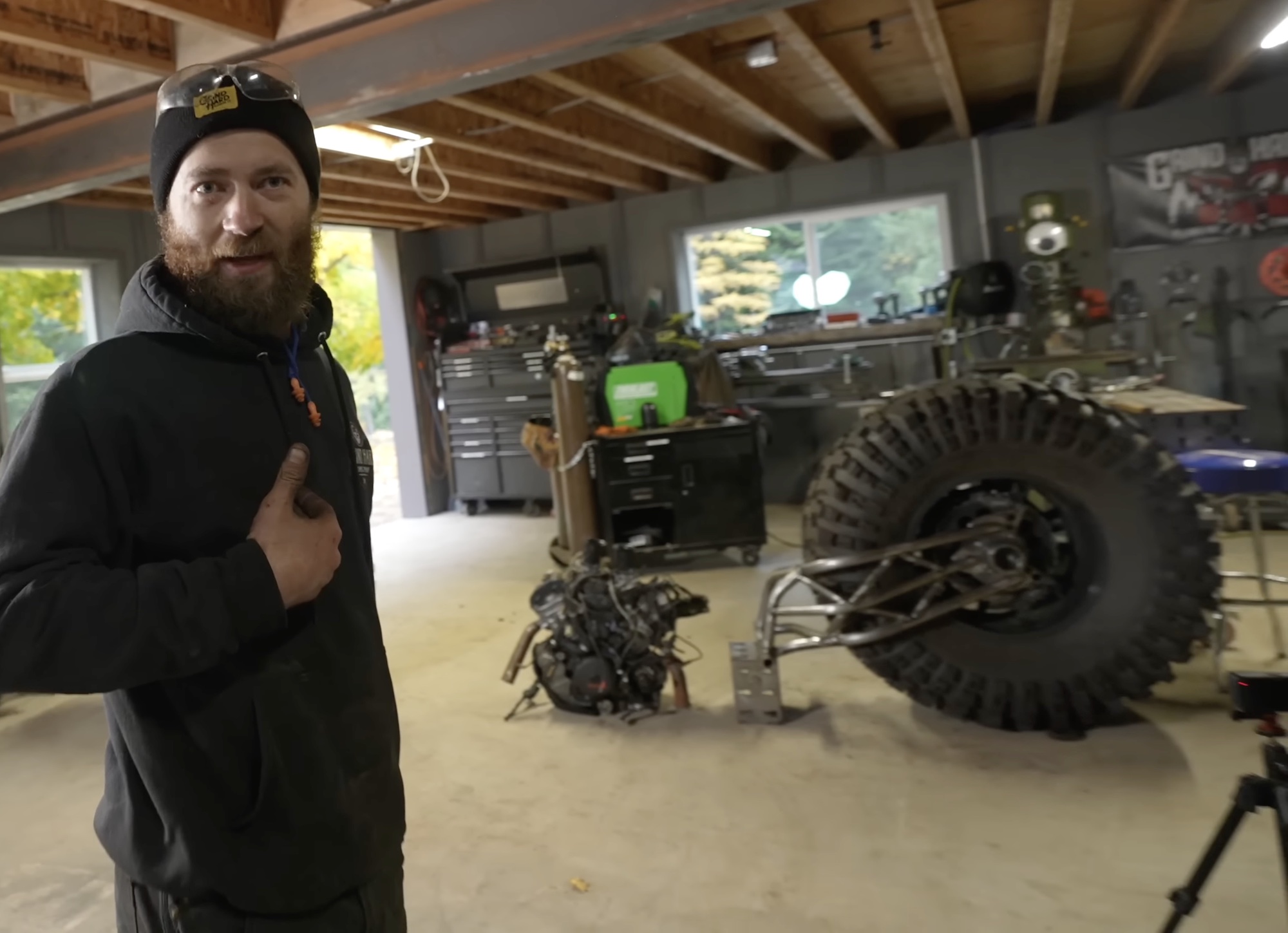 If we're right on the type of Mickey Thompson tires chosen, each Baja Claw® 46″ wheel should weigh in at around ~137lbs, putting the overall rolling duty at a rough, "sit-on-me-and-hope-I-breathe" 274lbs, or nineteen and a half stone. 
In order to ensure the tires synchronize nicely with other bits and bobs, Ethan has chosen hubs yanked from a Toyota Tacoma; add the fact that Ethan wants a traditional drive chain, and suddenly a jack shaft is needed to get around all of that 46" goodness.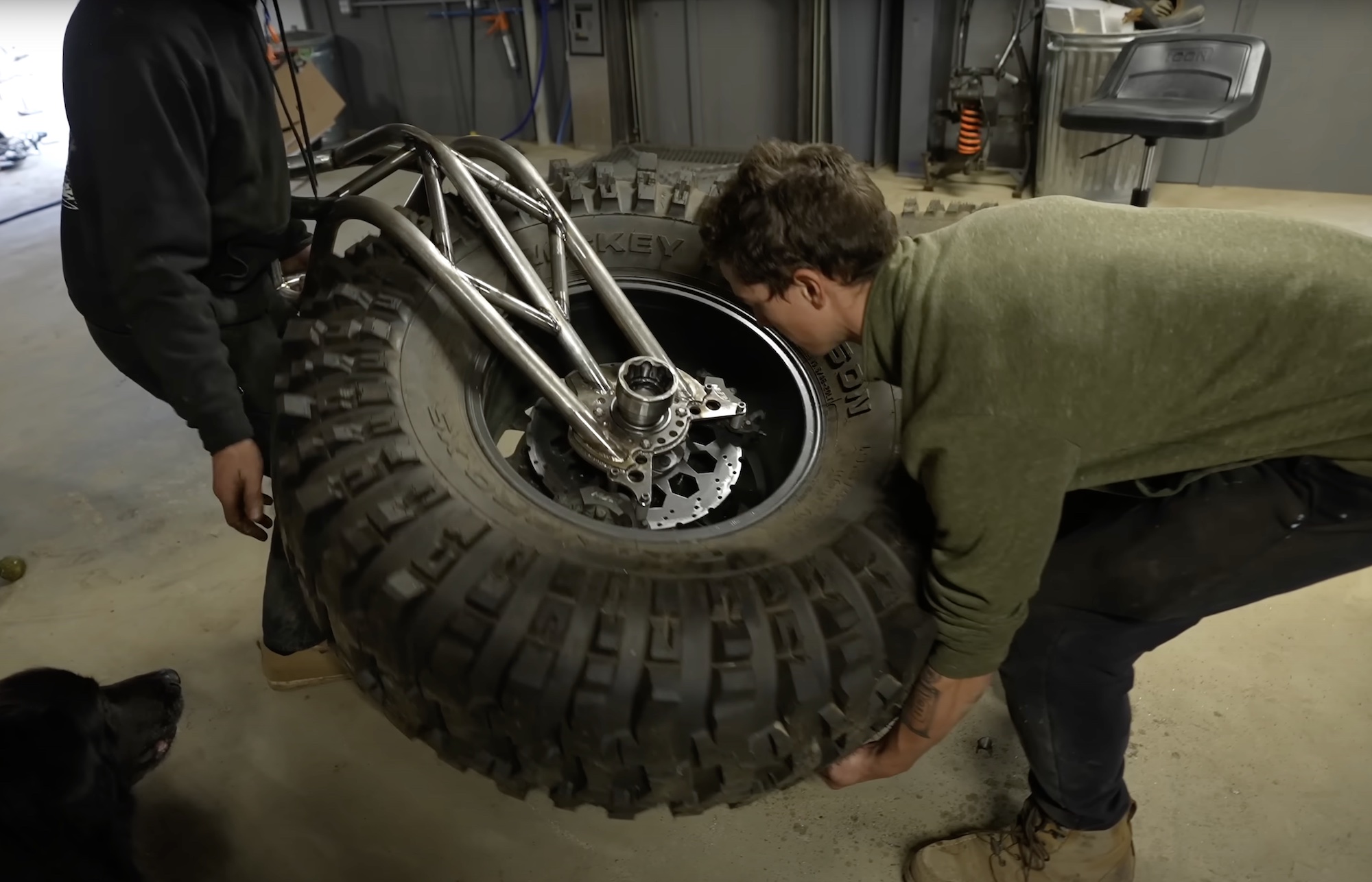 I need a gear reduction so I'm going to go down and go for something like 25% so that we still have a top speed of 60-70mph… which will probably be terrifying on this… that way we will have plenty of torque for the wheels [and] the added weight. This thing's gonna be a CHONGUS."

– Ethan, Grind Hard Plumbing Company (Youtube)
On to the swingarm design. 
Ethan's scribbled out a triangular form that will bend out with the bulge of the tire's rubber, canting back in for a mounting point closer to the engine. The materials for the swingarm have been gleaned from a steel roll cage that was part of a Redneck Go-Cart project the Grind Hard Plumbing Co. team tries not to talk about, but hey – the seamless drawn over mandrel (DOM) steel round tubing is still good, yeah?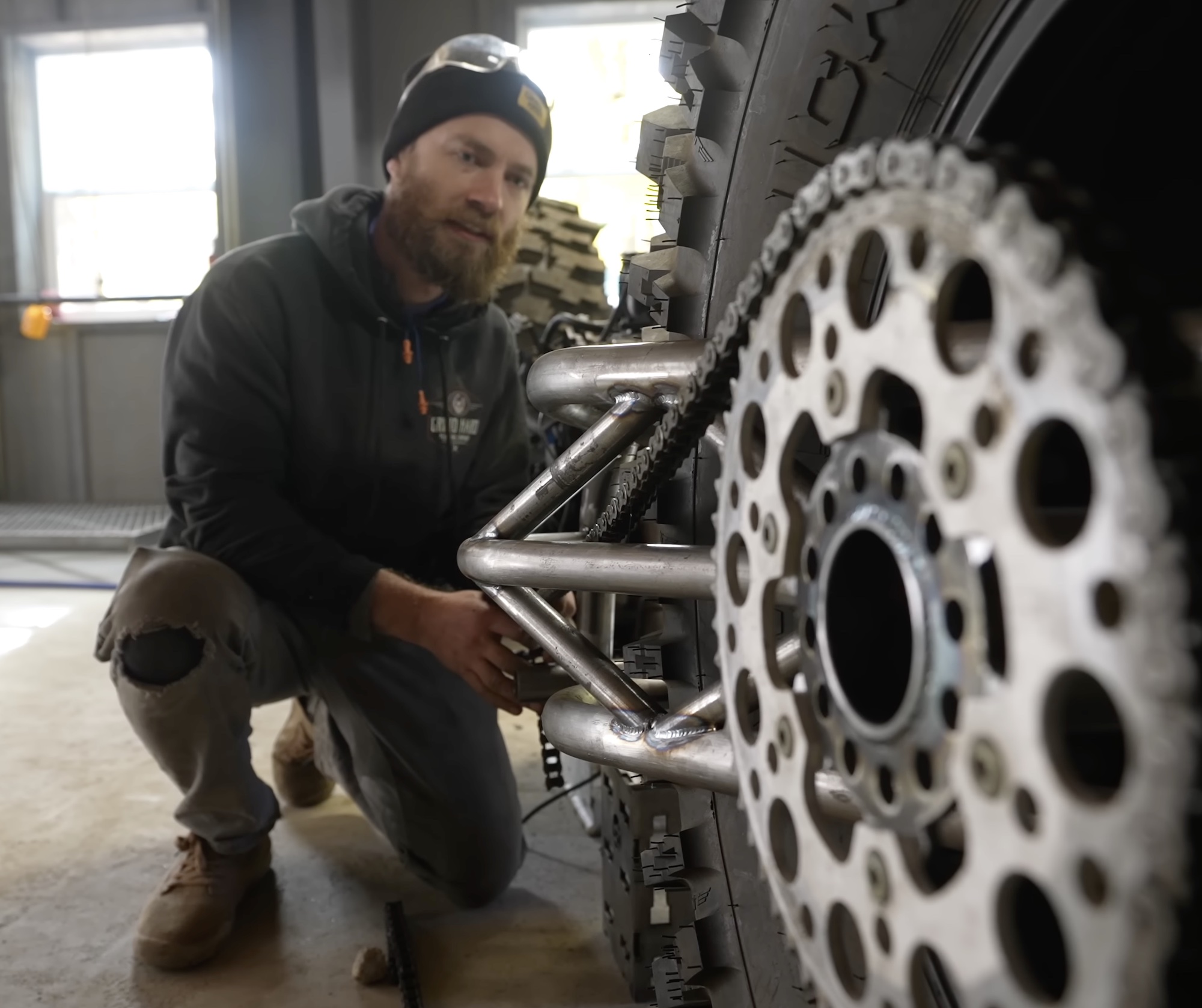 A little while later, and a massive brake rotor has been harvested from some metal sheeting; Ethan's decided to have the brake rotor between the hub and the wheel of the machine, same as that of a car – a clever choice, given the absolute chonkers lended to this project's rubber rolling duties. 
By the way, any guesses as to where Ethan got his calipers? (Hint: That CBR900's probably feeling pretty naked right about now….)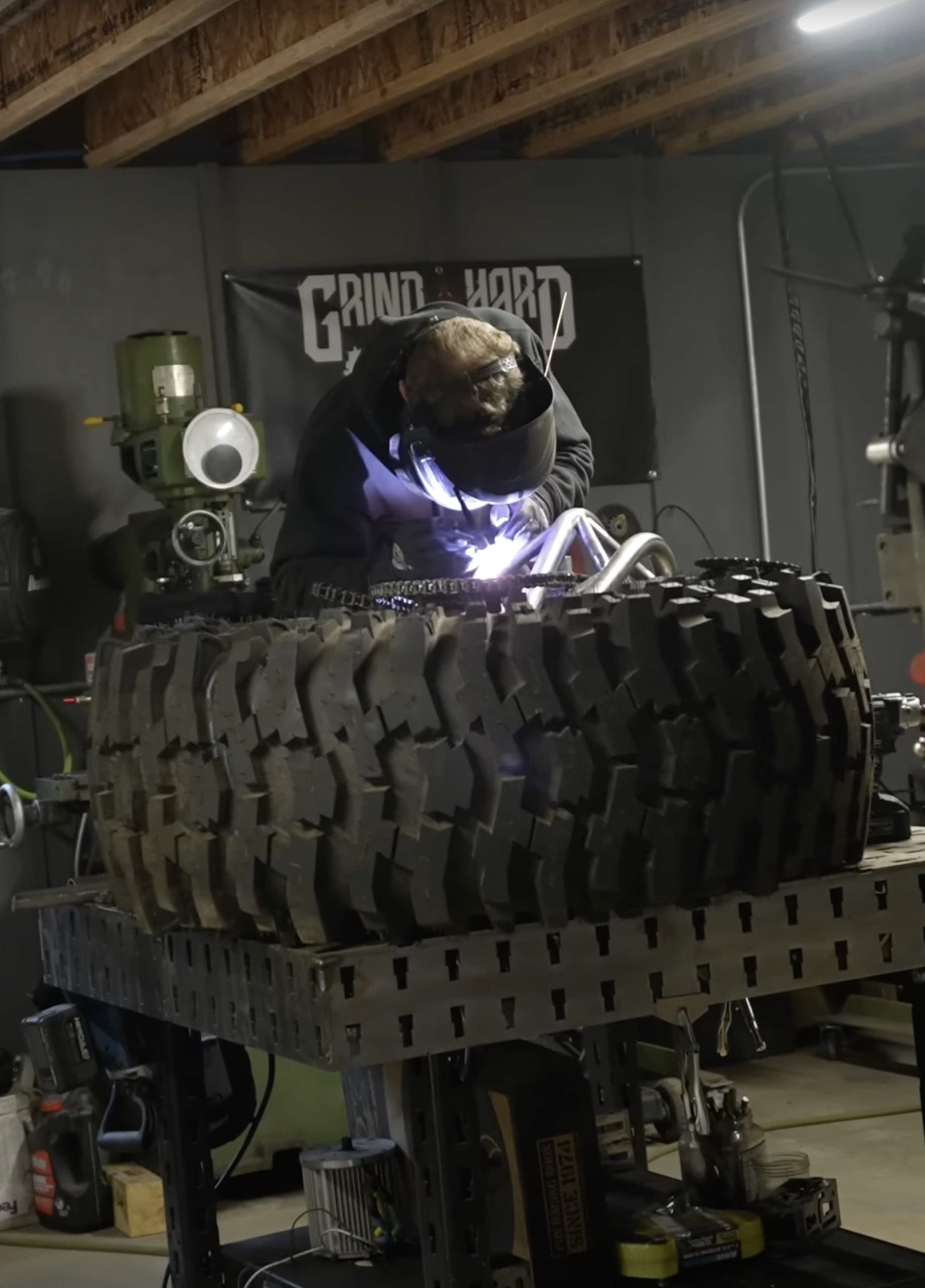 What follows is the hub assembly – a good chunk of this video, considering the sheer amount of fancy CNC-ing that went into seamless fitment of the whole assemblage. Two Nissin front brake units latched on to the tire's one side, a few choice decisions in the metalworking department, and the rear wheel's hub assembly is officially coined as "the single fanciest piece of thing I have ever made… and it's just the hub!"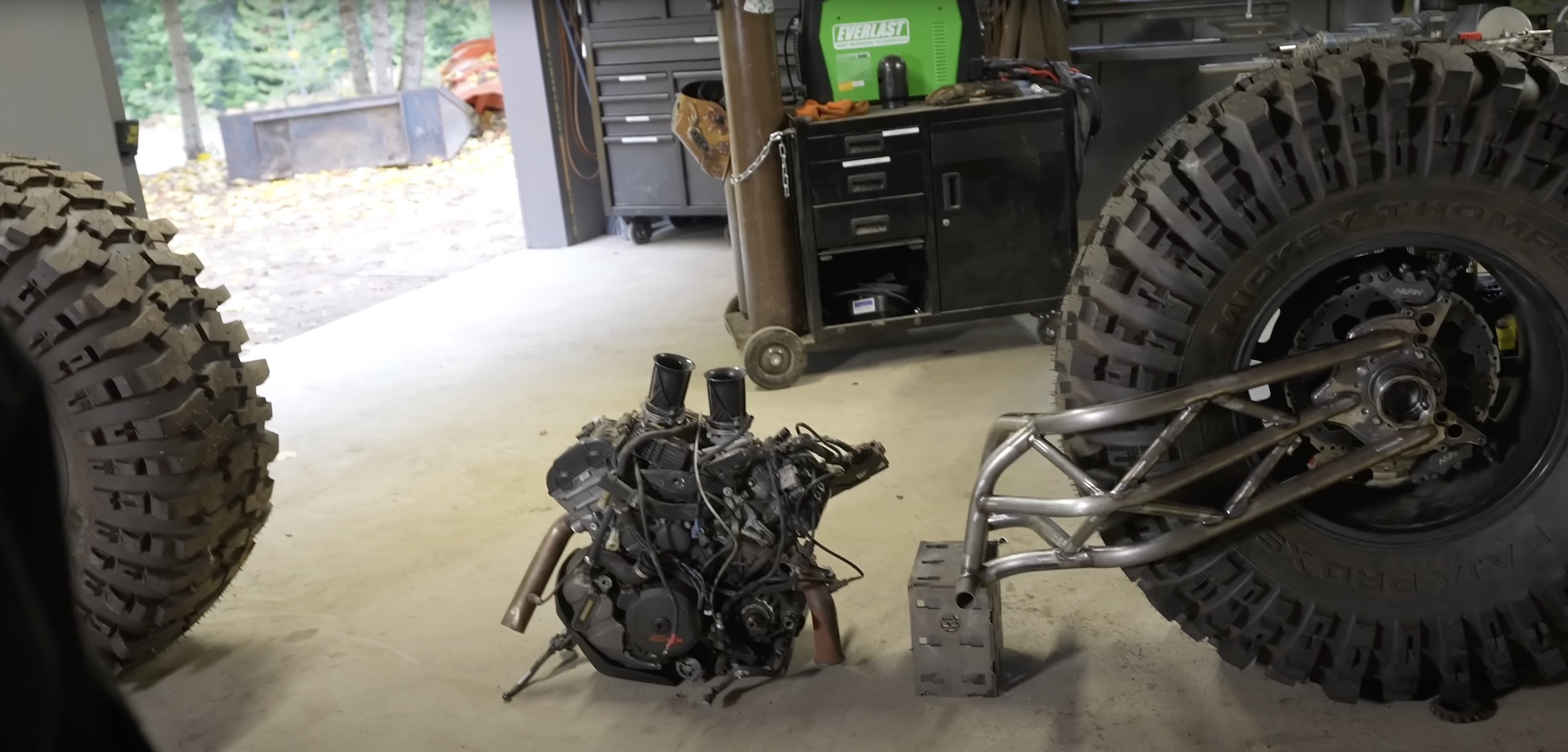 We're curious to see how Ethan and his team get on for the next episode; what do you think of the Grind Hard Plumbing Company's "Monster Chopper" build?