A Monash University academic and an Auditor General's report have backed covert speed cameras as being more effective at reducing general speeding than high-visiblity cameras.
Monash University Accident Research Centre professor Max Cameron says high-visibility speed cameras are only good for reducing speed at a black spot.
Mobile speed cameras were originally introduced to reduce speed at black spots. NSW still has very prominently signed fixed and mobile speed cameras, Western Australia is now trialling more visible speed cameras and England is going all-out to make the cameras much more visible.
However, Queensland has recently removed the signs warning of mobile speed cameras and a new report by Queensland's auditor-general has found they are not always deployed at the right time, in the right location, or in the "right mode" (not covert enough).
The report says only performed 16.3 per cent of mobile deployment hours is done covertly because police want to avoid perceptions of revenue raising.
It recommends that a high percentage of covert deployment would prompt a general deterrence to speeding.
Professor Cameron agrees: "… if you're trying to affect speeding all the time then the best idea is to make sure the cameras aren't predictable or apparent and to operate them covertly," the professor says. "The idea of being conspicuous is really in the wrong direction."
However, RACQ safety officer Steve Spalding says they would prefer to see more police on patrol.
"Our members say they want more visible policing and patrols. That's what motorists tell us," he says.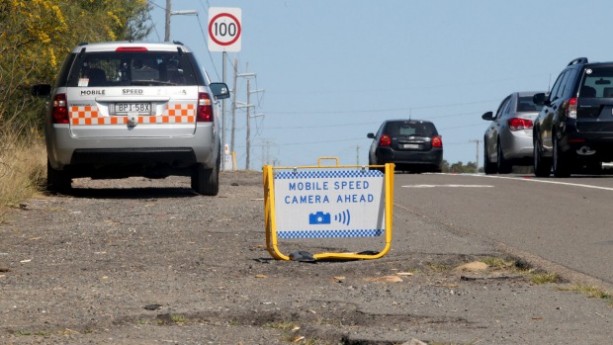 In England, they are going in the opposite direction, introducing bright yellow speed cameras not to catch large numbers of motorists and collect more fines but to get drivers to slow down and reduce accidents in blackspot areas.
The high-visibility speed cameras in Britain have a host of guidelines to make them visible:
they are housed in yellow cases;

they can't be obscured by bridges, signs, trees or bushes;

they

must be visible from 60m in 40mph (65km/h) or less areas and 100m for all other speed limits;

warnings and speed limit reminders are within 1km of fixed and mobile camera sights;

mobile speed camera users wear fluorescent clothing and vehicles have reflective strips; and

camera sites are reviewed at least every six months.
Widely available statistics show when and where accidents occur, so it should be a simple matter of referring to them to correctly locate speeding cameras.
However, it seems that in many cases mobile speed cameras are obscured or placed in places where they collect the most revenue such as the bottom of hills, rather than reducing speed in an accident-prone area.
Copping a speeding fine in the mail two weeks after an offence because the camera was obscured does nothing to reduce speed in a dangerous zone; it simply raises revenue.