Winter Motorcycle Gloves Review Summary
Winter Motorcycle Gloves Image Gallery
A warm and waterproof winter riding glove with styling and protection of a sport riding glove.
I don't like not riding my motorcycle.
Although there are occasionally some good reasons not to ride.
Perhaps I need to carry some equipment to or from work that day. Or maybe groceries are needed at home in more quantities than I can fit in my top case.
Cold and/or rain however, are not what I consider "good" reasons not to ride.
Now there's a lot of cold weather gear available for motorcyclists these days and while I felt I had most everything I needed, my winter gloves (which were not really "winter" gloves anyway) weren't doing the job.
They were waterproof but they didn't really insulate well and even with heated grips, the tops of my fingers were still rather cool during highway riding. Plus, they didn't have much in the way of protection other than some foam padding.
Are there any winter-weight gloves with reasonable protective features? Looking through some of the webBikeWorld reivews, it looked like there were a couple of gloves that met my criteria.
So I decided to make a run to my local dealer to see what they had on hand. It didn't take long to find a pair that met all the items that I had on my mental checklist. Waterproof? Check. Warm? Yep. Good protective features? Indeed. In stock in my size? Ummm, yes and no.
Did I make it home with a new pair of gloves? Yes — and here's my story.

The Cortech Scarab Gloves: Construction
The Cortech Scarab gloves are made from a veritable cornucopia of materials, both natural and synthetic. This includes cowhide leather; a HiPora breathable and waterproof membrane; goat skin leather; titanium and carbon (protectors); 3M Thinsulate; and Schoeller Dry Skin Keprotech.
That's quite a wide range of materials for a pair of gloves, so where does it all go?
The cowhide leather is found mostly on the back (or top) of the gloves and the goatskin is found on the palm and it also appears to cover all the way up the underside of the fingers.
The leather is backed with the HiPora membrane, which is a microporous material which creates a waterproof barrier that breathes. In addition, Schoeller Dry Skin Keprotech protection covers the palm area and it can be felt from the inside of the gloves if you feel around carefully.
The Cortech Scarab gloves are also insulated with 100 grams of 3M Thinsulate and the lining materials is a brushed fleece that is very soft and comfortable against the skin.
All of these materials are sewn together using a sliver-colored thread (possibly Kevlar; I've not heard back from Cortech on this) on most of the exterior, with the exception of few places around the fingers and down the sides of the gloves.
Double stitching is used in great abundance on these gloves (maybe 75% of all visible stitching is my guess) and is mostly uniform, though it could be a bit tidier.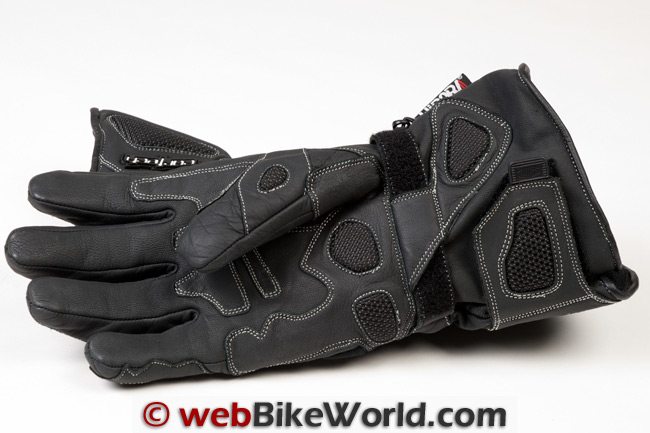 Gauntlets and Straps
The gauntlet fitted to the Cortech Scarab gloves is of a good size and should fit over most jacket cuffs. It's held in place with on large patch of hook and loop fastener.
The flap itself has a small rubber pull tab for easy grasping of the flap when wearing gloves, a small detail but an important one. A similar tab is used on the wrist closure strap.
The wrist closure strap also demonstrates a well thought design as it closes across the top and inside of the wrist instead of directly on top or on the bottom. This positioning makes it less likely to get snagged and pulled apart in the event of a slide.
Knuckle Protectors
Speaking of sliding, the Scarab gloves offer excellent protective features for an insulated winter glove starting with what they call a titanium/carbon knuckle protector.
It does feel like a normal molded carbon fiber protector, so I am guessing the titanium portion is in the fabric covering the top. This same combination of carbon/titanium is also present on the back of the wrist near the wrist strap and on two large panels on the gauntlet.
The woven mesh material on those protectors also covers several other areas on the gloves that are protected with padding (instead of hard armor) including the finger joints, the heel of the palm, and portions of the gauntlet. In addition to, and sometimes in conjunction with these armored areas are extra panels of leather in potential impact areas.
This includes sectional pieces on the back of the fingers (except the little finger) that allow for extra protection and ease of movement at the same time. On the back of the glove one will also find a section of leather and padding underneath and behind the knuckle protector.
The Cortech and Tourmaster clothing lines are brands are owned and produced for Helmet House, a U.S. distributor of motorcycle gear. The Cortech brand "offers all of the performance features and sophisticated innovations and fabric technologies of our Tour Master gear, but is styled for the performance and sport bike segment", according to the company.
The Cortech Scarab gloves are a rather stylish and sporty glove as far as winter gloves go, however any "flashiness" is held in check by their single color choice: black.
Black does make sense in a cold weather glove I suppose as it will get warmer when there is sun available. Color choices would be nice though, especially since there is no reflective material on these gloves that I can find. Yellow or other bright colors would be welcome since visibility will most likely be reduced in the conditions these gloves are made for.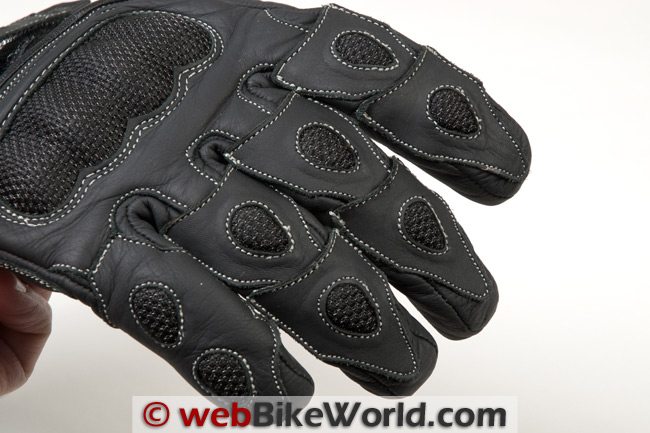 Fit and Comfort
All the specifications and looks in the world are meaningless if the gloves aren't comfortable. So now that we know what they're made of, how do they wear?
The pair shown here fit me just fine — in size small. But there is something you should know: I am not left handed… and oh yeah — I am a size medium in most gloves.
When I arrived at the store to find a new pair of winter gloves I asked the store manager if they had the Scarab gloves in a size medium. Unfortunately they didn't, but they did have most every other size so I thought that maybe, just maybe these gloves would be like most other Tourmaster/Cortech products I've owned in the past, which have a generous fit.
Sure enough, the size small Scarab gloves slipped on without much trouble, though they did feel a bit snug at first. After a few rides though, the gloves have loosened up a little bit and went from feeling snug to comfortably conforming.
I would consider these gloves nearly, if not completely, a full size larger than marked when compared to most major brands — and I've tried on a lot of different brands of gloves.
Once the gloves are on they feel rather comfortable thanks to the fleece lining inside that runs from the gauntlet to the fingertips. The fleece layer seems pretty thin but it doesn't take much material to make a glove feel bulky. Trying to characterize the bulk of the Scarab gloves isn't easy, but I've tried on other winter gloves — heated and unheated — that had more bulk.
I would say the Scarab gloves are not as bulky some, but more so than others. That being said, one will lose a bit of feeling at the controls but this is to be expected in a winter glove.
The good thing is that once I became used to the way they feel, which didn't take long, I found that my fingers have good freedom of movement and dexterity. For example, I don't have much trouble operating my helmet-mounted Bluetooth headset wearing the Scarab gloves.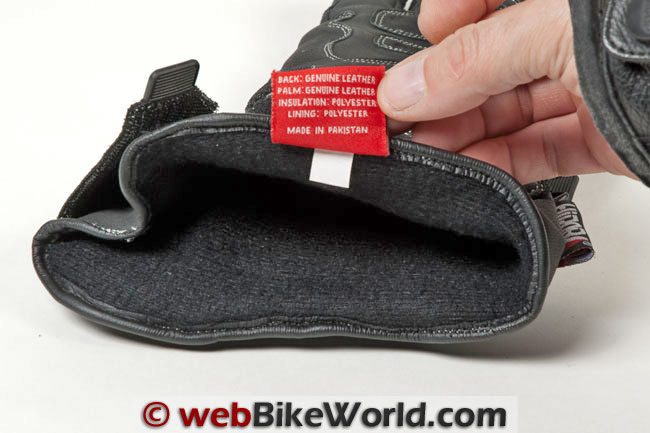 Warmth and Water-Proofing
The Cortech Scarab glove keep my hands warm, period. OK, so perhaps more details are in order.
I have heated grips on my motorcycle and I love them. They allow me to wear my favorite Joe Rocket Highside gloves (review) to work on cool mornings and then ride home in the same gloves in the warmth of the afternoon.
For winter use last year I wore a pair of waterproof Shift Torrent gloves (review) while using the heated grips and this worked reasonably well; however, when the temperatures drop into the 30's, the Torrent gloves start losing heat faster than the heated grips (and my hands) can replace it.
Recently, armed with my new Cortech Scarab gloves, I rode to work on a brisk 37-degree morning to see how well they gloves would do.
I decided I would leave the heated grips off to start with and see at what point I would need to turn on the heat. I left my neighborhood and proceeded down the main road to where I would eventually get on the interstate. This takes about 20 minutes, during which I rode at speeds between 45 and 60mph and during that entire time my hands remained warm.
As I approached the on-ramp to the interstate, I was certain I would soon start feeling the cold seeping through as my speed picked up. But to my surprise, after several miles at 70mph (or more), my hands still felt fine.
I didn't feel the need to switch on the grips at all during my commute and I must say I was surprised. Now if one were going to be on the highway for an extended period of time, eventually the heated grips would probably be needed. By the same token, I feel that I could make my trip to work in even lower temperatures if I wanted to by using the heaters and gloves together.
I feel that for their weight, the Scarab gloves do a very good job of keeping out the cold down to the high 30 degree or so temperatures, however I should state that my hands don't get cold as easily as most people I know, so your mileage may vary.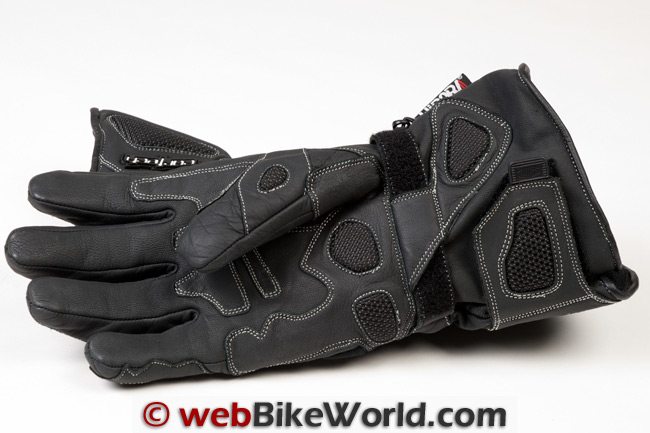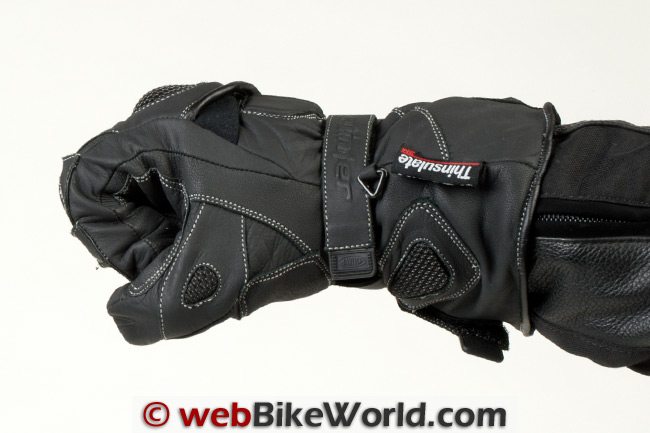 More Thoughts on the Cold and the Wet
One thing to keep in mind is that while your tolerance for low temperatures will be a factor in how cold it can get while you're still comfortable wearing the Scarab gloves, there's another consideration as the temperatures rise. When the temps get over about 65 degrees or so, the gloves will definitely become uncomfortable fast.
The Scarab gloves are certainly cold-weather specific and they provide no ventilation when the weather starts warming up.
So they're warm, but what about waterproof? Having only taken these Cortech gloves on a couple of rainy day rides by the time I began this review I didn't feel that I had enough data to say for sure.
They did perform well but my rides were brief and the rain wasn't exactly a downpour. That meant only one thing to do: the webBikeWorld bucket test.
The bucket test is rather straightforward — I put on the gloves, place my gloved hands in a bucket of water and watch the clock. After a couple of minutes I could tell the gloves were getting heavier as they started soaking up the water but my hands still felt dry.
Occasionally I would stretch and flex my fingers just as one would when riding to make sure this movement didn't induce any leaks. After a full five minutes I removed the gloves from the bucket and then my hands from the gloves and found my hands were completely dry.
Since the leather portions of the glove had absorbed some water I began squeezing out the fingers to remove some of the water from the material to facilitate quicker drying. After that, I put my hand in the gloves again thinking that perhaps after all that squeezing I surely forced some water into the interior areas.
My theory though was unfounded as I found the inside of the glove was still dry as it was before I first put them in the bucket. Good show Cortech!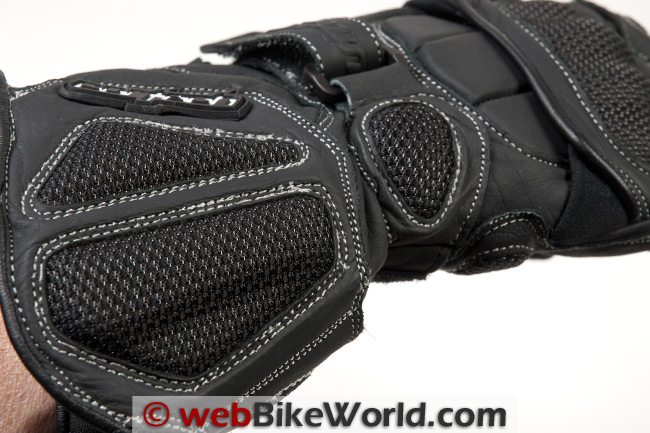 Conclusion
I would give Cortech a "good job" for their choice of materials used in the Scarab Gloves and also for the protective features that have been incorporated into these winter-weight gloves. I think if the stitching was a little neater I would rate them the construction quality as excellent.
As far as fit goes, I'm a bit torn on how to rate these gloves. On the one hand they do fit well as far as the way they are cut and shaped, but on the other hand (both hands really) these definitely are not close to what most would consider a size small. The important thing I suppose is that once you do find the size that fits you, the Scarab gloves are very comfortable and a good compromise between insulating ability and control feel.
When it comes to the weatherproofing abilities of the Cortech Scarab gloves there is no ambiguity. These gloves provide very good protection from the cold, surpassing my expectations for a non-heated winter glove of this weight. Equally impressive is the ability of the gloves to hold back the waters of the bucket test.
With everything that these gloves have going for them, they would be a good deal at $99.00 or even $119.00. The fact that they have a list price of $84.99 and regularly sell for around $75.00 makes them an excellent buy.
If you are looking for a good pair of winter-specific motorcycle riding gloves, then the Cortech Scarab Winter gloves are a solid choice when considering performance versus price. Just be sure to check the sizing in person before making a purchase.
w

BW

 Review: Cortech Scarab Gloves
List Price (2010): $84.99
Made In: Pakistan
Colors: Black
Sizes: XS to 4XL
Review Date: December 2010
Note:
 For informational use only. All material and photographs are Copyright © webWorld International, LLC since 2000. All rights reserved. See the webBikeWorld® 
Site Info page
. Product specifications, features and details may change or differ from our descriptions. Always check before purchasing. Read the
Terms and Conditions
!
Owner 

Comments and Feedback
---
From "J.T." (02/11):  "I bought a pair of these gloves based on this review, and I regretted it enough to take them back. I did not have anything but the gloves to protect me in 40F weather, and based on the review, they seemed like they would be enough.
After about 20 minutes, I learned very quickly that the saving factor for this review was the reviewer's heated grips. My hands quickly numbed and the muscles in my hands cramped and locked, making shifting extremely painful when I ducked off of the highway to take shelter from the cold. The rest of my body was covered in warm weather gear and took the ride well, but the coldness in my hands made riding further unbearable. I stopped and bought liners to wear inside the gloves, but they didn't help at all.
These gloves are probably great if you have heated grips, and they really feel like they would protect you well if you went down, but on their own in the cold…not very helpful. I changed to Joe Rocket Nitrogen 2.0 gloves and they have been considerably warmer."
---
From "J.A." (01/11):  "I used the Cortech "Scarab" Gloves for commuting last year for about 30 miles at highway speed on a Buell Blast (no wind protection) and they worked down to about 40 degrees. Below that I needed to install hand guards then the gloves worked down to around 30 degrees. A squeegee would be nice to have but when it is cold enough for winter gloves, I will not ride in the rain."
---
From "G.U." (12/10):  "I own a pair of these gloves and they are great except for one thing……no visor squeegee.  This is unacceptable for rain riding."
---
From "T.M." (12/10):  "I bought a pair of these in Oct, I wear a medium in most gloves and found that these were sized right. The fingers are a bit long but this slack disappears once I wrap my hand around the grips. They kept my hands fairly warm down into the low 30s (ambient temp) but after about an hour @ 70mph, my pinkies started to get very chilly. The armor and construction seems rock solid. A great glove for the price."
---
From "H.F." (12/10):  "  I love all your reviews and the wealth of real world information you provide. I "owned" a pair of Cortech Scarab gloves and I stress "owned".
I'm extremely picky and critical of gear . . . after all, worst case it is all that is between me and the pavement propelled by momentum. I initially liked the look and feel of the glove as it seemed "substantial" in terms of protection and achieved a decent balance between cost and quality.
However, after about a season of wear the sewn on on finger armor began to become unstitched and first one, then two pieces sort of just hung there; half-on and half-off. I'm guessing that over time the articulation of the glove began to weaken the stitching and at some point something has to give.
If you look closely it become obvious that this glove has a what lot more stitching than the average glove on the market because of the way the finger plates are held in place. More seams and pieces simply provide more areas for failure and demise as was the case with my Scarabs."
---
From "T.D." (12/10):  "I have been riding for 12 years and have owned my fair share of gloves. When I first tried on Cortech's Scarab RR glove I knew that I had to have a pair. The fit, feel and finish were exceptional and I was not disappointed after wearing them for quite some time.
When it came time to start looking for new winter gloves I chose the Cortech Winter Scarab and have not been disappointed with the cold weather version of my beloved Scarab RRs. They are not so bulky that I can't operate the controls properly and I can still feel the warmth from my heated grips on my palms and fingers.
I do have a tendency towards cold hands and these gloves offer a good balance of insulation and protection without major bulk. I am not sure about the reviewers sizing issues as my Cortech Winter Scarabs were labeled as a Size Large/10, I definitely could not fit into a size Medium. I wear a size 9 in my Held Steve Gloves for comparison.
Thanks for the reviews, webBikeWorld is an awesome resource!"