Have you ever wondered what level of training motorcycle police undertake, what bikes they use and what equipment they have, including radar and cameras?
Motorcycles are considered an important asset to police, manoeuvring in traffic congestion, public event management, dignitary escorts, ceremonial duties, and speed and traffic offence patrols.
They have also been particularly useful for patrolling for mobile phone offences as the rider can see drivers holding a phone in their lap. (And wouldn't we like to see more motorcycle police patrols for illegal mobile phone use!)
We put several questions about motorcycle police training, equipment and duties to the various state police and received answers from all but the Northern Territory.
While most were quite forthcoming about how our taxpayer dollars are spent, the WA police were secretive.
"Unfortunately we don't provide the detail of all of our training, resources, equipment and deployment methodology," a WA spokesman says.
"We can say that WA Police use a number of motorcycles, in particular marked and unmarked on-road motorcycles.
"Our officers receive full training, in order to provide an operational response, including Traffic Enforcement and Patrol duties, Escorts and VIP / Dignitary Protection duties."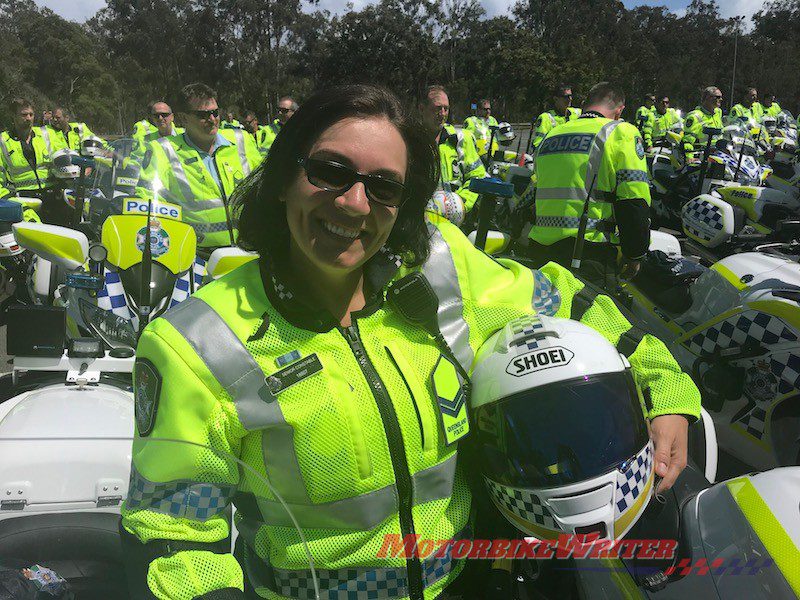 Queensland Police gave us a good summary of motorcycle police duties:
"The job of a police motorcyclist differs significantly from the general perception of the motoring public. The primary function is to provide a high visibility presence on the road network across Queensland, thus positively influencing driver and rider behaviour. Having said that a rider's day may include a wide variety of functions, be they planned or emerging situations. QPS riders are expected to ride in all weather and road conditions."
Interestingly, NSW police refer to their motorcycles as "cycles" and motorcycle police as "cyclists"!
Here are their answers to our questions (excluding NT and WA):
Motorcycle police
What is your training regimen?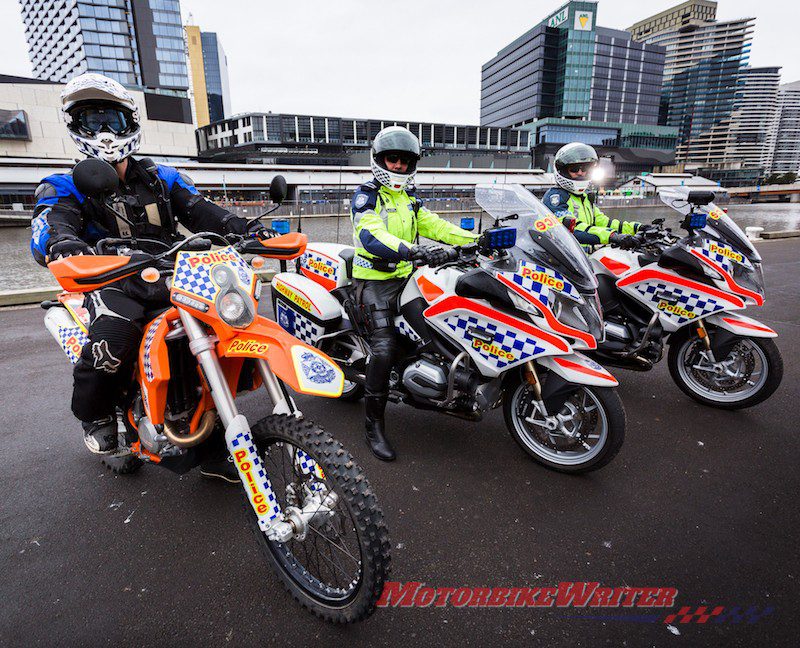 Victoria: The Victoria Police solo riders undergo significant skills enhancement training for both on and off-road motorcycle policing duties.  These skills require annual assessments to maintain the qualification. Solo riders must possess a high standard skill level before they are accepted on the training courses. The training courses enhance the rider's skill level whilst applying it to policing requirements and expectations. And what is of the upmost importance throughout all of our training is equipping our members with the skills to keep them safe on the roads as they do their job.
NSW: New police motorcyclists must pass both a medical and physical assessment before they move on to the initial one-day rider-assessment course to ensure they have the skills required to complete the four-week Solo Cycle Training Course. Students are required to start the training on a Yamaha WR250 Trail Bike. This allows officers to gain the initial skills required relating to all facets of riding police motorcycles and cover the following:
Day One is theory and introduction. They move on to practical riding and servicing of a motorcycle, acceleration and braking techniques, cycle manoeuvring and emergency stopping along with balance, vehicle dynamics and speed hazard perception.

Weeks two, three and four are completed on a Yamaha FJR1300 which is the current cycle used by the New South Wales Force. During these three weeks students are given training on correct posture, cycle manoeuvring, acceleration and braking, hill starts and tight turns. They are also provided with training on formation riding, road craft positioning, scanning for hazards and performing heads checks and importantly urgent duty riding. During these three weeks students are exposed to city and country rides to ensure they are capable of manoeuvring the cycle on all types of road surfaces and in all types of traffic conditions.
Riders who have completed the Solo Cycle Course are not required to complete an annual skills test.
Motorcycle officers attached to the Traffic Support Group are full-time cyclists and perform Security Escorts. These cyclists participate in extra training for escorting dignitaries, other security escorts and protocol work such as funerals and similar events.
Queensland: Riders are required to have had an open motorcycle licence for at least two years and substantial motorcycling experience prior to being able to apply to undertake the police motorcycle course. Riders are also required to pass a basic skills assessment before being accepted on the course. While there is no time limit stipulated, riders are expected to have some years of general policing experience prior to applying.
The motorcycle course duration is three weeks. It covers slow- and high-speed manoeuvring, braking, cornering, counter-steering, crash avoidance, road craft, escort riding and out-riding. Factors such as machine empathy, efficient use of speed and positioning, and fatigue management are critical.
Having completed the motorcycle course all riders are required to undertake a two-day re-qualification at six months. After that they are required to re-qualify every 12 months where all critical skills are tested.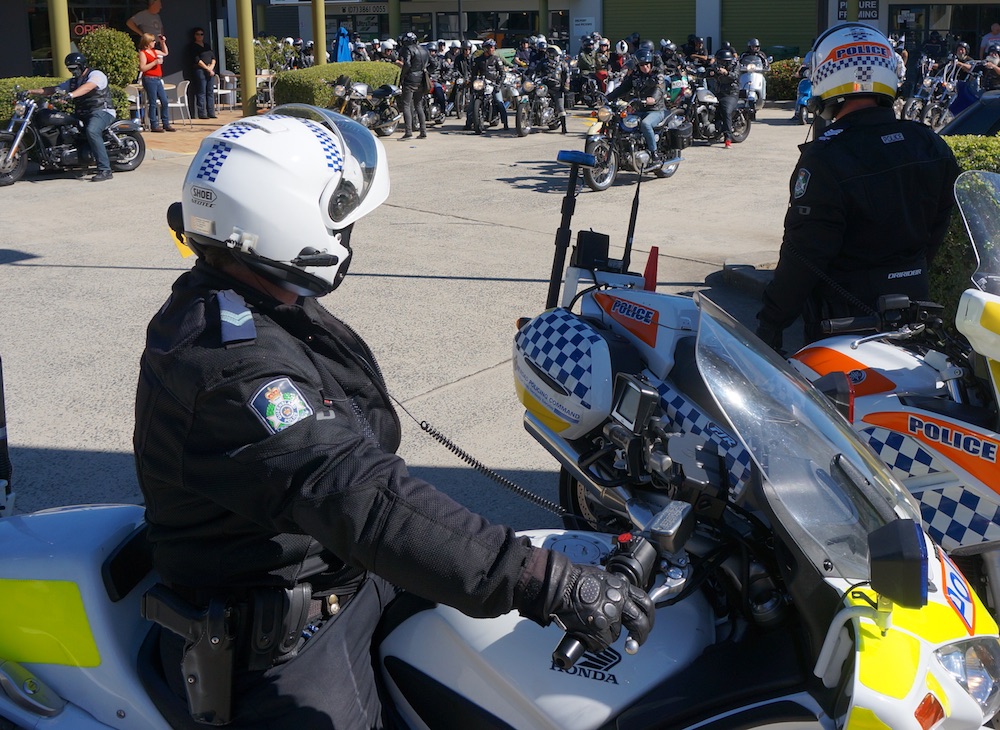 South Australia: Pre entry assessment:
1.         Motorcycle riding evaluation – stands manoeuvring and brake testing.
2.         Road craft/movement through traffic assessments.
3.         High-risk driving assessments.
Candidates then undergo a pre-selection process prior to the following:
1.           Four-week training course.
2.           Ongoing evaluation assessments – stands manoeuvring and brake testing
3.           Fatigue management exercises.
4.           Day and night riding exercises.
5.           Written assignments.
Members returning from other areas or extended leave/absences are required to undergo specific skills assessments prior to returning to the section.
ACT: They are selected after a written application is submitted and a 'sit-on day' to assess their ability to ride a motorcycle and follow instruction as provided by assessors. The successful applicants then undertake a six-week intensive motorcycle course and only those that meet the standards are deemed to have completed the course. There is also an annual skills assessment.
Tasmania: Successful applicants who are invited to undertake the Tasmania Police Motorcycle Rider Course undertake three phases of training:
2-week Police Academy residential course (theoretical and practical sessions);

12-week infield consolidation under the guidance of qualified riders and instructors;

1 week Police Academy skills assessment phase.
Skill sets are monitored by instructors during operational duties.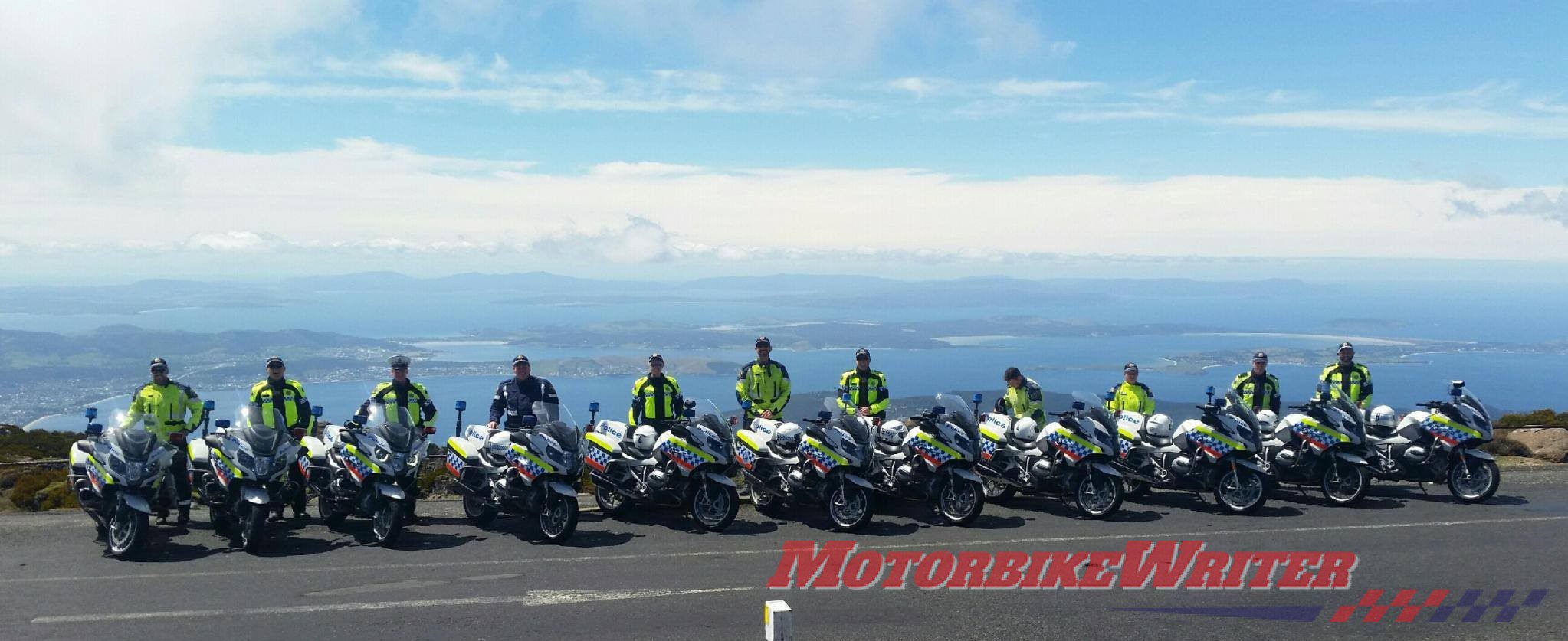 What type of motorcycles do you use?
Victoria: Police Solos use BMW RT1200P, Husqvarna 701 Motards and Husqvarna 501 all-terrain motorcycles.
NSW: Yamaha WR250 Trail bikes for off-road use and a choice of Yamaha FJR1300 and BMW R1200 for on-road use.
Queensland: The on-road fleet consists of Yamaha FJR1300 Police spec and Honda ST1300 Police spec-marked bikes of which we have 108 across the state. We have six unmarked road bikes.  Generally off-road bikes are Suzuki DRZ400.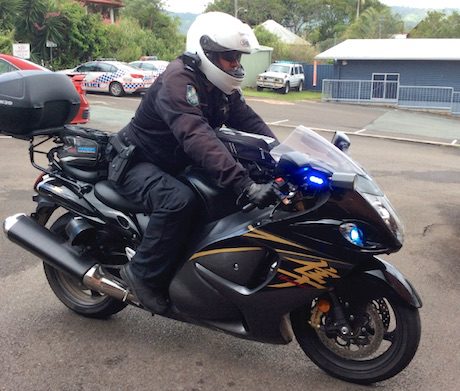 SA: 2017-2018 BMW R1200 RTP, 2017 Suzuki DRZ400.
ACT: Road bikes are FJR1300APs although we are about to change to BMW R1200RT-Ps. Off-road bikes are Yamaha WR450s.
Tasmania: BMW R1200RT motorcycles for general patrol and Kawasaki KLX 250/ Suzuki DSL 250, Kawasaki KLF300 and Honda Foreman 500 motorcycles for off-road policing.
Northern Territory: Even though they didn't reply, they have BMW R 1200 RTPs and various trail bikes.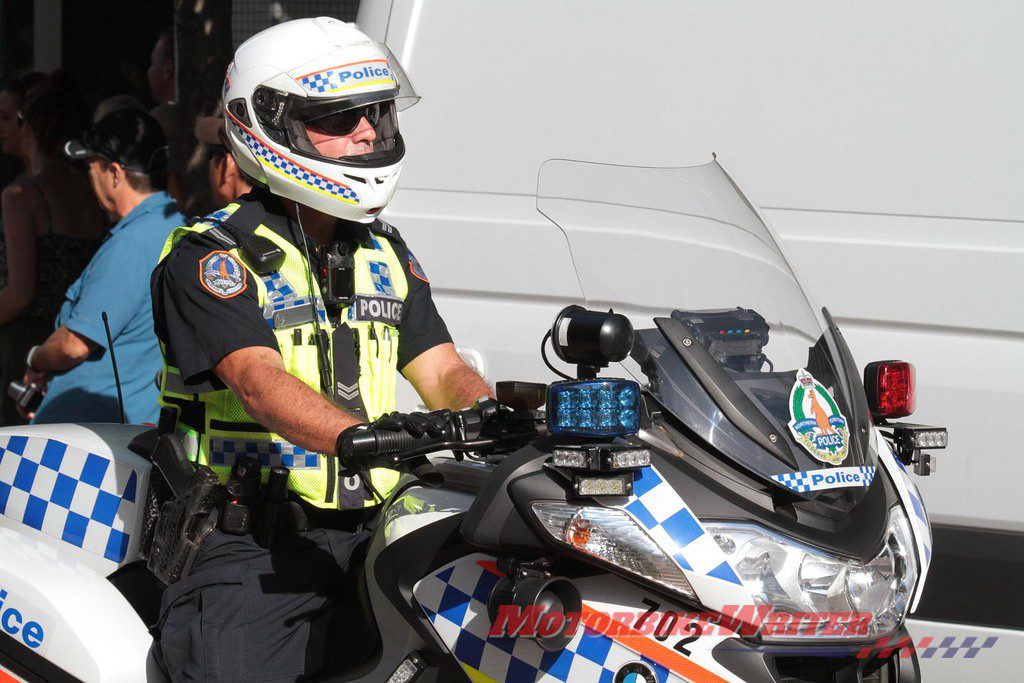 What equipment is added to these bikes?
Victoria: Motorcycles are fitted with standard police radios, lights and sirens and speed detection equipment – standard operational equipment.
NSW: Trail bikes do not have any items or equipment added to them other than New South Wales Force decals. Road bikes used by New Wales Police Force have decals added along with the police pack which includes, red and blue emergency lights, siren, police radio, Lidar holder, crash bars, – issued by the police force includes, Lidar, first-aid kit.
Queensland: The marked police-spec bikes come almost fully equipped. The only additions are Police Radio, Navigation Device, and Lidar Holders. In addition, approximately half the fleet have mobile radar fitted. (Riders are not trained in motorcycle mobile radar unless they have had at least two years crash-free patrol riding). Unmarked bikes are civilian versions with emergency lights and sirens fitted after purchase. Radios are Bluetooth portable versions.
SA: Motorcycles are equipped with CBs, mobile radars and Lidars.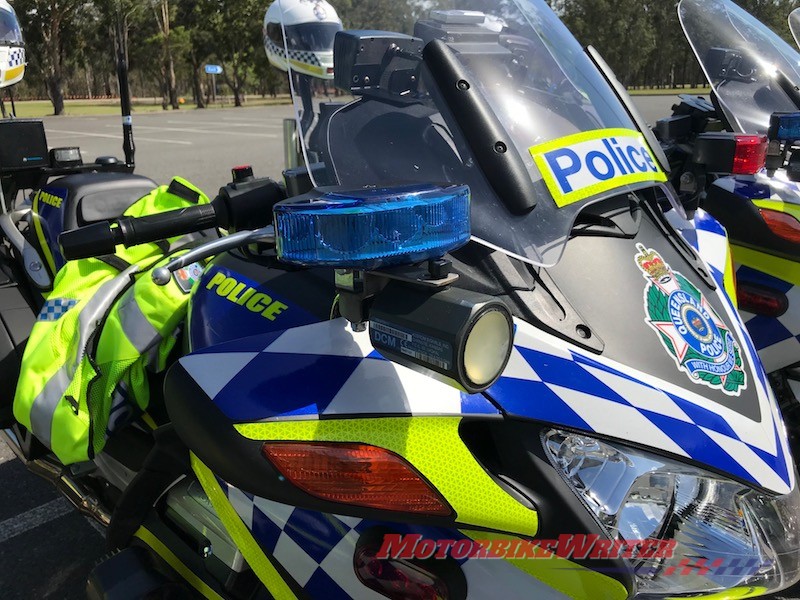 ACT: Radio, a certified speedo, a radar, a Laser is carried, a camera system is fitted to the bikes along with emergency lights and sticker kit.
Tasmania: Our on-road motorcyclists are fitted with BEE Radar.
Do you equip your motorcycle officers with helmet cams, body cams and/or body cams?
Victoria: Helmet or body cams are not being used. 
NSW: Police motorcyclists are equipped with helmet camera.
Queensland: We equip motorcycle police with body worn video capability (usually fitted to the helmet). In addition, some riders have their own cameras fitted to bikes or helmets to maximise collection of evidence capabilities.
SA: Departmental issue Body Worn Videos.
ACT: Not at this stage
Tasmania: Motorcycle police are being allocated access to body worn cameras as part of the current roll-out across Tasmania Police.
Click here to find out if police can break the road rules?
What's your policy on motorcycle police patrolling in pairs for safety?
Victoria: The Victoria Police two-up policy applies to solo riders who work in Mobile Patrol Teams (MPTs).
NSW: New South Wales cyclists are able to patrol as a solo unit or in pairs during the hours of daylight. During the hours of darkness, they patrol in pairs for officer safety.
Queensland: QPS does not have a policy on riders patrolling in pairs. The majority of riders operate alone with other riders and/or cars in a patrol zone not far away. During certain operations where risk is perceived to be higher, riders in consultation with their supervisors, may pair up, however this is an operational call as opposed to a policy position. We continually reiterate the necessity for all police to place their safety first.
SA: There are current SAPOL work policies and practices that were are not prepared to expand on.
ACT: Members generally work in pairs in a set area. While not necessarily patrolling side by side, they are in close proximity to each other.
Tasmania: All members of Tasmania Police are subject to the Tasmania Police Operational Response Policy (including motorcycle riders). Designated Traffic Policing duties such as random breath and drug testing is generally undertaken at a static site, with other police members.