Alleged NSW and Queensland police harassment of a motorcycle club charity ride on Saturday (March 3, 2018) cost thousands in lost revenue for various charities and businesses, says the ride organiser.
Hells Angels MC Brisbane Chapter member Jeff Ehler says he has a long list of police harassment claims.
They include:
Riders were intimidated before the annual Good as Gold Charity Ride in Brisbane;

The ride was followed closely to the NSW border;

Police crossed double white lines to disperse the riders;

At a roadblock over the border, police conducted prolonged bike checks and incorrectly defected vehicles;

Police performed "illegal searches" without warrants; and

Drug and alcohol tests were conducted in dangerously hot conditions without supplying riders with water or a toilet break.
"They even assaulted a veteran," says Jeff.
We contacted police in both states for comment and charge details, but they said they could not provide that information on a Sunday.
Cost to community
Jeff says the ride was cut short in Woodenbong by the harassment, costing local businesses and charities thousands of dollars in lost revenue.
"We've made two formal complaints to police and have appointed legal counsel. We are going to follow this through to the end," he says.
Jeff was also detained and arrested after refusing to obey a police direction.
"They held us up for two hours in the blazing sun without any water and even prevented us going to the toilet," he says.
"I'm a diabetic and they refused to allow me to go to toilet, but I went anyway and they arrested me."
Police task forces
Jeff says there were more than 50 police present from Queensland's Task Force Maxima, NSW Task Force Raptor and Federal Police.
Jeff says 18 motorcycles were defected, even though some of them were "brand new".
"Our main gripe is that charities have missed out because of this blatant abuse of powers," he says.
Previous charities to benefit from the ride include 2011 flood victims, Cystic Fibrosis and Diabetes Australia, he says.
The annual Good As Gold Charity Ride has been operating for 26 years "without incident" and raised thousands for various charities.
Jeff says the patronage of the event has decreased from up to 600 riders to about 100 since the introduction of the so-called "anti-bikie" VLAD laws in Queensland in 2013.
"They seem to think they have the ability to do what they want, yet they know what they are doing is wrong," he says.
"This will hamper our ability to raise money for charities in future, but we will not stop doing this event no matter what. If we only raise $100 it's money that wasn't raised before."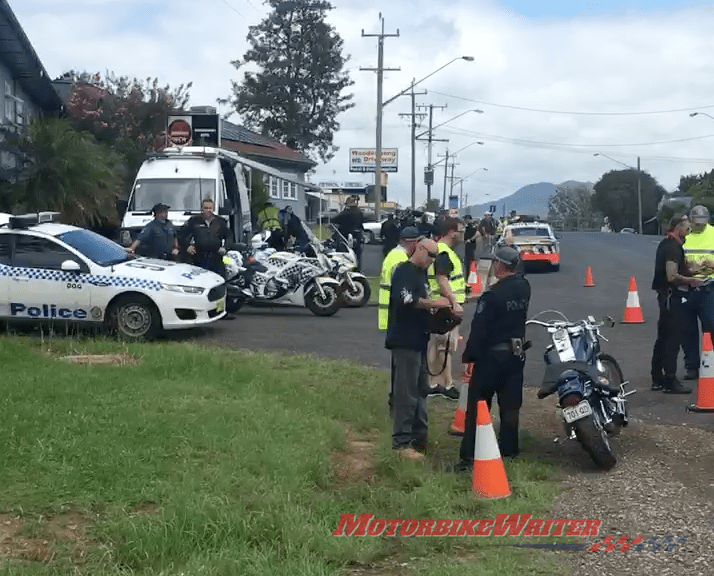 Harassment claims
Jeff also claims the police harassment began during the week before the ride.
"Throughout the week, the liquor licensing division in NSW rang the venues and intimidated the publicans by telling them if they allowed us to come into their premises would come under serious scrutiny," he says.
"They basically threatened their liquor licences."
Jeff says they had advertised to all participants not to wear colours in Queensland, to ensure they had a compliant helmet and bike, and not to have any insignia on entering hotels.
He has called for participants to send any photos or videos to them via the United Motorcycle Council of Queensland Facebook page for use in evidence.
You can also send an email with contact details to Chris Main of Alibi Legal or Magic at Biker Events Calendar.