Continental TKC 80 Motorcycle Tire Image Gallery
The Continental TKC 80 tires provided excellent performance both on and and off road.
More: Dual sport tire sizes, information and photos from the 2012 Dealer Expo.
webBikeWorld readers may remember my recent review of the BMW GS Off-Road Riding Skills DVD, which sparked an idea: to ride the Trans-Labrador Highway.
Soon after, my friend Glen and I started planning the logistics.
The ride would take us from our homes in Maryland, up through the Northeast U.S. into Vermont and from there to Quebec, with the primary objective of riding the "Trans-Lab".
Among the many details to consider was the issue of tire selection.
Our calculations showed that we would be covering about 5,000 miles (8,047 km) total by the time we returned home via Newfoundland and Nova Scotia.
The question was, should we ride the entire route on a new set of dual-sport tires (i.e., 80% street/20% off-road)?
Or would we be better off with something more aggressive, considering the 600+ miles (966 km) of unpaved road we would encounter along the way?
Decisions, decisions…
A brand-new set of dual-sport tires might be able to go the entire distance, but a more aggressive off-road tire probably would not.
This topic was discussed ad nauseam and since neither of us are accomplished off-road riders, we ultimately felt it would be prudent to go with a more off-road focused tire for the gravel sections.
But our choice would also have to stand up to the rigors of riding on pavement, including a little "super-slabbing" without becoming nub-less after several hundred miles.
There was also the possibility of exploring some of the dirt roads in Maine on the way back (time permitting), so having some usable off-road tire life during the return trip was of importance.
So a good bit of time was spent researching tires on the Adventure Rider website, reading about the tires that others were using in similar situations and how the tires performed in a variety of conditions.
This is where I find the Internet to be of great assistance you can learn from the experiments, experiences and expense of others.
We discovered that many riders were having excellent results using the Continental TKC 80 tires.
They were reporting good performance off road (though perhaps not at the level of a dedicated off road tire) and better-than-expected handling and tire life on the pavement in both dry and wet conditions.
Some even boasted that the TKC 80 tires had enough performance to allow them to drag their foot pegs on the street! All I can say is that if they were doing that on a BMW GS, then that thing had to be leaned WAY over!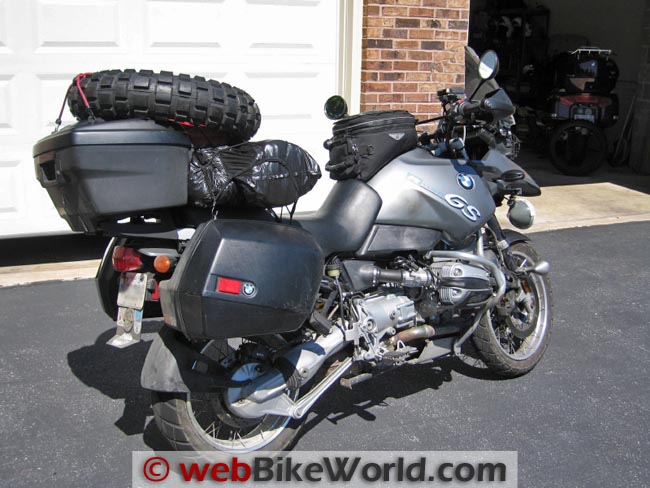 Continental TKC 80 Tires
Continental had its humble beginnings in 1871 manufacturing soft rubber products along with solid tires for bicycles and carriages.
140 years later, Continental has grown to be a world-wide manufacturer of tires for vehicles as small as bicycles all the way up to large trucks (I wonder if they still have a few of those carriage tires kicking around in a cellar somewhere?).
During this time, Continental has been a pioneer in tire design and construction.
I was surprised when I read the list of accomplishments in tire development that are listed on the Continental website, all of which are taken for granted with today's tires.
As it turns out, they also manufacture hydraulic lines, engine drive belts, conveyor belts and air springs systems, just to name a few.
As an Automotive Technician for 40 years, I have seen the Continental name on drive belts and tires, but I wasn't aware that the company had been around for so long or produced such a wide variety of products.
The Continental website lists the TKC 80 under their "Enduro" tire heading and describes them as a "well-tried multi-use tire for both street and dirt".
They also state that the tires have a "self-cleaning tread pattern" and "very good on-road handling and mileage" and that the TKC 80 tires are "original equipment on the BMW 1200 GS Adventure and KTM 690 Enduro R".
The handling and mileage claims for the TKC 80 tires seem to agree with the owner's reports we were reading, so the decision was made to use a set of Continental TKC 80 tires on both bikes.
Glen would be riding his Suzuki DL-650 V-Strom, and I would be on my trusty BMW R1150 GS, both of which use the exact same size tires: a 110/80 x19 on the front and a 150/70 x17 for the rear.
This presented us with yet another decision. Do we chance completing the entire trip on the TKC 80's and if not, where, and/or when should we install them?
One idea was to ship the tires to a location near Quebec City in Canada, where we could install them ourselves.
But this would incur additional costs for shipping the tires across the border…and we also didn't really have a point of contact there.
Ultimately, we settled on a plan to carry the tires to the home of a good friend of Glen's in northern Vermont, where we would mount them ourselves during the outbound trip.
Also, since most owners were reporting a 3,500 to 5,000 mile (5,633-8,047 km) life span for the TKC 80's, we expected the tires to be rapidly wearing out during the return trip.
So we incorporated a plan to return to his friend's house to reinstall our original tires into our itinerary.
This also gave us a perfect excuse to ride some wonderful roads back through New Hampshire, Vermont, New York and Pennsylvania once more.

Tire Swap Logistics
One set of the Continental TKC 80 tires was ferried up a month in advance on the pillion seat of my BMW K1200LTC during a trip I made to visit relatives.
The other pair was split between us as we embarked on the first leg of our Trans-Labrador adventure, a day's ride to Vermont.
We truly looked the part of adventure riders as we set off, with both bikes loaded with camping gear, spare fuel tanks and a pair of TKC 80's strapped to the back.
After a fun, twisty ride to Vermont, the following morning found us spooning the first set of TKC 80's onto Glen's "Wee-Strom", followed by a repeat on my GS.
I won't go into the details of the tire swap, other than to say it involved a lot of cussing at the V-Strom but not the GS!
Not to mention that the tire swap almost didn't happen that morning because neither of us could find our tire valve core remover until we did some serious hunting through the packed luggage…
On thing we didn't do was balance the tires, since we did not bring a balancer along. I had intended to try some Dynabeads instead, but our departure date arrived faster than I thought, so we took a gamble and ran them un-balanced.
Consequently, we both experienced a noticeable vibration in the handlebars at speeds over 80 mph (129 km/h), more in the GS than the V-Strom.
But this turned out to be a natural speed limiting system, which was probably all for the better.
As it turned out, the front tire on the GS was nearly two ounces (57 grams) out of balance when I checked it prior to removing the TKC's.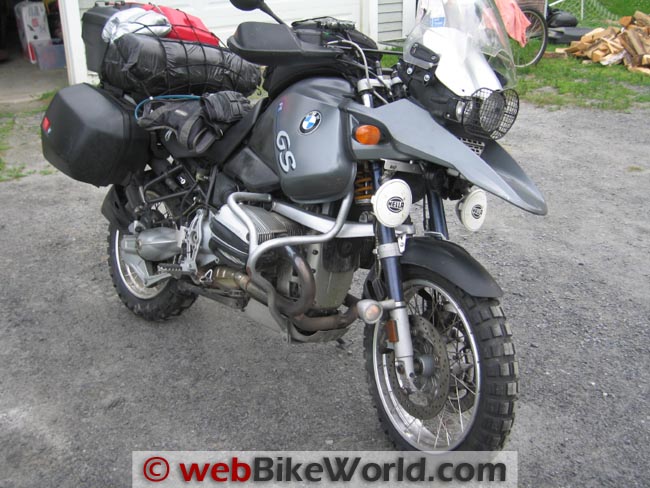 Continental TKC 80 First Impressions
With the Continental TKC 80's installed, both bikes stood tall and looked read for an adventure!
Our first ride with them was over the 4 miles (6.4 km) of dirt roads in Vermont — not really long enough to get a feel for how they would perform in true off-road conditions.
Once we hit the pavement, it was obvious that these tires had an aggressive tread pattern. It was a "lumpy" feeling, but not in a disturbing manner.
Many TKC 80 owners have reported that their bikes tended to fall into corners faster with the TKC 80, but neither Glen nor I found them to do that more readily than any other new tire.
I personally feel this tendency probably has to do more with the transition from a worn rear tire that has become "squared off" in the center to a new tire with a fully rounded profile. Regardless of type or brand, every time I spoon on a new set of tires they all feel that way to me…
It took a few hundred miles of pavement before we reached any unpaved roads and throughout those miles (all of which occurred in dry weather), we experienced no abnormal tire issues, including handling, wear or the "falling into corners" problem.
The only noticeable trait was the "lumpy" feeling at slow speeds, which was to be expected due to the knobby tread.
We had very few opportunities on our route to test the cornering abilities (not a good idea anyway with fresh rubber) until we turned north on Rt. 389, where the road got nice and twisty with lots of grade changes and the traffic all but disappeared.
Traction from the Continental TKC 80 tires was reassuring, but we didn't really push them here either because the road was heavily frost-heaved and the bikes were fully loaded with supplies and camping gear.
When the pavement finally ended, the TKC 80's came into their own.
I felt the traction from these tires was far better than the more street-biased enduro tires I normally use on the GS, making it easier for me to control the bike and keep it in the preferred upright position.
Now call me paranoid if you will, but I was really concerned about having an "incident" while in the wilds of Labrador, far from any emergency care.
I'm confident with my skill level on the street, but off-road is another matter. When you're pushing 60 years old, things seem to take a whole lot longer to heal — not to mention the open-heart surgery I had four months prior to our departure.
So, I thought it best to try and stack the odds — such as they were — in my favor by using a tire that would give me an advantage while off pavement, and the TKC 80 was it.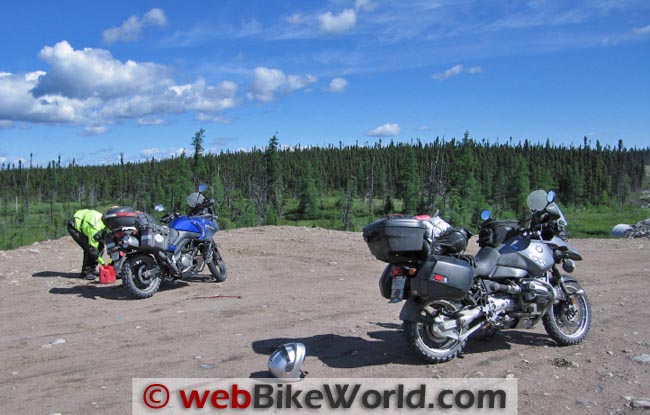 The Continental TKC 80 Tires on the Trans-Labrador Highway
Conditions for us were extremely dry during our Trans-Labrador Highway segment. But what we did encounter was constantly changing gravel of various types and depths floating over the top of hard-packed dirt.
The loose road conditions we experienced varied from large and small chunky pieces of dirt to gravel the size and shape of a pea — which felt like riding on ball bearings.
This extra slippery stuff was primarily located in the final 30-40 miles (48-64 km) of the Trans-Lab in the direction we were traveling.
It could have taken us by surprise — and it has caused many riders to crash — had it not been for the words of caution from a fellow rider we had the good fortune of meeting just prior to encountering this tricky section.
Having ridden the GS on similar roads near home with the stock tires, I felt that the bike was steadier and didn't slide around nearly as much with the Continental TKC 80's mounted.
That's not to say that I didn't have my share of tail-wagging "moments". Most of these occurred when I was forced by oncoming traffic or limited visibility to run wide on left-hand turns into the deepest part of the gravel, pushed there by all the trucks.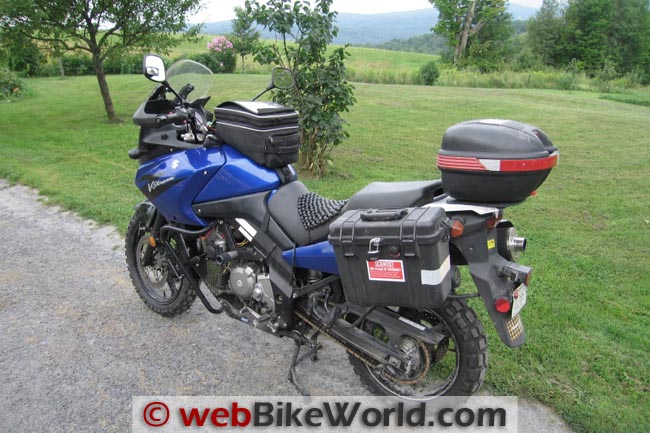 The Return Trip
Although most of the remainder of our trip was amazingly dry, we did encounter pavement in Newfoundland that was wet from a heavy mist and a half-day on the "slab" in a steady rain through New Brunswick.
I can report that neither of us had any traction issues with the TKC 80's in these wet conditions.
When approaching Glen's friend's house in Vermont on our way back home, Glen guided us in via the "back way" using his GPS. Because of some recent rains, those previous dirt roads were now quite muddy, in addition to being hilly and twisty.
The Continental TKC 80's had one last time to show their worth and I was glad to still have them mounted on the GS.
We had been monitoring the tire wear throughout the trip and upon arrival we were pleased to find that even after approximately 3,700 miles (5,755 km) — over 3,000 miles (4,828 km) of which were on pavement — there was still enough tread remaining on the rear tires to safely make it home.
The fronts showed little wear and still had over half of their tread left. This saved us an afternoon's labor, making possible a quick visit to my brother's in Vermont (read free meal, free beer and a comfy bed!).
The remainder of the ride home was a blast, with many twisty roads through the Adirondacks and Pennsylvania with the Continental TKC 80's taking whatever we threw at them.
Although neither of us were dragging foot pegs, we weren't coasting along either.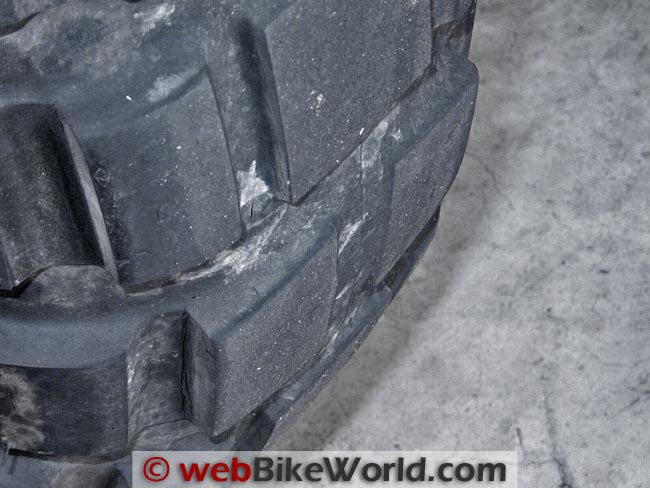 Conclusion
I believe that mounting the set of Continental TKC 80 tires for our trip to ride the Trans-Labrador Highway was a wise choice.
Since neither of us are skilled off-road riders, I feel the tires helped us control our bikes better, thus preventing a crash and the possible consequences, considering the remote areas we were in. This made our adventure more enjoyable and memorable.
Had the weather been different, i.e. wet, I feel the Continental TKC 80 tires would have been an even greater asset.
They exhibited predictable handling in dry and wet conditions and I consider the tire wear to be exceptional, especially for an aggressive off-road tire. I have used street-biased rear tires on the GS that have not lasted any longer than the TKC 80's.
When I finally got around to replacing the TKC 80's, the rear tire had only 2/32 (1.58 mm) tread remaining in the center while the front tire still had 6/32 (4.76 mm). And this is with 4,500 miles (7,242 km) total on the set, of which 85% were on paved roads.
If you're planning a ride that involves both street and off road, I would highly recommend the TKC 80 tires from Continental.
Tire Sizes Used: Continental TKC 80, 110/80 B 19 (Front) and 150/70 B 17 (Rear). Both were tubeless, H-rated tires with a maximum speed rating of 99 mph (160 kph). Prices vary from around $135.00 for the front and $170.00 for the rear.
More Information: The Continental TKC 80 tire information and size page.
Publication Date: September 2011
Note:
 For informational use only. All material and photographs are Copyright © webWorld International, LLC since 2000. All rights reserved. See the webBikeWorld® 
Site Info page
. Product specifications, features and details may change or differ from our descriptions. Always check before purchasing. Read the
Terms and Conditions
!
Owner Comments and Feedback
---
From "L" (September 2015): "I absolutely love the TKC's on my F650GS… This front had over 14000 km on it and my back had 9600 km on it before changing them. I will say the front started to wear really weird and the centre knobs became "wedges".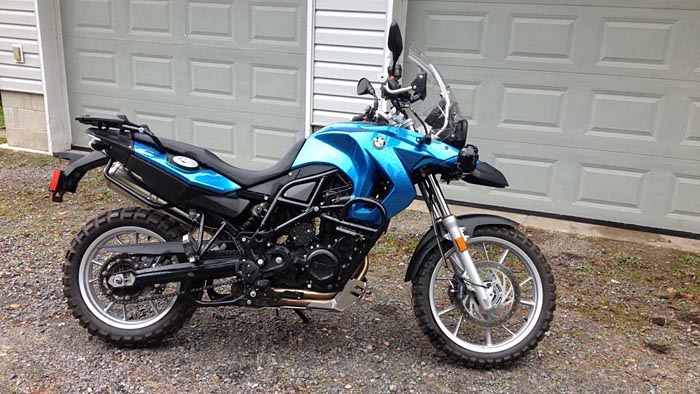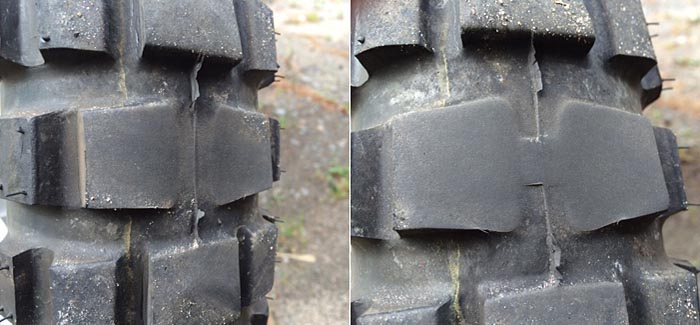 ---
From "E" (March 2012):  "Great tire review by Chris B! This made the tire decision for my V-Strom, and Chris deserves credit for a complete, Well written review. The trip report was interesting, too."
---
From "J.L.W." (September 2011):  "About 15 years ago, my wife and I rode from Chicago, where we then lived, to the Arctic Circle taking the Alaska Highway through Fairbanks.
The shop I was dealing with suggested the hard compound Dunlop D404 (I think that's right) because they claimed that the gravel on the Alaska Highway would chew up softer dual sport tires in short order. I took their advice and the tires worked great.
On the other hand, the dirt and gravel roads we were on were dry and I don't know how happy I would have been with the tires in the wet."