Collinite Wax
Product reviews, by their very nature, are a narrative of the evaluator's opinions, feelings and biases.
And you know what?  That's fine!  There's nothing wrong with it whatsoever — in fact, that's what a review is all about.
Sure, there's some objectivity thrown in here and there, but opinions are much more fun.  Who wants to read turgid scientific prose, complete with eye-glazing statistics and mind-numbing tables?  Give me a hearty (and controversial) opinion any day!
Of course, I'm being facetious here, but only slightly.  Opinions are fine but need some basis in truth, and data that supports the conclusions.  Which happens to be very difficult when the subject is motorcycle wax and polish.
By the way, we've have quite a bit of discussion regarding the definition of "wax" and "polish" as it applies to motorcycles.  And while I'm sure there are many who will disagree, our definition of a polish is an agent that has either some abrasive or cleaning properties, while a wax is a product that provides only a shiny or protective surface.
You'll probably find that it's very difficult (and sometimes impossible) to tell the difference solely by reading the manufacturers' product information.  Some polishes also provide shine and protection, while most waxes don't have a separate cleaning agent.  But it's hard to know by studying the marketing hype, which makes opinionated product reviews like the one you're reading that much more valuable!
Speaking of opinions, review articles about waxes, polishes and cleaning agents will almost always include more opinion than fact.  Why is this?  Well, it would take some very crafty arrangements to actually test, for example, a comparison of the reflective abilities of one or more polishes, how they compare in protecting against the various substances that are in the atmosphere, what they actually do to the paint surface, etc.
We can control some of this by using the same painted surface for our evaluations and by trying to keep the conditions similar.  I can tell you also that experience matters.  After evaluating many different brands of waxes and polishes (and helmets, jackets, pants, gloves….), you sort of build up a nice database of information, features and yes — opinions — that provide an excellent background for what works, what doesn't and why.
We almost always use our (now vintage) 1986 BMW R65 for evaluating waxes and polishes.  The bike has an incredibly black paint surface on the fuel tank and it's the type of paint that is no longer available.  It's very deep and very rich and the black is so dark that it sometimes has that tinge of blueness to it.  I've never seen another like it, and duplex kudos to der Malermeisters at BMW for turning this one out.  Ditto for the beautifully applied (by hand) pinstripes…
Note also that the paint on our R65 is not protected by a clearcoat.  Clearcoated surfaces can dramatically alter the results from polishing and waxing.  Based on our experience, we feel that the "raw" paint on the R65 is an excellent canvas, as it were, to evaluate different brands of waxes and polishes.  There's no hiding the problems or benefits of the various types, because everything shows up loud and clear on the Beemer's shiny black surface.
With that said, our number one choice for motorcycle paint protection is still held (as it's been for some time now) by Glare Professional Polish.  We have no connection with the company whatsoever, but the stuff just seems to leave a shinier, longer-lasting finish than anything else we've tried.  And we've tried many…and will continue to do so and we'll report back if we find something that, in our opinion (natch!) works better.
Collinite Wax
The Collinite Corporation has been in business since 1912, and they manufacture various wax formulations for automotive, marine and industrial uses.  I love finding obscure or unique products that have applications for motorcycle use, and Collinite wax certainly fits the bill.
Collinite is one of those "word of mouth" products that you'll learn about from professional motorcycle and car customizers.  You probably will not find Collinite at your local Pep Boys; Collinite says that their "products can not be found in stores where low prices are more important than quality", which pretty much covers about 99.9% of the typical auto supply stores in the world.
They make an extraordinary array of wax products, and we used Collinite's product information to choose a few for this evaluation.  The Collinite "Marque d'Elegance" wax is one of their featured products; it is available as a paste wax in an old-timer metal can that actually has a lid that must be pried off to get inside.  We figured we'd try it just for old-time's sake.
The Collinite "Liquid Sapphire Auto Wax" is what we'd call a polish.  Collinite says that this product is a "heavy duty, detergent proof formulation (that) cleans, waxes and protects the finish in one easy application. Removes all foreign elements from paint while leaving a brilliant protective coating that assures protection from salt, rain, bugs, tree sap, etc."  Sounds perfect for motorcycle use!
In addition to the Liquid Sapphire Auto Wax, we tried the Collinite "Sapphire Prewax Cleaner", which is not recommended for clearcoats and is designed to remove previous coats of wax, in addition to bugs, tar, etc. from painted surfaces.  It's also recommended for chrome and aluminum surfaces, which we will try in the future.
Finally, we tried the Collinite "Liquid Insulator Wax".  This is a very intriguing product; Collinite says that it was "originally developed for use by electric power companies for protection against high voltage power failure, fires and explosions".
They say that it's "primary use is on the finishes of automobiles, trucks, buses and airplanes where durability, high gloss and lasting protection are paramount".  How you get from protecting high voltage power lines from explosions to protecting airplane finishes is beyond me!  The Insulator Wax is also claimed to be safe for clear-coated surfaces.
The BMW was washed with some basic automobile soap and water prior to the evaluation.  We then used the Sapphire Prewax Cleaner first to remove any traces of other wax from the BMW tank.  This product seems to work very well at removing bugs, dirt and tree sap from the Beemer's fairing.  It goes on like just about any other liquid polish and seems to dry slightly quicker than most.  It does the job as described, stripping off other layers of wax and dirt.
Although the Sapphire Prewax Cleaner doesn't feel like it has any abrasives, it did apparently remove some of the surface oxidation on the BMW fuel tank, as can be seen in this photo: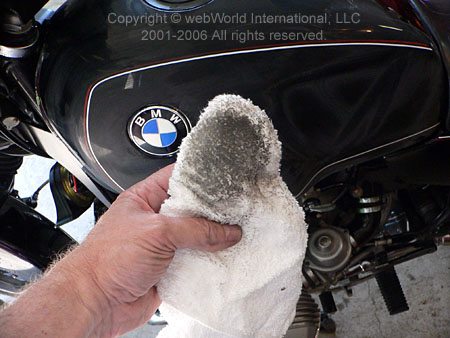 ---
Where to Buy Collinite Wax
Check Reviews & Prices on Amazon
See More: Polishes & Wax,  Motorcycle Chain Lube, Motorcycle Accessories
---
By the way, we used brand-new, clean terry cloth and microfiber towels to apply and remove the wax in this evaluation.  The Sapphire Prewax Cleaner is relatively easy to remove, but it does appear to leave a slightly dull finish and some streaks.  Not a problem though, because this product is definitely not designed to be used by itself, but only as a preparation step for other waxes.
It is one of the easiest to use prewax cleaners that we've tried; simply apply it, let it dry and wipe it clean.  It doesn't seem to need much rubbing or buffing.
The Collinite "Liquid Sapphire Auto Wax" is sort of a one-step product designed to clean (polish) and wax a painted surface.  We tried this two ways, on top of the Sapphire Prewax Cleaner treated surface and on another, untreated surface.  To be honest, we're not all that thrilled with the results; it works as advertised, but it just doesn't seem much different than many other commercially available polish/cleaner type automotive products that we've tried.  It also leaves tons of white powdery residue.
We then tried a side-by-side comparison of the Marque d'Elegance wax on one half of the BMW fuel tank and the Collinite Liquid Insulator Wax on the other side (over a Sapphire Prewax Cleaner treated surface).
The Marque d'Elegance paste wax seems to have a very hard consistency in the can and it was difficult to get enough of it on the polishing cloth, so we applied it using a trick that a car customizer showed us; with the fingers.  Apparently, body heat can help melt the wax on to the painted surfaces, and many custom painters will use this method…although I'm a bit concerned about what kind of chemicals might be absorbed into the body when doing this.
Note that most waxes and polishes are offered in liquid form nowadays; one of the reasons for this is that moving a polishing cloth from the paste to the painted surface and back and forth can start to load up the paste in the can with dirt.  Obviously, this is not conducive to high quality.
Although using one's fingers to apply the paste wax has the potential of giving the applier an advanced warning that some abrasives may be present, we recommend avoiding paste waxes whenever possible.
The Marque d'Elegance wax goes on about like one would expect from an old-time paste wax.  We spent some time rubbing it into the surface of the fuel tank.  It seemed to take slightly longer to dry than other waxes; possibly this is because it uses fewer drying chemicals and more carnauba or other natural wax ingredients.
It is also slightly more difficult to buff out, so it's important to have a very clean and very soft polishing cloth, like a microfiber cloth specially designed for this purpose.
The right hand (split front-to-back) side of the BMW's fuel tank was then treated with the Collinite Liquid Insulator Wax.  This product has a very different consistency indeed; it looks as thick as something like…mayonnaise or maybe one of those thick hair conditioner products?  See this photo: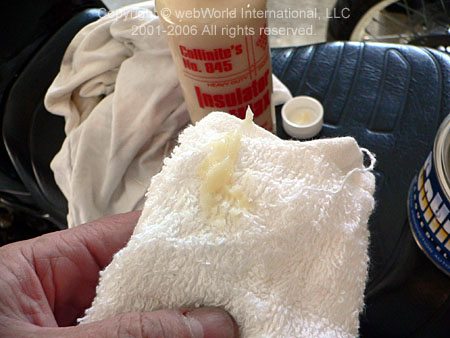 It definitely goes on differently also; it feels very "waxy" and "greasy" when applied, and the consistency means that it must be spread around on the surface.  It eventually provides an even coating, but it seems to take longer to dry than other products.
Comparing the two shows that they both seem to do a good job at leaving a deep shine, but it seemed to us that the Insulator Wax side had a deeper luster and covered up more of the very fine spider web scratches in the paint.  We don't think the Marque d'Elegance really offered much more than other premium waxes, but the Insulator Wax seems to have a thicker, more slippery surface feel.
Over the last few weeks since the waxes were applied, the Insulator Wax side seems to still have a level of protection that is missing from the Marque d'Elegance side.  That said, they both still leave a very slightly cloudy look to the BMW fuel tank's lustrous black paint surface.
We've pretty much stopped including photos in our wax and polish reviews, because it's just so hard to show any differences in a photograph unless they are very dramatic.  Nevertheless, here are two photos showing a before/after treating the BMW fuel tank with the Collinite Liquid Insulator Wax: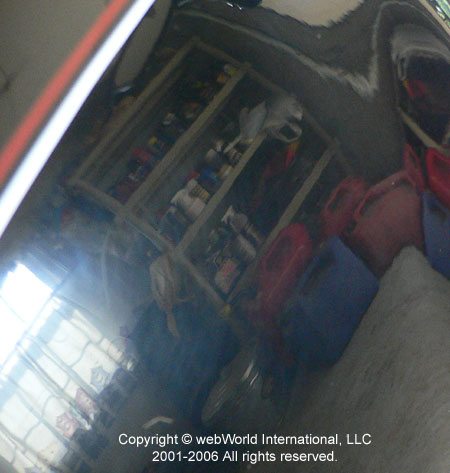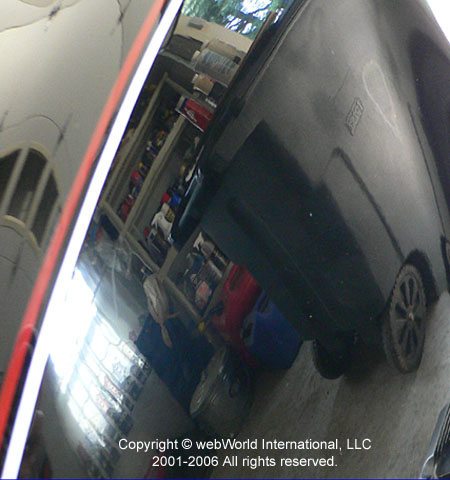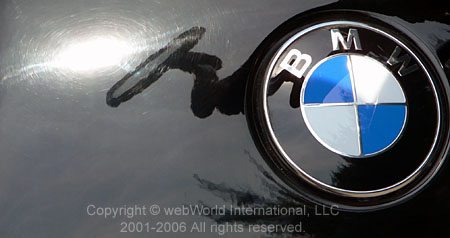 ---
Where to Buy Collinite Wax
Check Reviews & Prices on Amazon
See More: Polishes & Wax,  Motorcycle Chain Lube, Motorcycle Accessories
---
Conclusion
We didn't try all of the Collinite products; there are several more that we may feature in upcoming articles.  Our feeling is that among the products we did evaluate, the Collinite Liquid Insulator Wax has the most potential.  It seems to offer a thicker, more protective surface than most commercially available wax products.
It's also easier to apply and remove than, for example, the Glare Professional Polish, which does take some significant effort, including buffing and two applications.  But in the end, we still think the effort involved for the Glare product is worth the results, which seem to last much longer than anything else we've tried.
UPDATE:  I'm really starting to like the Insulator Wax.  One thing I realized is that it does not leave any type of powdery or white residue.  It goes on clear and must be left for quite some time before it "dries to a haze".  It does take some extra elbow grease to buff it out, as it tends to feel slightly sticky.  The polishing cloth must be perfectly clean; the inside of an old sweatshirt works well and then a final buffing with microfiber really brings out the luster.
We tried it on a clear-coated Harley and it really brings out a deep shine without as much fuss as some others.  It also seems to create a super-slippery surface on the paint — I spilled some fuel on the Harley's tank by accident at a gas stop and I was surprised to find that when I wiped it off the surface was extremely slippery and the fuel just seemed to disappear off the tank.  It felt like zillions of ball bearings on the surface and I'll buy Collinite's contention that the Insulator Wax creates a protective surface layer.
Note:  For informational use only.  All material and photographs are Copyright © webWorld International, LLC – 2000-2011.  All rights reserved.  See the webBikeWorld® Site Info page.  NOTE:  Product specifications, features and details may change or differ from our descriptions.  Always check before purchasing.  Read the Terms and Conditions!
Product Review:

 

 Collinite Wax
Available From:  Collinite Products
Made in:  U.S.A.
Suggested Retail Price:  Marque d'Elegance is $26.95 (12 oz. can).  Insulator Wax is $15.00 (16 oz. bottle).  Sapphire Prewax Cleaner is $8.00 (16 oz. bottle) and Sapphire Auto Wax is $15.00 for a 16 oz. bottle.
Other WebBikeWorld Polishes & Wax Reviews