CMS GP4 Helmet Review
The CMS GP-4 has beautiful graphics and the helmets are of good quality.
It has a comfortable fit for "Round" shaped heads.
The GP-4 feels slightly short in the front-to-rear internal length.
It has good ventilation and a quick-change visor that works well, but it seems louder than average. The liner is non-removable and the helmet has a double D-ring chin strap system.
How about a motorcycle helmet with European quality but Asian pricing?
Now that would be an interesting combination that should have lots of potential.
The market for motorcycle helmets has several tiers.
There's the very-low-end and below, ranging from the non-DOT el Cheapo units that are of no interest to our sophisticated webBikeWorld audience
And there are the brands that can just barely make DOT certification and sometimes don't.
Then there's a low-to-mid level segment of DOT-only helmets, manufactured by companies that you vaguely recognize. These helmets are usually found as loss leaders in the local motorcycle shop.
Next comes the huge mid-market; the name-brand manufacturers in this segment spend big marketing bucks and sell mass quantities of helmets that meet DOT specs and many of them are also Snell approved.
There are a few manufacturers at the high end, who make high-quality motorcycle helmets that are almost always Snell, ECE 22.05 or BSI approved. These companies usually compete with each other on technology and features.
Finally, there's a handful of what I guess we could call "boutique" manufacturers of very expensive, race-oriented motorcycle helmets that have the ultimate coolness factor.
Their helmet designs drive the market to a certain extent, because the other segments emulate the designs and features of these style leaders.
The business strategy that the manufacturers in this segmented market seem to follow amounts to finding a niche and perfecting a response.
But every once and a while, the players in markets like this get a little too lazy or too comfortable with the status quo, and some renegade busts it open with a new paradigm.
It happens all the time, usually in a mature and well-defined marketplace just like the one we have for motorcycle helmets.
What formula would work to shake up the players? In this case, if you could offer the quality and style of the high end helmets with the pricing of the low-to-mid range, you might have something.
All you'd need is name recognition, which is sort of like saying all you need to be rich is to have lots of money!
By the way, what if you could throw in a twist on the equation by offering some really, really wild factory custom paint schemes (see below)?  Would it be enough to bust up the market?
That formula pretty much describes CMS Helmets' business strategy. The company is a youngster in the world of motorcycle helmets, having started manufacturing operations in 1988.
Perhaps their youth has allowed them to take a fresh look at potential market segments to see where they could fit.
Their stated recipe for success is to have a very sharp focus on quality while using the most modern helmet manufacturing equipment available to turn out a good-looking and complete range of helmets that could be sold worldwide.
That's quite a goal, so let's see how they measure up.
---
Where to Buy CMS GP-4 Motorcycle Helmet
Check Reviews & Prices on Amazon
Check Reviews & Prices On RevZilla
See More Motorcycle Helmets, Motorcycle Visor, Motorcycle Intercom
---
CMS GP-4
We obtained the CMS GP-4 model shown here from Moto Authentics, the newly organized CMS Helmets distributor in the U.S.A.
The GP-4 is CMS Helmets' street/sport model, a thermoplastic resin helmet that meets DOT and ECE 22.05 approval.
CMS Helmets makes a variety of street and dirt models, highlighted by the top-of-the-line, carbon/Kevlar GP-5.
The first thing that you notice with the CMS Helmets product line is the eye-popping colors and interesting patterns on all of the models.
There are no solid colors in this lineup — each model has its own interesting selection of patterns. I'm not sure how they do it, but the colors and the quality of the UV protected graphic transfer is first-rate.
Based on the single example shown here, our opinion is that it's some of the best artwork we've seen on any helmet at any price.
But if you think this helmet has an interesting design, wait until you've seen their "Hairbrush" models! Wild, wacky and outrageous are the words that come to mind.
They should be a big hit with the "Fast and the Furious" crowd. You can check out a couple of examples via the two photos at the end of this review (below).
Weight, Internal Shape and Fit
The GP-4 is one of the lightest weight full-face helmet we've seen, and it is lighter than average for this class at 1495 grams, or 3lbs. 4-3/4oz. (for size XL), measured on the webBikeWorld scales.
We think the GP-4 will fit "round" head shapes best. My slightly "Earth" shaped head (slightly wider in the middle) has a diameter that's right on the borderline of a size large and a size extra-large, and depending upon the manufacturer, I can take either.
The size large GP-4 was very tight; I'd say it was really the equivalent of a medium, so we exchanged it for an XL.
The XL fits like a large, and I think I could have even used an XXL, so our opinion is that these helmets run at least one full size small. We're not sure if this also applies to the GP-5 or other models in the CMS Helmets lineup, so make sure you ask about fit before you buy.
The GP-4 also seems slightly short from top to bottom.
Even though the size XL fit my head shape, it feels like my chin hangs down lower than the bottom of the helmet by about 10mm or so, and this may be the cause of some perceived noise (see below). Your experience may vary, depending upon your head shape.
Face Shield
CMS Helmets uses a 2.2 mm, anti-scratch and anti-fog coated quick-change face shield on the GP-4, and optional tinted and mirror visors are also available.
The visor is very easy to change; simply raise it to its uppermost level, pull down the spring-loaded catch that's now exposed on each side and pop it off.
The procedure for re-installing it is a bit more complicated, because the spring loaded catches on each side must be correctly lined up, but after a couple of practice rounds, it's not a problem.
The visor has a very positive detent with four "clicks" to open. It seems like it should open one more click, but the mechanism doesn't have enough travel to allow that to happen.
So the visor doesn't lift as high as you think it should compared to other helmets. Not a problem, but just something to note.
When it's closed, the visor also seats against what appears to be a plastic gasket around the opening, and the seal feels tight enough to stop any errant airflow.
A tight-fitting visor seal is usually a sign of good quality; we're always surprised at how many helmets don't seal correctly.
The GP-4's seal doesn't continue around the entire opening though, which is strange, so some noise may emanate from the sides of the visor opening where the seal is missing.
The visor also doesn't seat quite flush against the outer sides of the helmet near the visor pivot point, and I'm not sure if this is also the cause of some noise, but more on that later.
The internal distance from the back of the GP-4 to the chin bar seems slightly shorter than normal for a full-face helmet. My chin presses directly up against the inside of the chin bar, which caused some discomfort until the helmet was broken in.
I've had this problem before with various helmet brands, and visitors to webBikeWorld don't seem to have the same trouble with those helmets, so my conclusion is that it's my head shape that's at fault.
I have also noticed that the GP-4's visor tends to fog up more often that I'd expect, and I'm assuming that it's because the short front to back distance brings the front of the helmet closer to my face.
---
Where to Buy CMS GP-4 Motorcycle Helmet
Check Reviews & Prices on Amazon
Check Reviews & Prices On RevZilla
See More Motorcycle Helmets, Motorcycle Visor, Motorcycle Intercom
---
 Ventilation
The GP-4's chin bar has a wide, 60mm (about 2-1/4″, all inch measurements approximate) "trap door" that opens down and lets in a good quantity of air.
This air is directed up through a splitter built into the small breath guard. Some of the air goes up onto the rider's face and the rest of it is directed onto the visor.
We were satisfied with the amount of airflow through the chin bar, and the trap door works to seal off the air flow when it's closed. However, it's slightly difficult to open the vent with gloved hands, because there's not much to grab hold of to flip it open.
You sort of have to dig at it with your fingernail, which isn't so easy with thick leather gloves, and depending upon the circumstances, you may not be able to open it while riding.
Moving up to the top of the helmet, the GP-4 has two low-profile non-adjustable air extractors along each side, and a single central vent in the middle.
We're not sure what happens underneath the two extractors; let's assume there's an opening in there somewhere that feeds air into the inside of the helmet.
The central vent has a simple sliding bar that uncovers a small 8 mm (5/16″) hole that directs air down onto the top of the rider's head.
There's an adequate volume of air that flows through the top of the helmet when it's open, but the central vent has a small scoop on it that catches the air and causes a high frequency whistling sound as the air flows over it.
It's louder when the vent is open, but still noticeable when it's closed.
We suggest that you use some caution when storing the GP-4, because it seems possible that the central vent could break off fairly easily if the helmet was dropped and fell top-side down.
The vent attaches to the helmet with a single Phillips head screw, so if the part was available, it would be a simple matter to replace it.
The GP-4 also uses an air extraction system in the rear. There are four small vents, two on each side, on the outer rear area of the helmet towards each side, located about midway between the rider's ear and the back of the helmet.
A mesh vent is also located at the rear of the helmet liner at the back of the neck. The venting system on the GP-4 provides a decent amount of air flow, albeit with a higher level of ambient noise.
Riding With the GP-4
I found the GP-4 to be very comfortable right out of the box. There doesn't seem to be anything particularly unique about the helmet liner or padding that should make it more comfortable than others.
It simply looks and feels like a good quality modern helmet liner, and it's manufactured and installed with care.
The helmet's round internal shape is a perfect fit for my head, and I don't feel any hot spots or pressure points when wearing the GP-4.
As mentioned above, based on our example, we think the GP-4 runs at least one full size small, and the front-to-back internal distance seems a bit short, but other than that, I'm pleased with the overall level of comfort.
The GP-5 has a removable liner; the liner in the GP-4 shown here is non-removable.
This isn't really a concern for me, because I always wear a separate silk or Coolmax helmet liner anyway, so I've never found the need to remove a helmet's internal liner for cleaning.
Removable cheek pads might be a nice idea, however, to help owners custom-tailor the fit when necessary, especially those with "long oval" or "egg" shaped heads. The GP-4's liner is also claimed to be breathable and non-allergenic.
---
Where to Buy CMS GP-4 Motorcycle Helmet
Check Reviews & Prices on Amazon
Check Reviews & Prices On RevZilla
See More Motorcycle Helmets, Motorcycle Visor, Motorcycle Intercom
---
Noise Levels
We always wear correctly fitted earplugs when riding (see the wBW Earplugs and Hearing Protection page for more information).
And I always wear a helmet liner, which keeps the inside of my helmets nice and fresh. Your perception of noise levels may be completely different than ours, so please take that into consideration.
My feeling is that the GP-4 is noisier than average. As mentioned above, the top mounted vent causes some high frequency whistling, whether it's open or closed.
But there also seems to be a lot of noise that emanates from under the helmet, in the area of the GP-4's neck padding.
We've found that this region can be the cause of a great deal of helmet noise on many helmets, and it can be exacerbated by turbulence caused by a windscreen or fairing.
A hand placed up under the neck when riding can help determine how much noise is generated in this area, but I couldn't quite figure out where the noise is coming from on the GP-4.
It seems to be focused somewhere towards the rear, so it could be a combination of turbulence at the visor/helmet pivot location, the rear side vents and the slightly short top-to-bottom helmet dimensions (see "Weight and Fitment" section above).
The Windjammer helmet wind blocker (review) is an inexpensive accessory that can be fitted to any full-face helmet, and almost always serves to decrease the ambient noise level.
Miscellaneous Features
All CMS Helmets will be imported into the U.S.A. with D-ring helmet straps. This is good news, because we're not fans of the so-called "quick release" connectors. The padding on the GP-4's strap is comfortable, and there's a plastic snap retainer for the loose strap end.
The GP-4 has a small fabric "anti back draft" spoiler under the chin bar.
If you remember to pull it down under your chin after you mount the helmet, it's designed to prevent air from intruding under the front of the helmet, which can theoretically help the internal air flow more efficiently.
The helmet meets DOT and ECE 22.05 standards. XL Weight: 1495 grams (3lbs. 4-3/4oz.). Non-removable liner. D-ring strap.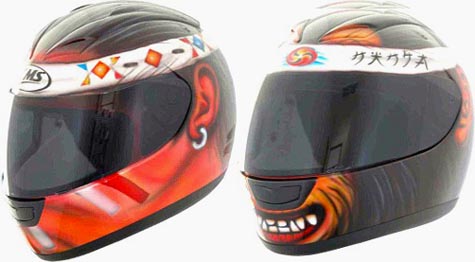 CMS Helmets: Indian Hairbrush and Ninja Hairbrush.
Conclusion
Even with its few faults, we like the GP-4. It's a comfortable helmet with a great choice of colors and graphics and strong quality.
We think the price is very reasonable, and the pricing model does indeed follow the CMS Helmets' strategy of offering "European quality at Asian prices".
The factory seems motivated to continually improve their products, so we're confident that the noise issue and other minor quibbles will be addressed.
If CMS Helmets can figure out a way to get the word out about their products, they should have no problem selling all they can import. CMS Helmets' products can be found in 20 countries around the world, which speaks well for their acceptance in the marketplace.
By the way, remember the "Hairbrush" models we discussed earlier? Here's a peek at the "Indian" and "Ninja" Hairbrush models (above).
w
BW
 Review: CMS GP-4 Helmet
List Price (2006): $199.95
Made In: Portugal
Colors: Solids and graphics.
Sizes: XXS-2XL
Review Date: April 2006
Note:
 For informational use only. All material and photographs are Copyright © webWorld International, LLC since 2000. All rights reserved. See the webBikeWorld® 
Site Info page
. Product specifications, features and details may change or differ from our descriptions. Always check before purchasing. Read the
Terms and Conditions
!
---
Where to Buy CMS GP-4 Motorcycle Helmet
Check Reviews & Prices on Amazon
Check Reviews & Prices On RevZilla
See More Motorcycle Helmets, Motorcycle Visor, Motorcycle Intercom
---
Owner Comments and Feedback
Other WebBikeWorld Helmet Posts