Clear Shot Motorcycle Helmet Visor Cleaner
Very rugged case holds a bottle of lens cleaner solution and two microfiber cleaning towels.
I'm not sure if the "perfect" motorcycle helmet visor cleaning kit has been invented.  Ideally, we'd have visors that repelled all of the dirt, bugs and water and would never need cleaning.
But that's still a few years away, and in the meantime, everyone has a favorite solution to this age-old problem.
My biggest problem is bugs.  I'm the guy that steps outside in summer and instantly has a cloud of mosquitoes hovering over me.  Honest — I'll be sitting outside and while everyone else seems to have a genetic DEET barrier in their genes, I'm being attacked.
Maybe that's why bugs love my helmet visor.  I can go for a ride in mid-winter with spitting snow and I'll come home with a visor full of smashed bugs.  I'm definitely a bug magnet.
Rubbing them off with a gloved hand while riding is definitely not a solution, because it only smears the bug guts all over the visor, making things worse.  TheV2 Visor Sponge we reviewed works about as well as anything and I've been trying to figure out a way to rig something up to hold it on the handlebars so I can grab it while riding if necessary.
I don't like to have to stop just to clean my visor, but that's probably the best way to do it.  I've tried carrying little bottles of visor cleaner or Glass Plus, but this new Clear Shot lens cleaning kit puts it all together in a nifty little package.
The container is way overkill; it's a very thick ABS plastic case with two internal tubes.  Four heavy attached rubber caps cover the ends.
On one side is a spray bottle of some type of special visor cleaning liquid that actually works very nicely.  The other tube is divided into halves to hold the two microfiber cleaning cloths that come with the kit.  This prevents the polishing cloth from getting soiled by the cleaning cloth.
It's a very handy package to throw in the tank bag, and the cleaning fluid is said to be good for motorcycle helmet visors, prescription glasses and other glass or polycarbonate surfaces.  The company says it's non-toxic and biodegradable.
The microfiber cloths are claimed to be "optical grade".  The blue cloth is for the hard-core dirt while the white cloth is for polishing and eyewear like prescription eyeglasses or sunglasses.
It's easy to use, as you can imagine — spray it on, wipe it off.  The sprayer in the little bottle gives out a nice, even fine mist of liquid.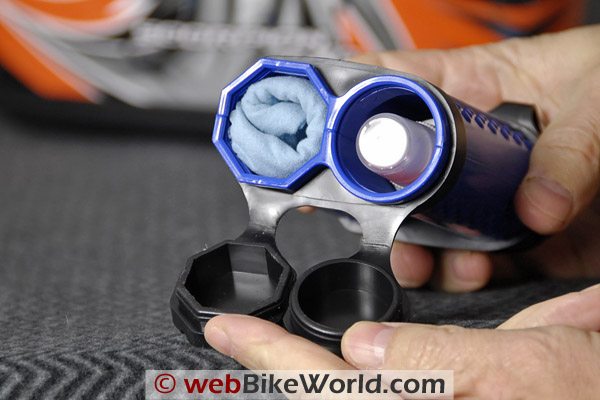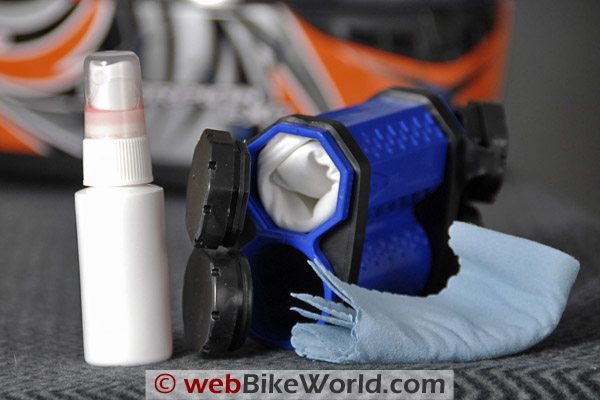 I did notice a couple of problems.  The cleaning fluid leaks slightly around the top, which I guess is unavoidable with a spray top like that.  The bottle does have a clear plastic cap to cover the spray pump, and it does seem to contain the slight weeping.  If that doesn't contain it, the heavy ABS container with the rubber plugs will.
The other problem is the cost.  Clear Shot is a brand new product, just being released into the motorcycle distribution network.  The list price is not mentioned on the Clear Shot website, but I searched around a bit and found a couple of dealers selling it for $25.00.  This seems very expensive for what it is — like maybe by 60%.
But, Clear Shot is a pretty handy product, and you certainly won't have to worry about damaging the spray bottle; I'd bet you could ride your R1200GS Adventure over this thing and it wouldn't hurt it one bit.
wBW Product Review:  Clear Shot Motorcycle Helmet Visor and Lens Cleaner

Available From:  Clear Shot
Suggested Retail Price:  $19.95 (unconfirmed)
Colors:  N/A
Made in:  China
Review Date:  November 2008
Note:  For informational use only.  All material and photographs are Copyright © webWorld International, LLC – 2000-2011.  All rights reserved.  See the webBikeWorld® Site Info page.  NOTE:  Product specifications, features and details may change or differ from our descriptions.  Always check before purchasing.  Read the Terms and Conditions!
---
Where to Buy Clear Shot Motorcycle Helmet Visor Cleaner
Check Reviews & Prices on Amazon
See More: Motorcycle Visor, Motorcycle Helmets, Motorcycle Intercom
---
Owner Comments and Feedback
Comments are ordered from most recent to oldest.
Not all comments will be published (
details
).  Comments may be edited for clarity prior to publication.
---
From "M.A." (11/08):  "And now for the poor man's version….Take a nasal spray bottle (the kind that produces a fine atomized mist), rinse it well, fill it with Glass Plus cleaner, add a microfiber towel and presto!  Clean visors for about $5.  Fits in any tank bag or pocket, won't leak, and certainly affordable.
Keep up the great reviews.  I recommend your site to all my MSF students and fellow riders."
Editor's Reply:  And here's the RPMGV (Really Poor Man's Green Version):  Carry a bottle of water and sprinkle it on the visor then rub with your fingertips.  Works like a charm…
Other WebBikeWorld Visor Posts