Clarity Defog It Anti-Fog Treatment Review
An anti-fog solution that's easy to apply, lasts a long time and really works!
We've been evaluating and reviewing anti-fog treatments and solutions of all types for many years.
Some work, after a fashion, most don't and a few are downright strange.
Take the Pinlock insert. It works, but it seems to be a pretty complex solution to what seems like a simple problem. Or should be, anyway.
After all, it's 2010, right? Isn't this the year Dr. Heywood Floyd is supposed to finally make contact and learn the mysteries of the monolith?
You'd think we'd at least have something that prevents a motorcycle helmet face shield from getting all fogged up.
Maybe Dr. Floyd is still out there, orbiting Jupiter in the Alexei Leonov, hacking the HAL 9000 trying to get it fired up.
We'll never know. But in the meantime, back here on Planet Oyth (as Bugs Bunny calls it), at least we do finally have an anti-fog coating that works.
Clarity Defog It
Clarity Defog It is made by Nanofilm Technology, who fortunately discovered our webBikeWorld anti-fog coating reviews and decided to send a few samples. We're glad they did.
Clarity Defog It is packaged in semi-dry towelettes, which are claimed to last for up to 8 applications (on a pair of goggles). But we think the real bargain is the 0.5 fl. oz. bottle, which is less expensive and a better value.
[UPDATE: As of November 2010, the 0.5 fl. oz. bottle is now a 5.0 mL bottle, which is 0.17 fl. oz.]
The Clarity Defog It towelettes, or wipes, are nearly dry, which is surprising.
The instructions call for rubbing the wipe on the lens for 15 seconds, but the problem is that it's difficult to wipe the inside of a curved motorcycle helmet face shield and get the entire surface coated, even when the shield is removed from the helmet.
The bottle of liquid Defog It makes it easy. Three or four drops on a face shield should do it; rub it in with a microfiber cloth until it disappears and you're all set.
Application
Compared to other anti-fog coatings we've tried, the Clarity Defog It is very easy to apply and it disappears very quickly into the surface of the polycarbonate face shield. It also leaves no visible residue.
Of course, being the World's Most Skeptical Skeptics, and having used too many anti-fog liquids that simply don't work, we didn't think this one would be any different.
But what a surprise — the Clarity Defog It is clearly, pun intended, above the rest.
We tried it on a selection of different brands and types of face shields and it works on all of them.
We even gave it the webBikeWorld Fog-tacular Torture Test by boiling a big pot of water and holding the treated visor in the steam. Nothing. The treated side didn't even get wet.
In fact, we're still so amazed at how well this product works that I'll have to admit we keep looking under the curtain asking "What's the catch"? So far, there is none.
We're also now wondering why manufacturers like Shoei and HJC have abandoned anti-fog coatings and embraced the more complex (and costly) Pinlock system instead.
Maybe the Pinlock works, but it has a few drawbacks. It can be difficult to clean, it can become scratched and some riders have complained about distortion when riding at night.
The Clarity Defog It liquid, in comparison, is easy to apply, it's crystal clear, it quickly buffs into the face shield in a few seconds and it lasts for quite a long time.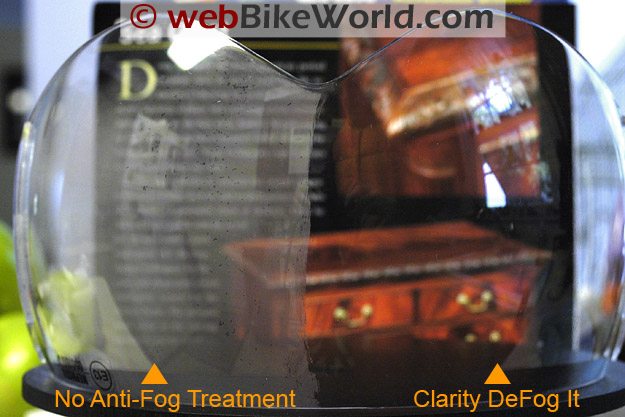 ---
Where to Buy Clarity Defog It
Check Reviews & Prices on Amazon
See More: Motorcycle Accessories, Motorcycle Tire, Motorcycle Helmets
---
How Does It Work?
It lasts for several rides or longer when used on a motorcycle helmet face shield, because the inner surface of the face shield doesn't experience much abuse.
Nanofilm said that when Clarity Defog It is used on ski goggles or safety glasses used by food workers walking in and out of coolers all day, a coating should last a week or more.
Nanofilm also said that in their testing, they held a treated face shield over boiling water for 60 minutes without fogging and moved lenses between a 30 degree F refrigerator and 72 degree F room for 100 cycles and the treatment still worked.
We didn't go to those extremes, but the ice cold weather we've experienced over the last few weeks was the perfect proving ground for an anti-fog treatment.
I guess it's possible that the treatment may not work on all face shields; some may have a specific factory anti-fog coating that may interfere. I don't know this for a fact — just guessing.
The topic of using an additional anti-fog treatment over an existing anti-fog coating was discussed during our review of Salclear anti-fog spray.
All I can say is that Burn and I have been using Defog It over the last few weeks on a half-dozen different face shields and we're amazed at how well it works.
Of course, the formula is a secret, but the scientists at Nanofilm Technologies have apparently discovered the trick that has eluded the rest.
The product is said to work on a variety of lens types, including eyeglasses with anti-reflective coatings; CR-39, polycarbonate and glass lenses; sunglasses; goggles; and lenses used on instruments like binoculars and cameras.
The company said that Clarity Defog It is also used by various military organizations for "mission critical" anti-fog treatment on goggles, face shields and optics.
It's difficult to document the efficacy of an anti-fog treatment, but we used our standard kitchen stove procedure that includes a steam torture trial to evaluate the Clarity Defog It.
Here are a few photos that I think will illustrate the point: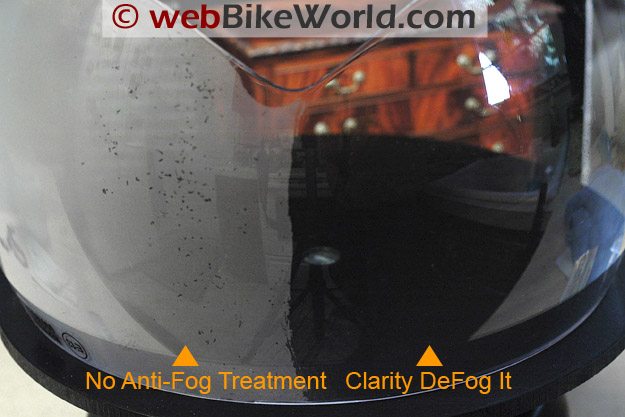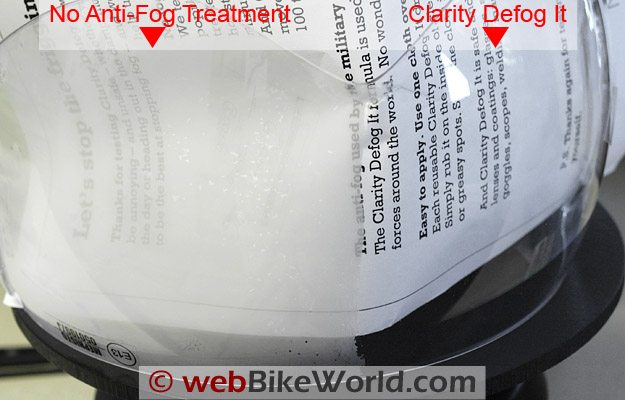 Conclusion
The Clarity Defog It anti-fog treatment has given us the best results of any anti-fog treatment we've tried (and we've tried a few, as you can see in the links to the webBikeWorld anti-fog treatment reviews in the right-hand column).
It's remarkably easy to apply and it quickly "disappears" into the polycarbonate of the face shield.
A small 0.5 fl. oz. bottle should last a long time and — surprise! — it's available right here in the wBW Amazon.com Store for only $8.99 (plus shipping), including a microfiber wipe!
We're interested in your opinions on this product, so give it a try and let us know what you think (comments below)!
More wBW: Anti-Fog Treatment Reviews  |  Heated Clothing Reviews
w

BW

 Product Review: Clarity Defog It

Manufacturer: Nanofilm Technology
List Price (2013): $8.99 for 5 ml. Buy It Here!
Sizes: 5.0 ml
Made In: U.S.A.
Review Date: January 2010
Note:
 For informational use only. All material and photographs are Copyright © webWorld International, LLC since 2000. All rights reserved. See the webBikeWorld® 
Site Info page
. Product specifications, features and details may change or differ from our descriptions. Always check before purchasing. Read the
Terms and Conditions
!
---
Where to Buy Clarity Defog It
Check Reviews & Prices on Amazon
See More: Motorcycle Accessories, Motorcycle Tire, Motorcycle Helmets
---
Owner Comments and Feedback
---
From "G.D." (January 2014): "I just bought a new helmet shield that came without an anti-fog coating applied at the factory. I tried a couple of different spray-on solutions that did little or nothing to stop the fogging.
I then read the reviews here for the Clarity system and gave it try.
It worked like a charm!  While the bottle is small, it takes just a few drops to do the trick. The microfiber applicator sheet allowed for an even distribution across the shield.
Once dried moments later, it became invisible and I was off on my ride. Time will tell how often I will need to reapply Clarity to the shield, but for now it is the best anti-fog solution I have found."
---
From "H.B." (10/10):  "I started using Clarity Defog it in June, after reading the review. During summer months it appeared to work fine.
I was using it with OGK FF5 and Akuma Phantom II, but with the weather being mostly dry and hot, I guess that both visors would work fine even without the defog it application.
However the real test came a few days ago after returning home for the ship. I rode my bike in the evening with temperature about +10 DC, and I used Defog it on Akuma visor.
The day was sunny and dry, but after the nightfall, it cooled down and became more humid. The result was a disappointment.
It is true that the visor does not fog in a usual way–becoming white, but it does become unusable.
The visual distortion is difficult to describe–it appears to remain transparent, but some sort of watery film deposits very quickly on the visor.
Every time I had to stop in the traffic, or was riding slowly I had to immediately crack open the visor.
The interference with the vision is actually very dangerous, because the visor appears to be clear (no white areas), but the vision is completely distorted.
Just to make one thing clear, I have applied Clarity only 3 hours before the above described results.
My assessment of various anti-fog treatments that I have tried so far:
1) Various anti-fog treatments that came with helmets — nothing really works, they all fog up.
2) Various anti-fog sprays — do not work at all.
3) Clarity defog it — works better than various spray treatments, but still not enough to be of practical use.
4) Pinlock — works! It will still fog partially on very cold days, or during rain, therefore in these conditions, you still have to crack open the visor.
5) Double visors — They really work! Some years ago I used Uvex carbon helmet with double visor. I never had to crack open that one.
I noticed that Arai is offering a double visor for Corsair V helmet, dual pane SAI shield. Although I have never tried it (do not have corsair V helmet) I assume that it will work the same way as my old Uvex visor."
Editor's Note: Some OE face shield anti-fog coatings can affect the performance of aftermarket anti-fog treatments.
I believe Akuma uses a special coating on their face shield which may have affected the performance of the Clarity DeFog It and similar products.
This issue was discussed in our anti-fog treatment comparison.
---
From "S.S." (4/10): "I just got some of this from a friend, and used it on my Shoei RF1000 visor. It required two applications, but once done, it hasn't fogged a bit.
I had originally ordered the Pinlock visor in addition to the stock one for this helmet, as every review mentioned the fogging issue.
Having adjusted to having the Pinlock seam in my field of view and the halos at night, it was a revelation to use the clear visor.
I had not realized just how much the Pinlock system intrudes into my field of vision until now, and I must say that it really seems to open up the view substantially without it, almost like having no visor at all.
This is truly a great product, and I can only imagine the negative reviewers must have something on their visors that is preventing this product from applying itself correctly.
Thanks as always for the great reviews!"
---
From "G.M." (2/10): "I will be turning 59 in the next few months. I am a baby boomer, and as such, there were a few things I never thought I would live to see.
I never thought I would see the Berlin Wall come down, nor the fall of the Soviet Union and Communism, and I NEVER thought I would live to see the Atlanta Braves play in a World Series, much less win one.
Oh, and one other thing, I never thought I'd see a truly effective anti fogging application for motorcycle face masks.
After your strong recommendation in your review, and considering the very low cost, I just had to try this product.
I have two Scorpion helmets that I like very much, but Scorpion claims their shield treatment is fog proof, and it just ain't so.
I once had a Scorpion rep upset with me at a Motorcycle show because he was claiming the face shields were fog free, and I contradicted him. And a fogged up face mask can be VERY dangerous as we all know.
I first tried the solution on Racquetball goggles. I teach RB and wear eyeglasses. My students don't wear glasses but must use eye protection, and their eye protection lies right on their faces.
The venting is ineffective, and they are constantly trying to wipe off the condensation (and or sweat) that quickly collects inside the eyewear.
Defog It works perfectly on the eye gear. It lasts about three weeks then needs another drop or two.
I will be recommending it to anyone who plays racquetball and wears eye gear, (and those who don't wear eye protection playing RB fall into the same category as folks who ride motorcycles and don't wear helmets – the brain damage predated the motorcycle accident).
Today I finally treated my face shields.
Standing on the shoulders of those who have gone before me, I first cleaned the face shield with rubbing alcohol, to remove any residue from Scorpion or other treatments I may have installed and forgotten.
I then used my trust micro fiber cloth to spread several drops on the inside of the shield.
I rubbed it in and off. Then I was unable to fog the shield. Period. I will expect the treatment to last a few weeks, and then expect to reapply it.
So, the Berlin Wall has fallen, the Soviet Union has fallen, we have a president who shares his middle name with Saddam Hussein. Surely wonders will never cease.
And NOW we have an effective way to prevent fog on face shields! I will have to come up with a list of some other stuff I never expected to live long enough to see. I'll get back to you on that one."
---
From "R.T.G." (2/10): "I ride 20+k per year commuting in all weathers. I have tried everything to stop fogging.
I gave this product a trial run and never have had to crack my visor open once, I am very impressed, next, going to try it on swimming goggles. Thanks for this review that lead me to this truly fine product."
---
From "G.W." (2/10):  "Based on your evaluation and corresponding recommendation, I bought a bottle of Clarity Defog It. My experience with it is that it really doesn't work all that well.
When I first got it, I put some on my Shoei RF-1100 shield, and it fogged up completely in about two breaths, just as it was doing without it.
Weather was low 40's, cloudy, not rainy. I admit that I didn't properly apply it, so I gave it another chance.
This time I did everything that the instructions suggested, and more. I put on more than I thought I needed. I again took off for a ride. Weather was around 50, clear and sunny.
It did work for a while this time, but after about an hour, it was beginning to fog up.
I do ride on a fully faired bike, this may be the main source now of my fogging issues, but the product does not live up to my expectations, and they weren't high in the first place.
I will continue to use it, only because I bought it. My search continues…….."
---
From "P.J.S." (2/10): "Well the roads are at last clear of snow and ice so I rode to work this morning. Time to give Defog It a try.
I used 3 drops on my clean Shoei RF-1000 shield and rubbed lightly with a microcloth. What can I say, it works. The temp was 35 deg.
This is the best anti-fog product I have tried and I have tried a bunch. We shall see how long it last but for now it's performance is outstanding. Thanks to webBikeWorld for yet another great review."
---
From "P.C." (2/10):  "Your review of the Clarity Defog It reminds me of their earlier (about 2-3 years ago) dry cloth anti fog wipes which were about as effective as using an oily rag, so it was of great interest to see how their newer product compared, and was keen to try it myself:
I ordered some Clarity Defog It and did my testing on a Shoei helmet visor and a set of prescription glasses.
First the visor:
I washed and dried it well.
1. webBikeWorld says three drops or so should do an entire visor. I used three drops and rubbed in with a cotton cloth then buffed until I could not see any swirls. Took about 2 minutes.
2. This left a hazy fog.
3. Re-read directions on Clarity. Ahh microfibre cloth!  Dried the visor with air. I got a new microfibre cloth and applied the 3 drops over the old coating. Spread with microfibre cloth. Then lightly buffed until it came clear again.
4. Held in front of steamer for 5 seconds. Clarity now had a translucent haze. Maybe more product and less buffing?
5. Dried visor. Applied 12 drops of Clarity over the two previous films. Spread with corner of microfibre cloth. Got a film of small bubbles. Dried with a blower and got a milky haze .
Lightly buffed that with a microfibre cloth just until the haze and swirls were gone. Took 3.5 minutes.
6. Held in front of steamer for 5 seconds. Visor was now clear.
7. Repeated test 5 times and still clear.
On my glasses the results were similar. If I buffed too much, the Clarity failed to stop fogging. Instead, I got a translucent film that was unacceptable.
Conclusion: If you apply enough Clarity Defog It and don't over buff, this is a good product. With a helmet visor, I would estimate you would need 15 to 20 drops and about 3 to 5 minutes for full protection.
With practice you might be able to cut the time considerably."
Editor's Note:  We have been using it for several weeks and it hasn't taken more than 5 drops, but it's possible that some previous anti-fog coatings or factory anti-fog face shield treatments can interfere with the ability of subsequent anti-fog coatings.
This is described in an article we published some time ago entitled "Motorcycle Helmet Visor Anti-Fog Testing".
---
From "N.L." (2/10):  "I bought the Clarity Defog It through Amazon after reading your review. So far works great!
In the following example it was probably 95 percent effective. I have a Shoei RF-1000 helmet. I removed the visor and washed it with dish soap, I added a few drops of the Clarity and then gently buffed it dry with a clean 100% cotton cloth.
I immediately went for a night ride in 45 degree dry weather and the visor never fogged up.
The only time I noticed any hint of fogging was when I came to a stop for a few minutes and I could see a slight halo of fog when I looked at the street lights – probably wouldn't have noticed if I wasn't in "testing mode".
This item is not 100% effective but compared to having to open my visor almost before I came to a stop, or hold my breath, it works excellent."
---
From "A.N." (2/10):  "I've tried a variety of anti-fog solutions over the years. What I found was that most of them work… for about 10 minutes after application. After that, it's no good.
Not so with Clarity Defog It. I applied this to left side the visor of my Shoei RF-1000, as well as on the left lens of my eye glasses. Morning commute in mid 40's, no problem. Evening commute in mid 40's with rain, no problem.
The anti-fog was still working even after 8 hours at work. The difference between the coated left side and uncoated right side was like night and day.
Even when moving, if I deliberately breathe up and onto the shield, the uncoated side would fog while the coated side stayed clear.
At a stop light, both sides will fog. But the degree to which it fogs is again different. Also, once you start moving, the coated side would clear up much faster than the uncoated side. I am sold on this product. Thanks for the review."
---
From "T.B." (1/10):  "Yup. It works. And, beyond expectation at that. I had high hopes when I read your review, but this stuff is great.
I received the Defog It delivery on Friday, so it was ready for the Monday commute duties with my X-11 (the Fog Machine). I have since heard reports that others with X-11s have experienced fogging much worse than other brands. I know there is a coating on the shield, I can feel it. How could a coating make fogging worse?
Anyway, with Plexus on the outside and Defog It on the inside, I've had a high humidity commute on Monday (it was trying hard to rain, but only some spotty sprinkles were seen) that would have killed the next best product, All Kleer IMHO, and required reapplication Monday evening.
Tuesday was a rain day, and today was dry but miserably cold. Each one of these days would have been trouble for a fresh application of other products.
All I get with Defog It is what appears to be a minor 'thickening' of the product which creates a soft focus appearance when just starting out. Once the visor comes into equilibrium with the day's weather, I have crystal clear vision.
I've been worrying that I was risking it by not reapplying. Not so says my visor.
I now honestly believe that if I had Defog It a year ago, I would have had much more warning before encountering a fallen tree in the road in a massive squall.
Folks say that it fell as I approached. I do know my visor was fogged from the short pause at a stop sign just down the road.
I tried to keep the Plexus away from the Defog It (Editor's Note: T.B. uses Plexus on the outside of the face shield). Either I was successful, or Defog It doesn't care.
Thanks for the great reviews."
---
From "E" (1/10):  "I read the wBW article. I read the directions on the package. I applied the anti-fog as directed. I put on the helmet. I closed the visor and started breathing.
After three breaths the visor was completely fogged. The helmet is a Shoei RF-1000 . My experience in no way matches yours. That stuff simply, does not work."
Editor's Reply:  Interesting — there may be some type of previous coating on the Shoei face shield that is affecting the performance. Our photos above were taken immediately after the cold face shield was held over live steam.
UPDATE (Editor):  I just pulled out my RF-1000 with OE face shield to try it. Basement, 65 degrees F. Removed the shield and breathed on it and it fogged up. Tried the towel version of Defog It and it fogged up.
Put 3 drops and rubbed it in with a microfiber towel. Breathed on it and it's perfectly clear, not a speck of fog. Go figure.
---
From "A.P." (1/10):  "Your review, along with the fact that it's inexpensive convinced me to buy this.
I've been looking for a while for some type of effective anti-fog solution, and was almost convinced the only way around fogging was either a pin-lock insert or having my face freeze while I ride with the visor opened.
I generally stop riding after temps drop below 40F and especially after the first snow, but below 50 my helmet would fog immediately unless I cracked it open, and then my face would freeze.
I can't ride right now so I can't review it under "real" conditions, but I did apply this to my helmet and go stand outside for a few minutes (looking like an idiot, but the only way I could test it) and zero fogging.
I imagine this is probably a more severe test than riding since I had no air circulation.
Can't wait to see what it's like once March gets here and I can start riding again. Definitely worth the $8 or so I spent, and it seems like it will last a very long time."
Other WebBikeWorld Accessories Posts