The Chrome "Pawn" Messenger Bag Backpack Review
Very heavy-duty, no-compromises backpack is waterproof and versatile but comfortable to wear.
I'm a fairly new webBikeWorld contributor, but I guess I've become the go-to guy for messenger bags and motorcycle backpacks.
Some riders don't like to wear a backpack, but I have yet to find any type of motorcycle luggage more versatile and easy to use.
I commute to work as often as I can in downtown Washington, D.C. and, unfortunately, I can't leave luggage attached to my bike.
Well, I can — but it probably wouldn't be there when I got back.
It's also too much of a hassle to stow all my gear into saddlebags or a tank bag, then transfer it to a backpack, which I wear anyway to carry my stuff, then reverse the process when it's time to go home.
I could probably bungee the backpack somewhere on the bike, but that has its own problems.
These include trying to fit an odd-shaped backpack across a narrow seat, scratches from the bungee cords or  worrying about whether or not the backpack is secure, and
I can throw all my gear and my laptop inside of a backpack and use it all day long as I walk back and forth downtown to various meetings.
I know I'll always have everything on hand when I need it because the backpack is always with me.
So far, so good.
But some of the motorcycle backpacks are too…weird looking. For me anyway. When I'm walking into a meeting, there's a difference between wearing some kind of slicked-down, aero motorcycle backpack and a basic cool-looking piece of soft luggage.
This is all very subjective, of course, but since many of my colleagues are either carrying courier bags, shoulder bags or backpacks, I needed something that would fit right in, and this Chrome "Pawn" backpack is just the thing.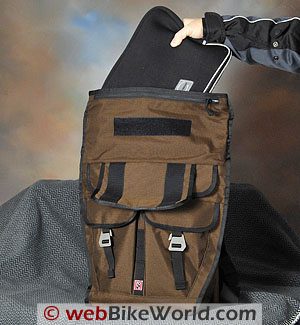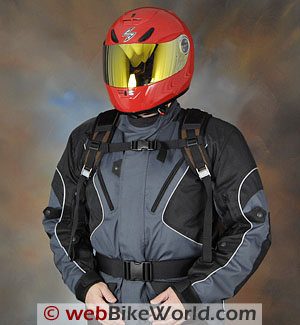 I'll admit I didn't know a thing about Chrome backpacks until The Ed shoved one under my nose. My first impressions after seeing this "Pawn" model were "This thing is big" and then "This thing is brown".
I took it home and there it laid for a few days until I got motivated to swap my gear out of the Roadgear MultiTasker I've been using lately and into the Chrome. That's when I started to carefully look over the Pawn and realized this is one serious backpack.
Chrome Industries is located in what is probably the heart of "messenger bag & backpack central" in the United States; San Francisco. Their M.O., as they call it (modus operandi) is simple: "build products that withstand the daily abuse of the everyday world".
And they're pretty serious about that. After using the Chrome Pawn for a few weeks, I can easily say this has to be one of — no, scratch that — this is THE most rugged piece of soft luggage I've ever encountered. It is a no-nonsense, tough, working tool. This is the real thing — fakirs and faux-nies not allowed.
Which means it's perfect for motorcycling!
The Chrome product line includes (and I'm upper-casing here because these are the Chrome no-nonsense product line names):
Messenger Bags; Messenger Packs, Roll-Top Packs (which includes the Pawn); "Dart" Bags (smaller over-the-shoulder bags) and some apparel and accessories, like a manifest holder, radio holder and cell phone carrier.
Each of the main product lines, including the Messenger Bags, Messenger Packs, Roll-Top Packs and Dart Bags, comes in small, medium and large sizes and the only concession to marketing are the somewhat cute individual names.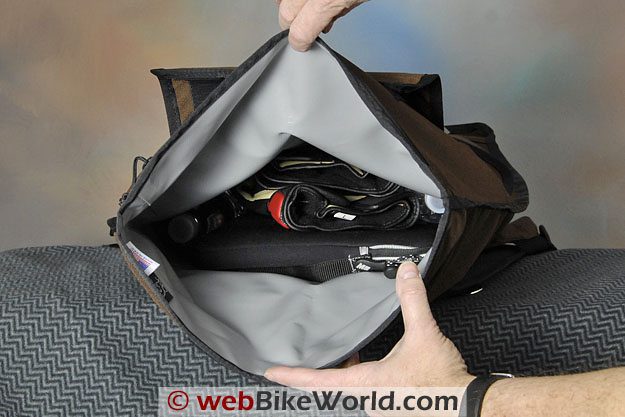 ---
Where to Buy Chrome Messenger Bag
Check Reviews & Prices on Amazon
See More: Motorcycle Luggage, Motorcycle Accessories, Motorcycle Helmet
---
Chrome "Pawn" Roll-Top Messenger Backpack
Believe it or not, the Pawn backpack shown here is the smallest of the Roll-Top category. All I can say is, if this is what they consider small, I'd hate to see the large "Sultan" bag, because the Pawn has a huge internal-to-external volume ratio.
The outside dimensions may seem small when you look at the numbers: 16″ at the widest point by 12″ tall with the top rolled up by about 6″ thick (41 cm x 31.5 cm x 15 cm).
But that's 1,150 cubic inches, or almost 19 liters of storage!  And it's all usable too. You can overstuff mass quantities of consumables in here and I guarantee you'll buckle at the knees before the Pawn will.
Indeed, it's hard to believe the Pawn is the smallest of the Roll-Top collection.
The "Ivan" is the mid-sized Roll-Top backpack; it's 20" x 14" x 6" (51×35.5×15 cm), giving it a volume of 1,680 cubic inches or 27.5 liters.
Not big enough for you?  Then how about the "Sultan": it's 22" x 15" x 7.5" (56x38x19 cm) and holds a massive 2,475 cubic inches, or 40.5 liters!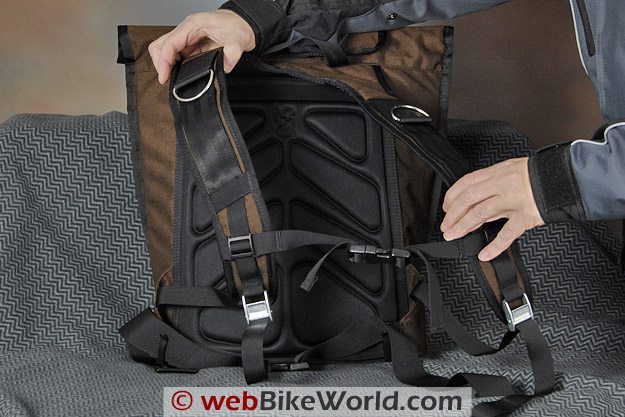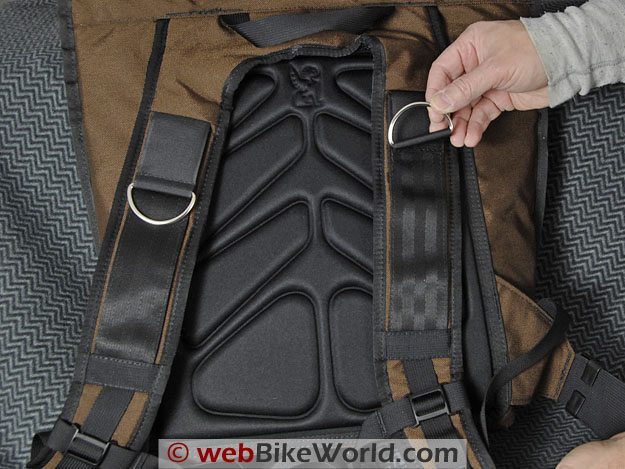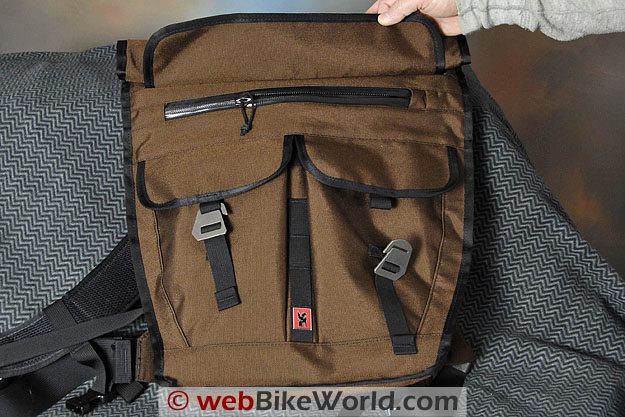 ---
Where to Buy Chrome Messenger Bag
Check Reviews & Prices on Amazon
See More: Motorcycle Luggage, Motorcycle Accessories, Motorcycle Helmet
---
Riding With the Chrome Backpack
You have to be doing some very serious messengering to haul around one of those dump trucks on your back. Do they really wear those on a bicycle?
Maybe Chrome sells an optional hydraulic tilt bed to dump the goods out of the bag and into the customer's inbox!
But the heavy-duty, real-world, working design of the Chrome backpacks means no fancy internal dividers for your Saint-Géron water bottles and Ashbourne biscuits.
Roll open the top and you're faced with an endless waterproof cavern. Throw the stuff in there, roll up the top and take 'er out for another day on the road, beating the sleepy cagers at their own game.
The Pawn has two outer patch pockets added on the back for smaller gear; each pocket closes not with fancy snaps or — heaven forbid — Velcro, but with real honest-to-goodness metal hooks. Yeah baby!  Bring it on!
Under the flap in the back lives a waterproof zipper to keep the paperwork clean and dry. This 10″ by 12″ deep (25.5 cm x 30.5 cm) pocket is lined with vinyl that looks like it was cut from the stuff that lines atomic waste dumps to prevent leaching into the water table. Rugged stuff, and probably adds to the overall tough feeling exterior.
These backpack caverns are wrapped with a very heavy canvas-like 1,000 denier Cordura, which feels heavier and stiffer than any of the Cordura or nylon I've seen used in motorcycle clothing or luggage.
Maybe they use some internal backing — certainly in the main body of the backpack, because it's completely lined with a waterproofing vinyl material — that makes it stiffer, but overall the Chrome Pawn is as rugged as they come.
The available colors are fairly muted, which is a bit of a surprise, but I guess the brown, olive or black choices for the Pawn work very nicely, thank you, at hiding dirt. No Paris runway high-viz yellow or orange here folks.
OK, so the Chrome Pawn may not have the sleek looks of the Mobile Edge laptop backpack, but let me tell you, the Mobile Edge, although smooth-looking, has nowhere near the capacity or usefulness of the Pawn and it feels much heavier when empty.
Other Features
The shoulder straps on the Pawn are comfortable and they're cut on a curve into the top of the pack in a sort of mini-shoulder harness. Just above the harness is a handy carrying handle made from nylon webbing.
The shoulder straps are fully adjustable, and the Pawn also has a cross-chest strap and a waist strap that easily adjust. The shoulder straps are 3″ wide (75 mm) and padded, which comfortably distributes the weight.
The straps have an added feature with big metal D-rings that can be adjusted; I'm not sure what these are for, but they can be used to hang a cell phone or radio holder or attach one of those mini-LED lights for added visibility.
The roll top works fine, and in my experience it actually works better than a zipper.
After the bag is stuffed full, simply roll up the top; a special semi-hard insert sewn under the fabric keeps the lip square and easy to roll. After it's rolled up, a separate flap covers the tube of material and secures it with big wads of Velcro.
The roll keeps the contents dry and maintains the waterproof integrity. This is a simple design (also found on some Ortlieb bags) that works and again shows the utilitarian nature of the Chrome design, with the minimal amount of thingies that might break off just when you least expect.
Conclusion
Absolutely my favorite backpack, the Chrome Pawn has won me over due to its rugged, no-nonsense approach, minimalistic styling and the avoidance of any feature that isn't functional, which consort to make this a winner.
Yep, maybe it's a bit pricey for a backpack, but quality and ruggedness is uncompromised. Besides — I'm expecting it to last way longer than me…
w

BW

 Review: Chrome "Pawn" Roll-Top Backpack
Manufacturer: Chrome Industries
List Price (2009):  $180.00
Colors: Black, Olive or Brown.
Made In: U.S.A.
Review Date: March 2009
Note: Item provided by a retailer, distributor or manufacturer with these Terms and Conditions.
Note:
 For informational use only. All material and photographs are Copyright © webWorld International, LLC since 2000. All rights reserved. See the webBikeWorld® 
Site Info page
. Product specifications, features and details may change or differ from our descriptions. Always check before purchasing. Read the
Terms and Conditions
!
---
Where to Buy Chrome Messenger Bag
Check Reviews & Prices on Amazon
See More: Motorcycle Luggage, Motorcycle Accessories, Motorcycle Helmet
---
Owner Comments and Feedback
---
From "S" (February 2012):  "S" wrote to let us know that Chrome now makes smaller bag, the "Yalta", which is 29L vs. the Pawn 35L.
Other WebBikeWorld Bag Posts