Chatterbox XBi2 Image Gallery
This section describes user impressions of the Chatterbox XBi2 system; using the system; a summary of the features; the "Bottom Line Ratings"; and the conclusion.
Chatterbox XBi2 User Impressions
Controls: Having five separate controls: On/Off, Mode and Intercom, along with Volume Up and Volume Down, seems like one or two too many.
But after a few minutes of use, the concern proves to be unfounded. The smallish pressure buttons are easy to find and use, with a solid feel and positive feedback when pushed.
Basic phone control is provided, although not all the features of the HTC Touch can be utilized from the XBi2, a bit of a shortfall when compared to other multi-function headsets. From a safety point of view however, the essentials work just fine.
Intercom Mode: The first day of full use went without a hitch and only after over six hours of almost constant intercom use did the systems initiate their low power warning tones in the background. This type of performance has been typical for the systems on a daily basis – pretty good I would say.
Rider-to-Rider: Communications out to 450 to 500 metres was the norm – about what should be possible for a good Class One (100mW) system. Once activated by a quick push of the Intercom button, the duplex link remains 'on', so very little of any conversation session is lost unless ambient noise levels are very high.
Accordingly and without an active automatic gain control (AGC) function working in the background, volume levels need to be adjusted from time to time.
Outside of ambient noise levels, two other things will cause the link to become noisy: when distance, power levels and environmental conditions become dominant factors; and, when the interleaved audio from the higher priority (GPS) device is present – more on that later…
Battery Life: We purposefully ran with the Intercom for over 30 minutes once the low battery warning sounded on both modules. But outside of slightly lower audio levels and increased noise, communications could still be maintained at 100 to 250m – impressive.
The battery recharges in less than three hours. The first unit took 2.5 hours and the second unit close to three hours. When charging, the small LED on the adapter glows Red and the module LED is a steady Blue. Once charged, the adapter LED changes to Green and the module LED goes out.
Battery level status can be ascertained visually by using the Power button to activate a status sequence, or more directly by the alarm beeps that will sound in the headset once voltage drops below a certain level. The unit will switch itself off once the minimum voltage level is reached.
Audio Quality: In general: very good. The headset does not have the absolute fidelity of higher priced systems, but compared to the other brands on hand these are near the top. Music from higher powered and high quality peripheral devices that users typically carry today is faithfully reproduced – we have zing.
Volume: Only on the highest audio setting can a trace of distortion be heard, usually during Intercom use and some of this can be traced to the active feedback loop in the system.
Some distortion of external audio can be induced, but typically only when the external device is 'cranked up', something that the Chatterbox unit has little control over.
Even at freeway speeds with high ambient noise levels the intercom was still viable, without having to crank the volume to its maximum setting. The lowest and highest volume settings are announced by a short double tone in the headset.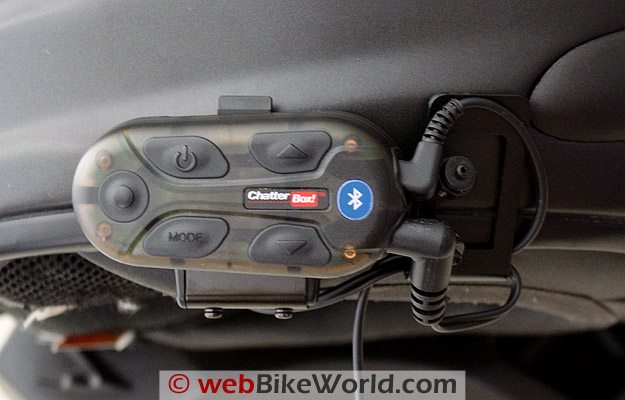 Something to Note
While using the systems it was discovered that both devices allow music audio from a high priority audio connection (i.e., Garmin GPS), to continue when the second priority intercom is in use. The music playing on the GPS is weak and distorted, but it can be heard in both headsets.
From a programmed prioritization perspective, audio from a paired phone or GPS navigation instructions are the highest priority and typically the MP3 music stream is assigned a lower priority (i.e., third priority behind the intercom). So something seems amiss here…
When the GPS navigation audio is activated however, the background MP3 stream stops but resumes when the navigation session is finished. It would seem some channelization is happening and/or one or both of the devices are not recognizing or managing the priorities, allowing the music to bleed-over.
The Editor and I put the issue forward to Chatterbox and in short order, got a very informative response back. The information provided confirmed that occasionally, when using their models with the Garmin (zumo) 550, the music does bleed over and the user will hear it while trying to communicate in intercom mode and, this bleed-over has also been noted between two units.
So obviously the issue that has been experienced by Chatterbox is being recreated by the evaluation configuration, as it was the Garmin zumo 550 that was allowing the scenario. Having now finished the XBi evaluation and in recreating the environment, I can state that the issue exists with them as well.
According to Chatterbox the solution or in reality, a workaround, is to bypass the Bluetooth from the Garmin and use a compatible BTA, like the iCombi AG12 with the zumo, which would address both situations experienced. Another workaround of course is to connect the Garmin and headset together via the 3.5mm auxiliary port.
I don't see this as a critical issue per se, but it does degrade or detract from the clarity of the intercom, or could, but that is probably the worst of it. I thank Chatterbox for getting back to us so quickly and in confirming the issue.
On a related technical note, I'm not alone in having experienced Bluetooth connectivity and streaming issues with some Garmin models, so there may or may not be a relationship here.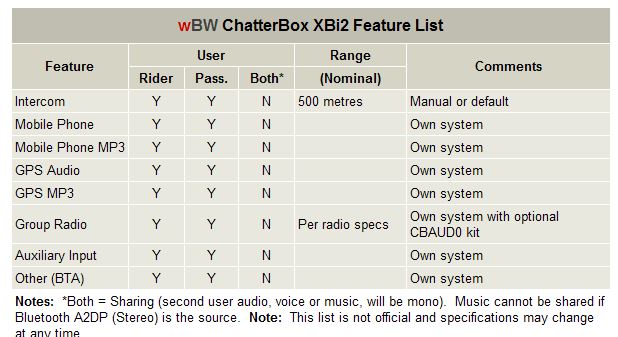 Chatterbox XBi2 Published Specifications
Product
Power: DC, 5.0 to 6.5V
Operating Voltage: +3.1V to +4.2V
Battery: Li-Polymer 630mAh
Audio Power: 120mW (max) @ 32ohm
Charging Time: 3 hours
Operating Temperature Range: -10 to +55 C
Operating Time: Standby is 10 to 16 hours; Continuous Use is 6 to 8 hours
Electrical
Frequency Range: Bluetooth is 2402 to 2480 MHz; CDMA (Intercom) is 2402 – 2480 MHz
Power Output: Bluetooth Channels is Class 2 at; CDMA (Intercom) is Class 1
Profiles: HFP, HSP and A2DP
Current Consumption: Bluetooth is 50 mA; CDMA (Intercom) is 110 mA
Operating Temperature: Bluetooth is -10 to +55C; CDMA (Intercom) is -10 to +80 C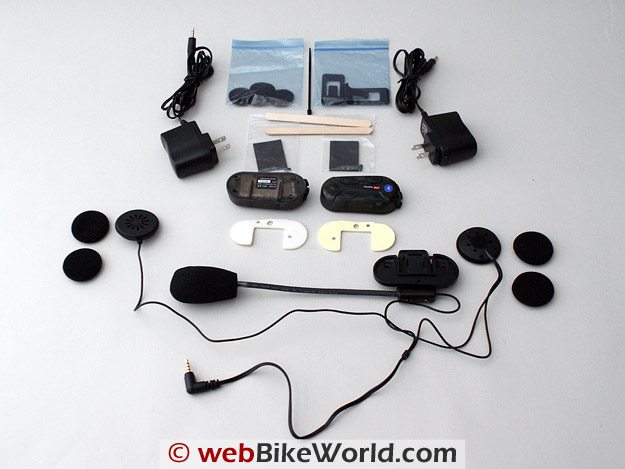 Chatterbox XBi2: 

w

BW

 Bottom Line Ratings
Feature
Rating
Comments
Packaging
Very Good
Each system is individually packaged and everything is well secured inside the molded shells. The AC/DC North American standard charger is larger than some but at least each user gets one – one for travel and one for home, or one for each user.
Design
Excellent
Despite its small size overall and reduced frontal area, the five controls are still easy to access and use, mainly due to the tactile button pads and an easy-to-remember layout.
Execution
Very Good
Brackety is a bit finicky to get together, but works well and keeps the module in place: the module is not easily dislodged. If the bracket does slide around, even with the rubber pad in, a small hook-n-loop pad will help. Connectors and harnesses are well made and fit tightly. The bi-adhesive mounting piece seems thin and doesn't have much cushion to facilitate slight shell curvatures
Features
Excellent
If the headset was higher quality (like the TWIINS) and if I had been able to evaluate a group radio configuration, then this category would moving on up to the Outstanding box. Am I nit-picking here, yes.
Fit
Very Good
Both types of mounts work, but the bi-adhesive mount is a bit flimsy and should be a mm or two thicker. This mounting option provides cushioning for shock absorption and facilitates curvature and features of helmets, providing a solid pressure fit. The spring clip is not absolutely fixed in stone, but it is hard to move around and the rubber pad really helps. The integrated headset and microphone assemblies, boom or thin wire, work well.
Setup and Configuration
Outstanding
The "Easy Button" is standard.
Performance
Excellent
If the XBi2 had more media handling features (phone and music) like the Midland BT2D (review) and slightly better speakers, this rating would be an Outstanding. Everything else – pairing, device support, audio, intercom and battery life is there. The XBi2 intercom is my new champion for rider to passenger and especially for rider-to-rider use.
Ease of Use
Excellent
Less surface area and multiple controls don't always translate well, but with the XBi2, its fine. Light to medium gloves will pose no problems and with some on-job-training, heavy gloves should be OK as well. The manual is short, succinctly written and easy to understand.
Power
Good
Battery life is a bit less than some other systems, but still well within the specifications listed and given the constant use, fully acceptable. What I also like is the ability to check power status visually or just wait for the warning tones.

Taking the opportunity – it would be really nice if more manufacturers/distributors would start adding a DC charger to the kits, preferably with the Powerlet/BMW (SAE) connector.

Reliability
Very Good
So far nothing has slipped off, pulled out or quit working, even in some crappy weather and constant on/off of the helmets, etc. I'm betting these things will last for a long while.
Maintenance and Support
Very Good
So far nothing, other than recharging the batteries and wiping them off now and then. Support from Chatterbox has been very good – prompt and forthcoming.
Cost
Very Good
Although I have found a wide range in US pricing and the Chatterbox products in general and the XBi2 units specifically demand a slightly higher premium, especially when compared to some of the dual or bundled kits on the market. But they are worth it.
Value
Very Good to Excellent
Better speakers and better or more media features (phone and music) would really put these at the top of my heap as a premium Bluetooth headset system.

Other things that add value are the Chatterbox reputation for quality, timely support and useful accessories and replacement parts that enhance and extend product life.
Conclusion
The Chatterbox XBi2 system is an extremely well designed and very functional system. Less the concurrent audio streaming issue — which is a nuisance, not a show-stopper — everything else works as advertised.
Apples to apples, the Class 1 Intercom is on par with my previous distance and clarity favourite that being the Cardo Scala Rider Q2 system. The XBi2 intercom is also the clear distance winner over the intercom feature of the updated Midland BT2D system (review).
The Chatterbox XBi2 system is in the 'reward' classification, for many reasons. This is another one of those systems that has all the basics I am looking for and does everything really well. It's a good thing that more than one helmet is available to keep this system mounted up and ready for use.
Part 1: Chatterbox XBi2 Review  |  Chatterbox XBi Review |  Chatterbox iCombi BT Adapters
Note:
 For informational use only. All material and photographs are Copyright © webWorld International, LLC since 2000. All rights reserved. See the webBikeWorld® 
Site Info page
. Product specifications, features and details may change or differ from our descriptions. Always check before purchasing. Read the
Terms and Conditions
!
Owner Comments and Feedback