Chatterbox iCombi Bluetooth Adapter Image Gallery
The Chatterbox iCombi AG-12 and iCombi AP-21 Bluetooth "dongle" adapters can be used with compatible Chatterbox and other brands of Bluetooth headsets.
The iCombi AG-12 is flawless in its performance and the tailored-for-iPod-use AP-21 might be just as good. The newer model has an open face connector that should mitigate the issue I experienced when trying to use the older version with my 4th generation iPod Nano.
If you want or need a Bluetooth adapter for one or multiple reasons, either of these are worth a look.
Bluetooth adapters (or BTAs) have really come into their own over the last year or so, mainly to support the wide and diverse consumer market that has grown up around Bluetooth headsets of all types, shapes and functions.
A Bluetooth adapter is basically a wireless transmitter that allows a non-Bluetooth device to connect to a Bluetooth-enabled device, allowing a quick implementation of a wireless audio link. For example, when connected to a non-Bluetooth MP3 player or radio, a Bluetooth adapter provides a wireless connection to a pair of Bluetooth headphones or speakers.
These small and very portable components provide an extremely expedient and low cost solution for wireless connectivity. They are especially useful for motorcyclists, because they provide a connection between a non-Bluetooth device like a music player to a Bluetooth-enabled helmet or headset.
Another example of how a Bluetooth adapter can enhance a connection is when a Bluetooth adapter is used with a Garmin zumo 550 GPS to provide a wireless audio stream to a Bluetooth headset. If the BTA uses the modern A2DP (stereo) protocol, the sound will be heard in stereo.
webBikeWorld has evaluated a fair number of Bluetooth headset systems (here) and almost all of them can now be used with either the proprietary Bluetooth adapter sold by the manufacturer of the Bluetooth intercom system or with one of the generic consumer Bluetooth Adapters that have recently become available.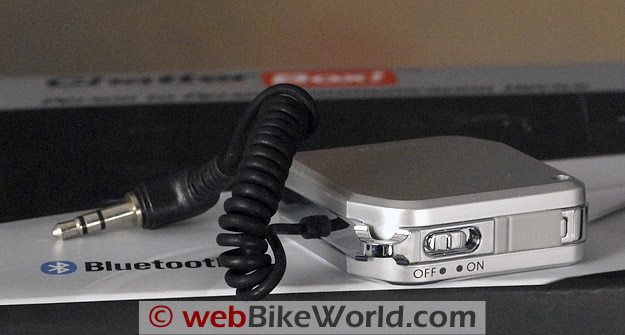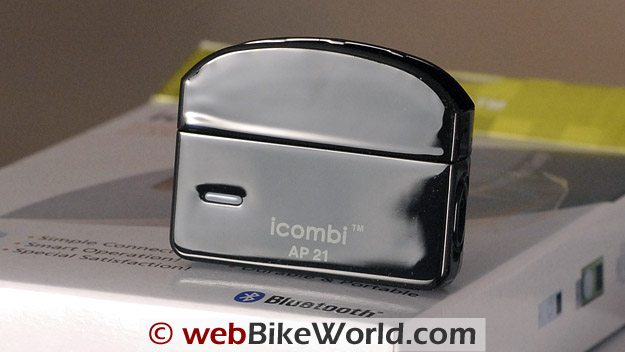 Case in point is the Sony TMR-BT10A Bluetooth adapter that was used for the Vemar CKQI Bluetooth helmet review. The Sony BTA will likely work with other systems evaluated as well.
While the iCombi Bluetooth adapters are a Chatterbox-branded accessory, they also work with other systems; which systems and how many is still an ongoing pursuit.
Most Bluetooth adapters will find and seemingly 'link' with a Bluetooth headset, but in reality, the pairing (and thus a connection) may not always be established. There are many issues at play here, one of the most common regards PIN or access code compatibility.
If the Bluetooth headset (receiver) does not recognize or is not matched to the code or PIN required by the Bluetooth adapter, then the partnership is not going to succeed and streaming will not be initiated. This compatibility issue…where have I heard this before?
The Chatterbox iCombi AG-12 and iCombi AP-21 adapters have provided valuable support in all of the Bluetooth intercom system evaluations.
The iCombi AG-12 is formally identified as the "Bluetooth Dongle Gateway Adapter", while the iCombi AP-21 is identified as the "iPod Bluetooth Audio Gateway".
Both of the Chatterbox iCombi devices use Bluetooth 2.0 with Class 2 power (2.5mW) for wireless connectivity up to 10 m or 33 ft under optimum conditions.
The devices provide Advanced Audio Distribution Profile (A2DP) and Audio/Video Remote Control Profile (AVRCP) support.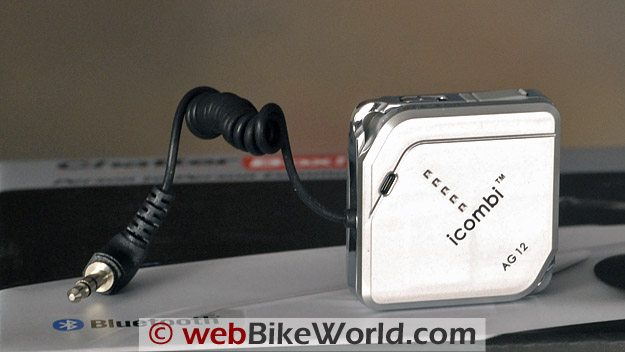 Chatterbox iCombi AG-12 Gateway Bluetooth Adapter
The iCombi AG-12 was the principle Bluetooth adapter used for the Chatterbox XBi2 and theChatterbox XBi reviews. The iCombi AG-12 is an extremely reliable and virtually foolproof device.
The AG-12 is small and stylish with a brushed aluminum look case and polished frame that has two corner points for clipping it to a key chain or media case. A thin coiled stereo lead terminates into a regular 3.5 mm stereo connector. A small on/off switch sits flush with the polished frame.
A separate mini-USB to Type A USB connector cable is provided for charging via any handy USB 2.0 port, found on most netbooks, notebooks or desktops. As long as the port is USB 2.0 and compliant with the Battery Charging Specification, the BTA will draw a 'trickle' charge from the host device.
A2DP allows the wireless streaming of stereo music from a connected device, such as MP3 players, satellite radio, GPS or other devices. AVRCP features are very limited when used with a standard audio device and the XBi2 or XBi headsets.
When used with a more compatible headset such as the icombi AH-10, basic Power, Volume and Mute functions are supported.
Chatterbox claims that the small internal rechargeable battery of the AG-12 is good for six to eight hours of battery life and my use confirms this.
Without referring to the small instruction sheet, I put one of the Chatterbox XBi2 modules into pairing mode and turned the adapter on. After ten seconds the icombi LED begins flashing the familiar Red/Blue pattern that denotes pairing mode.
In another ten seconds the LED flashes Red, then Blue and settles into a rhythmic Blue pattern while the XBi2 reverts to its paired mode indicated by a pulsing Red with periodic Blue flashes. With the icombi plugged into the zune media player, clear stereo audio is heard in the headset – success.

Chatterbox iCombi AP-21 iPod Audio Gateway
The iCombi AP-21Bluetooth adapter is designed to fit directly on to compatible iPod devices via the device's multi-pin connector. The AP-21 has no battery, so no recharging; the device gets a low power feed from the iPod device when the two are connected.
According to the Chatterbox website, the AP-21 works with most iPod and iPhone units with a dock connector, including the 4th generation click-wheel iPod; the iPod Photo; iPod Mini; iPod Nano; and the 5th generation iPod with video.
The AP-21 BTA supports most of the standard media remote control functions, but only when used with a fully compatible headset, like the Chatterbox iCombi AH-10 product.
However, the AP-21 model I received seems to be the older style that has a cutout for the iPod connector whereas the new ones expose the connector, thus simplifying fitment issues (like I have).
Lacking any controls, the iCombi AP-21Bluetooth adapter is simply put into action by squeezing the two side pressure points and pushing it gently onto the iPod connector. But in my case, the older style cavity is not wide enough to accommodate the iPod, so the two pieces do not slide together smoothly or perfectly.
The bottom of the 4th generation Nano is about 1.5mm wider than the cutout on the adapter and I suspect that the two connector surfaces are not perfectly mated (see my table comments below). There have also been some pin-out changes between devices and generations as well, so there may be more to this than just the physical fitment.
In any case, pushing the two devices together brings about the expected indicators — the Nano powers up, as does the adapter. With power, the LED lights on the AP-21 go into a slow pulse sequence, then change to a rapid flashing — the search and pairing mode. With this visual cue, I then put the Chatterbox XBi2 headset into pairing mode.
It took less than ten seconds for the devices to pair up and as I put the helmet on, the music could be heard pounding away. I wish everything worked this well…and sounded as good.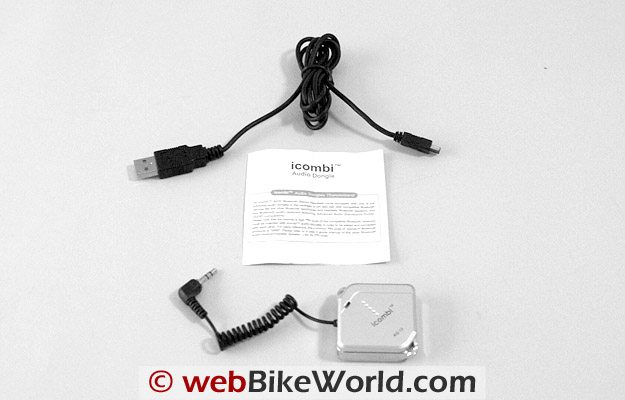 Chatterbox iCombi Bluetooth Adapter Compatibility
Compatibility is an important issue to many consumers. So I charged up every (well most of them, anyway) Bluetooth motorcycle headset system on hand, lined them up (more or less), and evaluted each one of them with both iCombi Bluetooth adapters. The wiREVO S300 Bluetooth headset (review) that I use with my HTC Touch was added to the list as well.
One major observation (possibly related to the fitment issue) can be made from all of the tests — volume control. Using the iCombi AG-12 general purpose adapter, once a successful pairing is completed and stereo streamed to the respective headset, either device (iPod Nano or headset) provides full volume control.
But with the iCombi AP-21 (the tailored-for-iPod device) put into the same configuration, a definite change in volume control is observed. The volume control on the Nano does not work with any of the systems. Thankfully all the headset controls worked fine…well, almost all.
Only the BikerCom (review coming soon) was a bit erratic in its volume control and although a re-initialization helped for a few minutes, the volume levels started to fluctuate again once a new music selection started…most curious. I am investigating this issue as part of the ongoing BikerCom evaluation.
To keep this Quick Look a 'quick look', the table below illustrates what worked and what did not:
w

BW

 Bluetooth Intercom Reviews: Product Comparisons
System
A2DP
AG-12
AP-21
Comments

w

BW 

Reviews
Audio Streaming
Chatterbox XBi2
Yes
Yes
Yes
Stereo. Volume control only with AP-21.
Chatterbox XBi
Yes
Yes
Yes
Stereo. Volume control only with AP-21.
Midland BT-2 v2
Yes
No
No
What gives?
BikerCom
Yes
Yes
Yes
Possible mono vs. stereo protocol issue.
Twiins
No
No
No
Current system mono streaming only.
Camos BTS-300
Yes
Yes
Yes
Stereo. Volume control only with AP-21.
 Scala Rider Q2 MS
No
No
No
Possible mono vs. stereo protocol issue.
 wiREVO S300
Yes
Yes
No
Stereo. AVRCP – Volume, Pause & Resume.
NOTE: 1. Volume issue with AP-21 may be related to differences in BTA and iPod interface.
2. Audio streaming issues with mono or stereo based systems being explored.
Table revised from original.
Conclusion
Both of the Chatterbox iCombi Bluetooth adapters perform as advertised with the Chatterbox systems and other systems as well, so compatibility is there (with certain systems).
The Chatterbox Bluetooth adapters are extremely easy to use and seem very reliable. Other than the fitment issue with the AP-21 iPod adapter, I have no complaints about either one of them.
For overall flexibility the AG-12 adapter is the hands-down winner. The issue with the AP-21 iPod adapter and volume control might be due to the fitment issue or just a (feature) of the iPod vis-à-vis media handling that I'm not familiar with yet.
Being somewhat new to the iPod world, this is on the list for follow-up and I am sure that observant users will enlighten me…and maybe Chatterbox will send a revised AP-21.
Overall I was pleasantly surprised by the results.
More: Chatterbox XBi2 Review  |  Chatterbox XBi Review
w

BW

 Review: Chatterbox iCombi BT Adapter
List Price (2009): $49.99-$59.99
Review Date: September 2009
NOTE:
 The webBikeWorld evaluators wear properly fitted ear plugs for intercom evaluations. This is reflected in the opinions on sound quality and speaker volume. Your experience may differ. Always protect your hearing when riding a motorcycle (
more
).
Note:
 For informational use only. All material and photographs are Copyright © webWorld International, LLC since 2000. All rights reserved. See the webBikeWorld® 
Site Info page
. Product specifications, features and details may change or differ from our descriptions. Always check before purchasing. Read the
Terms and Conditions
!
Owner Comments and Feedback
---
From "R.A.L." (6/10):  "In your review of the Chatterbox iCombi AP-21 iPod Audio Gateway you wrote 'One major observation (possibly related to the fitment issue) can be made from all of the tests — volume control. … But with the iCombi AP-21 (the tailored-for-iPod device) put into the same configuration, a definite change in volume control is observed. The volume control on the Nano does not work with any of the systems. Thankfully all the headset controls worked fine…well, almost all.'
I've seen comments like this in reviews on many different products. In fact, this is by design. The dock connector on the iPod provides a constant volume output, not variable. This is the behaviour one gets with anything that connects to the dock connector (for example, FM transmitter/charging adapters or the fancy docks Denon sells to connecto to their receivers)."
HBC's Reply:   The multi-pin connection devices for the iPods, etc, do take their power from the device and again by design, volume output is fixed vice variable, to only the headset can be used to adjust the volume of the incoming audio stream. This point might be worth adding to the AKE article, and I already had the same comment in the F4 Part Two draft.
On a related note, not all docking stations or interfaces limit the output to fixed. Some docking or multi-cable interfaces on the market do provide either fixed or variable output connections, like those found on larger scale media devices. We have two docking platforms here, one for the MS zune (superior in many ways) and an older iPod device, and they each have fixed and variable output connectors.
---
From "A.B." (9/09):  "In the review it specifies in the table that the Scala Rider did not have stereo audio. Did it have any audio at all or is the iCombi a strictly A2DP stereo protocol device?"
HBC's Reply:   As the revised table (above) shows, there was no audio connectivity between the Scala Rider devices and the two Bluetooth Adapters. I agree that the issue is probably related to A2DP and mono vs stereo protocols.
For what its worth, the matter is being investigated further and some enlightening information is being gathered. An update to the situation will be posted once it can all be put together. Hopefully the revised table will better qualify the current situation.
On a more positive note, the Camos BH200M Bluetooth Adapter that was evaluated last year and published on webBikeWorld in January 2009, supports both mono or stereo protocols and actually has a physical switch setting between the two modes to support use with either a common radio connection (simplex PTT circuit) or as the host for a stereo output device…this might be a solution. Ad-hoc testing is ongoing.