Charley Boorman reunited with his R 1150 GS Adventure from the Long Way Round TV series at last weekend's Goodwood Festival of Speed in England.
He celebrated 10 years since the iconic round-the-world trip by taking part in the 1866m hillclimb. The book and TV series launched Charley on to the world stage as the unlikely hero despite riding alongside Hollywood star and good friend Ewan McGregor.
Last month, Charley was included in a list of 20 motorcycle icons at number 18, just one behind Ewan. And this month in England, Charley will compete alongside 20 other celebrities on Celebrity Master Chef.
I've ridden alongside Charley in the Flinders Ranges and throughout Australia's Outback and he's as charming off-screen as he is on-screen as well as a dynamite rider in the dirt.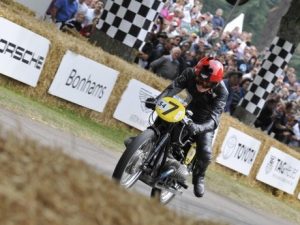 He's had many critics, but what he has done for BMW, adventure riding and motorcycling in general is commendable.
It was great to see him reunited with his 1150 GSA, bringing back fond memories of his first major expedition.
Historic and significant motorcycles are an important part of the Goodwood Festival of Speed. Among those making an appearance was the Munch TTE-2 electric race bike and a 1930s BMW Rennsport that won the Isle of Man TT.
The fastest hillclimb time was set by French rally driver Sebastien Loeb in a Peugeot 208 T16 in 44.6. He had been expected to break Nick Heidfeld's 1999 record of 41 seconds after smashing the Pikes Peak record last year by 1.5 seconds.