Motorcycle adventurer Charley Boorman has bared all for Motorbike Writer readers, including his backside! 
Charley had just returned from a Compass Expeditions tour of Tasmania when we caught up with him this week at The Bike Shed in London, where he is one of 31 founding members.
He answered many of the questions posted in by you, our readers, including his next trip wth Star Wars star Ewan McGregor, his regrets, riding tips and more.
Here are the highlights:
How did you crash?
(Charley crashed on a Triumph launch in Spain a couple of years ago.)
I was just coming out the hotel in the morning and was passing a car when the driver decided to turn down a lane. I got clipped and the bad thing is I hit a wall. I broke both my legs, broke and dislocated my right ankle and smashed my left tibia and fibula. The bone came out of my skin. Essentially the bottom of my leg was hanging off, only held on by the calf muscle. 
How was rehab?
It took 10 operations over two years and a year and a half to start walking again. I was just unlucky because if you break one leg you can continue to walk on the other one, but I broke both and I was in bed for five months. Then I was in a wheelchair for ages. But I did perfect the wheelchair wheelie … with a lot of pain.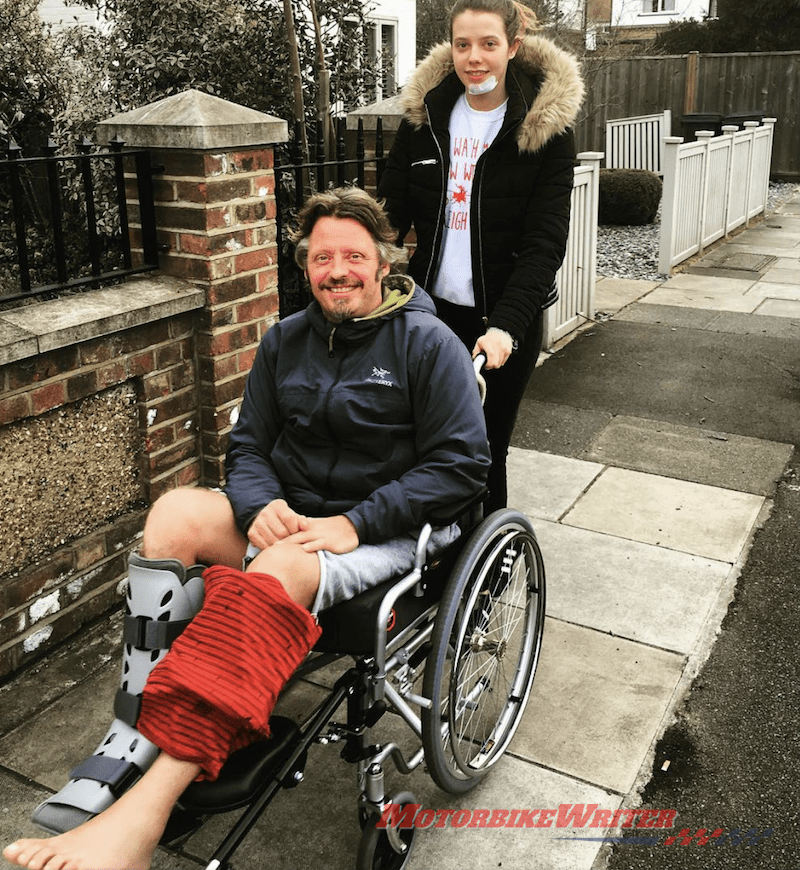 Bare-bottomed adventure?
I was on a bed pan for god knows how long and I just wanted to go to a regular toilet. We had this little toilet underneath the stairs, so I got on my wheelchair and swung myself on to the landing and scuttled down the stairs to the bottom. So I pulled my pants down and swung my legs around, missed the toilet and ended up wedged between the toilet and the wall. And that's where my daughter found me! I said 'can you give me a hand?' and she just shook her head and said 'no'.
Never ride again?
Never did I think I would not ride again. In fact, I borrowed (wife) Olivia's scooter to go to the shops because I couldn't change gears with the cage around my leg. I fell off that as well. I thought I'd broken my hip just for the sake of going down the shops!
My agent said why don't you use your recovery time to start writing a book about your life, your bikes and your crash, starting where you're sitting on the tarmac thinking 'what has just happened?'. Use your recovery as the spine of the book. I'm too stupid to be anything other than open about my life. I don't have anything to hide. The result is my recent book the Long Way Back. 
Why Triumph?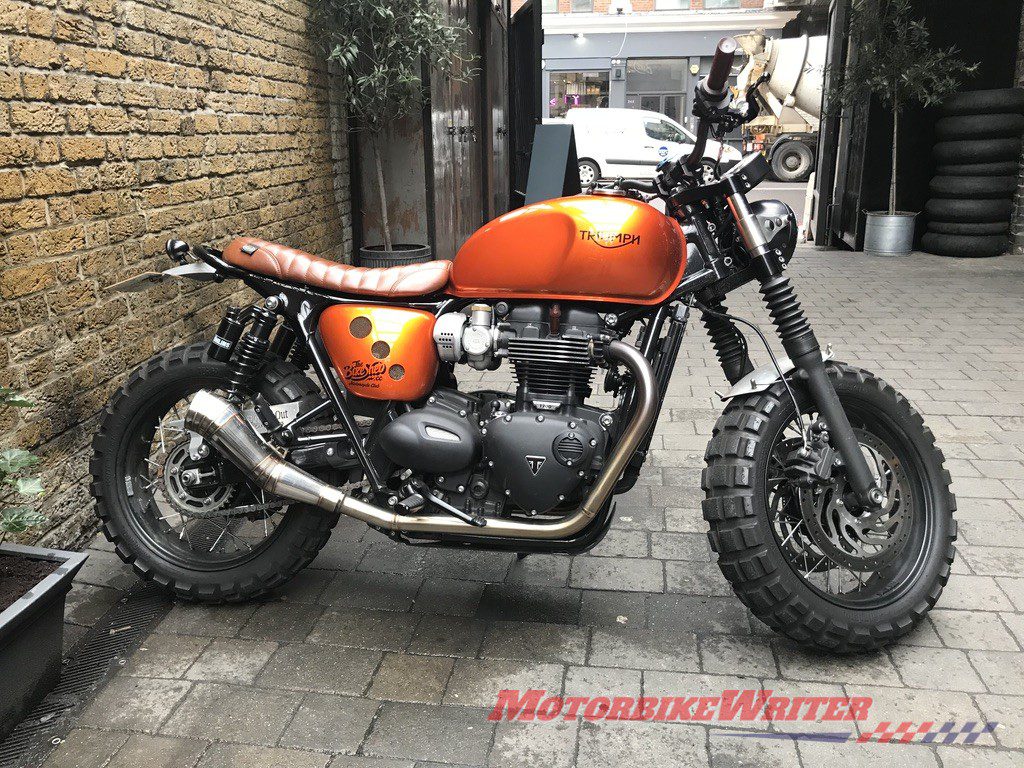 After many years as a BMW ambassador, I was approached about five years ago by Triumph Motorcycles. They had pretty much changed their whole fleet and they wanted to show me. So I thought 'I'm British and I would be promoting my Britishness'. It just seemed to be a better fit with what I was doing with The Bike Shed. Also, Triumph is owned by a family, they're very generous and very kind and we have a great relationship.
What is your next gig with Ewan?
We've been talking about it a long-time and if the stars align we will do something like a Long Way up from Tierra Del Fuego to Alaska in the next couple of years. It really is close now. Ewan's always had a loose relationship with Moto Guzzi (he's currently an ambassador) so there's no conflict there.
Where would you most like to go?
South America. I did a movie wth my father called 'The Emerald Forest' in South America, but that's the only time I've been. I'd love to see the Dakar but I would just want to race it again, so I better stay away.
Have you been back to Africa?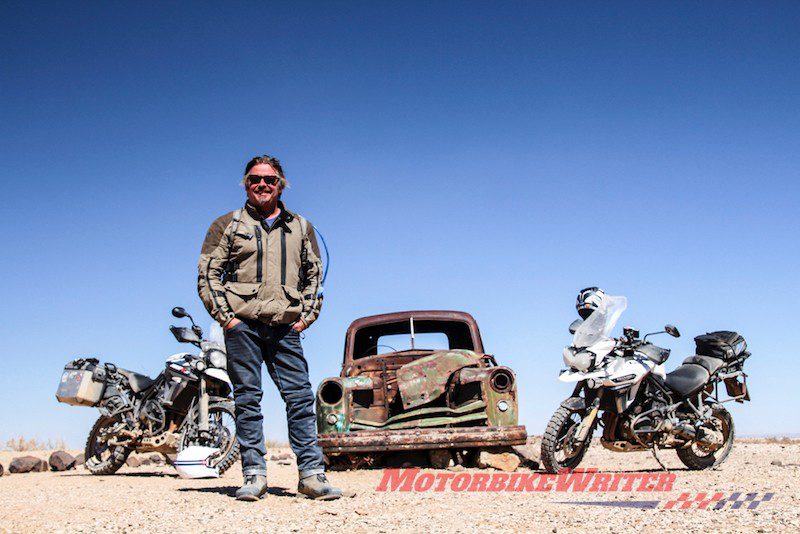 I love Africa and returned last year to guide a tour, but I felt quite vulnerable dabbing my feet off road in case I broke my legs again. But now I'm ok and starting to do some dirt riding again so I'm super excited for our two trips there later this year. Africa gets a really bad rub as a dangerous place, usually by people who haven't been. Whatever is happening in north Africa has nothing to do with what's happening in southern Africa. People look at it as one country, but it's actually so diverse and so big. I love to show people that they can have a great tour in Africa and there is some great food, great wine and the people are so lovely.
Click here to read more about his African tours.
Do you have any more tours lined up?
We're also starting to do short tours to Spain with The Bike Shed, mianly on hipster bikes like the T120s and Thruxtons. We'll also do one on Scramblers in Morocco on light gravel and tar. They last about four days each and we will do them over long weekends.
How hard is it to be away from your family?
I'm working away from home on average about five to seven months a year but my wife knows I've always travelled, even when I was doing films. A bit of separation is not a bad thing and I always try to schedule trips while the kids are at school. Then I can spend time with them on the summer holidays. I usually go back the way we came with them so they can experience it as well.
What was your best trip?
The first one (Long Way Down) because it was all new. Ewan and I didn't really know what we were doing. The book and TV show enabled me to do the Dakar and the other tours and books and shows, so it really changed my life. We were lucky because we were right at the crest of that adventure travel wave.
What is your biggest regret?
I've never really had any regrets. When I broke my legs badly I sat there for a little while and thought 'what if I'd just left the hotel a little later' … But the reality is that it's happened and there is nothing you can do. I'm not a big fan of regrets. I would hate to sit there at 90 and think I wished I'd done more. Live your life and do some fun stuff. You don't have to do a six-month motorcycle adventure, just a day can be an adventure.
What is your biggest challenge?
I'm self-employed so getting a job is my biggest challenge. We have a series of challenges throughout our lives.
Where will you be in 10 years?
Hopefully just riding dirt bikes with mates. Maybe when I'm too old to do the adventures and TV shows I'll have these tours to keep me occupied.
Who would you most like to ride with?
I'd love to ride with (princes) Harry and William. I love the fact that they ride bikes. I understand why they ride bikes: One, because they love it and two because it gives them anonymity. You know, helmet on and no one knows who you are. But if I could have ridden with anybody I'd have loved to have ridden with Lawrence of Arabia on a Brough Superior. 
What about Barry Sheene?
I'd also have loved to have ridden with Barry. I first met him in London at a restaurant. I was just coming back from the bathroom and he was sitting in my chair chatting up my wife. As I approached I heard him say, 'So, Olivia, you're a beautiful girl, do you want to come to Australia with me?'. I taped him on the shoulder and said, 'I don't think my wife wants to go to Australia with you but I do.' He looked me up and down and simply said 'No' and then walked off.
What is wrong with the motorcycle industry?
I think it's too difficult and expensive to get your licence now. They're already talking about making it harder. Also, insurance is very expensive and bike theft is a big issue. Because of congestion and over-population, scooters and motorbikes should be a big part of the solution but we just need to get people to be more aware and positive towards bikes. The Mayor of London is not doing bikes any favours.
How is The Bike Shed helping?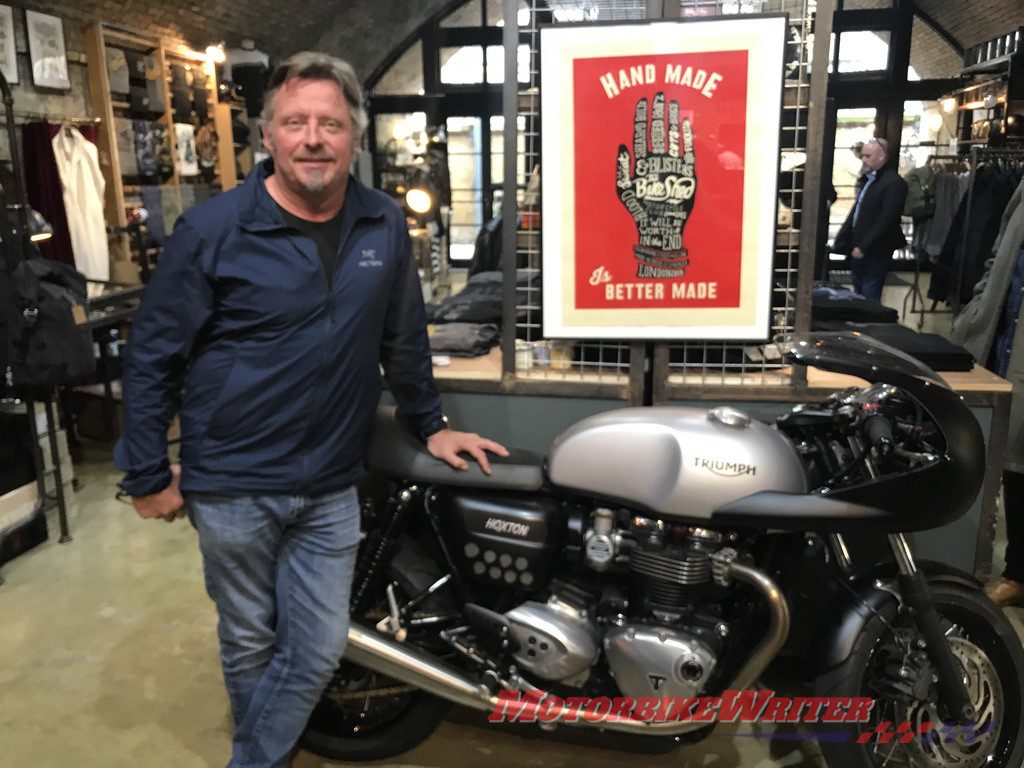 I think this scene (The Bike Shed) has brought younger riders back into biking. I'm one of the founding members here and ever since we started we've been trying to get people active about issues with We Ride London. The problem is that riders are very individual and not part of the scene or a club. That makes it very complicated and I don't understand how people are so tribal about it. We need to be a bit more friendly toward each other and look at what the cycling industry has done with their lobbying.
What do you think of electric bikes?
Electric bikes are brilliant. I've ridden quite a few and a friend came along on the recent (Compass Expeditions) Tassie tour on a Zero (electric motorcycle). I think absolutely it's definitely the right thing to do if you're living in London. Out in the country you would need a hybrid or something to get more range. But it's definitely the way forward. You could get a quiet little electric trials bike and ride around in your back yard and no would would know until they saw your head pop up above the fence when you did a jump.
What's your favourite bike type?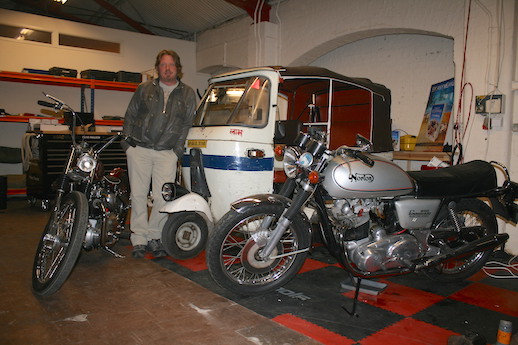 I love them all. I'm lucky enough to have a few. I have a shed about 20 minutes from home where I have a dirt bike, the T120 custom, a Beta 400, a motocross bike, a sportsbike and … what am I up to? The riding I like most is a mountainous bit of tarmac through the forest. Hobart to Strachan is probably one of the best roads like that in the world. Or if you live in Europe, pop over to Morocco for some of the best off-road riding. For me, off-road riding is one of the purest forms of riding and I particularly like sand. I'd love to the do Simpson Desert. 
What is your favourite piece of biking kit?
My waterproofs because, you know, London … and my Arai adventure helmet and my injection-moulded earplugs. I'm slightly deaf in one ear from riding and have a bit of tinnitus. I have earphones in them and I can listen to podcasts and books. People should at least wear a helmet, gloves and ankle riding boots. I've pretty much broken everything but you can't fix your head.
What is your top riding tip?
Just ride it like you stole it!