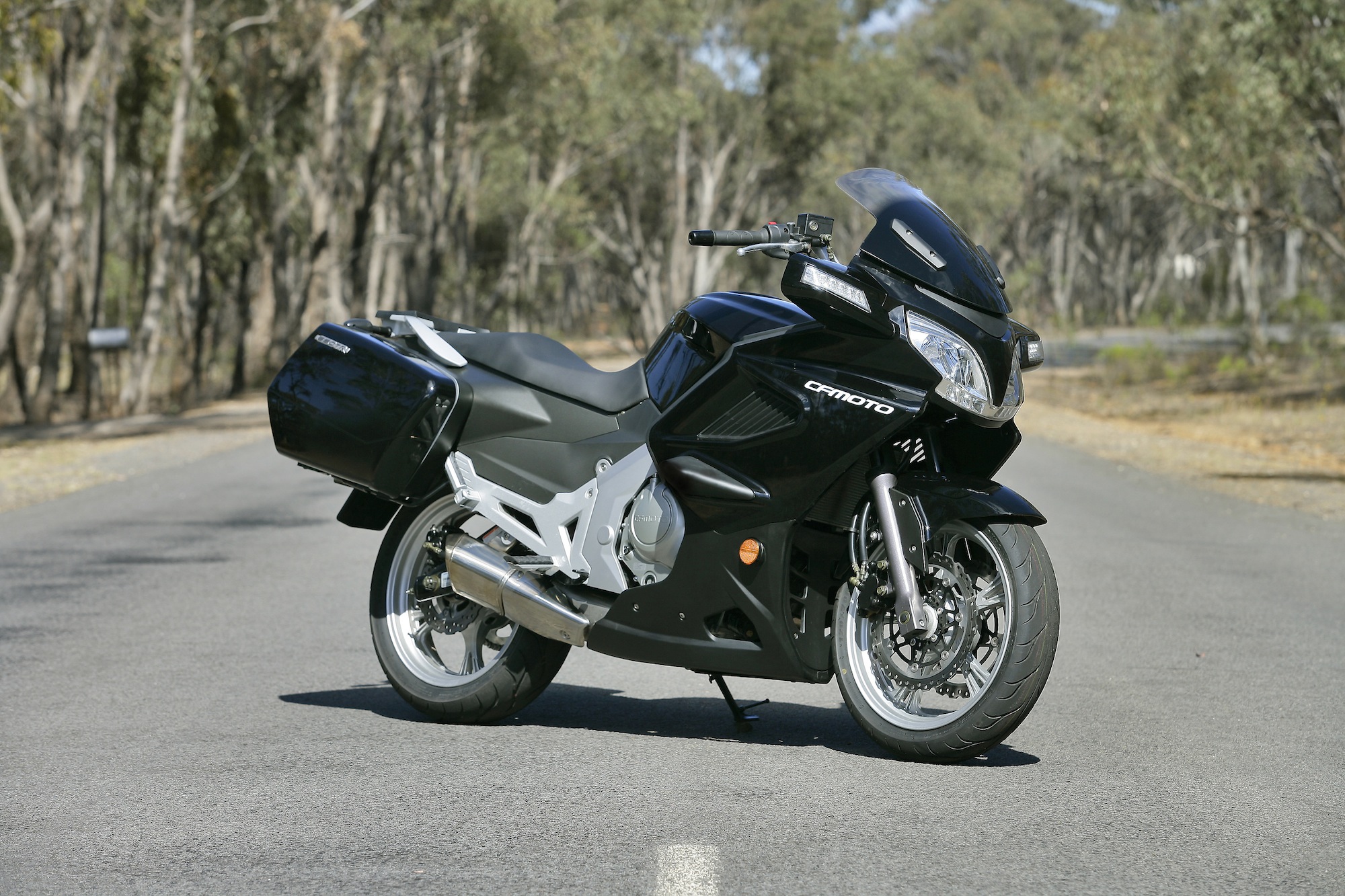 It snuck up on us without warning, but Chinese manufacturer CFMoto is now selling more units than BMW Motorrad in Australia.
In the first nine months of 2013, the Hangzhou company was the ninth biggest importer and by the end of the year could even surpass Triumph or Polaris.
Granted the bulk of their 1824 sales so far have been ATVs (1152), but their bikes are now starting to go gang busters, especially their 650NK naked bike.
Now comes their latest addition, the fully faired 650TK tourer.
CFMoto only has a small range of bikes available at the moment and all are learner-approved, but company president Mr Lai says bigger capacity bikes up to 1 litre are coming, as well as an adventure version of the 650 (650AK?) possibly next year. The bike is a joint project with Austrian design company Kiska which also designed KTM's RC8, 125 Duke and Freeride.
This invasion of Chinese bikes is different to the invasion of cheap Chinese scooters and mini bikes that we saw a few years ago when the scooter boom was at its height.
Those machines were largely inferior and accounted for a lot of disgruntled customers which many in the industry believe is one of the reasons for the current slump of confidence in the scooter market. Customers have been burnt and won't come back for more.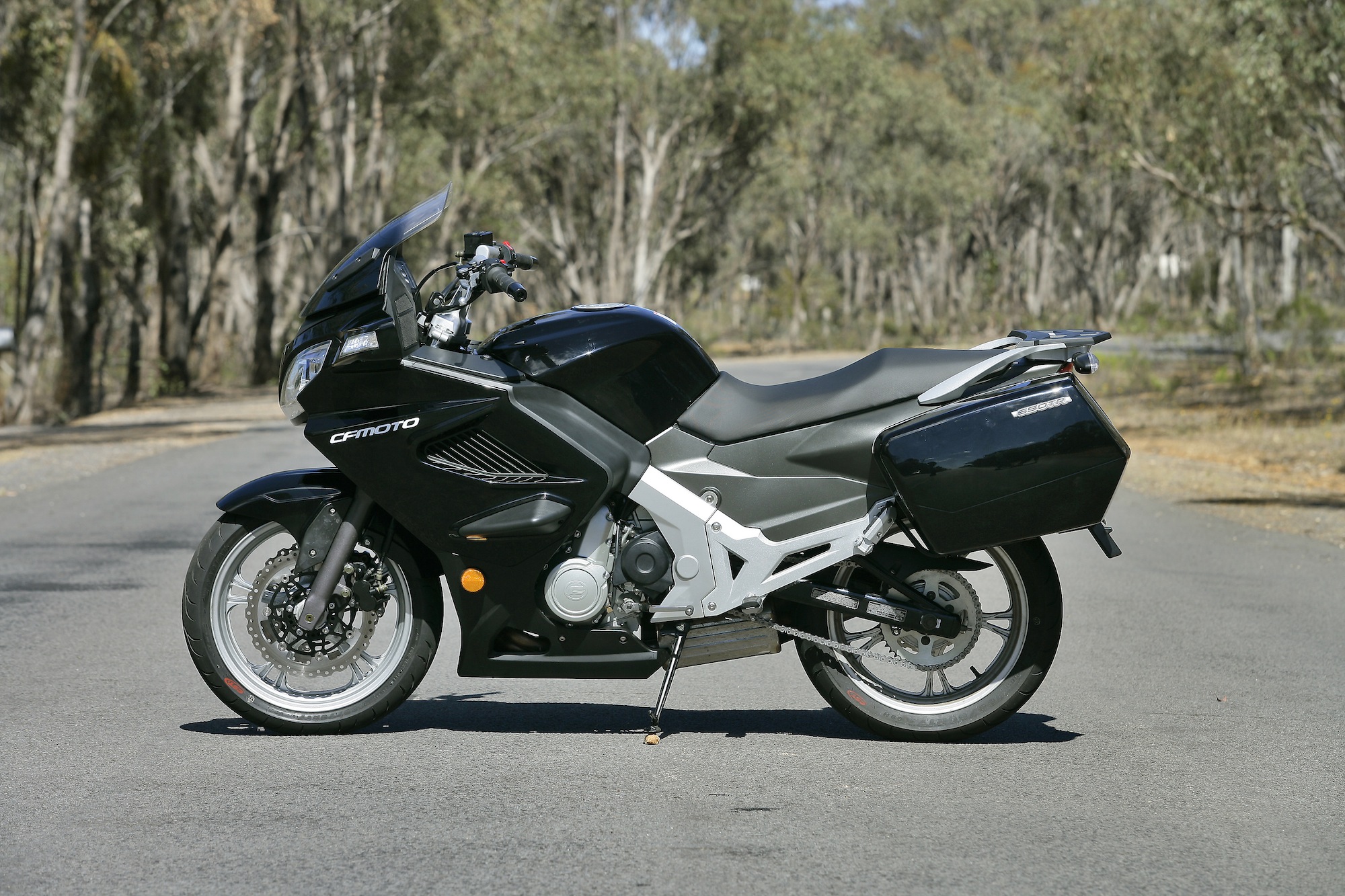 However, this Chinese invasion is different.
CFMoto only makes motorcycles for export. It's not a home brand offloading surplus machines made in overtime with rattle guns at an old tractor factory.
These are quality products produced purely for overseas markets where standards are high.
The first CFMoto bike to make an impact was the 650NK, a sturdy and stylish machine available on the road for just $6990.
It features sporty graphics, a red tubular steel frame like a Ducati Monster, a Japanese-quality gloss-black engine and quality matte aluminium bars and triple clamp.
This aggressive-looking naked bike is powered by a liquid-cooled, fuel-injected, parallel-twin engine with a restrictor that makes it a LAMS bike. It has 41.5Kw of power at 8500rpm, but if the restrictor were removed, it would have 52kW.
All CFMoto engines feature a Ducati ECU, FCC paper based friction plate and Marelli injectors.
They are hand assembled in the Hangzhou factory on a climate-controlled line with filtered air where the temperature is always 20C and humidity 70 per cent so all parts are at the right temperature and tolerances are spot on.
The same engine features in the 650TK – known as the 650TR overseas – which adds integrated panniers, a full fairing and an attractive rideaway price tag of $7990.
I've road-tested a 650NK and was not only impressed by the fit and finish, but also the riding experience. It felt sturdy, stable and even dynamic. Not a bargain-basement bike at all.
Some time ago I rode what was a pre-production version of the TK. Next week I will fly to Melbourne to test the full production version.
It's easy to see where CFMoto got the inspiration for this model. It looks like a Honda ST1300, even down to the shark-fin engine protectors protruding from the fairings.
The Chinese, like the Japanese after World War II, are great imitators and I'm sure the resemblance is more than a coincidence.
I was a bit disappointed in the pre-production model with its inferior plastics and poor panel fit. I'm hoping the production version will be better.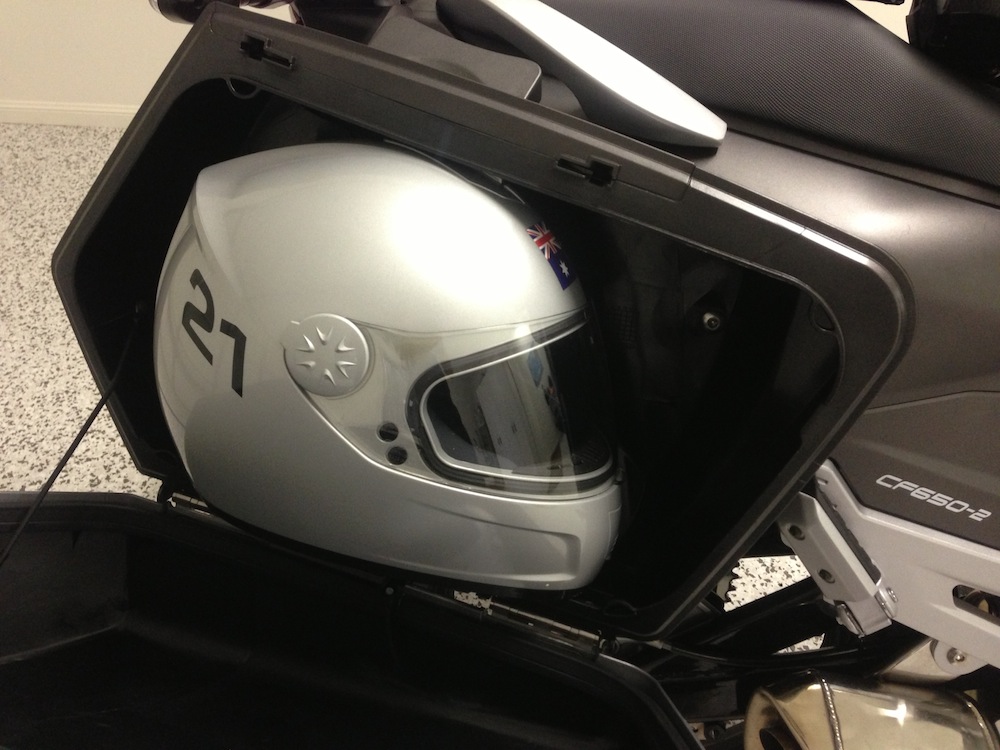 The 60-litre panniers are made of unreinforced ultramid polyamide PA6 which is known for being tough and impact resistant with good damping characteristics.
On the pre-production model they were a little clunky to open and close, but they are big enough to hold a full-face helmet and there are also two smaller unlockable boxes in the front fairing where you can stash a spare pair of gloves, visor cleaner and a rag.
Riding position is neutral with bars that sit up quite high, a firm but flat saddle with plenty of room for the rider and pillion to move around and get comfortable.
This isn't an undersized bike made for short people, but a full-size machine that will even suit most Aussies. However, the seat is at 795mm which makes the footpegs a sporty reach and may cramp tall riders.
The pre-production model came with a very rudimentary set of instruments that didn't even have a trip meter or clock, just an analogue tacho and LCD digital speedo.
While creature features are at a premium as befitting the bargain basement price, I was surprised to find a comprehensive eight-piece tool kit under the seat which unlocks via the key in the ignition.
While the DOHC eight-valve parallel-twin feels at home in the naked version, it feels a little too coarse in a full-faired version.
Maybe it's the fact that the plastics vibrate a bit more and throw some of the coarse mechanical noise at you, but it doesn't feel refined enough for long hours of touring.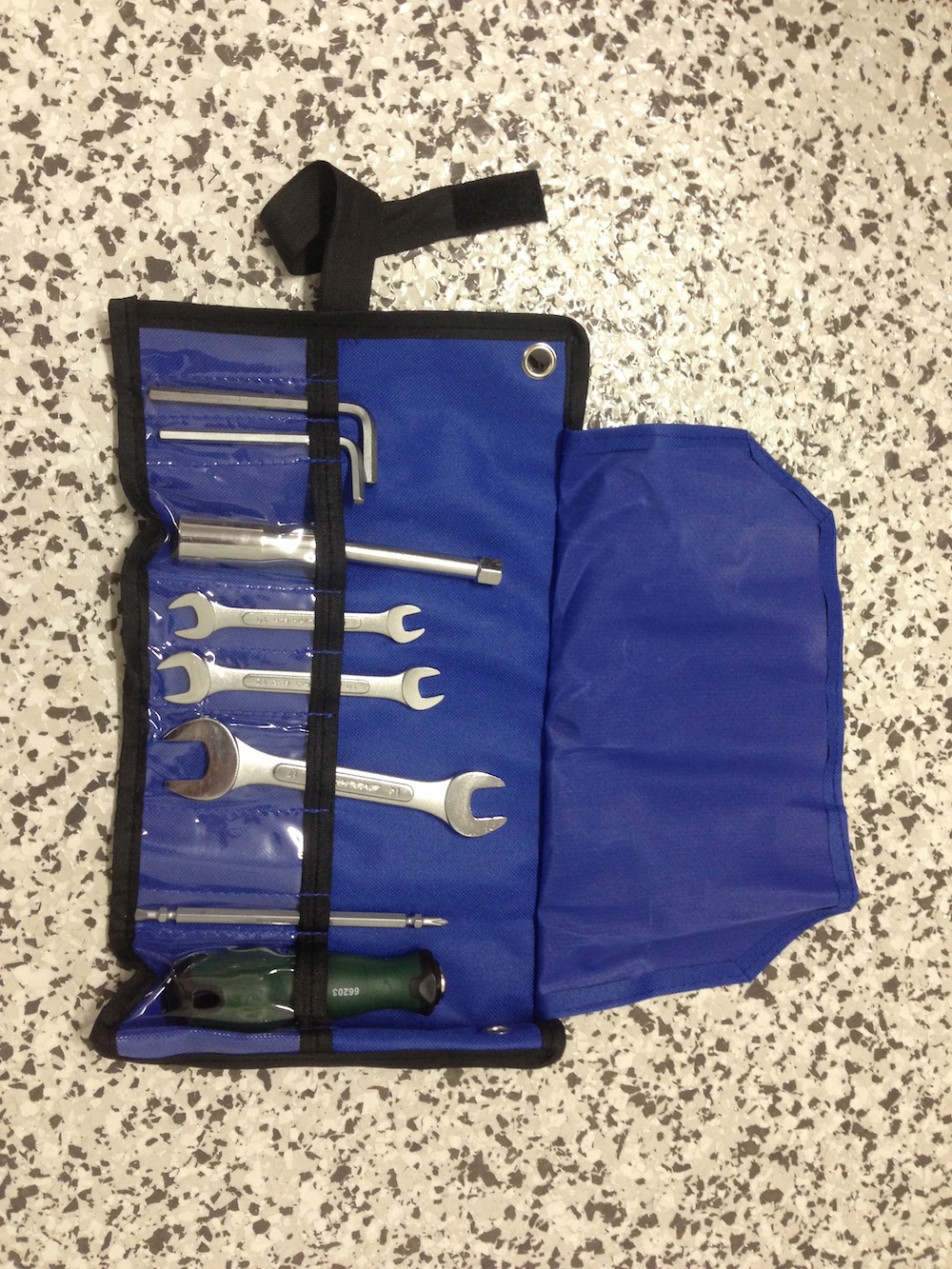 The TK is 14kg heavier than the NK which is also pretty heavy for a 650 bike thanks to its chunky steel frame.
Performance doesn't seem affected by the extra weight, however a pillion and some luggage certainly have the rider holding the gears a lot longer and further emphasising the character of the fibrous engine.
In the first models to arrive, the engine power restriction was in the ECU, but it can be easily adjusted by the dealer at the time of registration of during a service if the rider has an open licence.
CFMoto won't confirm how the engine is limited, but it's probably a throttle stop.
The ability to quickly adapt the bike for open-licence riders means you can hold on to it longer than the term of your provisional licence. It's a ride customers will want to keep for  a while, too.
It may have a cheap sticker price, but it rides and handles like a more expensive bike.
Despite a short wheelbase for a tourer, it feels stable at highway speeds and the fairing seems aerodynamically designed to resist buffeting from trucks.
However, wind and weather protection is not particularly generous. Through a short cloud burst, I ended up with a groin full of water.
The windscreen also doesn't provide a lot of protection from the wind blast which hits me high in the chest, but at least it's a clean airstream, not turbulent. It's not enough to make long distance riding tiring, either.
The fairing also doesn't direct engine heat on to the rider which is not good for winter riding, but will be welcome in our steamy summers.
At highway speeds, the bike settles into a more refined groove than it does building up to those speeds.
In sixth gear it hits its stride and smooths out, however overtaking maneuvres will require riders to kick down at least one cog.
Off the highway, the 650TK straddles the bumps and lumps of the byways with ease thanks to the Kayaba forks and rear shock which is not adjustable for a pillion or luggage load.
It is only the more violent hits and high-frequency bumps such as corrugations that unsettle the bike.
The steering head rake is steep and it tips easily into corners and allows you to explore some high lean angles and the edges of the 120 and 160 tyres.
Mid-corner holes don't radically upset the bike, but bumps can make the steering a little flighty. Most riders should be able to handle any twitch, though, as the bars are high and wide and provide good leverage and stability.
Braking is reasonably effective with front and rear discs, but a pillion and cargo load will push the limits and ABS is not available.
There are few bikes in this price bracket that you could take for a lap around Australia in this level of comfort and style.
I can't wait to throw my leg over a full production version next week.
CFMoto 650TK
Price: $7990 rideaway
Warranty: 2-years, parts and labour
Service: 5000km, or six months
Engine: 649.3cc, 8-valve, DOHC parallel twin
Power: 41.5kW @ 8500rpm
Torque: 56Nm @ 7000rpm
Bore x stroke: 83 x 60mm
Compression: 11.3:1
Transmission: 6-speed, multiplate wet clutch, chain drive
Chassis: tubular steel diamond frame with engine as fully-stressed member
Suspension: telescopic forks with hydraulic damper; oil and gas hybrid damper single damper rear shock
Brakes: hydraulic, double discs (front); hydraulic, single disc (rear)
Tyres: 120/70 R1758H (front), 160/60 R1761769H (rear)
Wheelbase: 1415mm
Wet weight: 220kg
Seat: 795 mm
Fuel capacity: 17.5 litres