The Chinese-made CFMoto 650NK is still one of the best bang-for-your-buck bikes in the learner market and is now cheaper and better than when it was released in 2012.
At $6490 ride away, it's $700 cheaper than its launch price, yet it now has ABS brakes, Bosch EFI, new instrumentation and more aggressive styling from KTM design house Kisha.
There is also a non-ABS version for $5990 as well as a 400NK at $5490 and 400NK ABS at $5990 (all prices ride away).
There have been several changes to the bike over the past few years, each time fixing some of the concerns of critics.
If you are interested in writing a similar article, you can contact the best essay service in UK.
Updated suspension
One of our major concerns was the cheap and choppy rear shock.
It has been replaced by a newer KYB unit with adjustable pre-load and rebound. It makes the ride a little more composed, although it does throw some emphasis on the rough KYB forks.
It still gets tripped up by a series of short, sharp bumps, but ride and handling are much improved.
Another improvement is in the instruments and electrics.
We found some problems with these in a previous version, but they are much better with a comprehensive amount of information, a handsome "Batman" shape and more reliable electrics and controls.
Flexible engine
There is no change in the engine which we have found to be a flexible and forgiving unit, ideal for novice riders, albeit a little quirky.
All 650NKs imported into Australia are restricted via a throttle body stop from 52KW to 41.5KW to comply with LAMS regulations.
The engine revs quickly, has strong mid-range torque and pulls from 3000 to 6000 revs where it lights up again for another burst of acceleration before peaking above 10,000.
However, there is a fair bit of buzzing around 3000 revs and the top-end buzz makes the mirrors blur so you can't see anything in them. The mirrors, that look like a Japanese cartoon character's ears, also need to be frequently readjusted as they vibrate out of alignment.
The buzzy engine is flexible enough to allow for good progress in just about any gear at any revs which is fine for novice riders.
It is married to a six-speed gearbox that is light and positive with a medium-pull clutch so it is fine in traffic with plenty of changes.
You will find you slip quickly through the short gear ratios and can ride around in a gear or two higher than you would normally expect.
On several occasions I found I had flicked through to fifth and even sixth in urban areas, mainly to reduce the buzzing from the engine. When I needed a little bit of acceleration, I had to drop it down two or even three gears.
You will also have to work the gearbox vigorously on ascents where the engine tends to run out of a bit of puff.
There is also some low speed surging at constant throttle which can be a littler annoying around 40-50km/h urban areas.
Interestingly there is a red "mode" switch on the left handlebar which does nothing. It's for foreign markets where you can change engine modes between sport and economy.
However, it is deactivated for our LAMS rules.
Spanish brakes
I found the Spanish J.Juan front brakes lack initial bite and have inconsistent feel. However, they perform well if you pull the lever all the way in.
I adjusted the brake lever to its outer most positions so I didn't squeeze my fingers when using two-fingered braking. (The clutch lever is also adjustable which is unusual for such a bargain-priced bike.)
By comparison, the rear brake has very positive feel and plenty of power.
The only backward step seems to be the change from European Continental tyres to Chinese-made Adreno rubber. However, my early misgivings for the tyres were dismissed, especially after they were worn in.
They have good braking and lateral grip although they scuffed up quickly and may not last as long as the Contis.
Ergonomics and styling
Riding position has not changed with the Kisha aggressive restyling. It's still a very neutral upright position with an easy reach to the bars and pegs.
I'm not sure if the seat has been changed, but it seems fairly hard and became uncomfortable in less than an hour; something I hadn't noticed on the previous models.
It's also small and feels a little confined with little room for movement.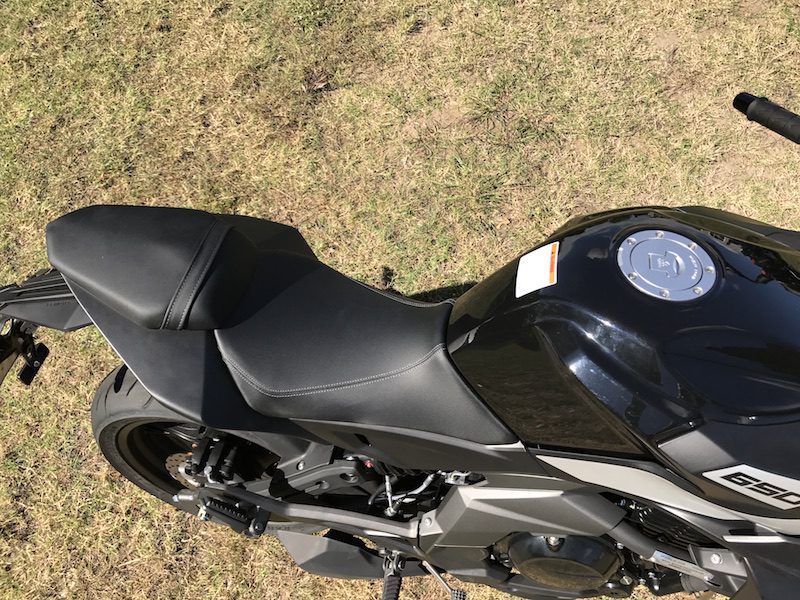 The tasteful Kisha restyling of the nose also includes an LED daytime running light which gives better visibility to other traffic.
I've never been a fan of the insect-lille tail assembly and somehow the more skeletal version is worse.
However, overall fit and finish seems to be improved and the gaps and welds are neater and more consistent. The only concern here is the cheap tank stickers.
The bike looks good in black and there is a white version as well.
CFMoto facts and figures
CFMoto has been distributed in Australia by Mojo Motorcycles since 2007 and has sold more than 15,000, including 9500 ATV/UTVs and 5500 motorcycles.

It is has been the largest exporter of ATV/UTV's from China for the past 10 years with annual production of about 80,000 vehicles, half of which are motorcycles.

Of those 40,000 motorcycles, 15,000 are for international markets and 25,000 are for the domestic market.

In 2016, CFMoto had 7% market share in the 250-400cc segment and 46% market share in the 400-750cc segment in China.

The company has sold 10,000 650NK worldwide and 1500 in Australia.

CFMoto began a co-operation with KTM in 2012 and assembles smaller capacity KTMs (Duke 200/390 and soon RC390) for the domestic market.

There are many co-branded CFMoto/KTM dealerships now in China

KTM design house Kiska has worked on CFMoto products including the 150NK (model intended mainly for domestic market), the 650NK and the new 650MT adventure bike.
CFMoto 650NK ABS

Price
$6490 (ride away)
Engine
649.3cc, liquid-cooled DOHC, 8-valve inline-twin four-stroke with 180-degree crankshaft, chain camshaft drive and single gear-driven counter balancer
Bore & Capacity
83mm x 60mm
Compression
11.3:1
Warranty
2-year unlimited km
Torque
62nm/6.32kgm/45.72ftlb at 7,000rpm
Power
41.5kw/9,500rpm (LAMS Restricted)
Transmission
6-speed with gear primary drive
Clutch
Multiplate wet

Chassis

Chassis
Tubular steel diamond frame employing engine as fully-stressed member
Front Suspension
41mm telescopic KYB forks (max travel 120mm)
Rear Suspension
Extruded steel swingarm with tubular steel bracing, Kyaba cantilever monoshock (max. travel 45mm)
Front Brake
Twin Disc, 300mm with Continental ABS System
Rear Brake
Single Disc, 240mm with Continental ABS System
Front Wheel & Tyres
120/70ZR17 CST on 3.50 in. cast aluminium wheel
Rear Wheel & Tyres
160/60ZR17 CST on 4.50 in. cast aluminium wheel

Size / Weight

Length x Width x Height
2120mm x 780mm x 1100mm
Wheelbase
1415mm
Seat
795mm
Clearance
150mm
Turning Diameter
5.4m
Fuel Tank
17L
Dry Weight
193kg
Mojo Motorcycles facts and figures
• Established in 2002
• Sell in excess of 4000 vehicles a year across all brands
• Second largest privately owned motorcycle distributor in Australia
• Service 100 plus dealers nationally 
• A team of 25 staff
• New 5000sq/m distribution facility in Melbourne