Last time we covered the Norton Motorcycle Company, Williams Automobiles had joined Norton's dealership network, and they had just brought out their one-stop e-Shop. 
Now, Norton's celebrating their 125-year anniversary with a new livery scheme across a 125-piece fleet of bikes. 
The celebratory colors hail to a time when the 70lb Energette was still "good for doctors" and the Manx was wreaking its usual havoc at the Isle of Man TT; they harken to an era when the company's ups and downs brought about brilliant products like the rotary-powered Wankel engine. 
For this year, Norton's Commando 961 SP, Commando 961 CR, V4SV, and V4CR will carry livery in the form of the following special model variants. 
Let's take a look and see what the British-based brand is providing for the new year!
COMMANDO 961 LE 'ENERGETTE' (£18,999)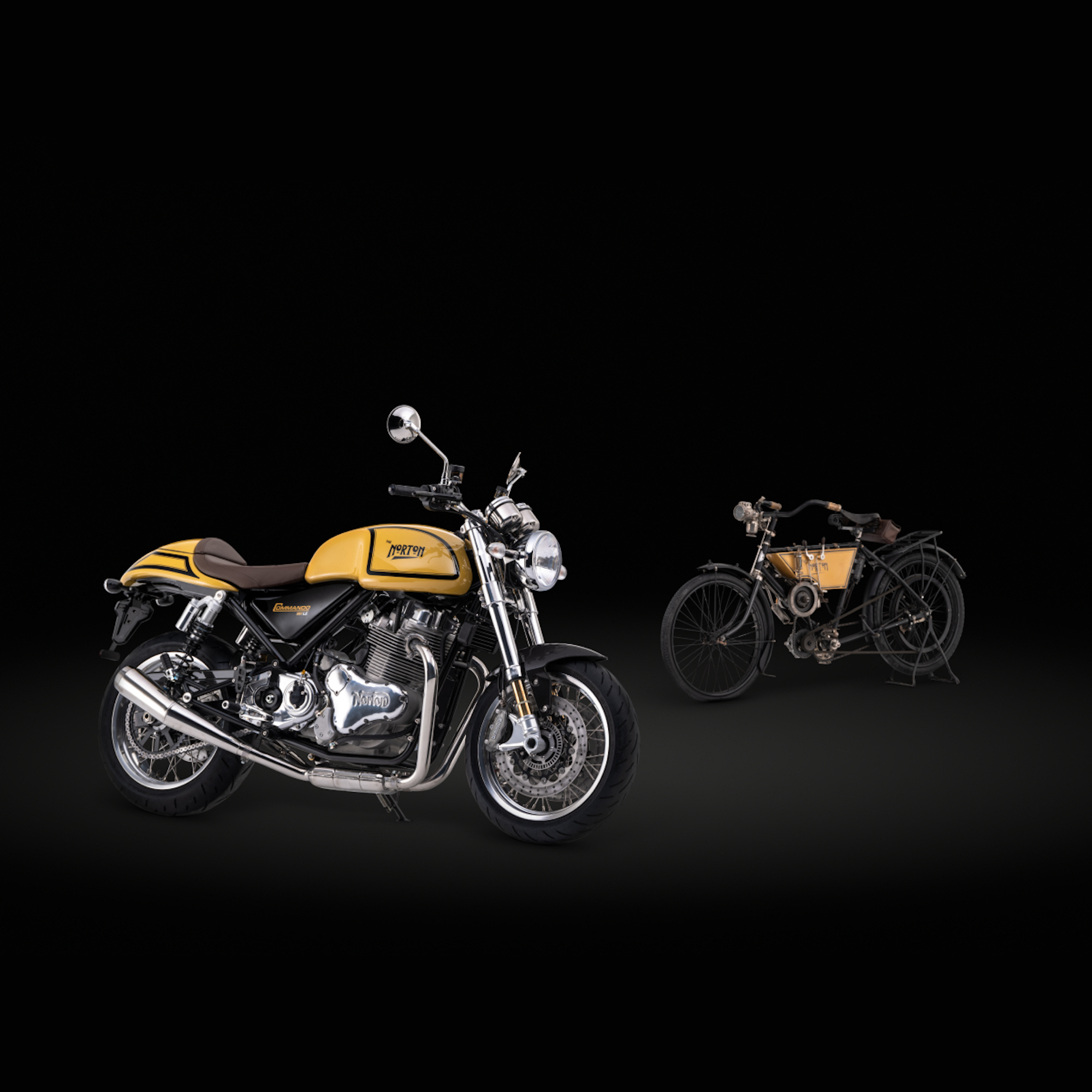 The Energette was essentially a bicycle with a 142cc single-cylinder Clément engine mated to a two-speed Sturmey Archer gearbox; the whole ensemble punted out around 1.7hp, with the bike herself being advertised as "good for doctors." 
The jury's still out on whether it was the bike's speed or reliability that inspired that particular customer recommendation. 
Norton's Commando 961 LE 'ENERGETTE' will come with "deep yellow paint, brown leather saddle, alloy yokes, natural alloy engine, silver headlight, polished alloy handlebars and polished Öhlins suspension."
COMMANDO 961 LE 'MANX' (£18,999)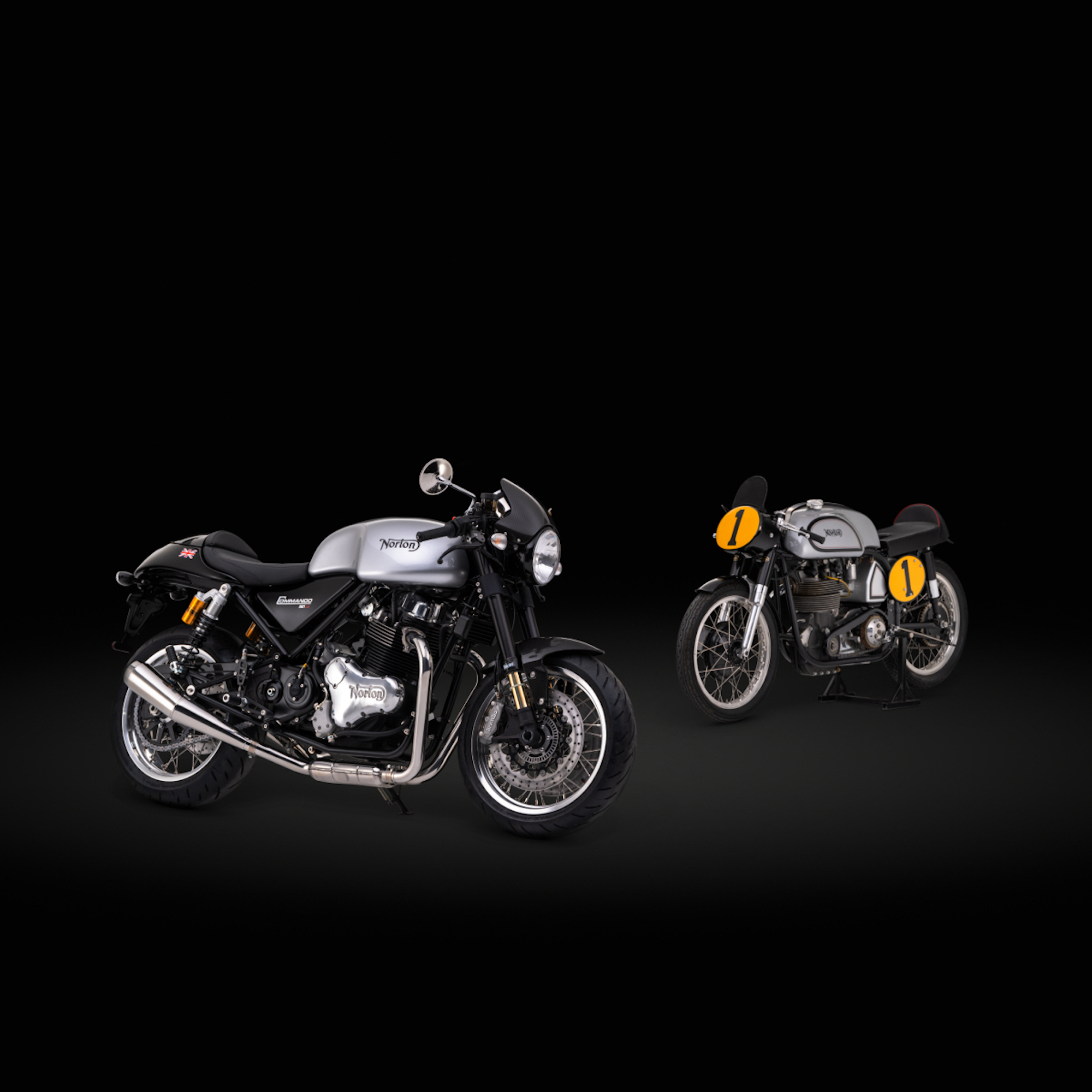 The Manx was the successor to the International of the 1950s and a wickedly fast beauty, with the earlier models making around 500cc or 45hp (35 kW) @ 6,500rpm. 
Thanks to the Manx's low center of gravity and short wheelbase, the eventual inclusion of a featherbed frame only served to spike her popularity ratings. To this day, Norton's Manx remains one of the world's longest-running production racing motorcycles ever.
Norton's Commando 961 LE 'Manx' carries over a similarly silver tank and blacked-out frame/bodywork, engine, footrests, yokes… even the Öhlins suspension is now black. 
Norton tidies the remainder up with a carbon fiber chainguard and carbon fiber flyscreen.
COMMANDO 961 LE 'TRANSATLANTIC' (£18,999)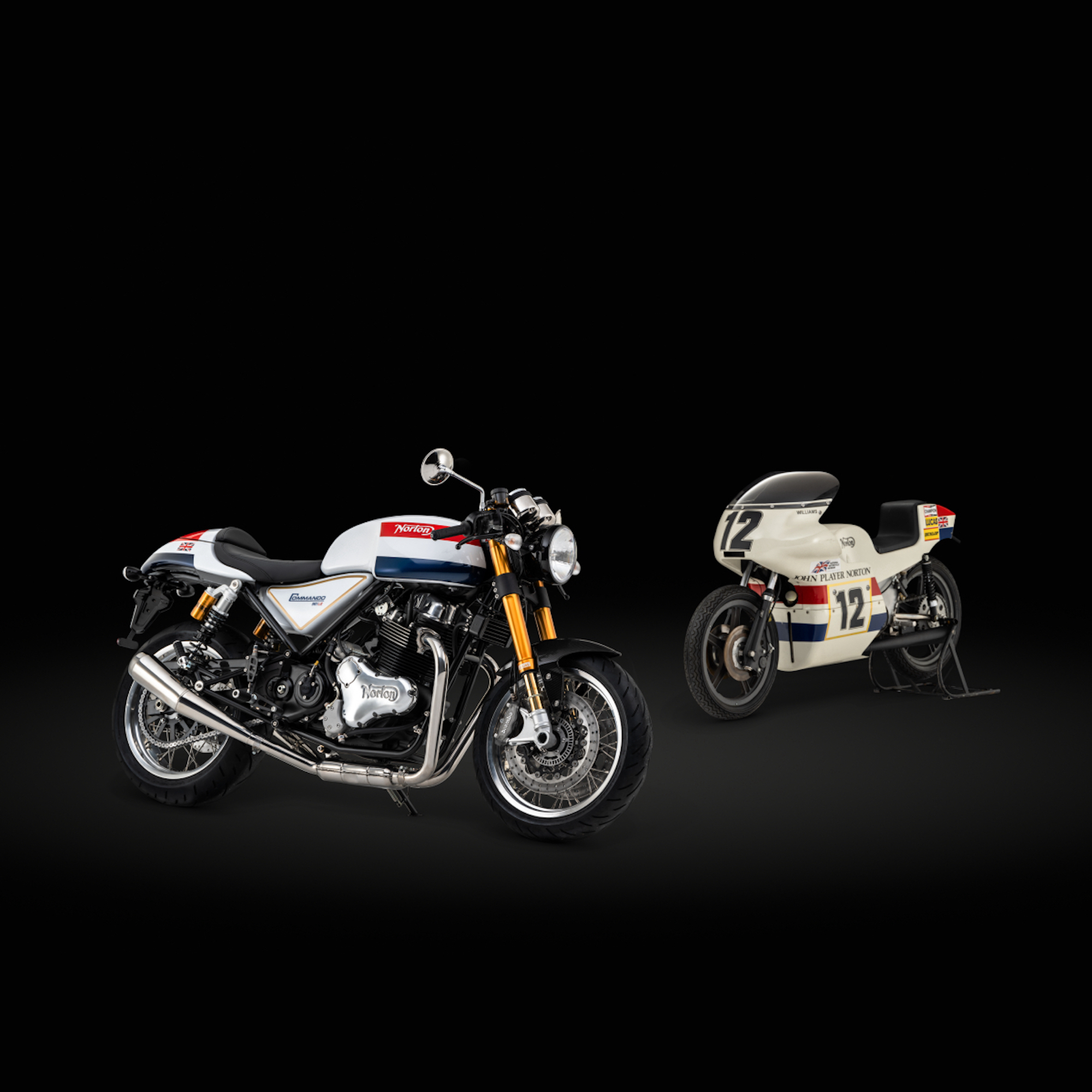 The Formula 750 category was no joke for Norton, and they built a bike to conquer the competition; supported by John Player, the bike flaunted a monocoque design and was hence nicknamed the "Norton JPS Monocoque." 
This bike may have landed the title of champ for the 1973 750 Formula Isle of Man TT with a record lap of 107.2 mph, but she was far from perfect; carb problems joined complaints from the mechanics that working with an enclosed power platform was hard, and financial problems had light alloy exchanged for a steel chassis. 
In other words, the Norton JPS Monocoque was a heavy chonker of a thing but lightning quick despite the quirky flaws. Today, that unforgettable personality is embodied in Norton's Commando 961 LE 'TRANSATLANTIC,' which shows off red, white, and blue colors for the tank, airbox, saddle, and seat cowl. 
Black out the engine/footrests/yokes and smack a 125-year anniversary crest on the seat cowl, and we have a surprisingly pretty bike for the 2023 taking. 
COMMANDO 961 LE '588' (£18,999)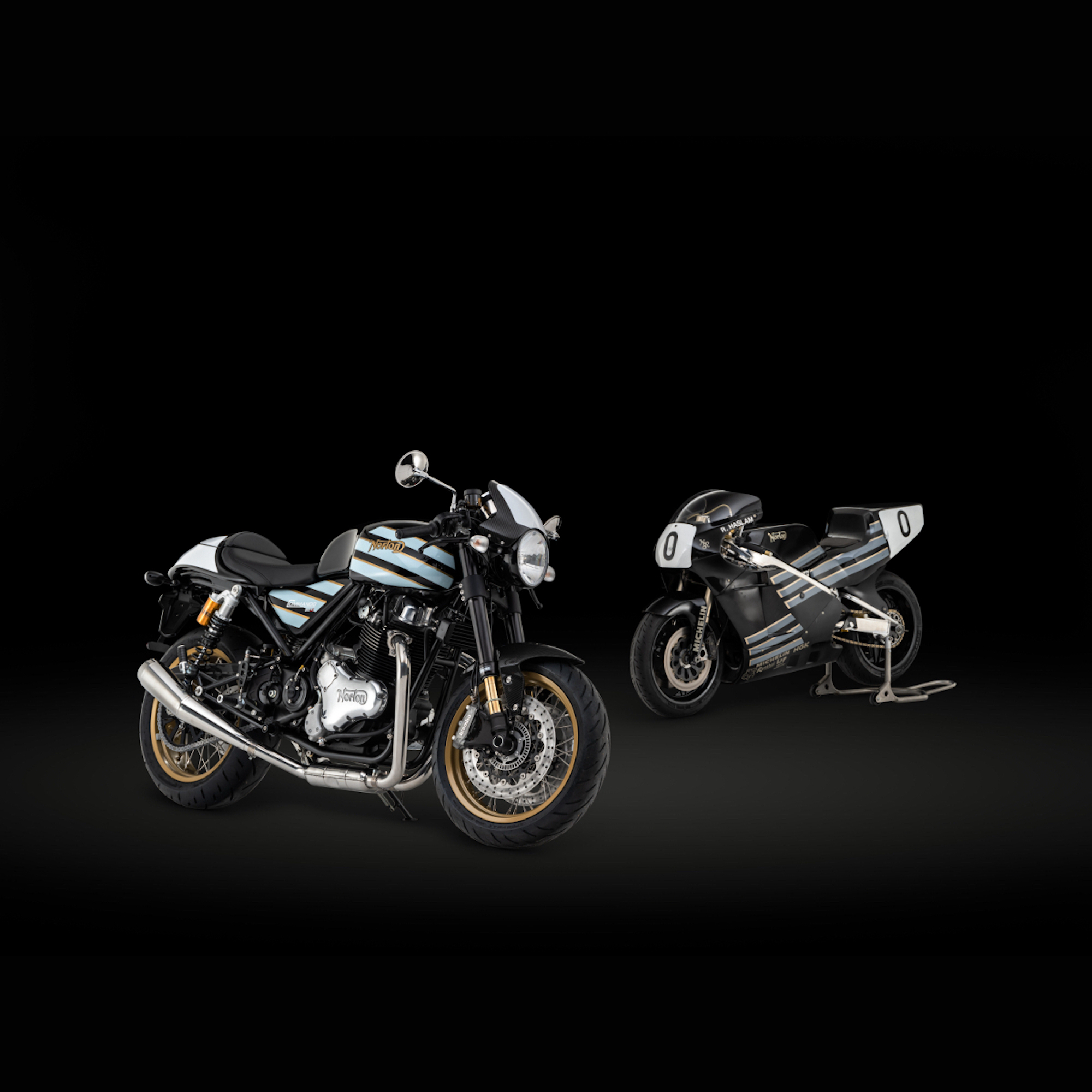 Of course, we can't forget Norton's iconic rotary history. 
Norton's history will forever be connected to Brian Brighton's inventions; in this case, the inspiration was a race bike christened the RCW588, which carried 588cc (~93hp) via a unique, liquid-cooled rotary engine capable of a 145mph top speed. 
Today, rotary-powered racebikes are more a unique specimen of the past; while you certainly won't see any on the MotoGP circuit as used to be the case (classification was a royal headache), the potential of the platform cannot be denied. Norton's RCW588 landed a TT and the British Superbike championship, but that same rotary system was also originally intended for police "Interpol" bikes.
In commemoration, Norton's 961 LE '588' will carry a blacked-out engine/footrests/yokes/Öhlins suspension with additional perks like a carbon fiber chainguard/flyscreen. 
Gold rims were a good choice to pair with the seat cowl, don't you think? 
V4SV '588' (£51,999)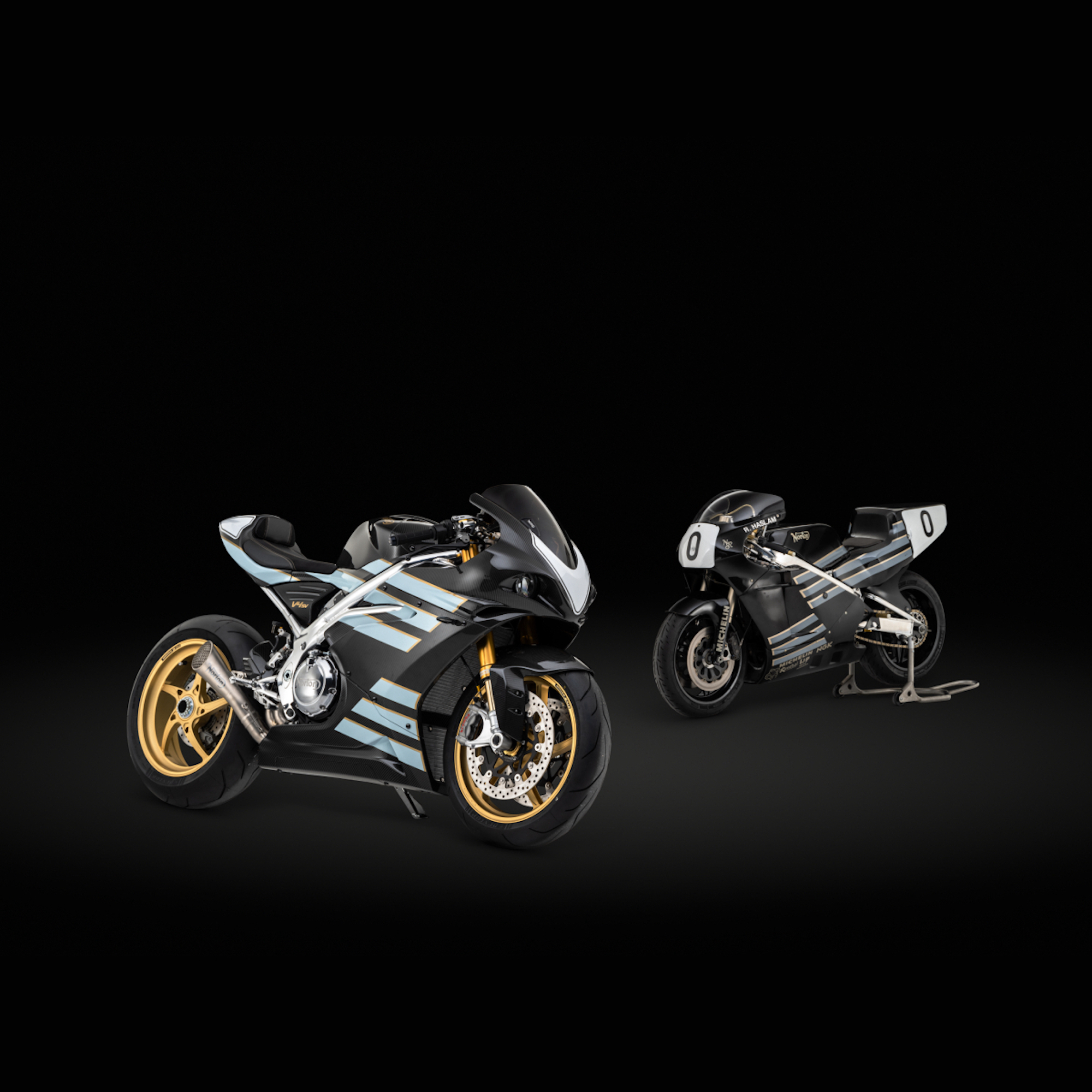 The V4SV is the perfect bike to carry forward Norton's rotary heritage; as such, the V4SV '588' will carry the same racing livery as the original RCW588, with gold-anodized OZ Racing wheels joining the potential for an aftermarket pipe… for the right price.
V4CR '588' (£49,999)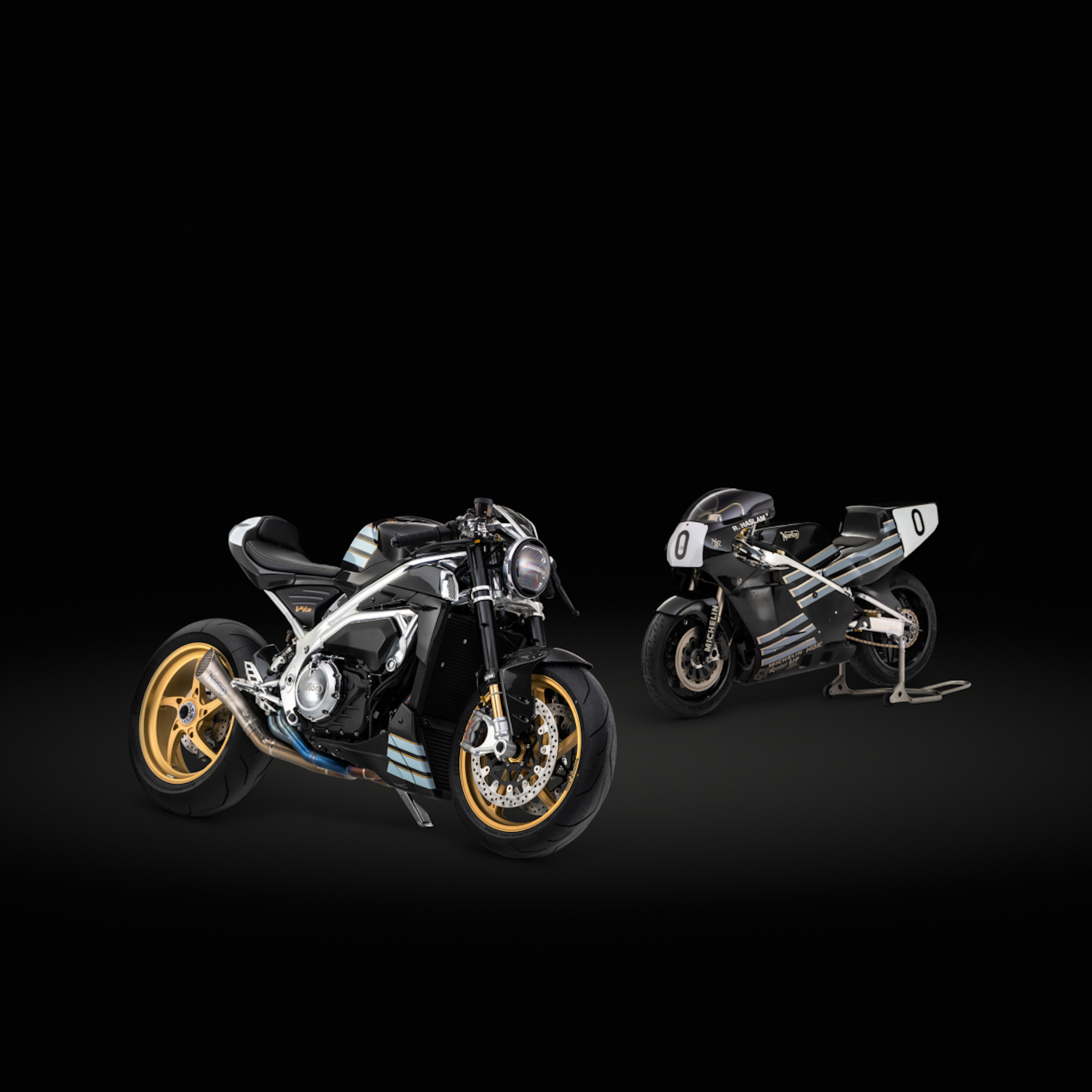 Norton's V4CR is as beautiful as ever, and now, she carries the same package as the V4SV '588,' albeit at a slightly lower price point. 
We're told the V4CR will feature the same racing livery as the original RCW588, with gold-anodized OZ Racing wheels joining the potential for an aftermarket pipe… for the right price.
With only 125 of these special machines to be produced in total, which Norton 125 Anniversary model is your favorite?
Be sure to register your interest with Norton if you want to get in line for a bike or two.
*Media provided by Norton*