Cee Bailey's Motorcycle Headlight Stone Guard
The Cee Bailey's headlight guard is made from thick aircraft-grade acrylic.
It mounts over the headlight to protect the lens from damage.
We can't imagine a rock penetrating these guards and coming with Cee Bailey's customer service and attention to detail, the guards are a winner.
Ever seen a hole in a windshield or headlight from a stone? Of course you have!
I have replaced three headlights in three vehicles in just the last year and have come to regard it as just one of the expensive nuisances of life on the road.
Most motorcycles aren't used for enough miles to have the daily exposure of cars and trucks, but then there are those of us who ride many more miles in a year than average.
Hmmm… So, how much will it cost to replace the headlight on your spiffy motorcycle?
No need to check, because we already made some calls and did the checking for you.
The answer is that unless you have a simple round 7-inch H4 glass lens, a typical plastic headlight will cost from $250 to $450!
There are clear film products that can ostensibly protect the headlight, but if pebbles can make a hole in a car windshield, I don't think that these thin films will do much more than protect against coarse sand-like particles.
The reality is that for anything more coarse, they are more likely to simply keep the pieces of your broken headlight on the bike.
Cee Bailey's Aircraft Plastics has an effective solution at an affordable price.
Their web page lists an impressive array of clear plastic guards for both head and fog lights and they been making aircraft windshields and other aircraft products since the 1950's.
As the company likes to point out, anybody can heat and form acrylic plastics and there are hundreds of companies doing so. However, doing it so that there aren't odd warps and distortions is somewhere between an art and a science.
Achieving a certification from the Federal Aviation Administration to make windshields and aircraft products is no small task (only about 3 companies have it, they say) and Cee Bailey's has obtained this for almost every light aircraft that flies.
So the company knows something about plastic! The company branched into making motorcycle windshields, headlight guards, and other products in 2001.
We ordered a set of headlight guards for a 2004 Yamaha FJR 1300 from the company's web-site.
They arrived a few days later in a bubble-wrap pouch and the covers for each lens were wrapped in thin foam.
---
Where to Buy Cee Bailey's Motorcycle Headlight Cover
Check Reviews & Prices on Amazon
Also Shop for: LED Lights and Bulbs, Auxiliary Driving Lights, Motorcycle LED Headlights
---
Headlight Guard Details
The first impression after unwrapping was that these were really solid pieces of plastic.
Whipping out the calipers, the guards are not surprisingly made of the same 1/8th inch (0.125") acrylic that is used for the side windows of most light airplanes.
Cee Bailey buys their acrylic literally by the truck-load, so we reap the quantity discount and the corporate knowledge about how to work with it.
Measuring a couple of other handy items for reference, a Shoei helmet visor was 2 mm (0.078") or about 2/3 as thick, and the stock Yamaha windshield was 5 mm (0.197") thick. It is hard to imagine a rock penetrating one of these headlight guards.
Distortions of the plastic can result in light going into the eyes of oncoming drivers, bushes, tree-tops, or other sub-optimal targets, so the second thing that we did was to check for waviness in the acrylic.
Slowly rotating and tilting the covers over a piece of lined paper, there was a small amount of distortion where the stylistic curvature of the FJR lights got really tight, toward the ground.
However, we really were not worried about a little light straying toward the front fender and in general the covers were as distortion-free as the headlight lenses themselves.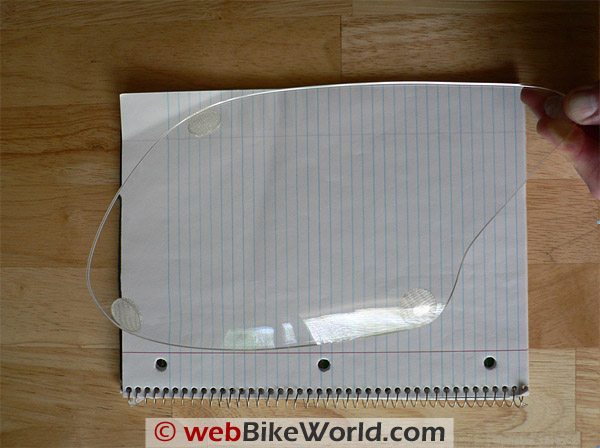 The plastic guards were placed over each headlight and the curvatures of the guards were slightly more open than those of the headlights. This allowed for the slight gap that the hook-and-loop fasteners would require.
One thing that was noticed was that the curvatures were not quite the same and that one guard had conspicuously less gap.
But this was the product we received and we proceeded with installation anyway.
The installation instructions were a single page of paper, but then the installation wasn't rocket science either. The package arrived with nine white round hook-and-loop tabs, with one as a spare.
I cleaned the headlight thoroughly and then used the alcohol wipe supplied by Cee Bailey's to make sure there was no wax on the headlight lens.
After waiting to make sure the alcohol had evaporated, the tabs were stuck to the four corners of each headlight.
My first attempt at just placing them at the far corners didn't work out at all and we learned quickly that the tabs needed to be placed inward slightly from each corner.
The instructions say that the tabs can be repositioned for a short period of time and that turned out to be an understatement. These round tabs are the industrial heavy-duty version of Velcro and at first only stuck to the headlight with a gummy feel.
I peeled them off and for the second try attached the mated tabs to each guard and then just pressed the guard over each headlight, which worked much better.
And I could actually slide the guards around a little on the gummy adhesive of the tabs.
However – and this is a big one – don't expect to reposition the tabs the following day. The gumminess was gone and the tabs were rock solid.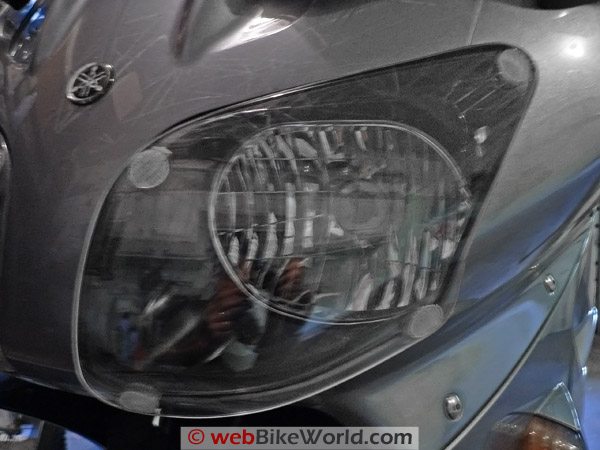 ---
Where to Buy Cee Bailey's Motorcycle Headlight Cover
Check Reviews & Prices on Amazon
Also Shop for: LED Lights and Bulbs, Auxiliary Driving Lights, Motorcycle LED Headlights
---
Cee Bailey's Warranty and Customer Service
Remember the mention that one cover that didn't have much gap in the curvature? The fit was OK, but sat on the nose of the FJR differently than the guard on the neighboring headlight.
The guards were sent back with a photo and request for a replacement at the beginning of the work-week and later that week we got a phone call.
The nice young lady on the other end was very apologetic and asked "Sir, would a three-day shipment be OK, or do you really need your replacements sooner?"
Having worked on and around airplanes for most of my life, I've been in shops that have had a couple of prior experiences with their warranty on materials and workmanship.
See if you get that from Joe Plasticbender who is selling parts from his garage!
Conclusion
A couple of people have said that they don't like the looks of headlight guards and to each their own. If you had the guards and didn't want them for a special bike night, they could be popped off of the tabs, which is done routinely for washing the bike.
However, most people don't notice the extra protection that the guards provide, especially for the long distance rider, daily commuter, or anybody else who rides a lot.
I can't imagine a rock penetrating these guards and coming with Cee Bailey's customer service and attention to detail, the guards are a winner.
w

BW

 Review: Cee Bailey's Headlight Guard
Manufacturer: Cee Bailey
List Price (2008): $19.00-$49.00
Colors: Clear and tints.
Made In: U.S.A.
Review Date: May 2008
Note:
 For informational use only. All material and photographs are Copyright © webWorld International, LLC since 2000. All rights reserved. See the webBikeWorld® 
Site Info page
. Product specifications, features and details may change or differ from our descriptions. Always check before purchasing. Read the
Terms and Conditions
!
---
Where to Buy Cee Bailey's Motorcycle Headlight Cover
Check Reviews & Prices on Amazon
Also Shop for: LED Lights and Bulbs, Auxiliary Driving Lights, Motorcycle LED Headlights
---
Owner Comments and Feedback
Other WebBikeWorld Motorcycle Lighting Reviews
wBW Motorcycle Lighting Reviews  Info