Singapore plans a carrot and stick approach to phase out fossil-fuel-powered vehicles by 2040 with a raft of attractive incentives for electric vehicles on top of bans on some fossil-fuelled vehicles.
The carrot includes a 45% rebate up to $20,000, an increase in charging points from 1600 to 28,000 and a cheaper lump-sum road tax to offset losses in fuel taxes.
Singapore's electric car population currently stands at 1125, or just 0.18% of the 631,266 vehicles on the road. 
Carrot and stick
The stick is a ban on new cars and motorcycles unless they replace an existing vehicle.
Singapore is the the most expensive place in the world to own a car, yet it has more Maseratis, Ferraris and Lamborghinis per capita than anywhere else in the world.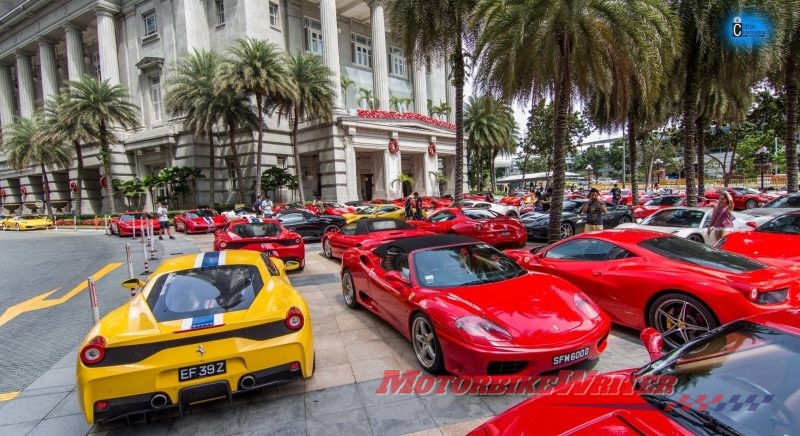 Banning new cars has not stopped the super-rich who just buy an old car, trash it and replace it with their supercar.
So they have chosen the carrot of incentive measures on top of the stick approach of bans in an effort to reduce both air and noise pollution. 
Bans grow
It follows recent announcements in Sweden and the UK that they will ban internal-combustion-engine (ICE) vehicles by 2030 and 2035, while many cities around the world such as Brussels and Milan are banning them from their CBDs.
While motorcycles are at this stage excluded from the UK timeframe, they will not be exempt in the long run. It's just a matter of time.
Lux Research Senior Analyst Christopher Robinson is skeptical of most of these announcements, except for Singapore.
"First and foremost, Singapore's vehicle fleet is quite new, with the average age of a vehicle being just 5.46 years, making the time required to turn over the entire fleet of vehicles much shorter than that of other countries," he says.
"The country focuses on transportation as a pillar of its Smart Nation initiative, and as a significantly smaller country of 5.5 million, enacting strict regulations and enforcement wouldn't be as challenging as in larger automotive markets."
Indian EV carrot
Prime Minister Modi is also adopting a carrot and stick approach.
He originally said all new cars and utility vehicles manufactured in the country would be electric by 2030, but he backed down after an industry backlash.
However, he is waving a $1.4 billion carrot to manufactures to make electric motorbikes and scooters, plus road tax exemptions for owners of electric vehicles.
Meanwhile, fossil-fuelled bikes face much tougher emissions regulations.
India is one of the biggest automobile manufacturers in the world, producing 4.6 millions cars last year.
It is also the biggest motorcycle and scooter market in the world with more than 21m sales a year. That is a sixth of the world's motorcycle sales.
Sales of electric scooters in India more than doubled from 54,800 in 2016 to 126,000 in 2018, but they dropped last year as people are waiting for rebates from Modi's EV plan.
Indian motorcycle companies Hero Electric, Ather Energy, Emflux, Twenty Two Motors, Okinawa and many other start-ups produce electric scooters and motorcycles.
Australia EV plans
In Australia, the Greens want a similar ban, the ALP plans 50% of new vehicles will be electric by 2030 and the Coalition projects 25-50% will be electric.
No matter what Australia "decides", the matter would be out of our hands if the world stops making fossil-fuelled vehicles.
The writing seems to be on the wall … our beloved bikes are eventually heading for extinction as disturbingly presented in the dystopian film, The World's Last Motorcycle.
It depicts a future dominated by autonomous vehicles where motorcycles are banned not only because of pollution, but because of safety.