Cardo Scala Rider G9 Image Gallery
November 16, 2011 (Update from original posting) – Last year, in conjunction with the EICMA 2010 show, I was given an exclusive tour of the Nolan Helmet factory, which resulted in two reports.
"How to Make a Motorcycle Helmet" is an inside look with photos and video of how a Nolan helmet is made — a very interesting process.
During my visit, we discussed at length the difference in worldwide helmet safety standards.
Those discussions resulted in another article, entitled "DOT vs. ECE Helmet Safety Standards".
Both of these reports proved to be very popular with webBikeWorld visitors and they were a lot of fun to put together!
This year, after the 2011 EICMA show, and as a special bonus to webBikeWorld visitors, I visited the Cardo Systems Research and Development Center offices in Tel Aviv, Israel.
Motorcyclists all over the world — over 60 countries — use Cardo Systems motorcycle intercoms and the Scala Rider G4 (review) has been one of the most popular intercoms ever made.
During the visit, I learned about what it takes to design, build and market a motorcycle communications system and also the new Cardo Scala Rider G9 intercom system, which is quite an update to the popular G4.
Since I'm about to leave Tel Aviv for the long journey home, this report will be published in two installments. Today I'll provide you with a brief overview of what I learned at Cardo and, as soon as I'm home and rested, I'll add more details about the new G9, along with a video that illustrates how the Scala Rider communications systems are designed.
I also presented the Cardo staff with the many questions from webBikeWorld readers. Some of the questions were answered; some questions, as it turns out, were difficult to answer without more details on the intercom type; and some questions were detailed enough to require more consideration by the staff. I'll respond back to the owners as soon as possible.
On a related note, after reading the questions, I have a suspicion that some Scala Rider owners have not performed the latest firmware updates. Cardo was the first to release a firmware/software update process for their communications systems, so please read our article on the Cardo Software Update and the Cardo Software Update Version 3.0 (the most recent version) for more information, or visit the Cardo Systems website.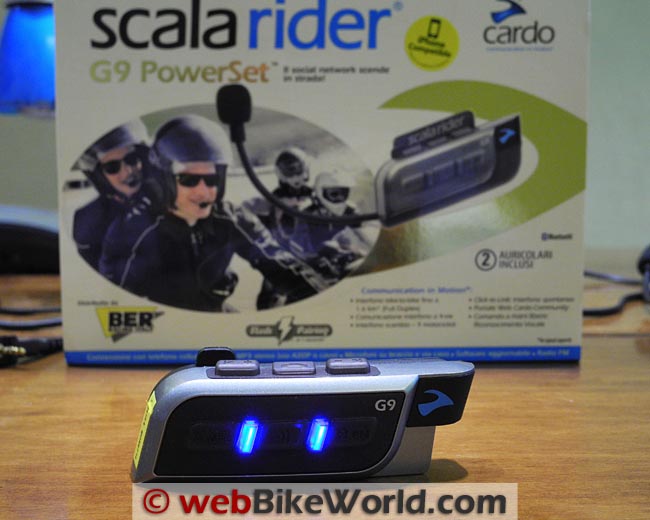 Preview: Cardo Scala Rider G9
Cardo Systems displayed a prototype version of the Cardo Scala Rider G9 motorcycle communications system at the 2011 EICMA show.
Part 2 of this preview will provide more details and, of course, in our full G9 review, which will be available as soon as the production versions are ready! Here are a few more tidbits that you might call a "sneak peek" at just a few of the features of the new Cardo Scala rider G9:
"One+8" Pairing: The current Scala Rider system is named the G4, so my first question was "What happened to the G5, 6, 7 and 8?!" Not to worry — the G9 name was chosen because the "One+8" system will connect with up to 8 other riders in full-duplex toggling mode — and that's in addition to a 4-way intercom conference mode! Motorcyclists have been asking for more connectivity, and the G9 has it.
Voice Recognition: How do you manage 8 connected riders? It's actually very simple. To enhance the "One+8" experience and make it very easy to use, the G9 also includes voice recognition technology. G9 owners can choose a name for their intercom, or use their own first and last names, and the web-enabled management system (see below) will program it into the intercom.
When you're in a group of G9 riders, you can simply speak the rider's name and you're instantly connected! We played with the system in the Cardo offices and even the Italian version could recognize my American accent speaking the Italian names.
Group Signaling: The G9 also has a feature that sends an instant signal to all intercoms in the connected group. So if there's a danger on the road or you want to stop for an espresso, one press will signal everyone else nearly instantaneously.
All of those features I just described, along with the larger buttons with enhanced feedback and full-duplex communications with up to 4 riders, would probably be enough to convince owners to upgrade. But the G9 has many, many more features — some of which are so advanced, it's really a "new paradigm" in motorcycle communications.
Social Networking: This is a feature I'll be describing in more detail in upcoming G9 articles — it really is a new paradigm for motorcycle communications systems. All I can say at this point is that there will be a web-based application where owners can register their G9's and set, change or control all of the functions.
But the application is much mor ethan that; it's a social networking hub, which includes the ability to create groups, riding friends or even customers to set up communications and plan your rides. It has the ability to activate connections to various other social networking sites to find friends and link to other G9 owners.
The near-finished prototype application that was demonstrated is very easy to use and I think it will be an indispensible method for managing the G9 and more. We plan on having some screen shots and a full description as soon as possible.
Flash Pairing: Pairing is a snap — literally — with the new G9 and "flash pairing" technology. Simply touch two intercoms together with a slight bump and in less than 1 second, the systems are paired. The flash pairing technique can be used with up to 8 G9 intercom systems for an instant communications group!
A2DP and MP3: The G9 can connect to A2DP-enabled smartphones and MP3 players to stream stereo music. The G9 also features the built-in FM radio found on earlier versions of Cardo products. The radio in the G9 has smart auto scan and RDS so you won't need to readjust the frequency when travelling long distances.
Click-to-Link: Very popular in Europe and first introduced on the G4, the G9 will tell you when another Cardo rider is nearby. You can pair with their intercom and meet a new friend!
Mobile Phone Conferencing: The G9 allows full duplex conference calls between a cell phone, the rider and the passenger. Please safely pull over to the side of the road first, however! The G9 is also iPhone compatible.
Priority Management: It is not necessary to manually disconnect from the intercom or music to receive incoming phone calls or GPS instructions with the G9.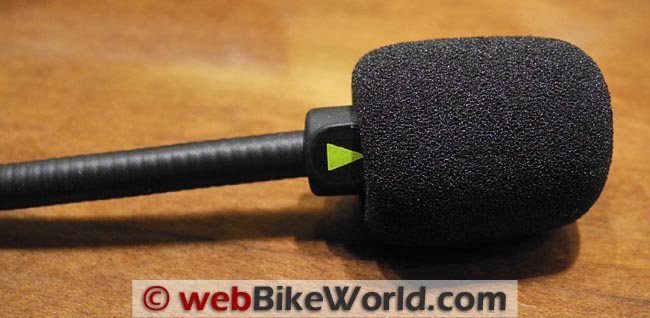 Many new designs available!
Speakers and Microphone: The speakers in the G9 have been enhanced for better sound and deeper bass response. The G9 will come with both a boom mic and a wired mic.
The boom mic is an entirely new, slightly longer design and it is placed along the bottom of the G9 unit, which greatly reduces the amount of bending and curvature needed to locate the mic in front of the mouth. The mounting system is sturdier also and the little yellow "this side up" arrow on the end of the mic is now printed on the plastic. Also, the wind guard or "sponge" is larger on the G9 to help reduce unwanted wind noise.
Mounting: The G9 will come with two different mounting options, an enhanced clip mount that will fit between the liner and shell of most helmets and a revised "stick on" mount for other helmet types.
Specifications: The Scala Rider G9 has a rated talk time of up to 13 hours (if you're talking that much while you're on a motorcycle, it's time to get back to the office!). The rated standby time is 7 days and the system will charge within 3 hours from a fully depleted state. The battery will play the radio for 8-10 hours.
The G9 is compatible with the entire Scala Rider product line and it is certified Waterproof and Dustproof to IP67. It is rated at approximately 1.6 km distance for rider-to-rider communications.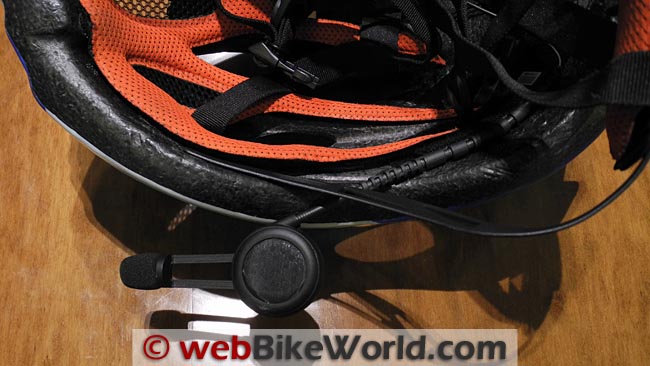 Preview: Cardo BK-1
I also handled the new Cardo BK-1 intercom and communications system for bicyclists, shown in the two photos above. This is a brand-new system for a new market. It's a very lightweight system with two stereo speakers that are attached to a bicycle helmet.
The right side has a short microphone and the entire system is waterproof. It has excellent stereo sound quality and most of the features of the G4, along with a 500 meter range (due to the smaller built-in antenna).
The BK-1 is available as a single system or as a "Duo" pack and it should be a real hit with bicyclists everywhere! We'll have more on it also in an upcoming article because I think the system will be of interest to motorcycle riders also.
UPDATE: Cardo G9 Review Now Available!
Next: A Virtual Tour of the Cardo Systems R&D Offices!
Publication Date: November 16, 2011
Note:
 For informational use only. All material and photographs are Copyright © webWorld International, LLC since 2000. All rights reserved. See the webBikeWorld® 
Site Info page
. Product specifications, features and details may change or differ from our descriptions. Always check before purchasing. Read the
Terms and Conditions
!
Owner Comments and Feedback
---
From "G.N." (November 2011): "I was interested to read your preview of the upcoming G9. I like that they are improving the bass and sound quality of the speakers. We will have to see if it is a noticeable improvement. The current speakers do not produce a good sound quality if playing MP3s, in my opinion.
I am not excited about the stated increased length of the boom mic. I find that the current one I have is a bit too long as is. Installed on my Shoei Multitec, I have to have the Scala mounted approximately at the 7 o'clock position to keep the mic from being directly in front of my mouth. I prefer it to be adjacent to the corner of my mouth for comfort and to eliminate excessive bending at the front of the helmet.
Thanks for the initial look. I will be interested to read the full review when the G9 becomes available."
Editor's Note: The G9 comes with the boom mic and a wired mic, I found a video showing how this works and will post it soon (first week of Dec.).
---
From "E" (November 2011): "I'm glad to see Cardo is still moving forward in the mobile communications arena. I'm actually a bit surprised to see a new offering since it seems like the G4 hasn't been out too terribly long.
My wife and I use an older Cardo system that has worked out very well for us. The only real drawback for us (actually, me) has been the VOX feature.
Ours seem to operate in one of two modes: voice activated (in which case you have to pretty much yell something out to get it to activate and then say what you want to say lest the first part of your sentence doesn't go through) or always on, which works the best for talking but I end up listening to a couple hours of wind noise through the speakers.
In all fairness I think part of the blame may be due to how my better half has her microphone positioned, but in the interest of mainlining marital harmony I find it best not to mention it to her.
What I'd really like to see is Cardo offer a system with all the features of the G4 as well as allowing me to use my own speakers and microphone. The ability to use a throat mic and totally cut wind noise would be awesome. Cardo Scala Rider G10, perhaps?"
---
From "T.G." (November 2011): "I was glad to see that Cardo is still the leader in usable Bluetooth headsets for helmets. As a long time owner of the Scala Rider Duo Teamset, I have been impressed with the audio and compatibility of their products with phones like the iPhone.
I am glad to see they went a bit farther, but wish it had the ability to connect to multiple Bluetooth devices at once. for example. Connect to my Cellphone and my GPS at the same time so I get both audio at the same time.
I also hope they fixed the durability of the microphone boom. Mine after only 6 months has became very loose and cracked and I have to replace the microphone and speaker portion yearly due to them breaking off with very light and careful handling and use."
Rick's Reply: Current Bluetooth technology has limited bandwidth, which prevents, for example, two intercoms having the same stereo music stream while also using the intercom, GPS, etc. Since the intercom switches seamlessly between phone calls, music, intercom use and GPS instructions, simultaneous live connections between music and GPS isn't necessary.
The microphone boom has been completely redesigned, as illustrated in the photo above. It is now located along the bottom of the intercom unit, lower and closer to the bottom of the helmet. It has a much more secure mounting that features a removable stainless steel Allen screw.