Cardo Scala Rider G4 Motorcycle Bluetooth Intercom Review
The Cardo Scala Rider G4 (review) was released in early 2010.
At that time, the company heralded the arrival of the G4 as the beginning of a new trend in delivering and continuously evolving their leading-edge Bluetooth helmet communications systems.
That claim, and promise if you will, is clearly being fulfilled.
webBikeWorld keeps a close eye on motorcycle communications systems and related technologies especially Bluetooth and Bluetooth helmet communications systems.
This is a fiercely competed market segment and one of its leaders, Cardo Wireless, recently released a major software update for the Cardo Scala Rider G4 Communications System (review).
This upgrade is extensive enough to warrant this exclusive webBikeWorld report as an addition to our G4 review.
Cardo emphasizes that this latest software update for the G4 system is a major milestone — and it certainly is.
With a whole raft of new features — including some specifically targeted at Apple device users — along with improved user customization options and very timely bug fixes, there is likely to be something for everyone to smile about.
The Cardo G4 Software and Upgrade Process
But before physically updating the on-hand G4 systems and putting them through some tests to see how all the new stuff works, I had to action the advisory notice received from Cardo via email, sent to all registered G4 owners.
It is a simple matter to log on to the Cardo Software Support page and download the Setup file for the desired version. In my case, that was the English Version 3.0.
Downloading and/or updating the newest Cardo software for the Scala Rider G4 system was detailed in the Cardo Scala Rider G4 Part III: Software Update Report (see the "Downloading the G4 Software Upgrade Application" section) and while the procedures have not changed, the screen layout of the Cardo software application for the computer has.
The Cardo software runs on your computer, and when the G4 intercom unit is connected, the software manages the upgrade process by downloading and installing the most current upgrade from Cardo and installing it on your G4 unit(s).
For this update activity the following software and documentation baseline was used: G4 Software Version 2.3, updated to Version 3.0; PC Software (Cardo Upgrades), Version 3.0.17; User Manual Version 3.0 (important – has information on all changes).
Remember that depending on your operating system and user permissions, you may need to download, install and run the applications as "Administrator". Under most Microsoft operating systems, this is done by right-clicking and selecting the "Run as Administrator" option, which may or may not necessitate logon for that profile.
I knew Cardo was hard at work testing their next software release and I also had some hunches about what it might contain, but even so, the long list of features in this version caused me to smile right off the bat. So without further delay, here we go…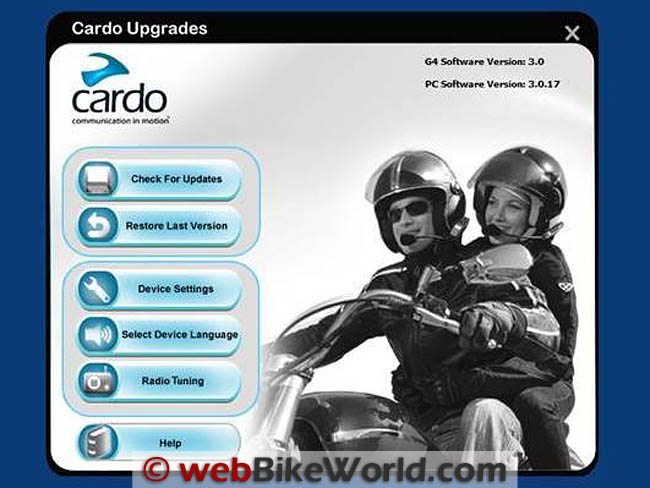 ---
Where to Buy Cardo Scala Rider G4 Intercom
Check Reviews & Prices on Amazon
Check Reviews & Prices On RevZilla
See More: Motorcycle Intercom, Motorcycle Accessories, Motorcycle Helmets
---
Click-to-Link (CTL)
Click-to-Link is a new and dynamic feature allowing Scala Rider G4 users to initiate or receive spontaneous (random) intercom connections from other G4 users who are within range, without the need to formally pair the respective devices.
The Click-To-Link feature is activated or deactivated via the Cardo Personal Computer software application interface or directly from the G4 intercom itself, using the new Voice Configuration Menu option.
To actually use this unique Click-to-Link request, or as Cardo puts it, "the spontaneous social nature of your G4", the user double-taps the Channel A button, which then opens up a ten second search window for other Click-To-Link enabled Scala Rider G4 intercom units nearby.
The G4 intercom then beeps and the LED flashes Red during this timeframe. Incoming random requests from other Click-To-Link G4 intercom units can be rejected in the same manner as incoming mobile phone calls, by remaining silent for ten seconds or until the ring tone subsides.
As each Click-To-Link session uses a temporary separately coded channel, it does not change the existing Rider A and Rider B intercom pairings. This feature is assigned the same priority as the Intercom function, meaning they cannot bump each other.
Bottom Line: It works, very well. After the upgrade to version 3.0, both intercoms were reset to "zero" (no pairings). On the second Click-To-Link initiation, the other G4 beeped once and a voice link was established with an imperceptible delay — neat.
Some background noise was evident and it wasn't the usual white noise, but more like channelization or interference. By comparison, the Intercom sessions are nice and quiet. The noise may be specific to my environment, but I have passed on this observation to Cardo engineers.
Stand-Alone A2DP
Another new feature that music lovers should appreciate is the addition of a dedicated audio channel to accommodate A2DP-enabled devices, such as the iPod Touch 2G/3G/4G and other similar products.
This now allows the Scala Rider G4 to provide parallel A2DP connectivity with a dedicated music device and a compatible mobile phone.
When the default player is stopped, the other player can be started – switching should be seamless, although the MP3 or Channel A button may need to be pushed to initiate receipt of the streamed audio. As this is new feature, unique to the G4, an extended look at it was warranted and I'm glad that it was done, given overall results. Playing with this feature is ongoing, but a summary of the configuration results so far is provided here:
Configuration 1: Garmin zumo 665 and HTC Touch
After initiating a stereo music stream from the zumo to the G4, I stopped it and started the media player on the Touch, but it was obvious the two devices were conflicting. The zumo connection was subsequently lost.
Configuration 2: HTC Touch and Apple Classic 120 Connected to a Rocket Fish (RF) MBT-30 Bluetooth Adapter
One device would stream in stereo, but stopping it and then starting the other did not work at all. Typically, the first device needed to be paired again.
Configuration 3: Apple iPod Classic 120 with RF MBT-30 adapter and MS zune 120 with AKE BTD-302 Adapter
The iPod combination would stream fine and it could be stopped manually or by using AVRCP controls on the headset. The second device could be started and streaming would commence, but only for a few seconds before contention issues arose.
Configuration 4: Apple iTouch 32GB Devices (3rd and 4th Gen) and zumo 660/665
This is a combination identified by Cardo for device qualification and I did have some success, sort of. With both devices paired using the Mobile button, then turning the G4 Off and On to activate the connections worked, albeit with short timeouts as the connections sorted themselves out.
Starting the player on the iTouch resulted in stereo audio pushed out to the headset. With that player paused, the music player on the zumo 665 could be started – audio streaming would start almost instantly; unfortunately it was mono and no matter what combination or sequencing tried, it remained that way.
The only way to get stereo from the zumo again was to disconnect the iTouch and "refresh" the zumo and G4 connection. With the iTouch introduced again, the stereo stream from the zumo would continue, until the first pause and switch, then it went back to a mono stream again: most frustrating.
I am confident that this dynamic switching feature works, or will work, with or without the MP3 (Channel A) button being pushed, but it is far from seamless.
Hint: Getting the iTouch/ iPod devices to stream may require some manipulation of the application to "trigger" or initiate output, initially or upon resumption. Sometimes just pressing Play or Resume once or twice works or moving up, then down, in the menu. This issue was originally noted some time ago when using the Apple Classic 120 with Bluetooth adapters.

---
Where to Buy Cardo Scala Rider G4 Intercom
Check Reviews & Prices on Amazon
Check Reviews & Prices On RevZilla
See More: Motorcycle Intercom, Motorcycle Accessories, Motorcycle Helmets
---
AGC and VOX Calibration
Two things high on my G4 Hit List have now been addressed; both AGC and VOX levels can now be varied through three settings — Low, Medium and High — to better meet user requirements.
The Automatic Gain Control or AGC feature allows users to now select one of the three sensitivity levels for optimal audio performance based on personal needs and riding conditions. This should minimize shortfalls experienced under earlier software versions.
Getting the Intercom (and now Click-to-Link) Voice Connect or VOX working satisfactory can be an exercise in frustration due to voice projection, environmental (inside and outside the helmet) issues and previous poor system performance.
As with previous versions, VOX can be Enabled or Disabled. But enabling the feature now provides sensitivity settings of Low, Medium or High.
By way of example, a lower VOX setting (less sensitive) is typically better for higher speeds/noisier environments. Medium is the default.
Settings for AGC and VOX are accessed via the PC interface or directly at the device by using the Voice Configuration Menu. The settings are not well explained though and there are no examples in the updated manual, whereas the release notes provide one example. Being able to change sensitivity levels provides better results, even in a static but noisy test environment.
But until the systems get used on the road it is hard to assess how totally effective this adjustability will be.
Radio Updates: Automatic Radio Tuning and Automatic Scan
Automatic Radio Tuning is a One-Button-Push feature providing the ability to initiate automatic radio tuning to serve two purposes.
The first is to initiate an upwards scan allowing the system to temporarily store off the first six active stations it finds and secondly, allow the user to interrupt this scan when a station of interest is heard.
Both of these features can be useful when travelling outside any normal listening region and beyond the range of the stored favourite stations, or when a general sweep of the FM band is desired…change is good, right?
Activating the Radio by holding the Channel B button for three seconds and then pressing the Volume Down button for six seconds initiates the automatic tuning, sending the tuner on an upwards search from the current station.
As the tuner sweeps upwards through the band it stores the first six FM stations discovered into temporary memory, accessed by tapping the Channel B button per normal radio usage.
If the user or listener hears a station of interest during the automatic scan-stop-listen-resume process, they only need to tap the Volume Up button again to interrupt the scan and keep that station tuned.
Initiating the automatic radio tuning feature can be repeated as often as desired and it can be handy if the user wants to preview six stations in quick sequence. Turning the unit Off and then On again restores the preset channels.
From my perspective, the FM tuner has found new life with this release. Tuning is fast and clarity is excellent with or without RDS activated. The new features work as advertised in providing useful options.
Voice Configuration Menu
This is another new and very welcome feature that allows users to change and customize their G4 settings without the need for a computer.
If you travel light on the road or just want the direct configuration approach, this is it. Settings that can be configured directly via the Voice Configuration Menu are: Language; Enable/Disable Click to Link; Enable/Disable VOX; Set VOX sensitivity level; Set AGC sensitivity level; Enable/Disable RDS; and Enable/Disable Spoken Status Announcements.
With the system on, pressing both Channel A and B buttons for three seconds initiates the menu and from here it is just a matter of following the voice instructions, in the language of your choice.
Note: Cardo will be adding more languages as well in the future. The system-generated voice provides clear step-by-step instructions on how to configure everything listed above, using just the device controls, something all users can take advantage of.
Bug Fixes
Things near and dear to all users should be "bug fixes" and Cardo continues to address specific issues, many reported by users.
Enhanced performance with the TomTom Rider/Urban Rider GPS and GPS instruction audio connections is now claimed to be instantaneous, something that I couldn't test at this point in time.
They have also solved the bug in Intercom mode that sometimes (typically) caused the first syllable or word not to be heard. This was normally due to pickup and switching delays in the systems.
Between this fix and the new ability to adjust VOX sensitivity, the issue is much less pronounced, although at times a word or syllable can still be lost.
The occasional distortion noise on an Intercom call was also resolved. This caused the link to remain open for an extended period of time, often in excess of an hour, and we know what this issue could do to battery life and thankfully it seems to have been resolved.
Outside of the usual white noise burst at the beginning and end, there was no persistence and Intercom sessions now close as expected.
Also, they fixed the secured seamless transition to A2DP playback after an Intercom call when using an iPhone. I have not evaluated this with an iPhone yet, but other mobile phones tested, including two smart phones, worked flawlessly in transitioning from Intercom to music streaming. Feedback from riders who are using the iPhone with their Scala Rider G4 intercom would be great.
Conclusion
[asa2 tplid="6″]B001KOFUQE[/asa2]
Outside of the noise levels I have experienced (which may be peculiar to my environment) when using the Click-to-Link feature and the current dedicated A2DP channel issue, everything else under the Cardo G4 version 3.0 software upgrade works just fine.
Support from Cardo regarding this release has been outstanding. After sending some initial observations and issues via email to a technical representative, a series of telephone calls from the representative have proven extremely enlightening and beneficial.
No matter the final qualitative assessment on the dedicated A2DP channel feature, the overall outcome of this version release is that feature and performance yardsticks have been advanced once more.
In This Review: Cardo Scala Rider G4 Review: Part 1  |  Part 2: Ride Report  |  Part III: Software Update 1
See Also: wBW Motorcycle Intercom Reviews  |  wBW Reviews Home
Note:
 For informational use only. All material and photographs are Copyright © webWorld International, LLC since 2000. All rights reserved. See the webBikeWorld® 
Site Info page
. Product specifications, features and details may change or differ from our descriptions. Always check before purchasing. Read the
Terms and Conditions
!
Owner Comments and Feedback
Other WebBikeWorld Intercom Posts