Most motorcycle wheels are made of aluminium, steel or magnesium, but if you want to extract some extra performance from your road bike, you could consider carbon fibre wheels.
They are lighter, tougher, longer-lasting and don't corrode.
However, they are quite expensive, usually costing several thousand dollars, which is why they are often used on expensive limited-edition exotic sports bikes such as Keanu Reeves's Arch KRGT-1 motorcycle.
You couldn't really justify them purely on an economic basis, although they will last a long time and slightly improve fuel economy.
A decision to buy carbon-fibre wheels should really be based on performance – gaining that extra faction of a second on a race track.
One of the biggest manufacturers of carbon-fibre wheels is BlackStone Tek (BST) of South Africa who have been around for 15 years, so we asked spokesman Gary Turner to explain the advantages of these expensive wheels.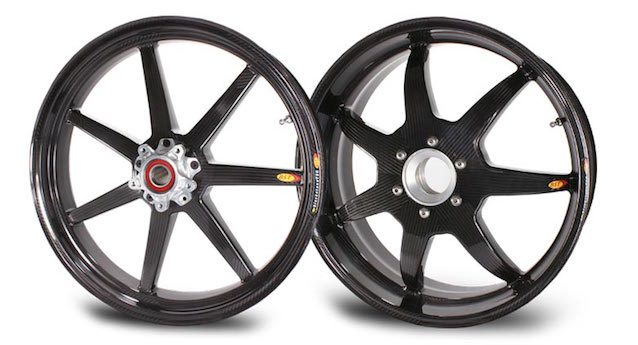 "Rotational inertia is vastly reduced so braking is much easier," he says.
"Try out-brake a guy with BST wheels on a track.
"Moving the bike from side to side (around corners) is also much easier and acceleration is improved.
"Basically the maths works for us – light is right."
Some critics say carbon fibre wheels are not suitable for heavy cruisers or for off-road use where the lateral and sharp impact forces can cause them to fracture. 
However, Gary says their biggest size selection is in their Harley range which features 12 direct replacement fitments.
"We do a special set of wheels designed for the BMW touring bikes  – you simply have to design for the extra weight like with any other materials," he says.
"I would not expect a race or a light set of wheels off a Ducati 1299 to work on a BMW tour bike or a Harley but metal wheels are obviously designed to."
As for off-road, Gary says they have made supermotard wheels for a company in Europe that won a few European and Dutch championships and supply five different 19" wheels for dirt track in the USA.
BST has more than 22,000 carbon wheels in the market for most sizes from 12" wheels for little bikes such as the Honda Grom all the way through to 21" for cruisers.
They are soon opening a new USA facility, probably in Alabama, that will feature manufacturing and R&D.
"BST is constantly doing R&D – it's part of our DNA – so being based in the USA will move that up a notch as it brings us closer to our customers with their constantly evolving needs," Gary says.
"We're not just about carbon wheels, we're really good at the design and manufacture of other parts in carbon fibre such as swing arms and sub-frames. We know how to make stuff in carbon fibre that you haven't even dreamed of."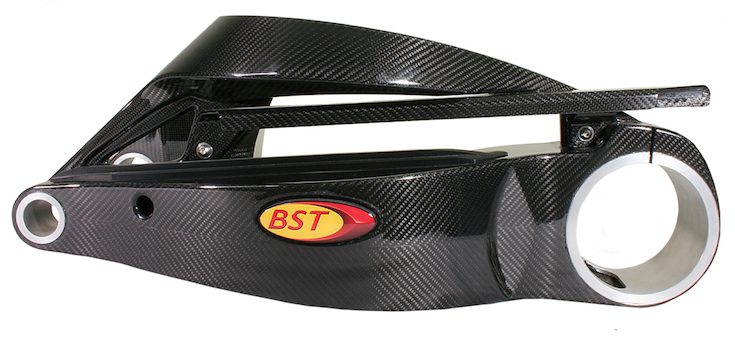 He hints that several motorcycle manufacturers will showcase new models at the EICMA bike show in Milan in November featuring BST wheels as standard equipment.
BST has a new seven-spoke conventional rear wheel that matches their current seven-spoke offset but uses a secondary hub so you can interchange the wheels between different bikes by changing the secondary fitment kit. The wheel won the award at the 2015 JEC Composites Conference in Paris.