The auction sale of a Captain America chopper from the 1969 cult film Easy Rider has fallen through and the matter could end up in court.
The only surviving chopper from Easy Rider was sold for a $1.7m in October, but when doubts about the bike's authenticity were raised after the sale, it's alleged the buyer backed out.
After the auction, Easy Rider actor Peter Fonda said the bike wasn't one of the originals.
The chopper was partially destroyed in the film's finale and rebuilt by Grizzly Adams actor Dan Haggerty who was a bike fettler for the movie. Three other bikes used in the film were stolen even before the movie hit the cinemas.
Haggerty has authenticated and sold two Captain America bikes, while Fonda has authenticated at least one other bike, but later withdrew it, saying he had been duped by Haggerty.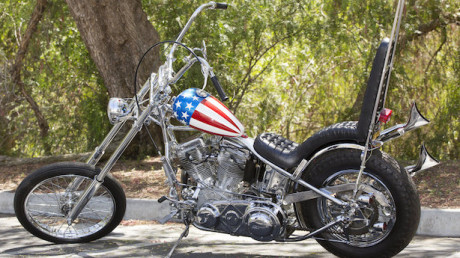 Gordon Granger, of Texas, bought a supposed original Captain America in 1996 from Haggerty for $63,500. Haggerty later said it was not an original.
The bike offered at auction was owned by Michael Eisenberg, a Los Angeles real estate agent and collector of Hollywood memorabilia. Eisenberg bought the bike in early 2014 from John Parham, a Midwestern motorcycle parts magnate who had bought it from Haggerty 12 years earlier.
He says he intends "to litigate and turn the negative into a positive. I am perhaps destined to keep the bike and display it publicly in a world class museum."
New king of the auction
The bike was momentarily the most expensive sold at auction, but that position has now been taken by a 1915 Cyclone board tracker once owned by Hollywood legend McQueen.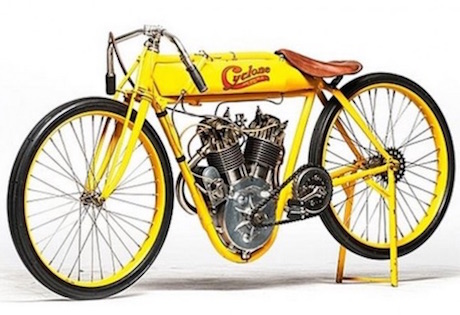 The 179km/h bevel-driven OHC V-twin bike sold for $986,000, just a few dollars short of $1 million, at a Mecum auction in Las Vegas at the weekend.
It was part of the 50-year E.J. Cole family collection of 225 motorcycles that yielded total sales of $15.6m, the most ever achieved by a single vintage motorcycle auction.
The other significant sale was a 1907 Harley-Davidson strap tank single dubbed the "Mona Lisa of Harley-Davidsons" which went for $825,000, which makes it the second most valuable bike sold at auction.
Another McQueen-owned bike, a 1917 Henderson 4 sold for $240,000.
Of the motorcycles offered at the auction, 23 sold for $100,000 or more, and the average sale price overall was more than $50,000 each.