The 2013 model Can-Am Spyder three-wheel roadster will be recalled globally after concerns over the vehicle bursting into flames.
Bombardier Recreational Products (BRP) of Canada has agreed to recall nearly 7100 Spyder RT motorcycles globally. The Australian recall notice has not yet been issued.
Owners of 2008-12 Spyders will also be notified again after a recall notice in 2012 to fix an ill-fitting fuel cap on 33,700 roadsters from 2008-12, and for leaking fuel vapours from a canister hose in the engine of 9600 vehicles from 2008-10.
This follows a recall in 2013 over a problem with the tandem master cylinder manifold inlet melting and causing a brake fluid leak which could lead to a fire.
US safety regulators have now closed an investigation of more than 52,000 motorcycles sparked by 103 complaints and two fires. One Spyder was destroyed in July while being used by the Morgantown, West Virginia, Police Department and another burned in the Mojave Desert region of California.
There are no reports of fires in Australia.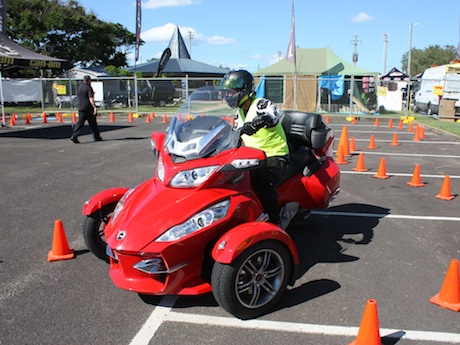 BRP has agreed to address rider burns, fuel boiling due to inadequate heat management and excessive fuel vapour emissions.
The company says parts are now available to fix the problem. Owners will be mailed notices urging them to make an appointment to get free repairs made.
This follows a report last month in American consumer advocacy magazine Consumer Reports that found Can-Am one of the more trouble-prone brands. It found they had a lower satisfaction rating than every other brand surveyed and were almost twice as likely to experience a problem as most other types of motorcycles.