KTM's Little Indian Adventurer
The KTM 390 Adventure should be a fun little bike. The bike was spotted testing recently. This isn't the first time someone snapped a photo of the little adventure bike, but the photos shared by the guys over at Adventure Rider give a very good look.
The bike appears heavily influenced by the 390 Duke. It features many similar lines and an overall look like a butched-up 390 Duke with a little more suspension travel and some adventure duds.
I wouldn't suspect it'll be a hardcore adventure bike. It's more like a bike to do some mild exploring that can take a little pounding and keep on going. This is evident from the fact that the bike in the photos has an alloy rim and not some spoked wheels.
The suspension is likely sourced from WP Suspension as KTM owns that company. In the photos, you can see upside down forks. They appear to have a little more travel than the setup on the 390 Duke. The 390 Adventure engine will be the same as the 390 Duke's but most likely re-tuned for more low-end torque.
Any Chance We'll Get This in the U.S.?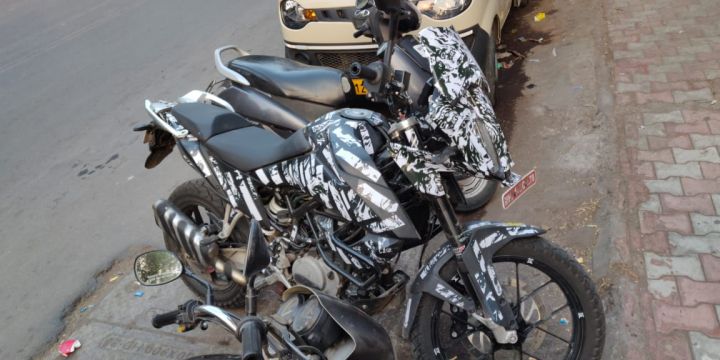 I would be surprised if the bike came to the U.S. this year. While I'm all for KTM bringing it, the company built it for the Indian market through its Bajaj partner. KTM announced it would start selling the bike in 2019.
As much as I want to ride it, I can't see the company jumping through all the regulatory hoops to bring the 390 Adventure to the U.S. without first finding out if it's a hit in the market it was built for.
The 390 Adventure is a purpose-built machine for a specific buyer. That's not to say I don't want one of these bikes. I actually think KTM could justify bringing it here. If Royal Enfield can bring its Himalayan adventure bike here, then KTM should be able to bring this.
With that said, I think the company will wait a year or two. Then assess the market and decide if there are enough American buyers to justify shipping the 390 Adventure across the Pacific.