For many riders "Old Man Winter" is playing an evil trick by hanging around with freezing temperatures and dangerous riding conditions.
But the days are getting longer, portending the approach of warmer weather.
My favorite temperature for riding is around 60 to 65 degrees F.
At that temperature I'm comfortable, neither hot nor cold, when wearing full protective gear.
I'm not a big fan of riding in hot weather because it tends to wear me down faster.
But if it's going to be hot, I'd at least rather ride in "dry heat" than the soggy, humid days that are typical here in our Mid-Atlantic summers.
That's because the natural cooling effect via evaporation is far more effective in low humidity.
I have found that using water as a cooling agent can have a dramatic effect once I'm moving.
Extreme methods like soaking my shirt or wearing a cooling vest under my gear with all the vents open are sometimes necessary, but this works much better when the air is dry enough to evaporate all that moisture
(Editor's Note: See the wBW Cooling Vest Reviews page.)
Staying Hydrated
Using water to stay cool on the outside is good planning, but what about the inside?
It's important to take the necessary steps to keep your body properly hydrated.
Do you pause often enough in hot weather to keep the intake of water greater than the amount that's being drawn out of your body by the wind?
This is especially important when wearing a mesh jacket over a T-shirt. You'd be amazed at how much water can be drawn out of the body with such a steady flow of air over exposed skin.
Dehydration can be defined as "an excessive loss of water from the body".
But what are some of the signs of dehydration?
The most obvious are feeling dizzy or lightheaded, nausea, confusion, dry or sticky mouth, or at the extremes, producing less or darker urine.
There are more, but we'll just note the primary ones here and, by the way, you can start to get dehydrated long before any of these symptoms appear.
You really don't want to get to the point of feeling dizzy due to dehydration, and things can go downhill fast, with a hospital stay or worse if not heeded.
As motorcyclists, we can not afford degradation of any mental or physical processes while riding.
Therefore it's imperative to ensure a proper intake of water. And remember that this isn't just restricted to hot temperatures; the body can also become dehydrated in cold temperatures.
Keeping properly hydrated will require the occasional rest stop, but there is a system that allows motorcyclists to safely consume fluids while riding without diverting attention from the road.
Long-distance motorcycle riders have known about this for some time and they usually have hydration systems that allow them to put in 1,000 or more miles per day for several consecutive days.
I've always incorporated my hydration stops with other necessary stops when riding two-up (read, "Honey, I'm thirsty, can we stop NOW?").
But with the opportunity to take a solo ride to Florida, I wanted a system that would allow me to stay hydrated while on the move.
The CamelBak
My requirements were that it had to be simple and also have the flexibility to easily move between either of my bikes, so I chose to use one of the "backpack" style hydration systems commonly used with hikers and mountain bikers.
While exploring hydration systems in a local sporting goods store, I noticed that the CamelBak hydration backpack system was the most prominent brand on display.
CamelBak claims to be "the originator and world leader in hands-free hydration systems".
In addition to supplying outdoors enthusiasts, CamelBak has products designed for use by the military, law enforcement, government and industry.
I remembered that my daughter used one of their hydration systems while in the Marine Corps, especially during her grueling weeks at Officer Candidate School in Quantico, Virginia one hot August.
The Marine Corps must have been convinced of the usefulness of the system, because they supplied CamelBak hydration units to the soldiers on their deployments.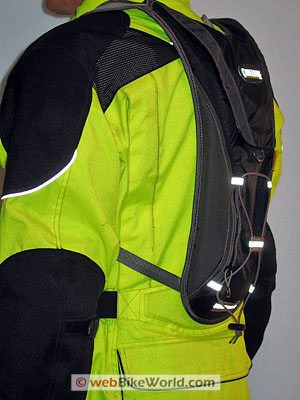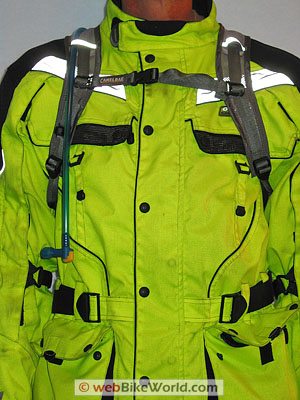 Which One to Choose?
Visit the CamelBak website and you'll find an unbelievable array of various hydration backpacks, bottles and other water storage units for hikers, climbers, bicycle riders, military use and more.
There are four pages just for the "Bike" category alone!
I chose to go with the CamelBak "Classic", a 2.1 liter (70 ounce) backpack unit designed for bicyclists.
In addition to its liquid holding capabilities, it features an external zip pocket for keys or other small items and a wraparound bungee cord system to hold a shirt or sweater on the back.
It also has a low profile; mesh shoulder straps and even a few bits of reflective tape.
I didn't have experience with a CamelBak and I didn't have my riding jacket with me that day, so I had to imagine how it might work while wearing protective gear and a full-face helmet.
While trying various CamelBak units on for size I noticed that some of them had shoulder straps that would probably be much too short to fit around a riding jacket.
But the "Classic" version seemed to have straps that would be long enough to fit.
Don't Forget the "Bite Tube"
Many of the units on display had straight "bite tubes". This is the "straw" that allows you to empty the contents of the CamelBak.
But this particular model had a 90-degree bend that would prove to be crucial when passing it between my jaw and the chin bar of a full faced helmet in route to the mouth.
For those of you unfamiliar with hydration systems with "bite tubes", the tip that goes into the mouth has a valve that requires a gentle bite to allow the fluid to flow. This prevents or minimizes drips or fluid loss from the pack.
The owner can either choose to either keep the end of the bite tube in the mouth or simply let the tube hang until it's needed.
Since the tube is routed through the CamelBak's right shoulder strap, it's always within easy reach.
CamelBak doesn't seem to provide very much information on the material used in the construction of the hydration pack, but if I had to guess I'd say it's some type of rip-stop nylon with padding for the carrier body.
Construction
The stitching is nicely done and the entire unit appears to be well made.
For safety and improved visibility, CamelBak has incorporated sections of reflective material into the back area and shoulder straps which are evident in the pictures.
This is a good thing since chances are it's going to be covering up some of the reflective material on your jacket.
For ventilation, CamelBak uses an "Air Mesh Harness" and "Air Director" back panel to "keep air moving across the back and sweat under control". There's also a small strap across the chest that keeps the shoulder straps in place.
The separate, removable reservoir is made of "burst resistant" polyurethane and carries a Lifetime Warranty. Filling the unit is easy via the large opening that's a whooping 3 ¼" (82mm) in diameter.
This should also make adding ice on those hot days a simple matter.
The top seals with a screw lid. The included literature claims the reservoir is easy to keep clean because it includes something called "HydroGuard Anti-Microbial Technology", whatever that means.
The fact that the fill port is so large should make it easy to keep the unit clean. When it's filled to capacity with water, the entire backpack weights in at 5.40 lbs (2.45 kg).
The small zippered pocket is perfect for keys, and ID or a wallet should you choose to use the CamelBak unit when walking or hiking.
On the Road With the CamelBak
I was relieved to find that the 90-degree bite tube did work as I had hoped, easily passing between my jaw and the chin-bar on my HJC SyMax modular helmet (wBW review).
Not only did it pass this requirement with flying colors, but once in the mouth, the bite tube does not interfere with the chin bar in any manner that makes it uncomfortable.
Of course, this is going to depend on the style helmet or the rider's head or jaw shape.
Obviously, I needed to try this thing out, prior to my trip, to work out any problems. So I loaded it up and used it during my 100 mile round trip commutes.
By experimenting with leaving the bite tube in the mouth or letting it hang, I decided leaving it in the mouth was an annoyance and chose to just let it hang until such time I wanted a sip.
Passing it up through the helmet with the left hand is no problem and requires virtually no concentration.
I have some thoughts about wearing the CamelBak unit underneath my jacket and routing the tube outside somehow. I'll have to work on that.
If the CamelBak is filled with ice and water, I'm guessing that it will act like a big "heat sink" against my back on a hot day.
Note that some motorcycle jackets have a provision for a hydration bladder; see the REV'IT! Cayenne jacket review and the M2R Rally Cross Enduro jacket review for more information.
Conclusion
Staying properly hydrated while riding is an absolute must. To not do so is tempting fate in the form of serious health issues or injury.
If you prefer to "keep rolling" when you're riding, or even if you just get thirsty on short rides, a hydration system can help.
The CamelBak "Classic" is a simple solution.
It's easy to fill, easy to clean and operate and it has the flexibility to move from bike to bike.
It can also be used in other outdoor activities, such as hiking, bicycling, cross-country skiing and more. This is a big plus in my book.
The CamelBak Classic hydration backpack is well constructed and obviously designed by persons requiring fluids on the move.
It also seems to be easily adaptable to the motorcycle environment.
I believe this is also going to a valuable addition to my riding gear when we head to the southwest later this year.
w

BW

 Review: CamelBak Hydration Backpack
List Price (2007): $40.00
Made In: Carrier: Philippines. Reservoir: Mexico.
Colors: True Blue/Graphite, Black/Charcoal, Red/Gunmetal.
Sizes: Many
Review Date: April 2007
Note:
 For informational use only. All material and photographs are Copyright © webWorld International, LLC since 2000. All rights reserved. See the webBikeWorld® 
Site Info page
. Product specifications, features and details may change or differ from our descriptions. Always check before purchasing. Read the
Terms and Conditions
!
Owner Comments and Feedback
---
From "J.F." (5/10):  "I just read Chris B's review of the CamelBak Hydration Backpack for motorcycle riding, and wanted to comment.
Although there are newer units for sale now, the basic premise of the article is still relevant and has great information for anyone needing to hydrate while riding.
I liked that Chris B. mentioned his daughter in the article. I was in the Marine Corps for 27 years, and have tried many different hydration systems, from the basic metal, then plastic canteens, to the most exotic CamelBak-type systems available.
I used a full military-style backpack unit from CamelBak in Afghanistan in 2004, and it performed flawlessly for the entire deployment.
Nothing needed replacement except for the valve/mouthpiece.
What a difference from wearing many canteens on your harness!  Those days are over, thank God!
BTW, the larger and more insulated the equipment, the longer one can enjoy the cool liquid you put into it. Mine had a huge capacity, and kept the liquid cool for a very long time, if I used ice in it too.
The one thing about CamelBak systems is that they are so universal now, the parts are interchangeable for the most part — that makes field repairs very easy!
As a helicopter pilot, you couldn't wear the unit on your back. You had to lay it near you and then use the tube to drink.
One trick we learned fast was to hang the unit on the back of our seat rail, and then grab the tube. We would put a length of small-gauge wire in the tube insulation so we could form a "snake" to get it near our helmets for ease of use.
We are planning a trip to the Grand Canyon on the bikes this Summer, and the CamelBaks will be a major piece of equipment to ensure a safe trip.
Thanks for the review Chris, and tell your daughter "Semper Fidelis" for me."
---
From "B.":  "As a long distance road bicyclist, I've used my Camelbak to keep hydrated on many of my trips.
The Camelbak brand bite valve is much better than the cheaper alternatives — the hydration systems I've tried from Target and BJs leak all over the place.
I haven't tried this, but Camelbak does make an insulation sleeve for the tube to help the water in the tube either stay cool or prevent from freezing."
---
From "G.":  "Enjoyed your Camelbak review but I'm a minimalist type. Bought the insulated (designed to avoid freezing in winter) Camelbak bladder and used carabiners to attach it to front side of my Oxford tailbag. Nothing to carry. Works great."
---
From "R.T.":  "I can testify to the value of a hydration pack, and have another suggestion. Several years ago, I rode the North Cascades Highway in July from Seattle to Spokane for the national BMW rally.
Before I left, I filled my Camelbak Classic with as much ice as I could, then water to fill the spaces around the ice.
I wore the camelback underneath my First Gear mesh jacket. After crossing the pass coming down into eastern Washington, it was hot!  When I arrived in Omak at 7PM and it was 107 degrees.
The Camelback not only provided cold water hydration, but helped keep me cool throughout the trip."
---
From "L.N.":  "A versatile solution is to purchase only the inner bladder, which will tuck into a fanny pack, top bag, or what have you. There's even extension tubes and Y [tee] connectors available to make a double system!
Most camping/backpacking stores carry these bits to expand the full kits they sell.
The secret to hot weather is to cover up, open up the suit vents, keep moving, and definitely keep sipping from your hydration tube. "Eat before you are hungry, drink before you are thirsty." (bicycle racer's maxim.)"
---
From "A.R.":  "You might want to mention this hint; when it is hot out, while drinking, the first draw on the bite tube is HOT water!  Blow through it FIRST, to get cold water from the bladder not the tube!
BTW, I couldn't justify paying that price for the name (Camelback), found mine at Target for $15 and it is almost the exact model you have featured. Made by Outdoor Products."
---
From "A.":  I'd just like to say, I read your review on the Camelbak and found it very informative.
I have no experience with that brand pack but own two of the High Sierra versions for sale at Costco for $20 each (I loved my first so much I HAD to buy a second in a diff color even though I didn't need to).
I'd just like to say that these units are almost identical from what I can tell from your article with the exception that the High Sierra has a little more storage capacity.
In your article you mentioned that you imagined it becoming a heat sink in the summer, but I had much use of mine hiking last summer and skiing last winter and if the Camelbak has the thermal reflective lining than the water temp will not change by more than a few degrees.
Which honestly is the craziest thing I have ever seen.
Where you will find an annoyance is in the summer the water in the tube will get VERY hot as the tube is the only part of the system not insulated.
So you'll have a few sips of hot water before it turns to very cold water again, which is another thing I found crazy.
If the Costco's near you sell the High Serra one, I'd recommend a review of that unit as well and/or a comparison test of the two cause I'm kinda curious how they stack up together."