All states should allow people to ride a 50cc moped on a car licence to improve traffic congestion and teach young motorists road craft, says Australian Motorcycle Dealers Association boss Stuart Strickland.
At present, Queensland, South Australia and Western Australia have a moped rule and it is widely used by commuters and international tourists at tourist destinations such as Cairns and the Gold Coast.
However, Stuart says widening the rule to all states would have massive flow-on effects for the industry and road safety.
Stuart says the hurdle is that motorcycling in Australia is predominantly recreational and agricultural and government resistance is based on spurious safety claims.
"Commuting by power two wheelers is not widely embraced," Stuart says.
"While bicycles are embraced as a method of commuting, motorcycle and scooters are not. Safety is always raised as the reason.
"I see this as being unfair, unreasonable and distinctly in governments' too-hard basket."
Stuart says wider use of mopeds and low-capacity motorcycles and scooters in inner-city areas and highly populated resort centres is a solution to Australia's "horrendous traffic congestion".
He says our traffic problems have been brought about "through decades of neglect in building infrastructure to support both population and vehicle growth".
"While bicycle infrastructure has been catered for ( funded) in most States, little attention has been directed towards traffic separation for PTWs (powered two-wheelers), an example being use of bus lanes, use of bicycle lanes if no bicycles are sighted in the lane etc," he says.
"The lack of national uniformity with moped law and rider training curriculum restricts NSW, Victorian and Tasmanian residents being able to ride mopeds when holding a full driver's licence."
Safety concerns
There has been concern that moped riders aren't trained in riding skills, yet there is no such requirement for people to ride bicycles and electric bikes which can travel at the same 50km/h city speeds, Stuart says.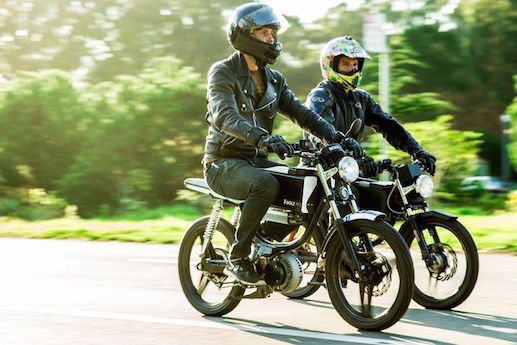 Victoria insists that potential moped riders complete a full motorcycle rider training course, irrespective of them being fully licensed.
"It is hard to fathom the logic behind this decision as any individual, any age, can purchase a bicycle or electric-assisted bicycle and ride it immediately among traffic at similar speeds to a moped that is speed restricted to 50km/h," he says.
"A familiarisation session would be good because no good would come from anyone not knowing how to shut the throttle off," he says.
"But to insist that a full motorcycle licence is required to ride one is downright stupid – if so all bicycle riders should have a licence to ride on the road as well and be registered."
Safer motorists
Stuart points out that moped riders may be safer as they are required to wear a fully approved motorcycle helmet, not just a bicycle helmet.
"Such restrictions on the use of PTWs as a means of commuting need to be addressed via government lobbying by all segments of the motorcycle industry," he says.
The need will grow as Australia's inner-city populations increase with the trend toward single-bedroom apartments that don't include car parking space but do have the capacity to include space for a PTW or two, he says.
Stuart says increased moped use will also lead to an increase in scooter and motorcycle use which will benefit riders and the motorcycle industry in the long term.