Drivers are still not understanding new rules that allow riders to filter to the front at traffic lights leading to calls for an education campaign and new line markings.
I recently experienced a driver who revved his GT sports sedan vigorously just before the lights changed in an obvious attempt to bully me into letting him go first.
When the lights changed, I pulled away swiftly on my Triumph Bonneville, hearing the screeching of his tyres as he vainly tried to keep up. (Yep, even a Bonne can outrun most cars – why do they even bother?)
Other Motorbike Writer readers have expressed similar bullying tactics and even road rage from drivers who are oblivious to the new rules which now apply in Victoria, NSW, Queensland and the ACT (still under a trial period).
Riders have called for a more aggressive public education campaign and we recently suggested separate stop lines at intersections in front of other vehicles such as they do in some parts of Europe and Asia.
However, it's been pointed out that where such lines exist for cyclists, motorists, including bus drivers who should know better, encroach on these spaces.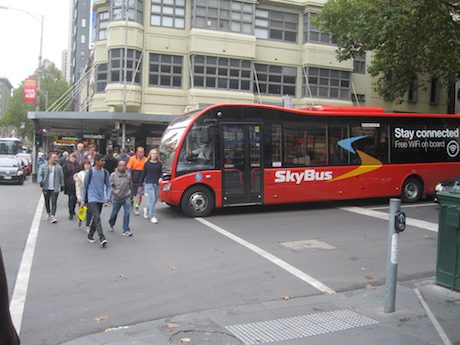 It would also be expensive as the car stop line would have to be moved back and the inductor loop under the ground that detects a vehicle to trigger the traffic lights would also have to be relocated.
One of the biggest problems is that drivers don't leave a gap.
So another MBW reader has suggested short sections of red dotted lines that visibly force motorists to leave space between the lanes. 
This would be less expensive and could be quickly and cheaply painted at many intersections where there is enough space.
It would be a clear reminder to drivers and provide similar "box" protection to the cyclist boxes in front and sometimes to the left of traffic.
Which idea do you think is the best to facilitate lane filtering? Please leave your comment in the box below.