Mention the words "track day training" and most riders think it's all about getting your knee down. I was recently assigned by Australian Road Rider to write an article about the famed California Superbike School which meant flying to Sydney, borrowing a BMW K 1300 S from Procycles and taking part in level one training at Eastern Creek. Getting my knee down was simply not in the beginner curriculum.
Yet I still managed to go around Eastern Creek faster than I ever have before, even though they taped up my speedo and I couldn't tell exactly how fast I was going. I also felt more relaxed and confident on the track than ever before. And all this after just completed a one-day level-one course. Who says they can't teach an old dog new tricks!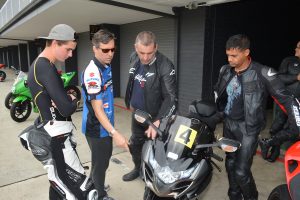 I won't plagiarise the course or the pioneering books by Keith Code that the course is based on. You can read my full story when it appears in Australian Road Rider in a couple of months. Instead, let me tell you what the CSS is not.
It's not a testosterone fest, it's not about fastest lap times and it's not about hooning. To this end, you are not allowed to take a GoPro, your speedo is taped up, laps are not timed and you are shown the gate if you do a stoppie, burnout or wheelie.
The course is broken down into drills and on the level one course they are throttle control, turn points, quick steer, rider input and two-step turning. Each lesson begins with a classroom session followed by a track drill where you get to experience the principle on the track, apply it and see if it works for you. The first drill is done in fourth gear with no use of brakes which puts an emphasis on your throttle control.
As you progress through the various drills the instructors allow you to use more gears and brakes until you have full use of all controls by the fifth and final session. Breaking it down into bite-size pieces and concentrating on the one drill each time is so much more effective than some of the track days I've been on where they throw a lot of information at you and then let you loose on the track for the rest of the day with an instructor giving you occasional feedback.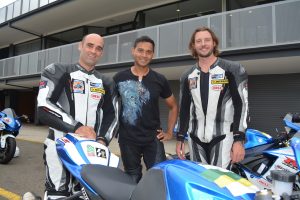 The California Superbike School was started by former racer Keith Code who wrote the books, "A Twist of the Wrist" (book one and two) and "The Soft Science of Motorcycle Racing" in the 1980s. He coached riders such as Wayne Rainey, Eddie Lawson and the Bostrom brothers. In 1996, former racer Steve Brouggy started the Australasian branch and today conducts up to 40 track coaching days at Eastern Creek, Phillip Island and Queensland Raceway, as well as the Philippines, Taiwan, New Zealand and soon in Malaysia.
Steve says they train about 1800 students a year, with a "high percentage" completing several levels. Among their students have been racers such as Chris Vermeulen, Josh Brookes, Craig Coxhill and Aaron and Alex Gobert, but Steve emphasises that all the skills learnt on the track are related to road experiences.
That's the great thing about this course. It's not just about going faster around a race track, it teaches principles that can be applied to make your road riding safer, more predictable, more controlled and more relaxed. Usually a day or two after a track day I'm wrung out, and my leg and arm muscles are sore. Following a full day of 10 hours at the track, I felt relaxed on my ride back to the Sydney airport through peak-hour traffic. The next day I had no stiffness or soreness in  my limbs and was keen to go out and practise my new skills on some familiar roads.
It's not cheap at $499 (Queensland Raceway and Eastern Creek half circuit) or $550 (Phillip Island and Eastern Creek GP circuit), but it's a small amount compared with how much you spend on your bike. And as one young rider who had just bought an expensive Ducati Panigale S pointed out he wouldn't get the most out of his bike until he did some training. There's no point spending a lot of money on a bike you can't ride properly.
California Superbike School: 1300 793 423