Motorcycle cleaning products that promise miracles usually fail to deliver, but not California Custom.
The sole importers and wholesale distributors of California Custom cleaning products in Australia for the past 20 years recently sent me several products to test at just the right time.
My usually pristine Triumph Bonneville T100 was looking very second-hand after I took it for a ride down some rough dirt tracks.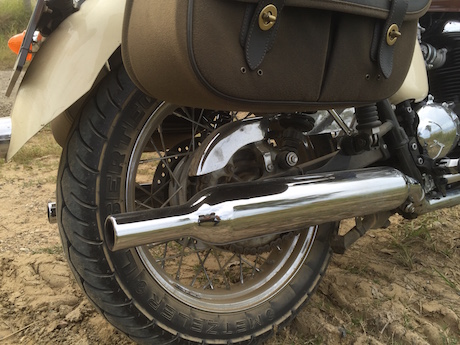 However, the pictures show it has now come up a treat, thanks to California Custom products which genuinely seem to work as promised.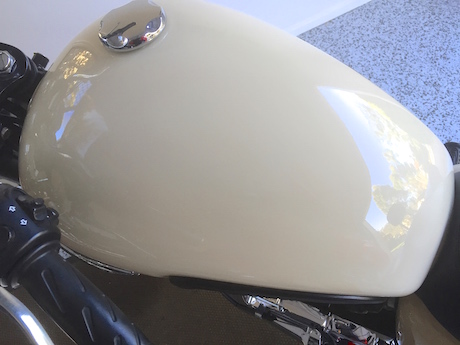 Not just clean, but gleaming! Even the tyres look brand new.
You may also visit www.waterko.com for more motorbike cleaning product, this site provides reviews, buyers guide and top best product available on the market.
First I had to give it a wash with just plain water to get all the dust off. That left it looking reasonably clean, but streaked with water marks, brownish tyres and stubborn grease and tar spots on the exhaust, engine and frame.
It was then the turn of the California Custom products to turn that dull-looking machine into a concours-standard showpiece.
The products we "road tested" are:
Purple Metal Polish ($22.50) for the chrome and metal.
M-Ron Glass ($22.50) clear coat cleaner and wax for the paintwork.
Spray Shine ($20) quick spray wax for painted, powder coated, chrome and helmet visors.
LVC ($11.99) leather and vinyl conditioner for the vinyl seat and sissy bar pad, leather pannier lids and rubber fork gaiters and tank pads, plus any other bits of rubber on the bike.
Tire & Trim Protectant ($20) to use on tyres and plastic trim.
The products were easy to use with spray or nozzle applicators and the purple polish came with its own sponge. For the rest, I just used soft flannelette bed sheets.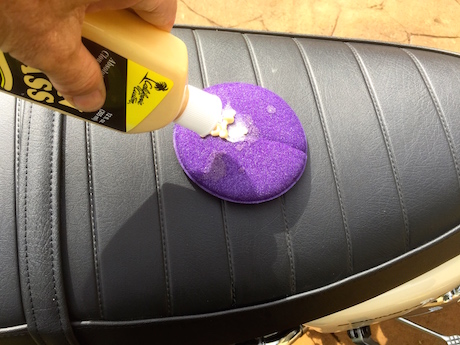 The simple instructions are on the back of the bottles and are in a big-enough type for most people to read easily. Interestingly some of them implore you to trust the product.
For example, on the M-Ron Glass bottle it says, "Don't worry: it will ABSOLUTELY WILL NOT STICK – EVEN IN THE SUN!"
That was almost like a challenge, so I let it set for a while in the Queensland sun (about 24C) for half an hour and it just wiped off.
Best of all, the products leave no streaks, no dangerously greasy film on your seat and while I'm reticent about spraying anything on my tyres, they actually felt stickier after being sprayed and wiped with the "tire" protectant.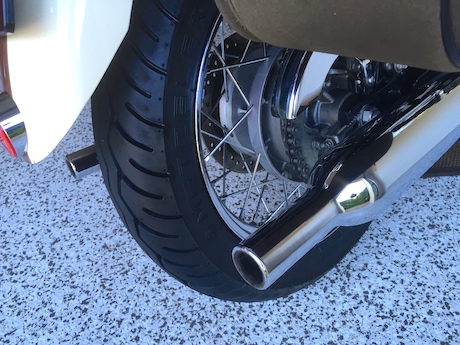 I then took the Bonne for a ride and tried to break traction with the rear tyre but it felt just fine.
I usually use fine-grade steel wool to take tar and boot marks off the chromed metal exhaust, but I tried the metal polish instead and it works just as well in removing the marks. But it actually shines the exhaust better than steel wool.
The Spray Shine is also handy for a light clean of the bike after each ride. They say it is also suitable for helmet visors, so I used it on an old helmet so I wouldn't ruin a good visor.
I needn't have worried. It worked very well, leaving no dangerous smearing.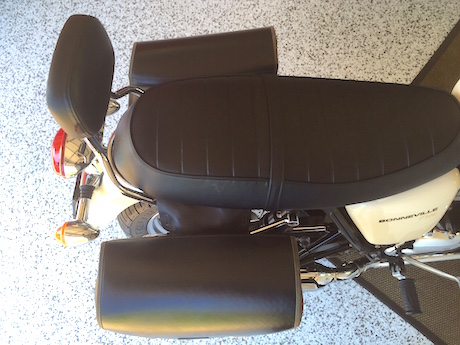 I was not expecting to be as satisfied as I am with the end results of all these products. My Bonn really does look ready to star in a motorcycle concours.
California Custom also has M-Ron Deep Clean ($22.50) and Aluminium Deoxidizer ($21).