Butt Buffer Motorcycle Seat Pad Image Gallery
The Butt Buffer is an effective cure for "numb butt".
It is easy to install and it can be used on different types of motorcycles.
It is much cheaper than a new seat, and if you buy a new bike, you can take it with you.
There's a conspiracy, of course.
Everyone knows it — the motorcycle manufacturers make their seats as uncomfortable as possible.
And then they get a kickback from the aftermarket seat manufacturers for every one of the replacement seats that are sold!
That's got to be the only explanation, because I can't believe that it costs any more to design a comfortable seat from scratch.
Do the manufacturers run out of motivation by time the bike design is almost finished, and they just grab whatever seat they can off the shelf?
Or maybe the designers overrule the engineers, and they pick a seat based solely on showroom eyeball appeal. Whatever it is, we'll never know, and it never seems to get any better.
So, what's the solution?  Well, you can purchase a new custom-made seat. But they're expensive as all get-out, and when it comes time to sell your bike, you'll likely lose a lot on your seat investment.
There's also not always a guarantee that a custom seat will really be any more comfortable. So until really great seats become original equipment (which doesn't seem likely in this century!), the Butt Buffer can help.
The Butt Buffer Seat Pad
The Butt Buffer is an accessory seat pad that easily attaches to any seat. It's filled with some type of space-age dry polymer that never fully compresses.
It works to distribute weight much more evenly over a larger surface area, thus decreasing the pressure points that can cause "butt ache", "numb butt", and even backaches and headaches!
The technology was originally designed to prevent bed sores for long term care patients, so it is also hypo-allergenic and fungus and bacteria resistant.
I have seen and tried various types of motorcycle seat pads, but many of them don't really have any scientific basis — they're just some type of padding, which doesn't necessarily solve any seat problems.
I've also tried one of the seat pads that holds air, but I felt like I was sitting on a butt-sized waterbed, with a strange sensation of rocking & rolling, back and forth.
The Details
The Butt Buffer also feels a bit strange at first, almost like it's filled with some type of semi-liquid gel, but after a few seconds, it conforms to the shape of your, uh, lower anatomy.
It does raise the seat height by about 1 cm or so (about 1/2″), so this may or may not be a problem.
On my Triumph Thunderbird Sport, with its slightly leaned forward riding position, this resulted in a bit more room to the footpegs, which is a good thing.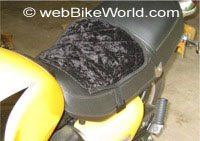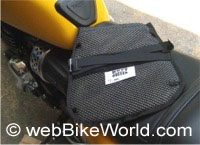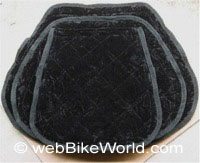 Installation
The Butt Buffer is a cinch to install; simply secure the two metal hooks under the seat.
The Butt Buffer pad can be installed quicker than you can read this sentence!  The hooks slide up and down on a 25mm (1″) wide piece of elastic, so there's plenty of adjustment.
The photo (left) shows the underside of the Butt Buffer, which has a mesh non-slip surface.
There are also 4 loops of material on the underside of each pad, which provide more options for attachment if necessary.
The ends of the elastic straps stick to the bottom of the Butt Buffer pad via "hook and loop" fastener, which provides a large range of adjustment. The elastic should be adjusted so that it takes a bit of a pull to hook under the seat edge.
This helps ensure that the Butt Buffer pad is secure so that it won't come off as you get on and off the bike.
Choosing a Size
The Butt Buffer is available in a variety of sizes, shapes and colors to fit any motorcycle seat.
Butt Buffer (the company) also offers a custom-fit service, which involves the installation of the Butt Buffer's dry polymer padding in your existing seat, underneath the stock seat cover.
This photos illustrates the most common Butt Buffer sizes.
They are, from top to bottom, small (12″ x 12″), medium (16″ x 12″) and large (18″ x 14″). Butt Buffer pads are also available in a pillion size, and there's a big 19″ by 18″ pad that can be used on any non-motorcycle seat that needs some extra comfort.
I'm going to try the large size on my next long-distance airline trip, because airplane seat bottoms give me some really bad butt burn!
The Butt Buffer pads in these photos are shown in the black "luster" cover, which is has a crushed velvet texture and offers plenty of grip for either textile or leather pants.
In addition to luster black, the covers are available in red, gray, black, brown, green, purple and blue.
They're also available in a "super suede" series, some with fringe for some cruiser stylin'.  By the way, the stitching and quality are first-rate, so the Butt Buffer should last a long time.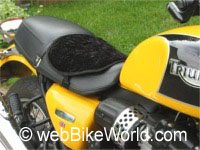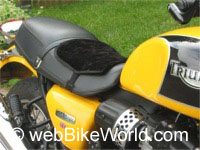 Medium size Butt Buffer on the Thunderbird Sport (L). Small size Butt Buffer (R). The size small Butt Buffer follows the outline of the original equipment seat on my Triumph Thunderbird Sport (right). But the medium size also fits, and overlaps the edge of the seat, which provides even more comfort.
On the Road With the Butt Buffer
It also takes a few minutes to get used to the Butt Buffer once you start riding, as there is an occasional sensation like the seat is a bit squishy, but you soon get used to the feeling.
The Butt Buffer feels like a gel pad, but works much differently; I've never found the gel pads to help much with support, and they compress and don't necessarily support your weight evenly.
Gel pads can also get extremely hot when left out in the sun. And gel pads can also leak, which is not a good thing!
Butt Buffer for Sportbikes
I originally assumed the Butt Buffer pads would work best for cruisers or touring bikes. All-day comfort is important for touring, and the upright position of a cruiser can transfer weight and shock up through the tailbone.
But after using this product on a couple of sport-touring bikes, I've realized that it can also make a big difference in comfort on just about any bike, especially during a long-distance ride.
It works just as well on sportbikes, and it can really help make a sportbike seat more bearable.
For example, the Thunderbird Sport's original equipment seat looks like it should offer some pretty good comfort — in fact, almost everyone who has looked at this bike has commented that the seat looks comfortable.
But I've found that it's only good for about 30 minutes; after that, my butt starts to get pretty sore.
Not to bore you with too much information, but my butt is pretty flat, and those two little bones down there that are supposed to be covered by some nice, big chunks of meat…well, they aren't. It doesn't take long for me to feel sore.
But the Butt Buffer provides a nice cushion, and distributes my weight in a way that takes the pressure off those hot spots.
I've been on some 2+ hour rides on the TBird while using the Butt Buffer, and there was no soreness at all, so that's a huge improvement.
The portability of the Butt Buffer is a big plus for me; it allows me to move it from bike to bike with little fuss, and the simple attachment system allows it to be easily removed during a stop to prevent theft.
Conclusion
I'm not claiming that the Butt Buffer is a miracle product that will turn a poorly designed seat into a Barcalounger. But it's made a big difference in long-distance (and even not-so-long distance) comfort for me.
So if your motorcycle seat could use some help, check out the Butt Buffer. There's a 10-day, no questions asked guarantee, so what have you got to lose?
Master Listing of All wBW Motorcycle Product Reviews
w

BW

 Review: Butt Buffer Seat Pad
Manufacturer: Butt Buffer (Hopeland Mfg. Co.)
List Price (2005): $52.50 and up.
Colors: Red, gray, black, luster black, brown, green, purple, blue.
Made In: U.S.A.
Review Date: 2005?
Note: Item provided by a retailer, distributor or manufacturer with these Terms and Conditions.
Note:
 For informational use only. All material and photographs are Copyright © webWorld International, LLC since 2000. All rights reserved. See the webBikeWorld® 
Site Info page
. Product specifications, features and details may change or differ from our descriptions. Always check before purchasing. Read the
Terms and Conditions
!
Owner Comments and Feedback
---
From "W.L." (June 2013): "You say, "So until really great seats become original equipment (which doesn't seem likely in this century!)…"
To which I have to reply, apparently you've never ridden a 1981 Suzuki GS850G, which had [and mine has] what was in its day universally referred to as "The best saddle ever put on a motorcycle."
Of course, 1981 was the previous century! And now I've added a 2010 Honda CB1100 to my "fleet," and it does have an excruciatingly bad saddle, so I thank you for your review of the Butt Buffer."