UK protective clothing company Covec Limited has released their Tactical range of jeans and cargo pants with a single layer of protective material.
Instead of a separate protective liner, these cargo pants are made with Covec's "Oneskin" protective material made by re-engineering inflexible liquid crystal polymer.
Covec claim the material has abrasion resistance, is weather-proof, seam burst-resistance and low thermal conductivity so you don't get a fraction burn as you slide down the road in a crash.
They also say they are tested to the new CE standard (17092) with AA protection and 75km/h abrasion resistance.
Despite only one layer of external protective material there is still a lightweight perforated liner that stops them sticking to your skin when you sweat. It makes them even more comfortable.
Unlike some riding pants where you have to buy the protectors separately, these come standard with CE 1621 Level 2 hip and knee protectors. They are soft and not uncomfortable.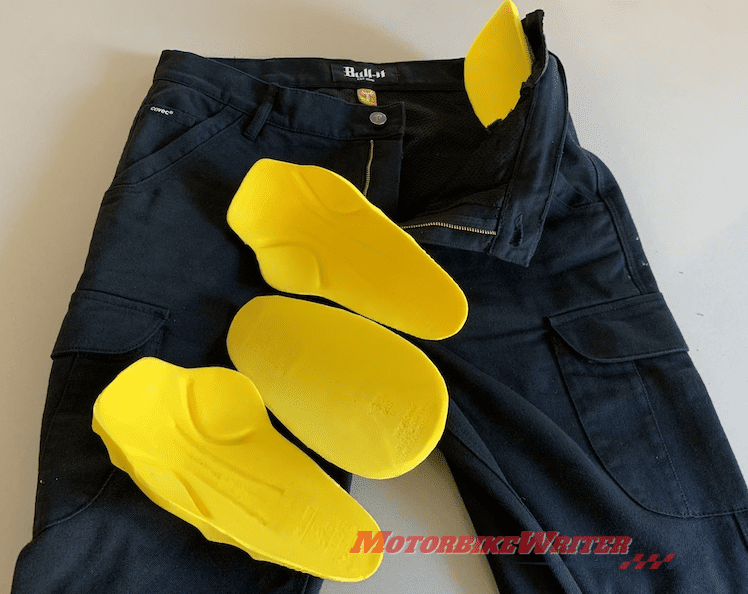 Australia's MotoCAP motorcycle clothing ratings system hasn't tested these cargo pants, but they have tested other Bull-It jeans with Covec material and rated them one and two stars for safety and three for breathability.
They would be suitable for urban and touring riding where comfort is a primary safety feature.
Tactical pants
Bull-It Tactical Cargo Pants will cost $199.95 when they arrive in September at MCA in Australia and come in black or dark blue in sizes 30-54 (Short/Regular/Long).
Some lined jeans and cargo pants are hot, heavy and uncomfortable. However, the single layer protective material makes them light and flexible for long days of comfort in the saddle.
There are seven belt loops so your belt and pants won't separate as you lean forward over a sports bike.
Cargo pants always feature loads of pockets — hence the name "cargo".
These feature the traditional five-pocket denim jean design (two rear pockets, two front pockets and a small coin/key pocket inside the right front pocket).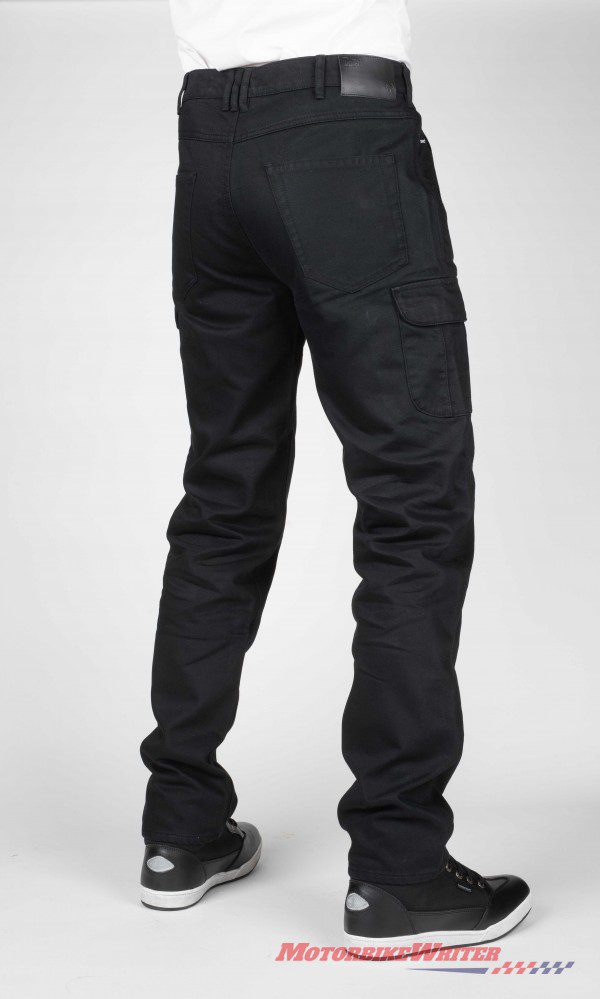 But they also have two handy thigh pockets with flaps that velcro in place and keep your valuables from falling out. They are great for storing a mobile phone or your wallet.
While I haven't tested them in extreme heat, they are ok in mild winter conditions.
In extreme cold, they are loose enough in the leg to comfortably wear long johns underneath.
And the loose legs also allow them to be worn over bulky riding boots.
They aren't waterproof, but are fine in showery conditions.
These pants would go well with the Bull-It Tactical Hoodie.
About Covec Ltd
Covec Limited is the parent company of Bull-it Jeans.
In April, they received the Queen's Award for Enterprise recognising their export success to 14 different countries in Europe, Australia, North America and New Zealand.
Covec developed their protective textile material by re-engineering inflexible liquid crystal polymer to achieve abrasion resistance, weather-proofing, low thermal conductivity and improved strength.
Covec's material is used in sportswear, military clothing and their motorcycle clothing brand, Bull-it, which makes jeans, leggings and jackets.
It is also licensed to a variety of global brands including Triumph Motorcycles, Rokker of Switzerland, KLIM USA, RevZilla, IXS and The Bike Shed Motorcycle Club.