The continuing saga of American motorcycle manufacturer Erik Buell Racing (EBR) seems to have taken a new twist with hopes the brand may now survive.
In April 2015, the innovative bike builder ceased operations.
Since then, the company has gone to auction and been withdrawn on several occasions and there have been rumours of partial sell-offs to Indian manufacturers and to Polaris.
Then, the company was sold to a scrap merchant amid fears it would itself be scrapped.
Now Liquid Asset Partners (LAP) of Michigan has acquired the assets of the Wisconsin company.
While that may seem like another dead end for Buell, LAP plans to find a buyer to carry on manufacturing EBR bikes, then it will sell off any excess assets.
LAP CEO is talking up EBR to potential buyers in the company's latest press release.
"I believe Erik Buell Racing (EBR) has established themselves as one of the premier motorcycle manufacturers in the world and has strong potential as a viable business," he says.
"Hundreds of millions of dollars have been spent on research and design to arrive at the EBR RS, RX, and SX platforms, which have proven themselves on the racing circuit to be state of the art and in dealer sales to be in high demand.
"There are still a lot of options on the table for a new owner to come in and continue making EBRs. EBR is not a startup, this is an established brand with a huge following across the globe. With the internet, motorcyclists everywhere will know this business is still for sale and we will be open to discussing options."
It's been a tumultuous career for the wily Harley-Davidson engineer who began making race bikes with Harley engines in 1983.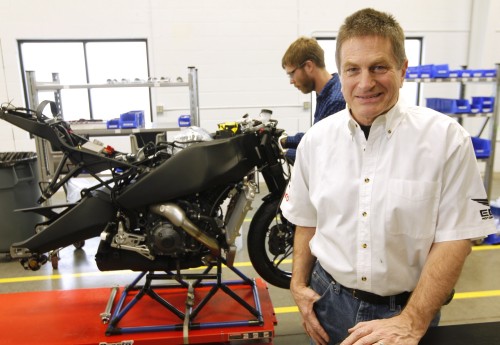 Buell Motorcycle Company was bought by Harley-Davidson in 2003, but when the GFC hit in 2009, H-D dropped Buell.
Unperturbed, Erik founded Eric Buell Racing a month later and continued making innovative, high-performance machines such as the 1190RS, 1190RX and 1190SX.
In 2013, Indian manufacturer Hero MotoCorp bought a 49% stake in EBR, but by April 2015, Erik had filed for receivership.
Melvin says the future for EBR could even be crowdfunding.
"Our hope is that someone will continue to manufacture these amazing motorcycles, and with our acquisition, we are adding more pavement to the road so that can happen," he says.