The Buell 1125 was a revolutionary motorcycle that was never given its due by riders. But one American company thinks the radical sportsbike makes a great platform for a very limited edition custom.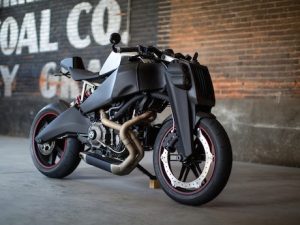 Ronin Motor Works in Denver, Colorado, is that company and, in keeping with its name, they have built 47 bikes from the 1125 and called them the 47. The number is relevant because there were 47 Ronin Samurai legendary warriors.
The 1125 was a revolutionary sportsbike with a peripheral brake disc, belt drive, fuel in the frame, oil in the swingarm, under-bike exhaust and the first Buell with water-cooling. It was axed when Harley-Davidson shout down the Buell arm of the business in 2009.
But Ronin Motor Works bought 50 of the bikes and has spent the past four years developing their custom build, reworking the liquid cooling and exhaust, changing the forks, and stripping away the ugly panelwork.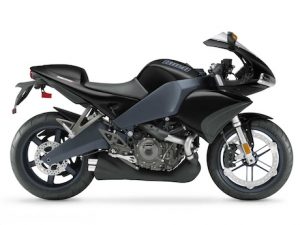 The 1125 was a very confronting looking bike, especially from the front, so the custom team has worked on changing that. Thanks to that bullnose and linkage forks it's an even more radical looking front now!
Ronin worked on making several parts into a single part: the battery box and footpegs are integrated into a single cast unit; the lights are housed in the linkage fork legs; and led indicators are seamlessly built into the handlebar ends. They also eliminated the key ignition for a key fob immobiliser along with custom gauge and ECU.
The bikes will be released in different-sized blocks, with the first containing 12 units. Of those, five have already been bought at $US38,000 each. Buyers will also have to organising their own shipping.