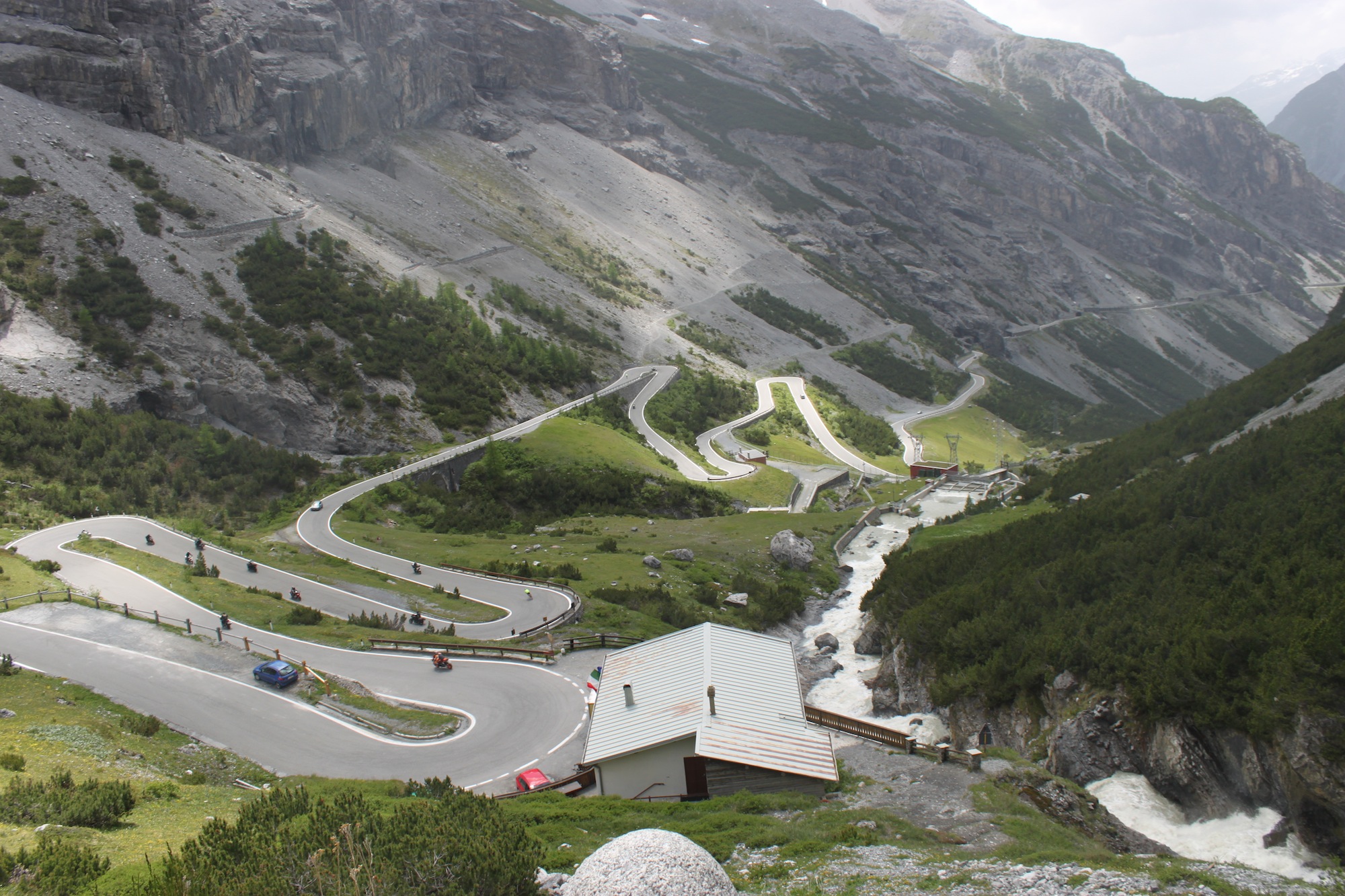 Mal Jarrett (formerly of PS Importers)
Pictures: Beth Jarrett
Bucket list is probably one of the most overused catch phrases, no doubt brought to the fore by the Hollywood movie of the same name.
Some time ago I had a bit of a health scare that had me questioning my own mortality, and as many in the same position have probably done, started compiling a list of what sort of things I really wanted to accomplish before I went to ride that highway in the sky.
Being in the fortunate position of working within an industry that fuels my passion for all things motorcycle related, the first couple of items on my list were easier to accomplish than I had first imagined. The first being to attend Tridays in Austria and second was to ride Italy's famed Stelvio Pass.
I realise that to those living in Europe this would appear reasonably achievable, however when you live on the other side of the world it becomes a little more challenging.
Undeterred, I hatched my grand plan to achieve both of the above items on my list.

Well, thanks to the generosity of Triumph UK's Marketing Manager Andrea Friggi, here I am being handed the keys to a Tiger Explorer. I guess Andrea must have liked my pitch, and the story that would surface from such an epic journey and contrast of environments as described below.
Having ridden a Triumph Explorer deep into the harsh Australian outback, I was indeed fortunate to be given the opportunity to also ride the biggest of Triumph's cats in what can only be described as the most opposite of Poles.
After the 4000km round trip into the Red Centre and the iconic Ayers Rock (or Uluru as it is now more widely known) the Explorer had proved itself more than up to the task of high-speed outback dirt road touring, with approximately 80% of the trip being on dirt roads. To say that I was excited with the prospect of riding an Explorer across Europe is an understatement.
First stop was to pick up my daughter Beth, who was to accompany me on my cross continent jaunt as photographer, before crossing the channel via the Eurotunnel from Folkestone to Calais.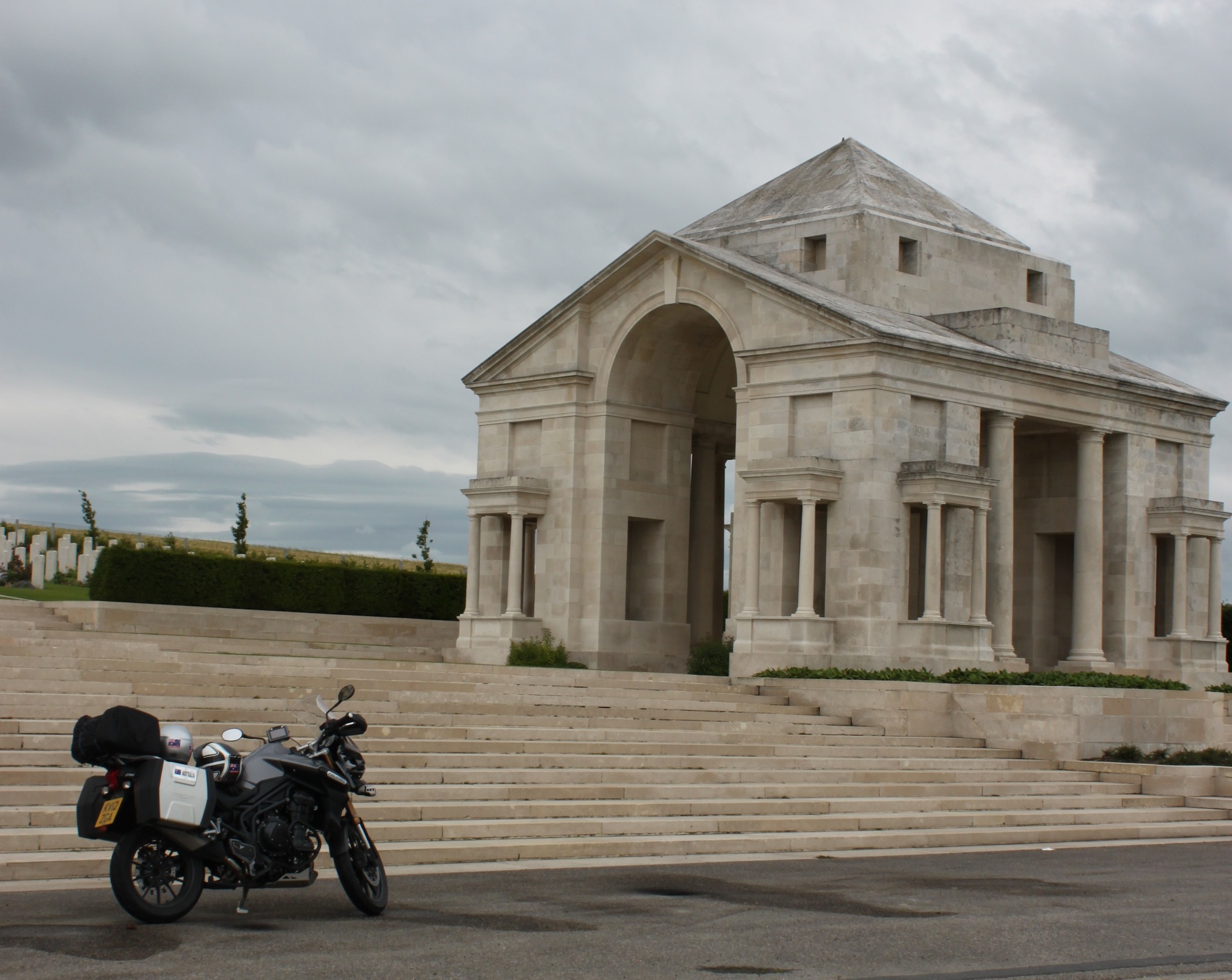 Words:
The Explorer that we were to ride was fully loaded for two weeks' travel, with its factory fitted panniers, and a 40 litre tail pack rather than the fixed Top Box that we felt was a better option, as it not only gave us more space for our gear, but was easily unclipped for taking into our accommodation with us each night.
The Explorer was also fitted with a number of other accessories, as in Fog Lights, Crash Bars and Hand Guards, which were a welcome addition in some of the inclement weather that we were to experience.
Unfortunately the UK decided to send me down a welcoming 'summer shower' that made the ride on brand new tyres along slippery and slimy B & C roads quite 'interesting' to say the least! The Tiger's traction control light illuminating occasionally as a reminder to keep the bike as upright as possible in the trying conditions. Unable to see more than about 25m in front of me, I was quite relieved to arrive safely and in one piece, especially given that this was just day 1!
On our way!
After a 35 minute train crossing of the Channel, we were directed virtually straight on to the motorway to Paris, which whilst being the most direct route was being battered by high winds that had the massive power generating windmills spinning like Catherine Wheels.
A quick re-adjustment of the GPS to avoid motorways soon had us meandering through the French countryside, and taking in the sights of quaint little villages and scenery more akin to what you'd expect to see during the Tour De France telecasts, as well as giving welcome relief from the howling winds of the motorway.
We broke the ride to Paris with a stopover at the Australian National War Memorial at Villers-Bretonneux near the town of Amiens, approximately 190km from Calais, in Frances Somme region. It was a humbling experience, but at the same time made me feel immensely proud to be an Aussie.
We continued our ride to Paris and arrived mid-afternoon, after our stopover in the Somme, a further 155km.
Monday morning saw us departing for the 550km ride to Annamasse, on the border between Switzerland and France. After a long day in the saddle (and a chance to try out the cruise control on the Explorer) we checked into our accommodation before heading over the border into Switzerland and the city of Geneva.
There could be no doubt of where we were, with watch shops, Swiss knives and cuckoo clock shops on virtually every street corner and the amount of Porches, Rolls Royces, Jags etc was mind boggling, with rarely a 'normal' car to be seen.
Tuesday saw us up early for our first venture into the Alps, and Mont Blanc in particular. Our next destination was to be Milan, although only a relatively short 327km ride to the south east of Annamasse, the Alps were sure to take some more time to traverse.
Shortly after leaving Annamesse, the majestic beauty of Mont Blanc came into view, and was truly a sight to behold. Given the distance and terrain to be covered, and not wanting to arrive in Milan at peak hour, we decided to utilise the Mont Blanc tunnel, though obviously not as scenic as the Alpine pass, it afforded us the extra time required to reach Milan. Although the 23 Euro toll had me double guessing my decision to use the tunnel! Tolls were to become the death of me (or should I say our budget, as we ventured on into Italy).
As we continued our journey eastwards towards Milan we tried our best to avoid the motorways, choosing instead the smaller B roads that ran parallel to the motorway. Although it probably added a good hour or so to the journey, some of the small villages that we passed through we just beautiful, with the big Tiger gobbling up the miles beneath us. The climate was gradually starting to warm up as we neared our destination, with us having to remove some of the layers of clothing and open up the ventilation zippers on our Triumph riding gear.
So far the Explorer had proved itself well up to its intended use, and was averaging around the 5 litres per 100 km (50 – 55mpg), which equated to around 325-350km per tank before needing fuel. Considering the load that we had on board and some of the winds that we had been encountering I was pleasantly surprised by its fuel efficiency.
Next day we were on the road by 8am and headed for Lecco on the shores of Lake Como for breakfast. Stunning scenery greeted us around each bend as we made our way north towards Bormio and the famed Stelvio Pass.
Just after lunch we entered Bormio, and although the smart thing would have been to top up the tank before we started the climb I pushed on, anxious to finally ride the Pass. Before I knew it we were starting to climb, and there opening up before us was the Stelvio Pass.
The amount of traffic on the pass was mind boggling,  vans, cars, bikes (with and without engines) and even walkers made it quite difficult to get a good run at it and get any sort of rhythm happening. Those travelling downhill towards us were trying to cut the corners and we had to really be on our guard. It was at times quite hard work to keep up forward motion.
The massive torque of the 1215cc engine really came into its own here, loaded to the hilt and with two people on board, any lesser bike would really have been struggling, but I just wound it on to pull us up and out of the 1st gear bends, climbing ever upwards.
The descent was almost as exhilarating as the ascent, the scenery was spectacular as we wound our way down the other side, though the thought of having not topped up the tank was weighing heavy on my mind as the low fuel light illuminated. Luckily gravity was on our side and we just made it to the next fuel stop on vapours. The kms to empty indicator showing 4km left!
With the excitement of being able to cross the Stelvio off my bucket list behind us, we pushed on as we still had a lot of kays to cover if we were to reach Tridays before dark. I must admit being little disappointed in the Stelvio as far as a riders' road goes, unless of course you could get there at the crack of dawn when there's no other traffic and you were able to use the entire road … then it could be fun.
As we neared Tridays in Neukirchen (or Newchurch as it's also known), we rode through the Gerlos Pass, which was an excellent riders' road, a few sharp hairpin corners at the start, but it soon opened up to smooth, fast-flowing corners that were a blast to ride on the Explorer. The engine's just so flexible and torquey.
We reached Tridays around 8pm, after 12 hours in the saddle. A massive storm hit the town just after we arrived, so checking out the town was out of the question. So after checking into our accommodation we just hit the hay tired after the long day and in anticipation of a big weekend.
And a big one it was! What an awesome event. 2012 was Tridays seventh year and it just continues to grow and grow. Around 20,000 Triumph fans visited Newchurch over the course of the event, and none went away disappointed. Street vendors, aftermarket suppliers, display bikes, and tour companies lined the main street of Newchurch as well as many clubs and pubs of course.
With stunt riding displays by Triumphs Kevin across the weekend, plus the inaugural running of 'Tridays Rumble', an off road, short course sprint event for Scrambler type bikes, and an eclectic choice of bands to choose from ensured that no-one was about to get bored.
Those wishing to explore the surrounding Alpine region could also partake in organised ride outs if the wished, and Triumph also had a fleet of demonstrators on hand for test rides.
Triumph also took the opportunity to unveil its new Trophy touring bike, such is the importance that Triumph places on the event.
Sunday came around all too quickly and before we knew it, it was time to load up again and hit the road. We had really enjoyed our time at Tridays and will be back again someday.
The sun was shining as we headed back up the Gerlos Pass, this time a gaggle of bikes in convoy added a little bit extra to the solo ride that we had experienced a couple of days before.
The scenery was just mind blowing. Just as we thought that it couldn't get any better we hit the Bavarian Alps, and we had thought wrong. Absolutely stunning vista's greeted us around every corner or as we exited one of the many tunnels. Being at the start of Europe's summer, snow capped peaks had started to melt and create massive waterfalls tumbling into lakes of the brightest turquoise; there simply aren't enough superlatives to describe what lay before us.
Our destination for today's ride was the German town of Fussen, where we were to visit Ludwig II's castle, Neuschwanstein. Apparently this was the castle that Disney modelled Sleeping Beauty's Castle on, and I figured it was only fair that I gave my daughter Beth something other than bikes to look at!
Next morning we awoke to the sound of rain, and as we loaded the bike, dreaded what lay ahead. Fortunately as mentioned previously the Explorer had hand guards fitted which did an excellent job of keeping the hands dry, and tilting the screen forward a couple of notches helped to deflect the worst of the rain up and over us. And rain it did almost all the way to Mannheim approximately 300km north west. Our stay in Mannheim, was only ever meant as a transport stop, which was just as well as it wasn't exactly what you'd describe as 'palatial'.
Next  morning we were greeted by sunshine once again and we made good time knocking over the 390km to Eindhoven in the Netherlands in just over 5 hours, arriving mid afternoon. In complete contrast to what we were subjected to in Mannheim, our accommodation at 'De Parel' (The Pearl), turned out to be in the middle of a nature reserve about 15 minutes out of the city, and appeared to be an old country club of sorts, just what the doctor ordered.
Sunshine greeted us again the next morning as we headed the 300km south west to Calais, and the ferry crossing back to Dover. The roads quickly deteriorated as we crossed into Belgium. Unfortunately the closer we got to Calais the strong  winds that had welcomed us when we arrived a couple of weeks earlier hadn't abated, and it was quite a task trying to keep the bike upright as we battled the massive side winds coming off the English Channel.
The crossing was uneventful, and after an hour and a half we found ourselves docking in Dover.
Back on to the correct side of the road again (thank goodness!), and a quick 1.5 hour ride north back to Croydon to stay with friends and drop my daughter off was on the agenda for the remainder of the day, before I headed west in the morning to visit relatives in South Wales. If only I'd known what lay ahead of me I probably would have made alternate plans.
The 380km to South Wales passed beneath the wheels of the big cat without incident. Although the weather started to deteriorate as I crossed the Severn Bridge.
Last day  and thanks for the send off Wales, but once again you really needn't have bothered! Lashing rain and gale force winds made the ride along the 'Heads of Valleys' road through the Brecon Beacons back to Hinckley one of the hardest rides that I have done in a long time. Thanks again Triumph for the traction control and big wide handlebars on the Explorer. I can't think of anything else I'd rather have been riding in those conditions (apart from perhaps a hovercraft).
So here I am back at Triumph HQ in Hinckley, 4576 km and 16 days later, back to where it all started!
I made some new friends and got re-acquainted with old ones, was able to cross a couple of items off  my bucket list, rode some of the best roads around and finally got to attend Tridays in Austria, and saw scenery that will stay with me forever.
Thanks to Triumph UK for making it all possible … now to start working on those other items on the list.