A rusted 1932 Brough Superior 800cc Model BS4 Project motorcycle lost for more than 50 years has sold at the 28th annual Bonhams Stafford Sale for £331,900 ($A623,946/$US480,196), setting a new world auction record for the brand.
It is also the sixth most expensive bike sold at auction and a record for a British motorcycle, beating the 1929 Brough Superior SS100 Alpine Grand Sports that fetched £315,100 at the Bonhams Bond Street Sale on November 30, 2014.
The bike was one of eight long-lost Broughs that collectively sold for £752,625.
They had been stored in Bodmin Moor barns for more than 50 years and were discovered whole and in parts, under decades of dust, old machinery parts and household clutter.
The bikes were owned by the late Frank Vague, an avid member of the Brough Superior Club who bought them in the early 1960s.
While the auction achieved a total of £3,454,501, the highlight was the BS4 which was sold to a German bidder.
The BS4 was launched in 1931 at the Olympia Motor Cycle Show with an Austin 7 four-cylinder engine and gearbox, at a time when most motorcycles had single cylinders.
Only 10 BS4 models (aka Brough Superior 'four cylinder') were built, and only seven survive.
Ben Walker, International Director for Bonhams Collectors' Motorcycle Department, said: "The Broughs of Bodmin Moor are the motorcycle discovery of the decade."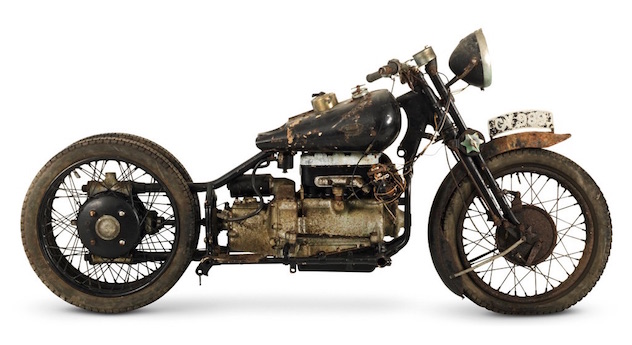 The most expensive bike sold at auction is the Captain America Harley chopper from Easy Rider which sold for US$1.5m in 2014, although that sale is now disputed over doubts of authenticity.
Second was a 1915 Cyclone board tracker motorcycle once owned by Hollywood legend and motorcycle enthusiast Steve McQueen which sold for a few dollars short of US$1 million in 2015.
Third was a 1907 Harley-Davidson "Strap Tank" Single that sold for US$715,000 in 2015 in Las Vegas, fourth was a 1910 Winchester 6 HP at US$580,000 in 2013 in Auburn and fifth was a 1915 Cyclone Board Track Racer that went for US$551,200 in 2008 at Pebble Beach.
The BS4 is now the sixth most expensive auctioned bike.
The Brough Motorcycle marque will be forever associated with T.E. Lawrence, known as 'Lawrence of Arabia' who bought one of the first SS100s in 1925 having previously owned three Brough SS80s. The crash that would end his life came while riding another SS100, on a narrow road near his cottage in 1935.
Sixty-nine SS100s were produced in 1925 at £170 each, (equivalent to £8,700 in 2016) and were advertised by Brough as the 'Rolls Royce of Motorcycles'. All bikes had a guarantee that they were capable of 100 mph (160km/h).