ABOVE: The Brooks Cycles Auction was conducted by Auctioneer Doug Neale, who is also the patriarch of Neale & Sons Auction Company.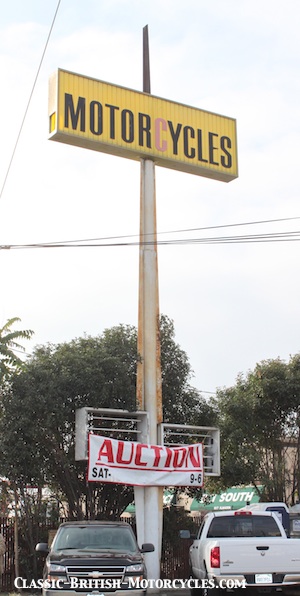 BROOKS CYCLERY – A LOCAL LEGEND
Brooks Cycle Shop was THE Motorcycle Shop in San Jose CA in the 1950s & 1960s. They carried at various times, Triumph, BSA, Hodaka, Suzuki, Lambretta & Vespa. Back in the day, before Honda changed the game, having a Triumph or BSA dealership was just about as good as it got. And as was the way with old school motorcycle shops, not only did people buy & service their bikes here, but they also hung around, shot the #@%&, made friends & met up there to go riding. It was a social center of the motorcycle culture in San Jose. Lots of people got their start here as well, including the great Bob Raber, who started there as a mechanic, when he was a kid. He worked for Brooks Cycles years during the heyday of Classic British Motorcycles. When Brooks closed down, Bob opened his own shop, Raber's Parts Mart, also in San Jose. Rabers is still open to this day, and became THE shop you went to in the Bay Area if you owned an old Triumph, BSA, Norton, or Matchless, you'd be crazy to go anywhere else. This too was a continuation of the Brooks Cycles philosophy & it has certainly worked well for Raber, who has expanded over the years & remains the biggest & best Classic British Motorcycle Shop certainly in Northern California, if not the West. And we have old man Brooks to thank for it.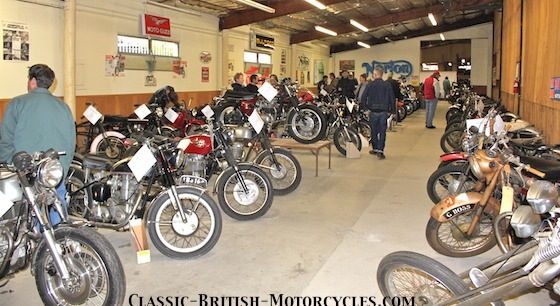 THE END OF AN AGE
Triumphs & BSAs faded from glory in the early 1970s, old man Brooks passed away many years ago and the shop closed down. It was locked up like a big time capsule. It wasn't opened to the public again until Mrs. Brooks passed away & the estate was settled. It was decided to sell it all through one of the area's best estate auctioneers & appraisers, Neale & Sons. And as Doug Neal, the auctioneer, pointed out, it was like 'the world's biggest barn find'.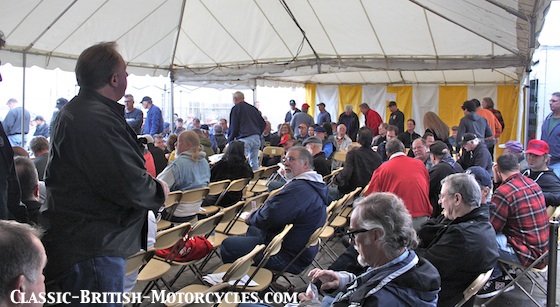 AUCTION COMMENCES
The Brooks Cycles Auction was an outdoor sale, partially covered by tents for most of the audience. Unfortunately, I wasn't one of them. Trying to stay up front where I could get better photos, I was uncovered & the weather threatened to rain all day long, and remained right on that fragile edge. It got cold, but it didn't keep things from heating up on the auction block.
---
The Bikes of the Brooks Cycles Auction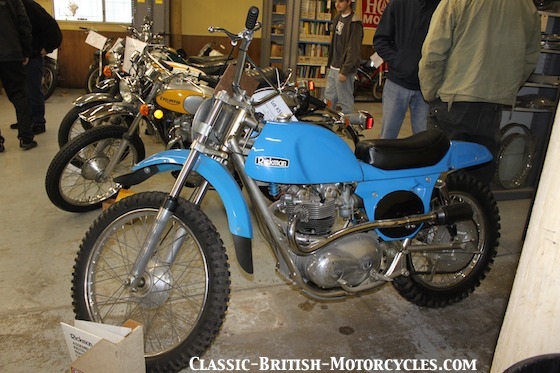 BROOKS CYCLES AUCTION – 1974 RICKMAN-METISSE
This super-sharp 1974 Rickman Metisse had a Triumph 500 twin engine. It was started and ran, and it sold for $7,500.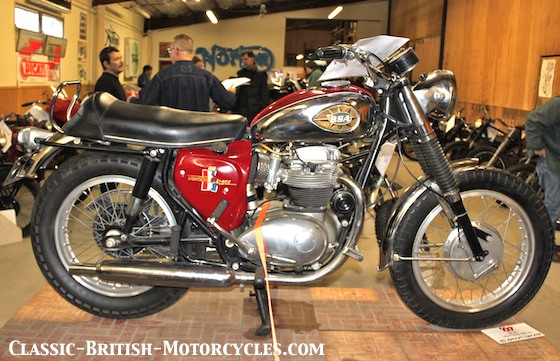 BROOKS CYCLES AUCTION – 1967 BSA A65 LIGHTNING
This nice '67 BSA A65 Lightning sold for $4,000. It was complete but marked as "mechanically untested", so you pays your money and you takes your chances. All sales are final. Still, this looks like a pretty good deal at $4,000. And if it doesn't need to much work, it's a steal!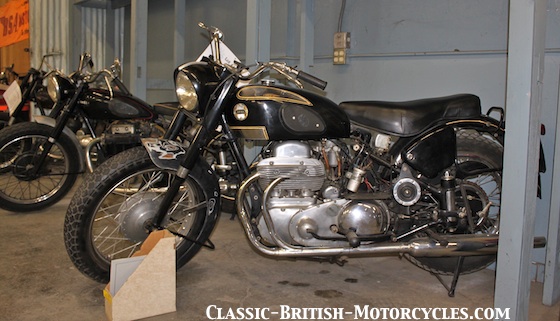 BROOKS CYCLES AUCTION – 1958 ARIEL SQUARE 4
This decent 1958 Ariel Square 4 Mk II sold for $11,000, far lower than was expected. It seemed as though the higher end bikes were going for less than they were worth, and the lower end stuff was going for crazy-high money.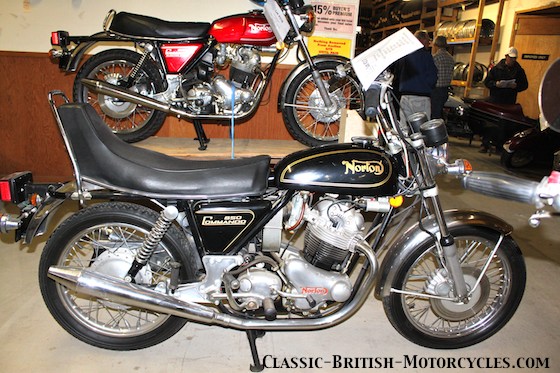 BROOKS CYCLES AUCTION – 1974 NORTON COMMANDO HI-RIDER
One of the worst-conceived motorcycles of the 70s, the Commando Hi-Rider was Norton's attempt to cash in on the chopper boom, but missed the mark badly. Apparently it takes more than ape-hangers, sissy bar & a seat that would better suit a Scwhinn Stingray. As the result, very few were ordered. And of the few that were, many were converted back to Commando Roadster trim when new by the dealers who couldn't sell them the way they looked. So, they are quite rare today & are beginning to climb in value. This one was all there, but not of an exceptional finish. It showed 3700 miles on the odo & it sold for $6,000.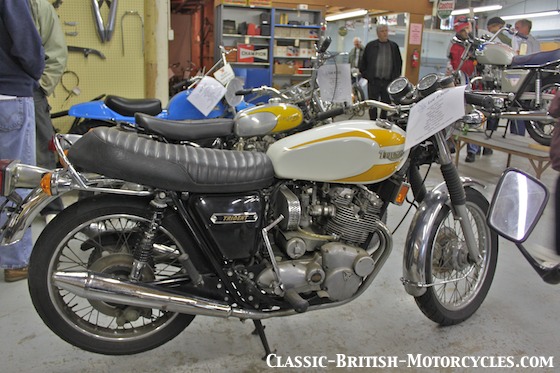 BROOKS CYCLES AUCTION – 1975 TRIUMPH T160 TRIDENT
One of my personal favorites, the T160 Trident was the last Trident, built in 1975 only, after a redevelopment process that gave it the forward-canted barrels & the electric start (that would actually start the bike), and they are arguably one of the best Classic British Motorcycles built in modern times. This one was a little rough & was in uncertain mechanical condition. It sold for $4,250, a ripping deal if it doesn't need an engine.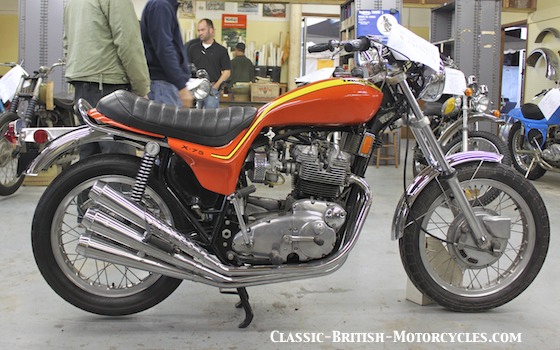 BROOKS CYCLES AUCTION – 1975 TRIUMPH X-75 HURRICANE
And what Classic Motorcycle Auction would be complete without a Triumph Hurricane? Only around 1,000 were built, but they all seem to be coming out of the woodwork and changing hands, these days. Nearly every classic motorcycle auction I have been to lately has had one. It has always been my dream to own one, and I had my eye on this baby, which was started & verified as a runner. With 15K on the odo & some light patina (which should polish off nicely) it sold for just $16,000, another low price for a premium bike. I've seen these go as high as $30K in auction. Again, the higher-end pieces were a little soft at this sale, while the lower-priced stuff, the project bikes & all the memorabilia went nuts!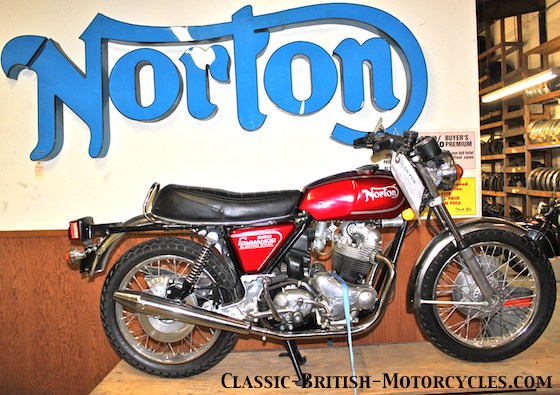 BROOKS CYCLES AUCTION – 1975 NORTON COMMANDO MK3
This gorgeous 1975 Norton Commando Mk3 Roadster had just 6,000 miles on it, showed pretty well (although it needed a good polish) & sold for $8,500. About right considering it was "mechanically untested". As long as it runs, this was a decent price. They didn't steal it, but they didn't overpay either. If it needs anything major, then this was too much. Check out that amazing lighted Norton Dealership sign behind it. It sold also (sorry, I didn't get the price. Hey, I was too busy taking pictures!).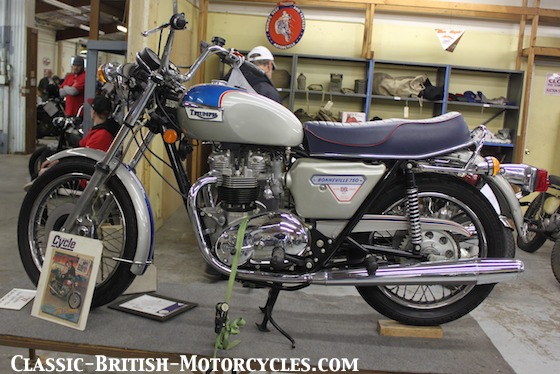 BROOKS CYCLES AUCTION – 1977 TRIUMPH SILVER JUBILEE
The piece d' resistance of the Brooks Cycles Auction may have been this amazing brand-new 1977 Triumph Bonneville T140J Silver Jubilee. Built to commemorate the Queen of England's Silver Jubilee (25 years on the throne), the struggling Meriden Co-op cobbled together 1,000 of these special limited edition motorcycles for the British home market. When US dealers got wind of it, they wanted a US version. The British version had the boxy 3.5 Imperial Gallon tank (which I happen to like), but US bikes got the smaller teardrop tank so popular in America. This bike was uncrated in 1977, serviced, then never sold. It remained locked up in Brooks Cycles for 30+ years with zero miles on the odometer. It was sold with zero miles on it still and it went for $9,500. As with classic cars, buying a low-miler presents a challenge for most buyers: If you ride it, even once, the value will plummet from what it was worth with zero miles. So, its more of a museum piece now. But, what a beauty! Probably the only one like in on earth…seriously.
BROOKS CYCLES AUCTION – MORE THAN JUST NICE BIKES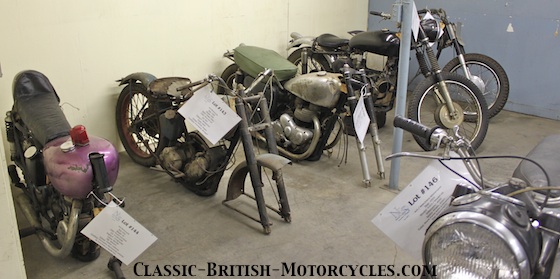 BROOKS CYCLES AUCTION – PROJECT BIKES GALORE!
In addition to the gorgeous bikes pictured above, the Brooks auction also had lots of not-so-nice bikes, some complete, some not, some in pieces, some rusted beyond recognition. There were lots of bare frames, bikes without engines, engines without bikes, bikes without forks, bikes without tanks or seats, and every combination thereof. Much of it went for crazy-high money. I was blown away!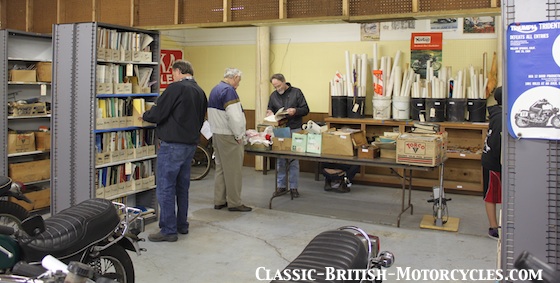 BROOKS CYCLES AUCTION – MEMORABILIA, PARTS, MANUALS, ETC.
This was more than just a motorcycle auction. Everything had to go. Shelves of parts, many still in the box, service manuals, advertising literature, dealer signs, dealer posters, books, magazines & tools were also sold, mostly in lots. And again this stuff went pretty high. The old Brooks Cycle Shop was opened for previewing the Thursday & Friday prior to the Saturday sale. Here potential bidders examine the huge assortment of posters, manuals, parts & magazines.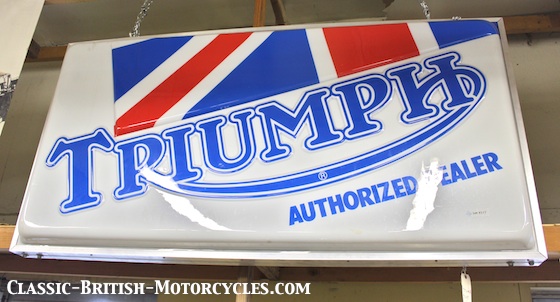 BROOKS CYCLES AUCTION – RARE DEALER SIGNAGE
This late 1970's Triumph Dealership sign was lighted & measured 3′ X 4′. It sold for $1,600. There were also dealership signs for BSA, Norton, Hodaka, Moto Guzzi & Bultaco, all going for strong money.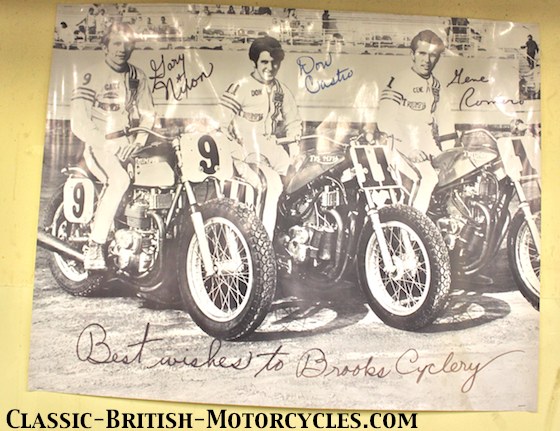 BROOKS CYCLES AUCTION – POSTERS & MEMORABILIA
There were literally hundreds of posters, all sold in lots. Included in one of them was this incredible autographed photo addressed to Brooks Cycles, signed by none other than Gene Romero, Don Casto & Gary Nixon, three of the greatest American motorcycle racers of all time, all astride Triumph Trident flat trackers.
BROOKS CYCLES AUCTION – ONE HECKUVA DAY!
It was cold, overcast, windy, almost rainy & this was an outdoor sale. However, Neale & Sons pulled it off beautifully, despite a lack of specialized knowledge of Classic British Motorcycles & some technical glitches with their video monitors. It was a fun day, lots of good people, tons of good deals, great bikes to take pictures of, and hopefully the Brooks Family did well as the result. I felt like I was walking through a time machine, it was a rare privilege.