Manufacturer's Information
Manufacturer: 
Metal Master/Britemax
Type: 
 Spray bottle, 24 oz.
Category:
  Motorcycle degreaser, cleaner
Retail Price:  
$14.95
Made In: 
 U.S.A.
More Britemax Products:  Britemax Black Max Swirl Remover  |  Britemax Review Intro  |  Britemax Metal Polish  |  Britemax Spray & Shine  |  Grime Out
Notes:  Also available in gallon jugs as a concentrate for $29.95; can be diluted for various uses.  This is probably the better deal.
Claims – "Fast acting wheel cleaner and degreaser. Biodegradable."
For Use On – Metal surfaces.
Claimed Features – "Very quickly dissolves brake dust, engine grease, embedded dirt in rubber, bugs, road tar, salt spray, and hard water spots on glass that traditional cleaners will not remove.  Turns tires jet black and white walls and raised lettering bright white.  Excellent wash additive for extremely dirty vehicles.  Does not contain acids or heavy solvents. Biodegradable."
Application –  Spray on. Allow to stand for 2-3 minutes. Rinse with water. Use brush if necessary.
Our Opinions
We found Britemax Grime to work very well on argent colored painted cast motorcycle wheels.  These type of wheels can get very dirty and greasy from brake dust and other road grime, and they can be hard to clean.  We found that Grime Out worked better than any other products we've tried.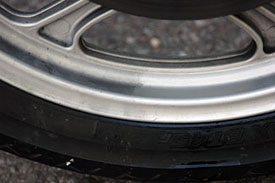 Like the other Metal Master/Britemax products, Grime Out is very easy to apply; simply spray it on and wipe or rinse it off.  We use paper towels to lightly wipe the surface of the wheel after applying Grime Out with excellent results.
Grime Out is also good for cleaning greasy/dirty engine casings.  If it is allowed to soak for a couple of minutes before rinsing, it does a good job of cleaning the grime that can accumulate around engine heads or valve covers on aluminum cast engine blocks.  Other aerosol-based degreasers work faster, but they also have a very strong odor and are not biodegradable.
We created a new category called "Spray Degreaser/Wheel Cleaner" for Grime Out in our "Best in Class" list.
Score:  5/5
Note:  For informational use only.  All material and photographs are Copyright © webWorld International, LLC – 2000-2011.  All rights reserved.  See the webBikeWorld® Site Info page.  NOTE:  Product specifications, features and details may change or differ from our descriptions.  Always check before purchasing.  Read the Terms and Conditions!