Brisbane author Leigh Hutton has hit number 8 on the Amazon Best sellers list for sport books with her book, Rev Girl, about a young female rider.
Leigh is a former Canadian ice racing and enduro champion and 29-year-old Queensland mother who has turned her writing crafts to her favourite sport.
Her self-published book is the first in the Go Girls Chronicles for young teens and it's already up to number 38 in the Amazon list for young adult books for girls and women. It is now being featured as a "Hot New Release".
It is available on iBooks and in bookstores or you can download a Kindle version now.
The official launch was held on Saturday in the Queen Street Mall with more than 1000 people gathering to watch the all-female stunt show and fashion parade.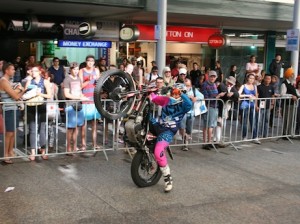 Leigh says she sold lots of Rev Girl books and gave away dozens of signed posters.
"It was an incredible day," she says, "and a tremendous way to launch this inspirational novel for girls and women."
Click on this link and you could win one of her books. Or go to her Facebook page and be in the running for more prizes.