The Sporty BATTLAX
We recently reported that Bridgestone had some new adventure touring motorcycle tires, but now they have some new tires for sportbike riders, too. The company posted a press release released the BATTLAX HYPERSPORT S22 Sports Radial Tires.
These tires are a continued improvement on the last tires in this line, the S21. The tire company refined the tire compound and created a new tread pattern that further improves grip on the road. The tread is designed to provide better performance in wet road conditions.
The new Bridgestone BATTLAX HYPERSPORT S22 tires will be available in one front tire size and five rear tires sizes, giving you some options. Bridgestone said the purpose behind the redesign was to provide sport riders more peace of mind no matter the riding conditions.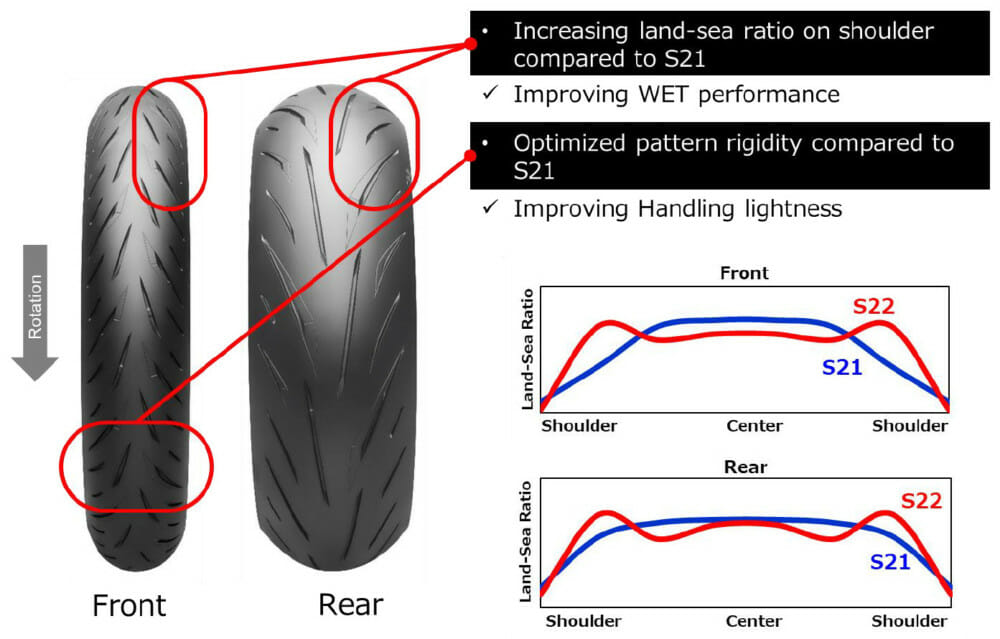 The company focused on "an increased land-sea ratio on the tire's shoulder" when it comes to the tread pattern. That's how the tires are able to provide both dry and wet grip.
Bridgestone says the compound is an optimized resin component. The company used silica made up of fine particles (finer than other tires) to increase the number of particles per square inch of the tire. This allows the contact patch of the tire to get the optimal grip on the road.
We never take what the manufacturer says at face value, preferring to test things out for ourselves. Seeing as how the new BATTLAX HYPERSPORT S22 Sports Radial Tires will come out later this month, it's entirely possible that we could test these tires this year. If we do, we'll let you know if they stand up to Bridgestone's claims.