Bridgestone Announces Three New Motorcycle Tires Image Gallery
February 17, 2007 (Indianapolis, Indiana) –  Bridgestone introduced three new motorcycle tires today at the 2007 Powersports Dealer Expo.  The Bridgestone Battlax BT-021 Sport-Touring Radial, the Bridgestone Battlax BT-002 RS Supersport Radial and the BattleWing BW-501 (Front) and BW-502 (Rear) Adventure Sport tires.  (Photos by webBikeWorld.com; Text courtesy Bridgestone)
The Battlax BT-021
Bridgestone Firestone North American Tire is proud to introduce the Bridgestone Battlax BT-021, a unique, technologically advanced hybrid that combines all the benefits of a sport tire with the luxury of the finest touring tire.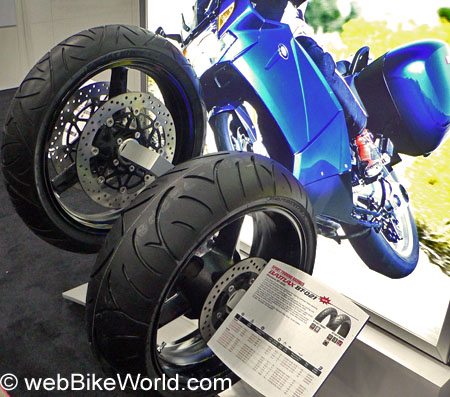 This revolutionary new tire performs masterfully for sport and sport-touring riders alike.  Developed to provide the best of both worlds under average high speeds, the BT-021 provides solid feedback, road contact, linear handling and stability in all road conditions.  Add to this the bonus of reduced rider fatigue with improved shock absorption and long mileage, and the BT-021 becomes the tire of choice for both highways and winding roads.
The front tires feature a unique layer of High Tensile Super Penetrated Cord (HTSPC) for an appropriate level of stiffness for shock absorption, linear handling and stability.  HTSPC allows flexibility, reduces heat generation and provides stability without reducing shock absorption for overall performance under various road conditions.
The rear tires feature a newly developed Outside Bead Filler (OBF) in a proportion that provides just the right amount of stiffness for high shock absorption and stability for either high speed cruising or sport riding on winding roads.
The rear tires also feature Dual Tread Compound (DTC) for improved center mileage and shoulder grip, while the underlying layer, cap & base technology, enhances tread stiffness for better grip, shock absorption and all-weather performance.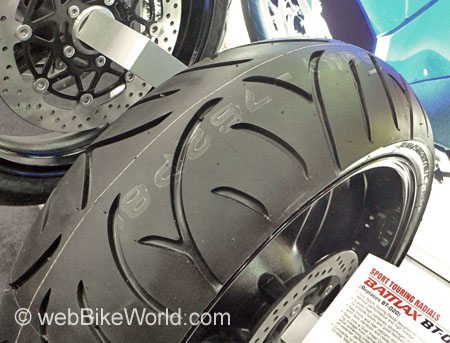 Bob Graham, Manager of Motorcycle and Kart Products, Bridgestone Firestone North American Tire, said, "There's a growing trend for riders to own both a sport bike and a sport-touring bike, or to use their bike in multiple roles.  This tire fits the bill for anyone who wants the flexibility to be aggressive or simply enjoy a long cruise."
The Battlax BT-021, now available at dealers nationwide, is available in a wide range of popular sizes including:
Front:
120/60ZR17M/C TL
120/70ZR17M/C TL
110/80ZR18M/C TL
120/70ZR18M/C TL
Rear:
150/70ZR17M/C TL
160/60ZR17M/C TL
160/60ZR18M/C TL
170/60ZR17M/C TL
160/70ZR17M/C TL
180/55ZR17M/C TL
190/50ZR17M/C TL
Bridgestone Battlax BT-002 Racing Street Tire
Bridgestone also announced today a Z-Rated Ultra-high Performance radial, designed for street and track.
Bridgestone Firestone North American Tires is pleased to introduce the new Bridgestone Battlax BT-002 Racing Street, an aggressive Z-speed rated sport tire that performs equally well for aggressive sport riding or track-days.  On or off the track, the BT-002 RS demonstrates a balance of stability, cornering, handling, grip, anti-shimmy and shock absorption needed to perform at maximum potential.
Developed from technology gleaned from years of successful MotoGP testing and race participation, the BT-002 RS offers exceptional front-end contact feel and cornering performance.  Designed by Bridgestone Corporation to be the ultimate sport bike tire, the front tire was developed with Dual Tread Construction (DTC) – with a medium center compound and soft shoulder compound to ensure high grip, light steering and impressive feedback.
Utilizing Bridgestone's proprietary construction, compounds and patterns, including a newly designed fine cord breaker underneath a mono-spiral belt, the front tire ensures flexibility without sacrificing stability.  The rear BT-002 is specifically designed to gain traction.
Designed much like the front tire, the rear tire is also manufactured with a High Tensile Super Penetrated Cord (HTSPC) mono-spiral belt. In addition, the silica rich compound enhances high grip in all conditions and low temperatures, ensuring excellent handling from the moment the motorcycle starts off.
"This introduction has been one of the more exciting developments since our continued experience in MotoGP is now having a direct impact on tires at the dealership level. I n just a few short years, we've accomplished great strides in this highly competitive arena.  Our participation is paying off with tires that can handle the most aggressive conditions," said Bob Graham, Manager of Motorcycle and Kart Products for Bridgestone.
The Battlax BT-002 Racing Street is now available in four popular sizes 120/70ZR17, 180/55ZR17, 190/50ZR17 and 190/55ZR17 and is currently at dealers nationwide.
Bridgestone BW-501 and BW-502 BattleWing
Bridgestone took the opportunity to also formally introduce the Bridgestone BattleWing for Adventure Touring bikes like the BMW GS and older Triumph Tiger.  The BattleWing has been available for several months.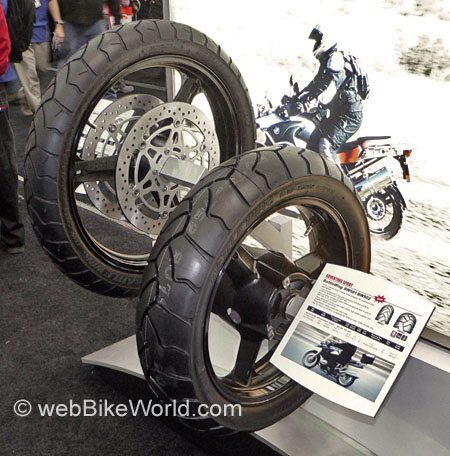 The BW501 (Front) and BW502 (Rear) is a V-rated radial tire designed for Adventure Sport bike applications.  It features a high-grip compound and a new profile to enhance handling and contact feel.
Bridgestone claims that the Silica-enriched compound in the BW-502 rear offers exceptional level of grip on both wet & dry surfaces.  The mono-spiral belt construction on the BW-502 also is claimed to offer high speed stability and excellent shock absorption and the tread pattern design minimizes road noise.
The BW501/BW502 combination is designed for 90% on-road and 10% off-road use.  The BW-501 front tire is available in a single size, 110/80R19M/C (TL – 59V).  The BW-502 rear tire is also available in a single size, 150/70R17 (TL – 69V).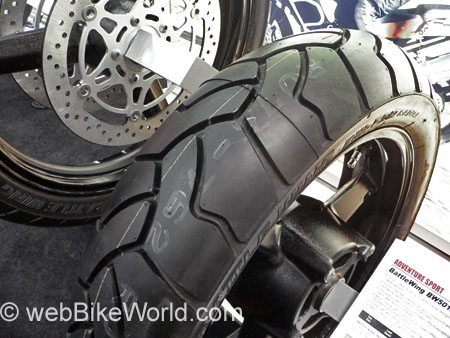 Note:
  For informational use only.  All material and photographs are Copyright © webWorld International, LLC – 2000-2011.  All rights reserved.  See the webBikeWorld® 
Site Info page
.  NOTE:  Product specifications, features and details may change or differ from our descriptions.  Always check before purchasing.  Read the 
Terms and Conditions
!