Brass and copper were common materials in veteran and vintage motorcycles and it is now making a comeback the 2016 Triumph Bonneville T120.
The brass highlights certainly look smart on the new T120 and they are starting to appear on limited edition model nameplates and in aftermarket accessories on various other motorcycles.
The trend is called "steampunk" and it's a reference to 19th Century Jules Verne-style science fiction featuring steam-powered machinery.
The trend has now been taken to classy extremes by English custom house Death Machines Of London whose Up Yours Copper (UYC) motorcycle features plenty of stunning copper, brass and even a seat made from American Walnut.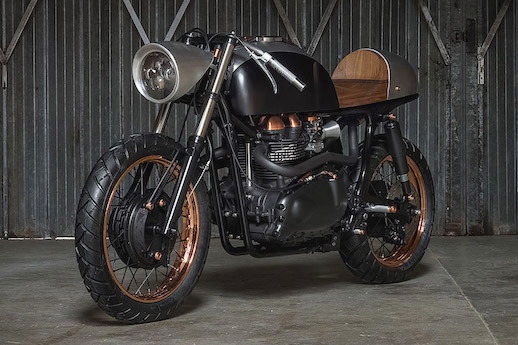 It's based on a 2007 Triumph Thruxton 900 and includes some interesting modifications including an a carbon fibre muffler that exits through a hole in the centre of the rear light.
But the highlight is the lashings of copper and brass throughout.
Brass features in the sprocket grills, single-pod instruments, various bolts and aero-style fuel filler engraved with the Hunter S. Thompson quote: "Faster, faster, until the thrill of speed overcomes the fear of death".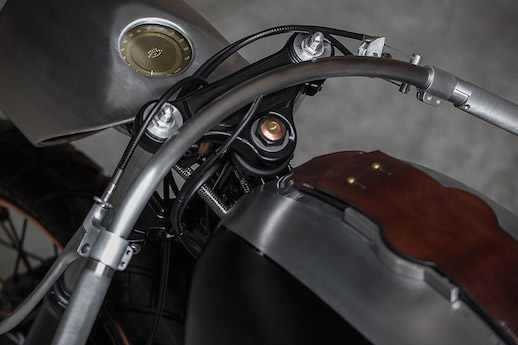 It was precision-etched using photolithography, a process more often used un micro-fabrication that in bike building.
Electroplated copper features on the injection caps, cam covers wheels, footpads, various bolts and the exhaust tip.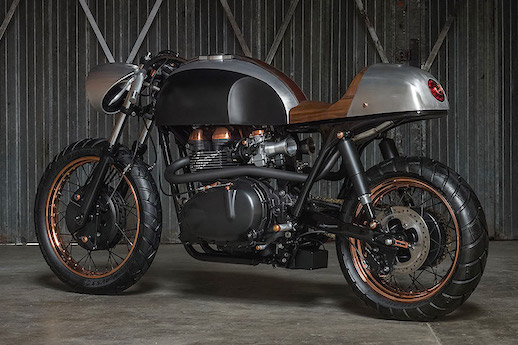 Actually the copper isn't just an aesthetic addition. The copper tip on the exhaust is a heat shield so it doesn't melt the plastic housing for the taillights which form a ring around the exhaust outlet.
These metals are quite expensive, difficult to work with, softer and heavier than modern metals and composites, so they will be limited to more expensive and limited-edition bikes as well as customs like this.
But they certainly make a nice steampunk statement. What do you think?