If you ever needed any motivation to ride or reasons to counter critics who say you have a death wish, this book on why we ride is a must.
We all recognise that we love riding and can come up with several things we love about it, but do we really know the deep psychological reasons that motivate us to ride?
Those reasons become clear as you read through the lengthy-titled book "Why We Ride: A Psychologist Explains the Motorcyclist's Mind and the Love Affair between Rider, Bike and Road" by Harvard-trained clinical psychologist Mark H. Barnes.
According to Mark, motivations to ride and reasons why we enjoy it so much include: efficiency, autonomy, adventure and human motivation.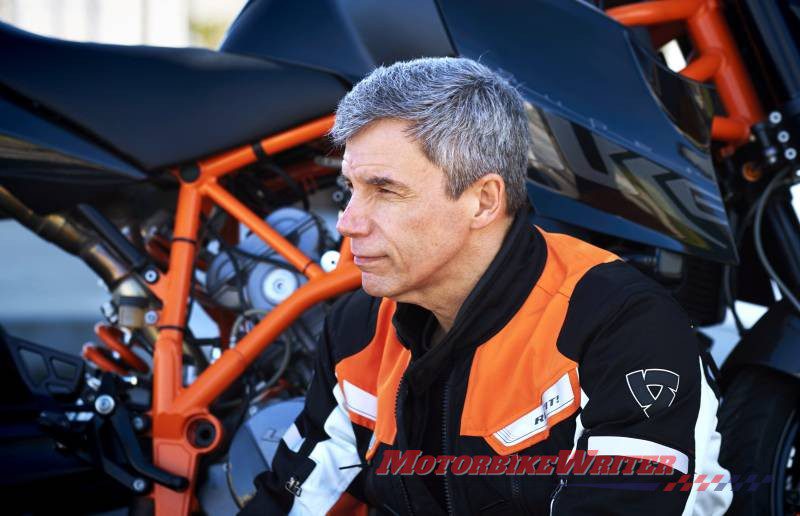 Efficiency
Mark points out in his book that some travellers say flying is more efficient because it gets you to the destination faster and riding a motorcycle is time wasting.
However, he says they are the time wasters who have to endure the boredom and hassle of air travel.
"My enjoyment begins the moment I start my motor and doesn't stop until I pull back into my garage," Mark writes.
"In fact, the trip's fun actually starts even earlier than that, as I'm tending to the preparation of my bike a week or two before my departure."
It's a new spin on the adage: "It's not the destination; it's the journey."
Autonomy
Mark says "riding allows for autonomy" which is inherently appealing to everyone: "we all want to do what we want to do, when we want to do it, right?"
"Part of the satisfaction of riding is having maximum control. I decide what route I'll take. I decide when to
stop for fuel and snacks, for a look at the scenery, for a real meal, and for the night. I decide how much luggage I take, which—if any—music to play, what temperature to wait for before departing. The list goes on."
Mark says autonomy is in "stark contrast to the grinding confinement of everyday life, wherein our ability to make unilateral choices is often confined to a pretty tiny corner of existence".
"Riding, even when it's just a matter of commuting or running an errand, provides a partial break from this sensation of captivity."
Adventure
He's not talking about adventure riding or off-roading here, but exposing ourselves to challenges while taking responsibility for our own safety and well-being.
"When that challenge is accepted willingly, we call the experience adventure. Long-distance riding can be a treacherous ordeal, and it requires planning, foresight, skill, judgment, and patience, along with a host of other actions and attributes."
Mark says voluntary exposure to difficulty can become fun as it tests your skill levels like competitive sports or even a computer game.
"As skill and confidence accrue, the anticipation of that satisfaction can turn the initial anxiety into something more like excitement – roadside repairs become adrenaline-filled adventures!"
Human motivations
Mark says there are many ways to slice the pie of human motivation.
"One cross-section reveals the opposing poles of adventure and security. At one extreme of this dichotomy, we seek excitement, take initiative, explore, and create. At the other extreme, we seek serenity, embed ourselves in the comforts of familiarity, relax, and receive.
"Riding can be employed in the service of both, even simultaneously. What about the reassurance of feeling dry and warm in the midst of a storm, courtesy of your trusty old rain gear, as you approach the entrance to a national park you've never seen before?"
Much much more
These are just some of the facets of why we ride that are outlined in the book including getting lost, the joy of technology and even time travel!
Sometimes they are confirmation of our beliefs and sometimes they are a totally new way of looking at our reasons to ride.
While it's an affirming read, it is actually difficult to spend long periods reading it because Mark's words inspire you to put the book down and get out and ride.
Meanwhile, check out why riding makes you happy.
About the author
American motorcycle magazine readers will identify the author as he has been writing for a couple of decades for several magazines.
This book is a compilation of many of his "Mental Motorcycling" columns for Motorcycle Consumer News from 1996 to 2017.
Mark started riding in 1974 and has owned about 25 or so bikes, mainly big-bore sportbikes including such classics as the original Kawasaki Ninja 900 and first Honda CBR900RR. 
"I've also had lots of sporty naked bikes, dual-sports, off-road racers and a couple of trials bikes," he says. 
"I've never raced, but have done numerous track days and one observed trials event.
"Currently, my garage holds four KTMs (990 SuperDuke, 690 Duke, 250XC-W and 530XC-W) and one GasGas (250TXT)."