As an early adopter of most things, including technology and new motorcycles, investing in both has and remains a huge sometimes consuming part of my life.
But over the last ten years Beemers — typically of the Boxer variant — along with three of the 800 vertical twin models have been and are the predominant motorcycle in the home fleet.
The count was up to seven at one point in time, but lately it has been at four: two for me, two for her…and one pending, for "sharing".
Thoughts had been given about trading the 2012 R 1200 GS for a new Wasserboxer, then some serious stimulus came in the form of extended Motorrad Canada incentives and on top of those, an extra (significant) trade-in allowance added on top; the scales were tipped.
But this meant that between incentives and the dealer after my GSW, one trade was turning into two. So with a new GSW decided upon for her, my waffling between new machines had to end.
But aided by postings like the 2015 BMW S1000XR Preview, teaser video from European sites and feedback from our local Sales Manager who had been introduced to the S1000XR for real, the scales were tipping in favour of a new S1000XR. .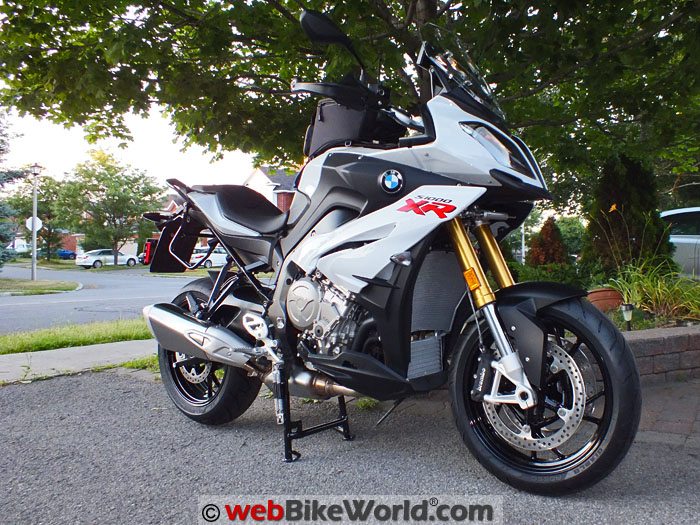 Will That Be Cash or Charge?
I must admit to being slightly jaded, but shopping for a new motorcycle, especially a "new" model still cranks up feelings of anticipation and excitement.
A demo ride was out of the question, as the S1000XR models were on the boat so to speak when the spring round of BMW Demo Ride Days was ongoing.
But I did get to sit on the first one at the dealer, which was being picked up the next day by its new owner.
I must admit that the very first real impression was positive. And when something feels right, looks right and has healthy doses of so many good things I have come to appreciate from BMW motorcycles one shouldn't hesitate, especially when said model is in very limited supply.
Sitting on 17 inch wheels — a big change from the usual GS machines I've been riding almost exclusively the last ten years — the S1000XR is tall, slim and trim; the synthesis between S1000 and GS models jumps out, grabs your attention and becomes hard to dismiss.
Resistance, as they say, is futile.
My 2014 R 1200 GSW never got the use it deserved, partly due to the presence of my F 800 GS Adventure sitting beside it in the garage.
So the GSW took its last trip with me as its rider up to the dealer and after moving the plate over, a 2016 BMW S1000XR in Light White brought me home…my 107th motorcycle.
Styling and Build Quality
With the S1000XR cooling in the driveway, it was time for the perfunctory first photos and the beginning of what is the essence of it all: the discovery. Be it form, fit or function related, it is all part of the rider/machine experience and all of us go through it in our own way.
Genetic markers from both the BMW S1000 and 1200/800 GS lines are obvious, along with other BMW Motorrad DNA, resulting in an eye-pleasing blending of everything; nothing really jumps out or disrupts the visuals.
Handlebar: Very much GS-style, the handlebar is wide with the usual centre-to-end taper and for me it's pretty much close to perfect. It also provide lots of real estate for mounting things.
Seating: At 33.1″, the standard height seat is about two inches lower than what I like and had with the GS machines. With a 36″ inseam, I really do want (need) a higher seat for all-around riding and especially touring. Something around 35 inches (890 mm) would be a good start and increase leg reach as well.
Engine and Drivetrain: The engine and electronic mode limitations won't be removed until its first service check, but even so, there is nothing wimpy about the S1000R-based inline motor that has been remapped to accentuate low and mid-range performance…this thing is strong and fast.
Suspension: The front USD forks on the S1000XR work very well over all the road surfaces ridden on so far; even our infamous city potholes can be dealt with. Good suspension component and related technology really does work to smooth and stabilize the ride over anything.
Adjustments made stopped or on the move can be felt in seconds.
Wheels and Tires: What — no side-spoke wheels? Tish! Yes, I know, no more curb hopping and random off-road jumping activities with the cast aluminum wheels (well maybe only now and then, but it sure would be nice to see wire wheels as an option).
The S100XR was delivered with some very good road rubber: the Pirelli Diablo Rosso II tires. There isn't much to complain about initially; they inspire confidence, whether upright or leaned over. But they do make a statement about what BMW feels primary use of the S1000XR will be.
Instrumentation: Looks basic, with a familiar BMW Motorrad layout. But like most modern instrumentation displays, it is very much multifunctional and is virtually the same component found on the other S1000 platforms.
Virtually all of the technology found on the S1000XR is displayed on the information cluster and accessible through input controls on the left and right handlebar controls, including BMW's seamless cruise control and Multi-Function wheel on the left side to name two.
Accessory Mounting Points: Owners who like to add things, especially lighting, etc., will have to be creative, at least until more mounting accessories become available.
Unlike most other adventure-oriented motorcycles, the S1000XR doesn't have a front sub-frame of sorts and all that sleek plastic will pose challenges for accessory designers.
Brake Light: And finally, the BMW Dynamic Brake Light Feature announced by BMW Motorrad is (seemingly) not yet approved for the North American market. All the pre-requisite packages are installed on my S1000XR, so will it be a retro-fit? Stay tuned…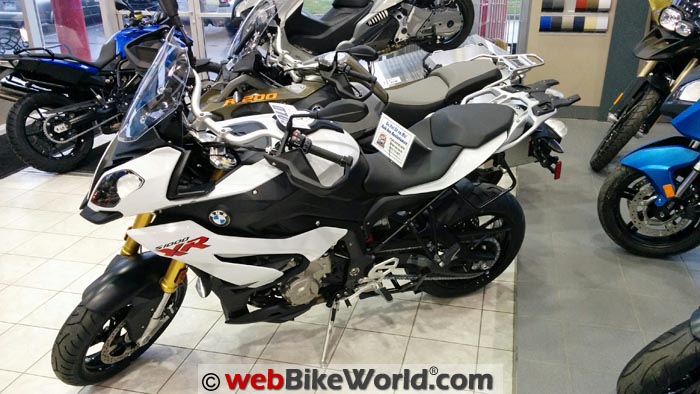 Selected Measurements
Handlebars: 88.9 cm (35″) wide and 96.5 cm (38″) out to the hand guard edges.
Seat: Standard seat is 84.0 cm (33.1″) from the ground.
Seat to Foot Pegs: With rubber inserts removed, 49.5 cm (19.5″).
Overall Height: 140.9 cm (55.5″).
Windscreen: Low to high setting, difference is 6.9 cm (2.75″).
Fuel Capacity
At 20.0 liters (5.28 US Gallons) including 4.0 liters for reserve, the tank is smaller than I might have hoped for, but again, that GS bias comes into play. The small yellow warning triangle and fuel advisory comes on at the 70 km (43 miles) countdown point.
So far, the average distance accumulated before the warning light goes on is 245 km, with 38 to 45 km remaining as the counted-down reserve.
The average fill-up has been 15.5 liters (4.09 US Gallons). After each fill, the "Range" readout shows 250 km to go.
BMW is among the best at fielding fuel-efficient platforms, although the S1000XR does need to be fed the best stuff available — preferably 93/94 octane for optimum performance.
In this area a bit of planning is needed for the pit stops, whereas travelling south of the border (into the U.S.) doesn't typically pose the same issue to the same degree.
In a rarity (at least for my BMW buying experiences), the luggage rack was missing from the delivery package, although an exception sheet was included. It seems a finish defect was found and so as to not delay delivery the motorcycles were shipped with the basic grab rail.
So while a rack will be forthcoming sometime after "Week 29" of 2015, it means that one of my initial accessory installations for travel purposes, the SHAD SH48 top case (review) kit, is on hold.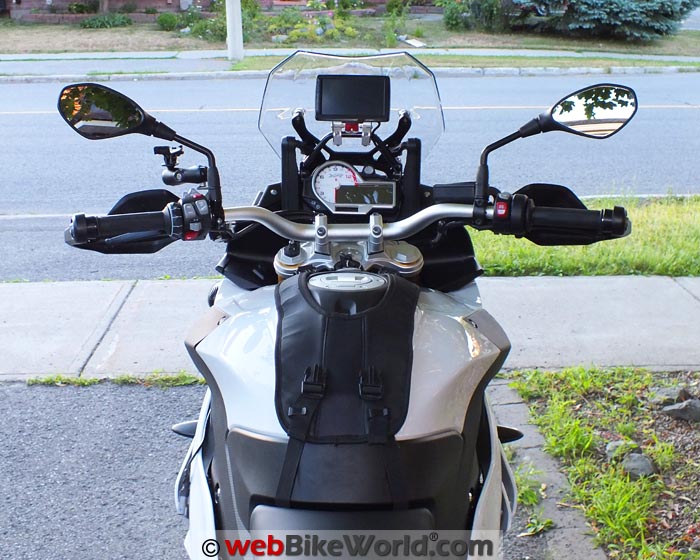 Planned Accessories
Nothing in my home fleet remains untouched for long, especially given the challenges presented in owning a new model motorcycle that caught most of the accessory industry short.
So my spreadsheet list for the S1000XR is growing daily, with everything assigned as "On-hand, Available, Not Available and Desired".
The first change I made was to remove the foot peg inserts, which I did before leaving the dealership. The grooved pegs provide a familiar foothold and 10+ mm of additional clearance for my legs. Your experience may differ, depending on preferences and footgear worn, of course.
Touratech Navigation Bracket Adapter (PN 048-5415) is a versatile piece I have now mounted on the S1000XR. This adjustable mount adds up to 7.62 cm (3″) of adjustability for mounting the BMW Navigator V, bringing the GPS closer to the rider with more visual separation from the instrument cluster.
(Note: PN 046-0270 is a slightly more compact adapter that works as well.)
Ohmics Intelligent MotoBrake Light (Review): I view this as an essential piece of equipment, rather than an accessory. I installed the latest version on the S1000XR for testing and it provides support for auxiliary lighting along with a host of other new features and a lot more programmability for owners.
Denali DM1 LED Lights (Review): Something old on something new is the mantra here. I've lost count of how many of my motorcycles had the DM1 lights mounted. They remain among the easiest LED modules around to install and use and among the most rugged you will find.
Installed on the upper mount point of the fender leg extensions that protect the USD forks of the S1000XR, the LED lights are used mainly as DRLs.
Aboreal Systems Neutrino (Review) will be providing power/management. We have the Black Box, the latest version featuring some major enhancements and subtle tweaks is sitting here. It is patiently awaiting installation after the S1000XR's first service, when full-scale farkling can begin. An update to the original review will be done for this revised product.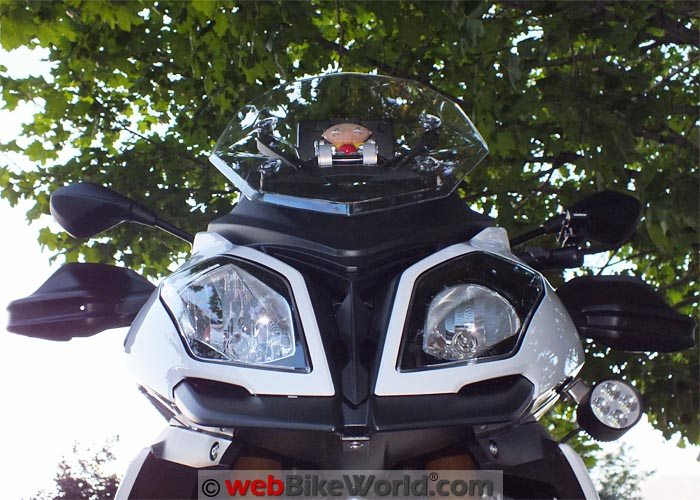 Other Accessories Planned
ADVmonster M30/M44 LED Combination: Maybe the S1000XR will be my impetus for getting a long (long) term review of the ADVmonster LED products completed. Lightweight pieces, they are now test mounted on brackets off the lower front edge of the fairing pieces.
Cox Racing Group Radiator and Oil Cooler Guards: On their way from Oregon and eagerly anticipated, given that the whole front of the engine area is dominated by the curved radiator and low mounted oil cooler. Cox Racing Group makes great products and they had the S1000XR parts in stock.
BMW Engine Guard Kit: The original equipment engine guard kit for the left and right sides aren't very large and they aren't cheap at $620.00 CAD, but they will provide much needed protection for the lower engine parts and possibly mounting points for other lighting.
Cobrra Nemo 2 Chain Oiler (Review): A simple and small manually-controlled chain oiler, which could be a great solution for the S1000XR's left side chain drive.
Clearwater CANopener (Review): Big downer, this one will have to wait a while. Without a TPMS harness tucked away anywhere on the S1000XR, the current interface point is not available. Communications with Clearwater Lights have however provided a reason to be optimistic, however, so stay tuned on this one also.
For more information and details on accessories, visit the BMW S1000XR Blog.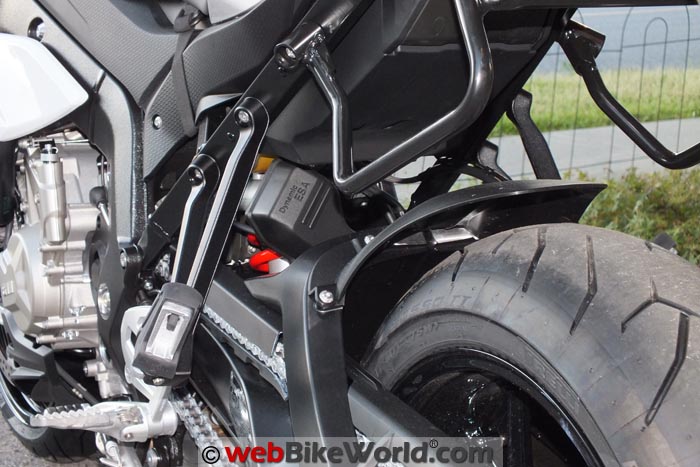 On the Road(s)
The BMW S1000XR is one of the most fun motorcycles I have ridden in a long time. Its agility, weight, balance and responsiveness hit home in a big way after my first extended ride.
Throwing a leg over the standard 33.1″ tall seat and settling into the saddle to look things overs brought a definite F 800 GS déjà vu feeling, especially with the handlebar, the minimalist front fairing, the tank shape and the recessed sides for the legs.
The standard seat height is just too low for me and given the different seat design (from the GS) for the rider and passenger, my back angle is quite pronounced and not well placed for my body.
But after a few days of 4-5 hours in the saddle, the seat vs. body issue doesn't seem as severe. But, I still need at least two more inches in height and a much flatter seat section.
Overall though, given the seating shortfall, the S1000XR cockpit is a very good place to spend lots of time. Everything is easy to read and reach and ergonomically correct for me.
The small but very effective windscreen provides good airflow management in its low setting and for my part, the only reason to raise it might be to gain more protection from the wet and cold (which is not really applicable due to recent weather).
A slight upwards pull pivots the windscreen up and into the high setting. It can be adjusted while riding, but I would recommend against it.
Using the upper position results in more buffeting on my helmet and shoulders, but this may or may not be an issue with other S1000XR riders.
I'm still wondering why that wonderful small, simple and lightweight windscreen adjuster from the current BMW GSW wasn't carried over to the S1000XR. It is totally and safely adjustable while riding and it provides any height within its low to high range.
The handlebar is a bit buzzy, although the whole chassis is already smoothing out somewhat. At 105 to 115 km/h (65-71 MPH and in the 5000-6000 RPM range, everything is becoming smoother.
And notching it up over the 6,000 RPM mark brings smoothness; the beast is there, waiting.
There are output and system limitations before the first 1000 km (600 mile) service check is required, at which time the even-more-goodies-enabling programming plug will be connected so that all the options on this loaded S1000XR can be accessed.
But other than the BMW-imposed restrictions, I have few complaints about anything, except the seat's height and shape and the windscreen.
The S1000XR is tall, nimble and ergonomically comfortable to ride, be it around town, on the back roads or at speed on the highway.
And yes, I am succumbing to the wiles of the Gear Shift Assist Pro. It wouldn't be a critical requirement on most new motorcycles I might consider, but when it is part of the upper tier package, it really is an excellent feature and I must admit to using it and enjoying it far more than I expected.
Around town and at trolling speeds it's a bit clunky and stiff, but that might change with time and as the rider gets better trained as well!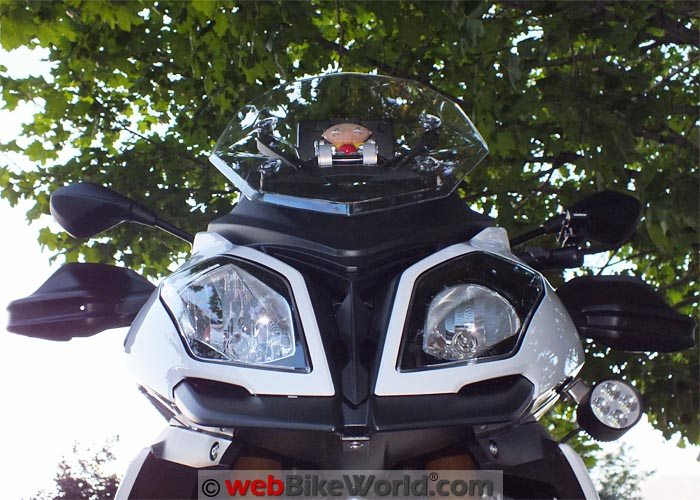 Adventure, Touring…or Both?
This brings us to the BIG question: is the S1000XR a "real" adventure motorcycle, or something else?
Even before the first S1000XR was delivered, more than a few forums had active threads debating the S1000XR's focus: sports touring, adventure-touring or whatever (see the wBW BMW S1000XR Preview).
But as more and more journalists are reporting, the S1000XR with or without a tire change can, as desired by the owner, competently roll over many gravel and dirt roads without issue, even in the wet.
My own assessment — after almost daily doses of gravel and dirt road forays in the dry and wet — is that the BMW S1000XR is indeed more than capable of traversing lots of different surfaces, appreciating, of course, the road conditions, the motorcycle's set-up and rider ability.
And building on my impressions gained riding my 2014 R 1200 GSW with its on-board rider enhancement systems, the S1000XR's suite of "tools" are even more sophisticated and enhancing, rather than inhibiting — they're that good.
Granted, a bit of playing with the various settings is and will be needed for the optimum response environment. But so far it has been worth it.
And before end of summer, a set of Pirelli Scorpion Trail II tires or something similar will be installed. A skid plate would be nice also, just in case.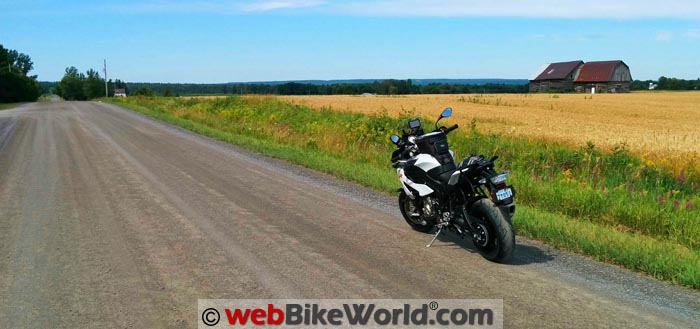 Conclusion (And to be Continued…)
So what is the BMW S1000XR? If we interpret the "XR" to be for "Cross-Roads", then the whole approach makes more sense, at least to me.
Reflecting its S1000 heritage and GS influences, the BMW S1000XR is, in the short-term, proving to be a great sports machine that is fast, GS-comfortable and a curve-carver par excellence.
I have longer trips planned for late summer and early fall, which will provide the opportunities to let it perform as a long-haul roadster with an adventure load; something I have no doubts it will excel at.
Motorrad Canada places the S1000XR under its "Adventure" grouping and to me that is exactly where it should be, even though some facets related to the term "adventure" may still need to be validated by the S1000XR and by me.
It is truly early days, but this S1000XR is already growing on me a lot — and I'm hard to please.
It has competition (e.g., Multistrada) and the competition is indeed one of its targets, but it also breaks new ground for BMW Motorrad and for the consumer market.
Will it stand the test of time? Will it do (most) everything I want it to do? Both fair questions that need to be answered going forward.
But in the interim, there is riding and farkling to be done, so be sure to check out the BMW S1000XR Blog for all the latest.
In the meantime, if you have any questions about the S1000XR, fire away!
Publication Date: August 2015
Master Listing of All wBW Motorcycle Product Reviews
Note:
 For informational use only. All material and photographs are Copyright © webWorld International, LLC since 2000. All rights reserved. See the webBikeWorld® 
Site Info page
. Product specifications, features and details may change or differ from our descriptions. Always check before purchasing. Read the
Terms and Conditions
!
Owner Comments and Feedback
---
From "G.S." (October 2015): "Great review. I have an F800R, love it but need something bigger and more able for distance trips. Curious how the seat height is working and if you switched it out for a taller seat?
Your inseam (36") is longer (mine is 34") and have been considering a GS model for the height, but like the looks and build of the S1000XR.
One other question, the vibration on the handlebar.  Is it very noticeable?  Live in a city and like the size/weight of the XR for managing constant stops (lights, stop signs, pedestrians, texting drivers….).
But focus the weekends on rides into the country (Western MA, ME, NH, VT) and will ride for hours.
H.B.C.'s Reply: Thanks regarding the review. Just getting started in writing up the S1000XR. It is an outstanding motorcycle in virtually every way and grows on me more every day.
The seat height at 33 inches is 'OK' but a bit short for me, so just waiting for BMW, or someone else to get a higher seat, hopefully with a longer 'seat' or flatter profile.
I know of at least two companies that are beavering away on something, so hopefully wBW can negotiate for an early sample.
The standard GS or even the GSA with the seat on low setting, or a low seat, or perhaps even the low-frame model provide choices for many, although with your 34" inseam, the standard model should be good.
But in having many of the GS and GSA machines over the years, as soon as the S1000XR was revealed with its GS built, that was what I had been waiting for.
And to a large degree, as hoped for, the XR is proving a good ride on dirt and gravel surfaces; just need to get some true multi-purpose tires mounted.
Hopefully by spring some of the manufacturers will have 17 inch front tires to go with their current 17 to 19 inch rears.
I've been using the XR for everything: commuting (including low-speed trolling), local pavement and back unpaved surfaces to high speed highway. It does it all without complaint, My one day long and one multi-day run so far were effortless for machine and rider.
Everyone has mentioned the vibration or at least the tingling sensation…very true when new, but diminishing rapidly as the odometer reading increases.
Five to six thousand rpm used to be most noticeable, now its virtually smooth. Some of the vibration has moved down a bit, and there is still a rough spot at 8500 or so, but its not a big issue.
Our Canadian/European models actually came with the damper pad under the handlebar mount and that seems to have been a partial solution of sorts, although one or two US owners indicated that they didn't see the damper pad.
Some riders have looked at different bar-ends and/or added material to the inside of the handlebars…but so far, I'm content and if the engine and handlebars smooth out more, I won't have much to complain about.
So if looking at a GS (never a bad thing), take a hard look at the XR as well it is the best of many riding worlds.
---
From "M.M." (August 2015): "I purchased an S1000XR 3 weeks ago and my wife and I love it. It was purchased primarily for my wife but it is such a hoot to ride I can't stay off of it.
As a Ducati Multistrada owner, I can say this BMW bike "out-Ducati's" the Multistrada. Not only is there more power on tap up top, but in 6th gear at 35 mph there is no sputtering, bucking or protesting from the engine and it accelerates smoothly from low revs unlike the Multi.
Steering is also lighter and changing lines mid corner is never an issue.
The shift assist feature is flawless. It's not magic just rev matching but perfect every time. Wrong gear mid corner? Just toe the shifter and go without breaking your momentum.
We find the seat all day comfortable too but this is subjective as all posteriors are different. There is a slight buzzing problem starting at about 4K rpm to 6K rpm right where you live.
As miles increase this seems to be lessening but I filled the bars with #9 steel shot and lined the handle bar clamps with strips of old inner tube and problem solved.
I cannot overstate the ease with which this bike steers. Almost telepathic. The XR never fails to put a big grin on my face when riding it which is what it's all about, right?"
---
From "G.L." (August 2015): "I'm currently trying to decide on a new sport-touring motorcycle and enjoyed reading your review of the new Bimmer.
One of the criteria that is important to me is passenger comfort, as I would like my wife to be able to join me on some trips. I currently have a V-Strom 1000, but it's a bit long in the tooth and I'm looking for something that is a bit more sporty and is more street-biased.
Have you had a chance to do very much 2-up riding with the S1000XR, and if so, could I bother you to share your experience?"
H.B.C.'s Reply: The new "Beemer" (Editor's Note: Beemer is the bike; Bimmer is the car) is, so far, working out extremely well — just one or two things to address as noted in the review.
I haven't (yet) done any two-up travel on it…partly due to still breaking it in and partly due to the fact that we both ride, so passenger travel is rare, except in emergencies or, for testing things like this.
Appreciating your current ride (owned two, still a great machine), a comparison would find that the XR is indeed sportier, faster with comfort on par or better than the V-Strom , although passenger comfort could be a toss-up.
Although this opinion is skewed given my experience with riding two-up on the V-Stroms but no passenger riding yet on the XR. The V-Strom has a more relaxed stance and ride, whereas the XR's is more taut.
Although having said that, being able to fine-tune the suspension on the XR is and would be an advantage for rider or rider with passenger travel, with or without luggage, given specific suspension adjustments possible.
But I did talk (briefly) to another owner who has done some short two-up stints and nothing seems to have emerged (yet) that might be contrived as negative, less reduced passenger seating over other motorcycles (that are probably more touring oriented).
But then again, the XR is derived from the "sports" motorcycles. So I can't specifically give you real rear seat time feedback yet, but that will be accomplished over the next week or so and we can post an update at that time.
Regardless, if you get a chance to sit on or take an XR out for a ride, do it…it will impress."
Other WebBikeWorld Motorcycle News Posts
wBW  Motorcycle News Info