2010 BMW S 1000 RR Ride Report
Whether it's producing the perfect beer, wonderful concertos or cars whose bodies are built totally out of carbon fiber, German manufacturing is a thing of beauty.
Germany is sometimes called "Das Land der Dichter und Denker" (the land of poets and thinkers) and one could make the correlation between this type of engineering/manufacturing and a luminous poem. Both require precise craftsmanship and if done correctly will become symbols of achievement. If done incorrectly, they will fade into history without ever being recognized.
BMW is of course no stranger to manufacturing high quality motorcycles and has indeed achieved prominence in multiple categories (e.g. endurance, touring, etc.). But to have burst onto the sport bike scene in 2009 with their S 1000 RR was truly jaw-dropping to say the least.
A racing inspired anti-locking braking system (ABS), gear shift assistant (GSA) and adjustable dynamic traction control (DTC) are just a sampling of the technological improvements BMW has seen fit to include on their über sports bike. But before we go down that rabbit hole let's start this journey with the obvious: style and design.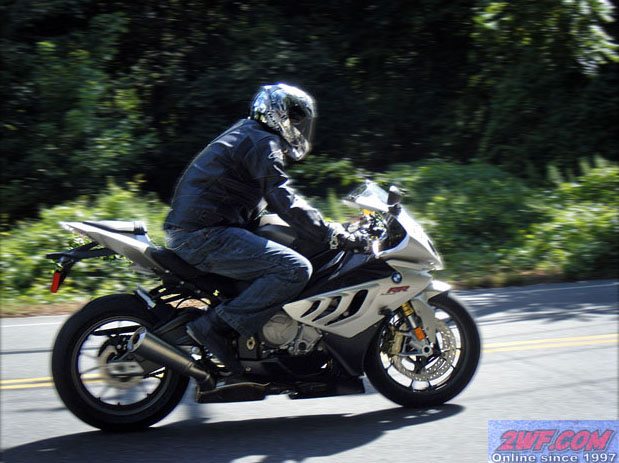 BMW S 1000 RR Design
A lot has been said (and written) about the appearance of the S 1000 RR. With asymmetrical headlights, a wide left side opening and the opposing gill-shaped slits of the fairing it certainly makes a statement. I'll admit that from the pictures I saw I wasn't enamored with the exterior (except the rear LED tail light — simply gorgeous) but after seeing it up-close-and-personal it's quite attractive. Form follows function which only adds to its unique appearance.
That philosophy is well defined in the design of the instrument panel and executed to perfection. Less is more and in this case a large white tachometer and two LCD screens give you all the information you need.
A gear indicator is directly below the MPH readout (no more trying to shift into the mysterious 7th gear) and is visible on the left screen with other pertinent information being displayed on the right (coolant temperature, odometer, clock, etc.). Add in an easy to read font, highly visible shift light and the now-infamous "idiot" lights that have become standard equipment on most (if not all) motorcycles and you have what could easily be called the ideal dash.
Selecting any one of the four possible throttle response modes (rain, sport, race or slick) when riding is as easy as clicking on a right clip-on mounted button labeled "Mode", pulling in the clutch, easing off the throttle and you're now in a new mode. Unlike some other systems where you must be stationary, BMW's version allows both so whenever you decide to make a change you can.
Their proprietary ride by wire E-gas system is also found on the "S" and uses two (opening and closing) Bowden cables leading to the throttle butterfly adjuster and functioned flawlessly.
Speaking of the four modes, they break down as follows: in Rain mode, you only have 150 horsepower and with an onboard sensor for lean angle, the big 1,000 will limit acceleration if said angle is greater than 38 degrees. The next three modes (Sport, Race and Slick) give you the full 193 ponies but vary the degrees of lean angle for each: 45, 48 and 53 respectively.
Those modes are definitely a benefit when you have a 999 cc water-cooled inline four-cylinder engine underneath you producing 193 HP at 13,000 rpm, 82.5 ft-lbs. of torque at 9,750 rpm and revving up to a redline of 14,200 rpm.
Combine a bore/stroke ratio of 80/49.7, compression of 13:1 and 48 mm throttle bodies and you have one potent powerplant.
This is especially evident when you look at the internals BMW used in constructing this engine. They utilized their extensive experience of creating Formula 1 engines to include such items as a high-speed, extra-sturdy valve drive with individual cam followers and titanium valves.
Channeling all of the spent gases into the atmosphere is a 4-2-1 exhaust system with dual catalytic converters that meets or exceeds the strict emission requirements laid forth by the EPA and the EU. The short and stubby side mounted muffler curbs the heat that traditional under the seat exhaust systems create which is good, as you don't want any additional heat while riding during summertime temperatures.
Of course, I want to curtail toxic emissions from going into the environment just as much as the next guy but I can't help wonder what a harmony of sound a full Akrapovic Evolution system would generate on this beast. Not to mention the increase in HP (can you really ever have enough?), weight savings and good looks. But I digress…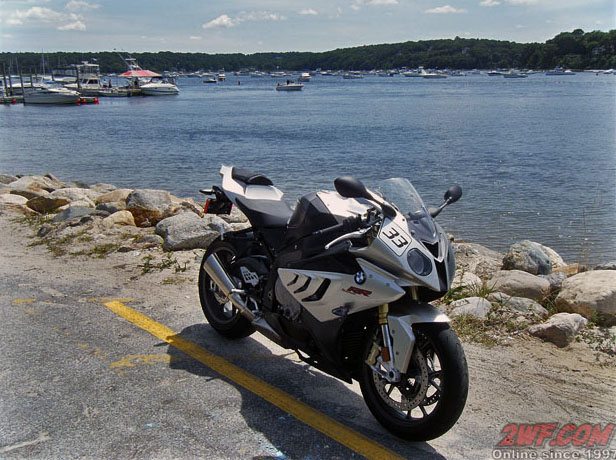 Suspension
Insert and turn the key, press the starter button and you soon realize that all that power is yours to unleash. Obviously, producing a copious amount of power means nothing if you can't use it. This is where a non-adjustable steering damper, Sachs 46 mm inverted front fork and rear shock come into play. The fully adjustable suspension that is standard on the "S" (i.e., preload, rebound and high and low speed compression) is phenomenal and makes the bike extremely easy to ride.
I normally like my suspension on the razor's edge (harder than most) but found that the stock settings for Sport (5 clicks out of 10) worked exceptionally well. If, however, I was going to the track, I'd crank up the rebound and compression a few notches and dial it in from there.
Once at the track converting this road monster to a race ready assassin is as easy as removing three bolts for the license plate/rear signals, two bolts for each mirror and a single bolt for each front signal. Now passing a tech inspection should be a breeze.
Weighing in at only 455 lbs. when fully fueled (450 lbs. without the optional ABS package), the "S" can be flicked side to side effortlessly and will gobble up any winding road you can throw at it. That quick turn in and aggressive nature is due to the fact that rake and trail are set at 23.9° and 95.9 mm accordingly. Though those numbers aren't radical by any stretch of the imagination when talking about sport bikes, it's safe to say that this isn't your father's BMW.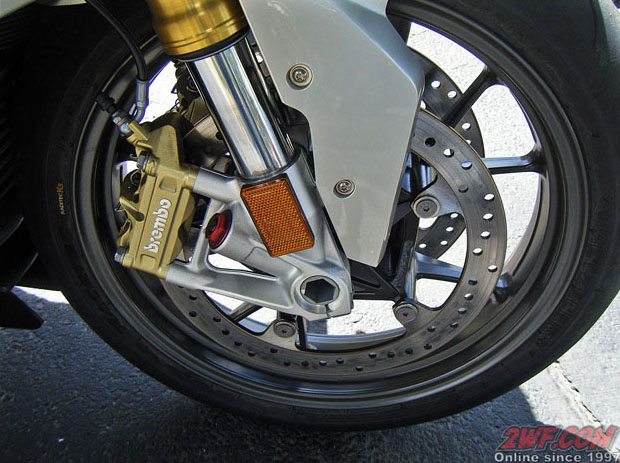 Brakes
If you become to overzealous in your quest to imitate Mr. Corser and need to scrub off speed in a hurry, don't worry as the dual radial mounted Brembo 4 piston calipers grabbing onto 320 mm floating rotors in the front and a floating, single-piston Brembo caliper which grabs a 220 mm rotor in the rear has you covered. The brake lever is also adjustable so two finger braking is only a setting away.
If you opt for the dynamic traction control package (which you should) and want to channel your inner Jason Britton then you'll have to disable it. Hold the ABS/DTC button on the left clip-on for a second to do just that (two seconds to disable ABS) and let the wheelies begin.
If you don't disable it, the system senses when the front wheel gets lofted into the air and cuts the power to bring it back down to Earth again. I will say that it does take some getting used to, as the first few times while applying WOT and the system was tripped (alerted by the DTC warning light quickly flashing) was a little unnerving. That said, the benefits certainly outweigh some hooliganism and I would definitely not have the "S" leave the factory destined to be in my garage without it.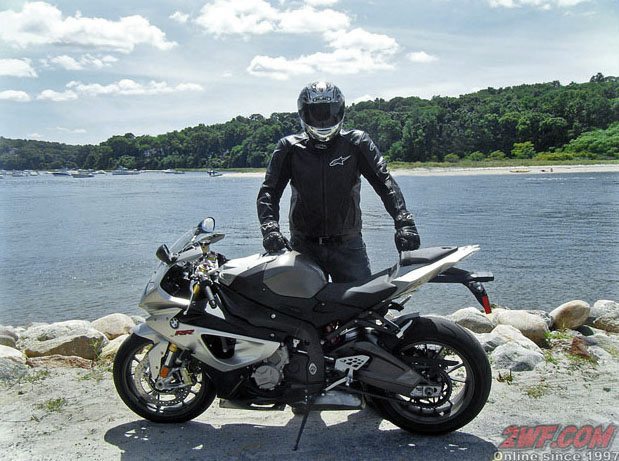 Transmission
Another optional feature that I've quickly become a devotee of is BMW's gear shift assistant. Not having to pull in the clutch while grabbing the next up shift pays big dividends.
The system works by cutting the ignition which unloads the transmission and hence allows a shift. Having GSA is so addictive that I was looking for any opening on the road just to "bang through the gears" to get my next fix. Add this to the "must have" list as well.
Seems like nowadays a slipper clutch is expected on any liter bike that's produced. The "S" is no exception and having that added protection against rear wheel chatter is a big advantage.
By not upsetting the chassis, the "S" provides a more predictable ride as well as avoiding the risk of over-revving the engine during downshifts. None of these signs were exhibited while I was riding the "S" and it just goes to show you that when good engineering is employed it's seamless in its implementation.
Since I'm above average in height (or as our EIC likes to call me: "Godzilla!") fitting comfortable on a motorcycle for me is sometimes a trade-off. Thankfully, the rider triangle on the "S" fit me just fine and with a seat height of 32 in. should fit most others as well.
There are provisions to carry a passenger, but let's face it — this isn't a Gold Wing so it's best to go solo. During that "alone time", my wrists, back and neck weren't sore even after many days that consisted of long stretches of time in the saddle. This time I saved the Advil for Sunday's yard work.
All that riding gave me plenty of time to sample three out of the four operating modes ("Slick" can only be accessed by a special plug-in). I actually found that the "Race" mode best suited to my riding habits. Sure, it's meant for the track, but while using the "Sport" mode there seemed to be more twitchiness in 2nd gear around the 4,800-5,200 rpm mark.
"Rain" worked well when the occasional thunderstorm crept into the forecast and unlike some other motorcycles that have a "Rain" mode, BMW doesn't totally neuter the "S" so you have enough power to get on the highway or make a pass.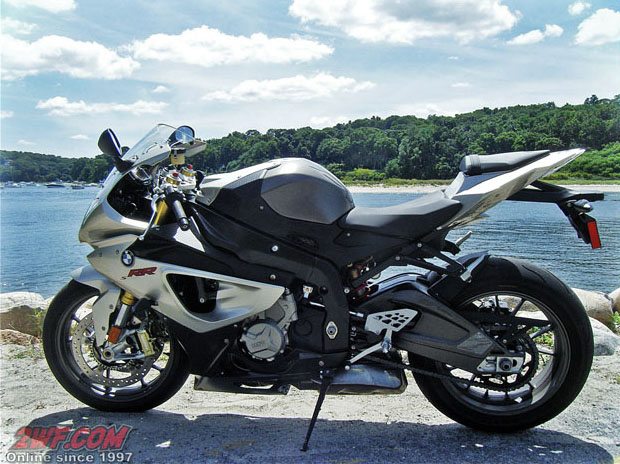 More Details
Apparently I have a heavy right hand as the 4.5 gal. tank gave me about 110 miles before the low fuel light came which meant I hit reserve and had approximately a gallon of gas left before total burnout. The odometer switches to a mileage countdown so you can gauge how quickly you need to find a gas station to refuel and not wind up on the side of the road waiting for AAA or the the piss-poor fuel mileage I'll take full blame since the power and sound of that inline four revving over 10,000 rpm's is an intoxicating elixir which I couldn't get enough of.
Metzeler Racetech K3's are standard fitment for the cast aluminum rims and come in sizes 120/70 ZR 17 for the front and 190/55 ZR 17 in the rear. Even though I feel most secure running Michelin Pilots the K3's were confidence inspiring, provided plenty of grip and gave positive feedback.
The 2010 BMW S 1000 RR has an MSRP of $13,800. Add in some of the optional components (ABS and DTC: $1,480, GSA: $450, alarm: $395, motorsports color scheme: $750) and the price quickly jumps to $16,875 fully loaded.
Available colors are acid green metallic, mineral silver metallic, thunder gray metallic and BMW Motorrad Motorsport colors with a black frame standard for all. Swingarm and wheel colors vary however. I'll take mine in silver with ABS, DTC and GSA please.
Visit the BMW S 1000 RR micro-site for more information.
2010 BMW S 1000 RR

Picks…
…and Pans.

More power than you will ever need.
A World Superbike motorcycle for a little over $15k.
Unique styling.

Newbies need not apply.
No adjustable clutch lever or rear-sets.
Passenger accommodations are cramped.
Conclusion
BMW has clearly created a "super" bike. It not only has all the characteristics that one would want from a liter bike but it also has embedded in it all of the technology that this German manufacturer has to offer. If you want an all out track day warrior or weekend canyon carver look no further then the S 1000 RR.
More:  wBW  Motorcycle Reviews  |  BMW Page
▪  BMW S 1000 RR at Sepang  |  ▪  BMW S 1000 RR Announced + Photos
2010 BMW S 1000 RR  – Specifications

Engine
Type:  Water-cooled 4-stroke in-line four-cylinder-engine, two camshafts, four valves per cylinder
Bore x Stroke:  80 mm x 49.7 mm
Capacity:  999 cc
Rated Output:  193 hp (142 kW) at 13,000 rpm
Max. Torque:  83 ft-lb (112 Nm) at 9,750 rpm
Compression Ratio:  13.0 : 1
Engine Management:  Electronic intake pipe injection/digital engine management including knock sensor (BMS-K-P)
Emissions Control:  Catalytic- 2 Closed-loop 3-way catalytic converter, emission standard EU-4 ready
Electrical System
Alternator:  Three-phase alternator 350 W
Battery:  14 V / 10 Ah, maintenance-free
Transmission
Clutch:  Multiple-disc clutch in oil bath, anti hopping clutch, cable operated
Gearbox:  Constant mesh 6-speed gearbox
Drive:  Chain
Chassis, Suspension and Brakes
Frame: Bridge-type frame, cast aluminum, load-bearing engine
Forks:  46 mm upside-down fork, rebound and compression adjustable
Rear Suspension:  Cast aluminum swing arm, continuously adjustable rear inbound-rebound damping, high and low speed.
Suspension Travel (F/R):  4.7/5.1 inch (120 mm / 130 mm)
Wheelbase: 56 inches (1,432 mm)
Castor: 3.7 inches (95.9 mm)
Brake, Front:  Twin disc, floating brake discs, radial-fixed 4-piston calipers, diameter 320 mm, 5 mm thickness.
Brake, Rear:  Single disc brake, one-piston floating caliper, diameter 220 mm, 5 mm thickness
ABS DTC:  DTC 4 mode dynamic traction control adjustment, only available with Race ABS. Can be disengaged.
Wheels and Tires
Front Wheel:  3.50 x 17″ cast aluminum
Rear Wheel:  6.00 x 17″ cast aluminum
Front Tire: 120/70 ZR 17
Rear Tire: 190/55 ZR 17
Dimensions, Weights and Capacities
Length:  80.9 inches (2,056 mm)
Width (incl. mirrors):  32.5 inches (826 mm)
Height (excl. mirrors):  44.8 inches (1,138 mm)
Seat height (unladen):  32 inches (820 mm)
Unladen Weight (road ready, fully fueled):  450 lbs (204 kg) or 455 lbs (206.5 kg) with ABS
Dry Weight:  403 lbs (183 kg)
Max Weight:  859 lbs (390 kg)
Payload (with standard equipment):  412 lbs (187 kg)
Usable Fuel Tank Volume:  4.5 gallons (17.5 liters). Reserve approx. 1 gallon (4.0 liters)
Publication Date: September 2010
Note:
 For informational use only. All material and photographs are Copyright © webWorld International, LLC since 2000. All rights reserved. See the webBikeWorld® 
Site Info page
. Product specifications, features and details may change or differ from our descriptions. Always check before purchasing. Read the
Terms and Conditions
!Owner Comments and Feedback
Other WebBikeWorld Motorcycle Brands Posts
wBW Motorcycle Brands Info