BMW Motorrad has extended its helmet warranty from two years to five years which is basically the suggested life of a helmet anyway.
Most helmet manufacturers suggest you swap a helmet over at fives years mainly because of the degrading of the interior lining.
Several other helmet manufacturers such as Shark, Shoei and Schuberth offer five-year warranties, while Nolan offers a seven-year warranty.
BMW warranty
The BMW warranty will be backdated to the start of this year. The warranty applies to all helmets bought from a participating BMW Motorrad dealer.
The warranty covers material and manufacturing defects of the product.
However, BMW Motorrad communication systems are excluded from the warranty extension.
This means that the warranty expressly does not apply if a defect or damage is caused by improper handling, an accident or the improper installation of the system and accessories – even by third parties.
Scratches on the visor, sun shield, helmet shell or plastic parts are also not covered by the manufacturer's warranty.
Most manufacturers have similar warranty exclusions.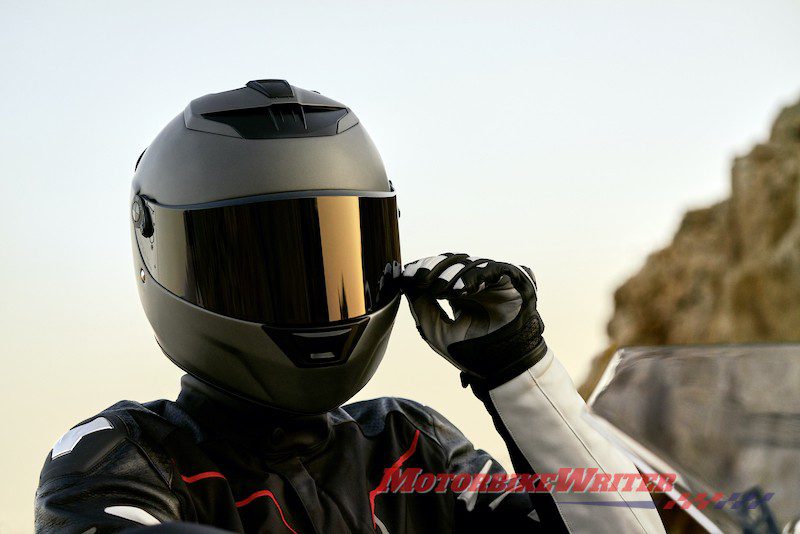 Helmet life span
The life of a helmet is about five years as the glues, resins and other materials used in construction lose their effectiveness and the lining deteriorates.
Be aware that your helmet may have sat on the shelf for some time before you bought it, so the life of the helmet may be shorter. Ask the dealer to prove date of manufacture.
However, the BMW five-year warranty is from the day of purchase, not manufacture.
Prolong helmet life
You can prolong your helmet if you store it properly when you're not using it. Keep it in a cool, dry place and store it inside the helmet bag in which it came.
It's not the outside that deteriorates, but the inside foam and fabric lining. If you notice the helmet getting loose or some of the lining coming out or it leaves little black flakes in your hair, then it's time to retire it, whether it has reached the five years or not.
Frequent use, sweating in your helmet, having greasy hair or using a lot of "hair product" can all aid in compacting the foam and making the interior lining degenerate faster than normal use.
You can also prolong the life of your helmet interior by wearing a helmet liner, balaclava or scarf that keeps the sweat off.
Another good reason to replace your helmet every five years is that helmet technology is advancing all the time and a new helmet is going to offer more protection than something five years old.