BMW K1200LT & R1200GS Named Motorcycles of the Year
The BMW K 1200 LT and the R 1200 GS have been named two of the top ten motorcycles for 2004 by Cycle World magazine. The annual awards, featured in the July issue of Cycle World magazine, recognize the top ten motorcycles in ten different classes.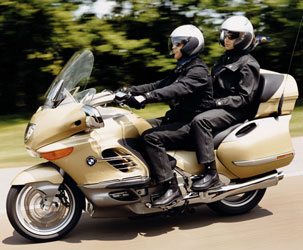 "We are honored to have earned two spots on the coveted top ten list this year," commented Arturo Pineiro, Vice President, BMW Motorrad USA, at an awards presentation at BMW headquarters today.
"This is the 11th year BMW motorcycles have been recognized by Cycle World and the second time that two of our motorcycles have appeared on the same list," he added. Mr. Pineiro thanked BMW employees for helping to make BMW Motorrad the premium marque it is today and for their role in producing not one but two of the finest bikes available in 2004.
The BMW K 1200 LT was named Best Touring bike for its unique combination of performance features and creature comforts — such as heated seat and backrests and a self-deploying center stand – which make it optimal for long-distance touring.
The editors of Cycle World credited the LT with being demonstrably better than the Honda Gold Wing, which had won the category 15 previous times.
The recently introduced BMW R 1200 GS was named Best Open-Class Streetbike for its emphasis on comfort, versatility and real-world usability. According to Cycle World editors, the R 1200 GS had the potential to win multiple top ten categories because of its light weight and its "category-defying performance" both on and off-road.