Installation Instructions
1. Unscrew the plastic nuts located on the front side of the windscreen that attach it to the upper mounting arms.
2. There is about 40mm of flex in the windscreen due to the flexibility of the rubber gaskets on the bottom attachment points.
I have tried various sizes of spacers, and the 50 mm overall length is the absolute maximum that will fit.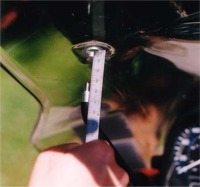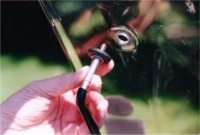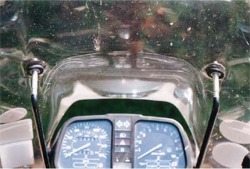 3. Screw the spacers on to the existing upper mounting arms (see next photo).
4. Place the washer and the rubber gasket on the end of the spacer.
5. It will be a tight fit to push the threaded part of the spacer back through the windscreen mounting hole. You may have to bend the upper mounting arms slightly to get it to fit.
On my bike, the spacer is no longer located in the center of the mounting hole — it touches the upper part of the hole in the windscreen, but I haven't had any problems with wear or cracking. Your experience may be different….
6. With apologies for the filthy windshield (hey, it's summer!) here's what the spacers look like when screwed on to the upper mounting arms. I left them stainless steel, but will soon paint them black and no one will notice.
Master Listing of All wBW Motorcycle Product Reviews
Other WebBikeWorld Articles Posts