Life With the BMW F 800 GS
---
Summary
What's not to like? It is a BMW after all and it really does represent excellent value for the money and a very good return on the investment.
The price is more than offset by its design, quality and functionality and don't forget that three-year warranty.
The smaller GS already seems to be a winner with new and experienced riders for all the right reasons.
For many adventure riders out, BMW has tabled a really viable option that should not be ignored.
The School Boy Syndrome
The introduction to and much of this article was sketched out some time ago, well before Christmas actually and about two months after picking up my new F800GS from Motorrad Ottawa on a cool clear early October day.
But like so many things in life, bringing a work in progress to completion is easier said than done.
Between my part time employment as a test driver and motorcycle test rider for a Canadian government department, and with riding still an option into late November and early December, sitting at the keyboard always seemed to be a lower priority.
Then in early January another Beemer, one with lots of carbon fiber, dual overhead cams and blue rims joined the stable – another distraction of sorts.
Even though riding up here was out of the question by late December, less one or two warm breaks allowing some quick block by block runs, two trips south over the winter kept the wheels turning and the smiles coming.
The first trip was to the Blue Ridge area of Virginia at Christmas and the second to Florida for the usual Daytona Speed Week frenzy.
So between some late fall and early winter riding up here and almost three weeks worth down south, a whole lot more 'data' was collected regarding the F800GS and of course, some of the installed accessories.
So having concluded that enough promises to the Editor have been broken, here we go…
Procrastination
While my procrastination may have an upside, the downside is that it has put me behind the curve in drafting what I hope will be a series of articles about my F800GS as it gains kilometers, accessories and new stamps on its moto-travel passport.
Hopefully readers will understand my excitement at having two new and such competent motorcycles now parked in the garage.
Although the gleaming white HP2 Sport might be the latest addition, it has in no way diminished the sheen around the F800GS.
With just under 4500 km on the clock, a large chunk of that added over the last two trips, my assessment is that the F800GS is one extremely capable motorcycle that does not disappoint.
Judging from comments posted on various forums and discussions held with other owners, this assessment is shared by most.
This is good; my expectations had been honed to a keen edge by having to wait almost an extra year before getting my hands on one.
Spending time on F650 and F800 twins while helping out with Demo Ride Days helped to reduce my impatience, but only slightly.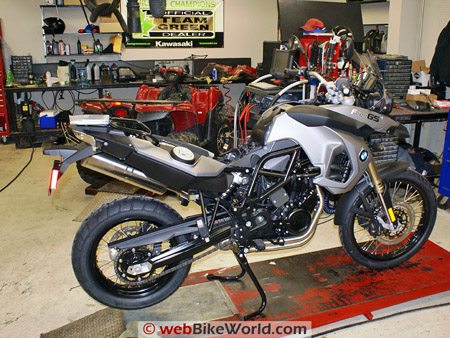 ---
Where to Buy BMW F800GS Review
Check Reviews & Prices on Amazon
Check Reviews & Prices On RevZilla
Check Reviews & Prices On Twisted Throttle
See More Motorcycle Helmets at RevZilla and Amazon
---
The Prequel
To go back even further, I had been smitten early by the raspy growl of the original F800 motor and consistently good assessments by sometimes often jaded moto-journalists of the original F800S and ST models.
Accordingly, I ended up with an early production 2007 F800ST – a motorcycle that I enjoyed immensely.
Despite a number of issues with the early S and ST models, once all the fixes were applied under warranty service, there was little to complain about.
With optional sports panniers, a FAMSA 246/24 tank bag (adopted from a previously owned K1200S), a SW-Motech Alu-Rack and Quick-Lock adapter kit along with a GIVI top case (here's areview of the Givi E52), daily commuting or longer distance travel was a joy.
For those of you who own an F800S or F800ST, I don't need to explain and for those of you who have yet to try one (and this is a shameless plug), I would heartily recommend doing so.
I regret having parted with mine.
Anyway, being the eternal optimist, the ST was handed over to the new BMW dealer in the fall of 2007 in hopes that the announced arrival of the F800GS as an early 2008 model would actually come about, allowing some late fall riding; that was the plan.
Well, we all know what happened — the release delay was announced and in the interim the dealer had sold my ST, so I had to do without that F800 motor for most of the 2008 riding season.
I consoled myself by succumbing to another R1200GS Adventure; admittedly pretty good consolation.
The excitement and anticipation never really subsided and in September of 2008 the dealer was actually able to provide me with a shipping date and VIN.
All good signs and early in October, the first two units arrived, both in the Dark Magnesium Metallic Matt colour scheme. But where was my Sunset Yellow/Black machine?
In finding out that my order would be delayed, possibly until end-October or later, patience was finally thrown out the window and one of the first two, equipped to the same degree as mine but with a low seat (later swapped out for the standard seat), became the purchase.
Within two days it was on the road and six months later, the fun factor has not diminished one bit.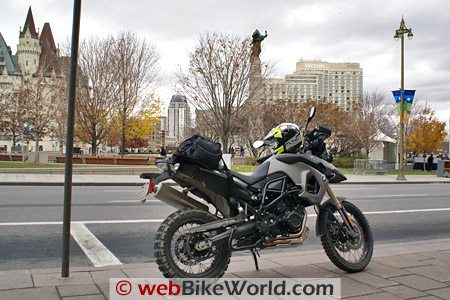 Lineage
Like the new Kawasaki 650 twin engine, the history of the F800 twin is relatively short, particularly when compared to other engines used by both manufacturers.
No matter, both engines have gained wide spread acceptance quickly and are being used in an ever-increasing number of models.
If sales are any indication, motorcyclists in general seem too been receptive to these high output, smooth spinning, lightweight and extremely (fuel) efficient engines.
Fielding of the F800GS model was a given in so many ways. The new R1200GS was released in 2005, along with other new engines and models, all serving to point out that BMW was moving forward aggressively.
While many of us were disappointed that the F800GS was not announced along with the S and ST models, we knew the writing was on the wall and unless the motor was a total failure.
Not likely, it was just a matter of time. When BMW released the big Adventure less than a year after fielding the new R1200GS, the stage was set.
Throwing A Leg Over
Like the Kawasaki Versys, the F800GS is a relative lightweight, thanks in large part to its extremely compact DOHC twin engine that gives the smaller 'middleweight' GS such a narrow profile.
Sitting on it for the first time reminded me of throwing a leg over a large single.
Claimed dry weight is listed at 185 kg or 407 lbs, while its real-life weight (unladen with fluids) has been measured at 210kg or 462lbs.
This might seem portly, but like a few other motorcycles out there that have been well designed and executed, the F800GS feels and handles far lighter than it actually is.
As might be expected from a GS, sitting on this model provides good rider visibility – it is a tall motorcycle. If one is used to the larger displacement GS models this one will provide a familiar perch but on a more stylized, slimmer and lightweight saddle.
With the standard seat in place, saddle height is 880mm or 34.6 inches.
One advantage of this higher seat is that it is virtually flat, allowing the rider to move back and forth along the whole length of the saddle, great for all day travel and moving body weight around when required.
The optional low seat, which has a pronounced drop between the front and rear sections and less inseam cutout, provides a reduction of 30mm or 1.2 inches.
This brings the seat height down to about 33.5 inches (my actual measurement) when unladen. The machine also settles about an inch when laden, depending on suspension settings.
The height is due to both design features and components. The frame is narrow but tall, both ends feature long travel suspension components, and the 21 inch wheel up front cannot be ignored.
Being used to the 19 front and 17 wheels on the larger 1200 models, I questioned the use of a larger hoop for the F800GS and to some degree, I still do.
I used the stock Bridgestone Battle Wing tires for the first 1000kms in a mixed road environment and then swapped them out for a new set of Continental TKC-80 tires that are rated for 40% on and 60% off road use.
Outside of the expected high speed 'hunting' of the front end, the 21/17 combination actually works well, particularly off road – strange thing that!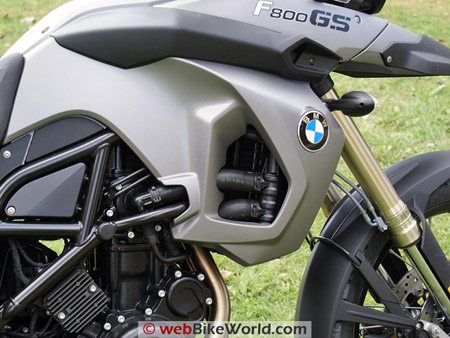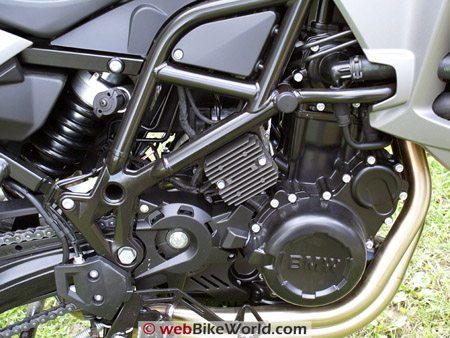 ---
Where to Buy BMW F800GS Review
Check Reviews & Prices on Amazon
Check Reviews & Prices On RevZilla
Check Reviews & Prices On Twisted Throttle
See More Motorcycle Helmets at RevZilla and Amazon
---
Height for a Reason
Speaking of long suspension, at the front is a Marzocchi non-adjustable upside-down (USD) telescopic fork with a diameter of 45mm and 230mm or 9.05 inches of travel.
Even though the upper part of the fork assembly is hidden by the front cowling piece and the lower tubes by sturdy rock guards, the front end is still an impressive piece of work and confidence inspiring.
While everyone has their opinion on the pros and cons of non-adjustable forks, I find the standard settings good overall. Even my off-road forays have been easily handled by the long travel and damping of the forks.
Travelling at a high rate of knots over some very rough ground really brings out the responsiveness of the front end.
It is amazing how easily the F800GS floats over the road and responds to minor input, sitting or standing. With the TKC-80 rubber installed on the spoked steel rims, another run over the same gravel, dirt and ATV paths was conducted.
Needless to say, I found a huge differential between the two sets of tires and was able to more fully 'exploit' the potential of the smaller GS. If you take the time to really explore the potential of the F800GS it really is easy to just think of it as a big dirt bike.
As a past and current owner of both the GS and GS Adventure models, I can speak from some experience regarding size and weight and the impact both have or can have on the rider.
Under most riding conditions, particularly off-pavement, the advantages of the smaller GS become apparent very quickly.
On the F800GS I find myself moving over surfaces at a far faster rate of knots than I would travel at with the Adventure and the smaller GS handles jumps and obstacles with close to the same efficiencies as most dirt bikes (notice I said most).
Running the same route on the Adventure would be slower with more decisions required as to what obstacles to take, or avoid.
Picking up a downed GS or Adventure is a real exercise especially in soft ground and even if the required procedures have been practiced. I can pick the F800GS up off the ground with only slightly more effort than my last two dirt machines…this is good.
From a feel or handling perspective, the only real observation or issue is that the front suspension seems to be 'soft', typically when under braking and hard acceleration, although cranking up the preload two turns on the rear shock helped greatly.
The large adjustable Sachs rear spring suspension unit is nestled inside the frame and easily accessed. It has 215mm or 8.46 inches of play with adjustable rebound damping and remote preload adjustment.
The preload is adjusted via a tension-loaded wheel located behind the rider's right leg.
For comparison purposes, my full-up riding weight is probably in the 235lbs range and I am just now beginning to make some measured adjustments to the rear suspension, in addition to the initial preload adjustment I made earlier on.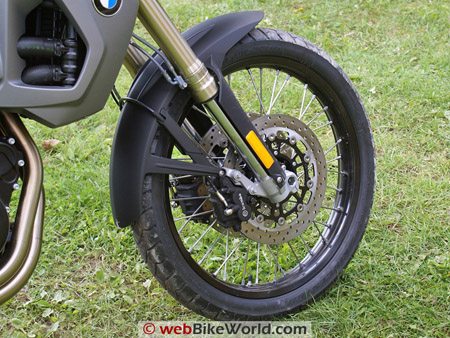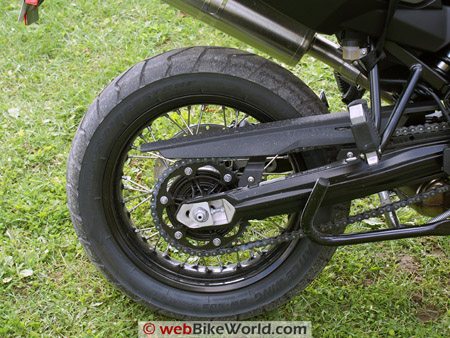 Push and Pull
Forward momentum is provided via a six speed synchromesh gearbox modulated by a mechanically operated multiple-disc wet clutch. Final drive is via a (long) endless link O-rink chain that if correctly adjusted actually has a fair amount of slack.
This is required to facilitate the entire range of motion that the suspension and the drive components, are put through.
The chain is holding up very well on my machine and it is still well within the free play tolerances listed in the manual. If kept clean and well lubricated, adjustments should be minimal, even with extended road use.
The Scottoiler (review) that I installed late last year is working well – the chain seems happy with the current flow settings. Chain adjustment, when needed, should not be a major effort given easy access to the axle, adjusters, etc.
With the centre-stand, most of the preliminary work is quite simple.
Just remember that final adjustment of the chain should be done when the machine is on the side stand. This compresses the suspension slightly, emulating a slight loading.
Where there is drive, there should be braking and BMW did not skimp in this area.
The front pair of 300 mm floating discs with double-piston floating calipers are not the same standard as the seemingly 'instant-on' brakes of other high performance models including the F800S and ST models, but they are more than up to the task of scrubbing off speed quickly.
Once conditioned to the feel and function of the front brakes, I have never really wanted more front end stopping power. The only observation so far is that on occasion the lever feels mushy, but pumping the lever once or twice restores full resistance.
Depending on the riding environment, I usually keep one or two fingers on the front brake lever anyway and can keep the pressure built up by putting light tension on the lever now and then.
Servicing has not provided any insight into the issue nor has it corrected the matter.
The rear brake is (quite) powerful with its 265 mm floating disc and single piston floating caliper. Well modulated, it provides good rear wheel brake control, something always appreciated, especially on loose surfaces.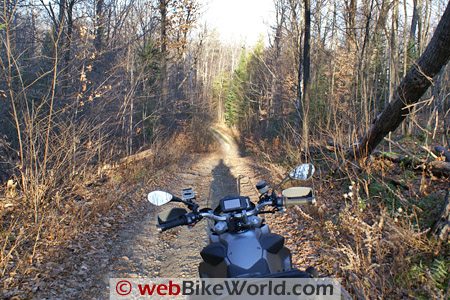 Information Flow
Instrumentation and controls, as befits a GS, are quite Spartan and everything is relatively straight-forward. All controls are easily reached, as are the input buttons for standard and optional accessories.
The two small push buttons on the instrument pod however are best manipulated with gloves off.
A feature that many riders never really know is there is the photosensitive aspect dash lighting is adjusted automatically depending on ambient light. The sensor responds quickly, even short term changes are detected and adjustments made.
For The Road Ahead
Protection when underway is provided by what appears to be a minimalist windscreen, the side panels and the radiator guard. From the cockpit, the profile appears pretty slim and light compared to the larger profile of the 1200 GS series.
But as whole it all works very well. Air flow over and around provides a decent sized envelope of clean air at speed.
That small stock windscreen is actually darn effective and although non-adjustable, for the most part I haven't had any issues with air flow or helmet buffeting at varying speeds.
Accordingly, I was not in a big hurry to get an after-market item.
BMW does offer a number of windscreen options and when the dealer got one of the optional Touring Windscreens in, including the required bracket, I sprung for it before heading off to Florida.
This windscreen provides additional upper and side coverage, but the stock windscreen is still going to be used for warmer weather or off-road adventure trips – it is that good.
The dual-section sealed headlight module is about the same width and depth as the R1200GS component, but downsized slightly. It presents a squarer profile from the front vice the relative oval shape presented on the R1200GS.
I find the headlight very effective for most riding conditions although some accessory lighting is on the list to help out with side lighting and forward spotting.
Both light units are easily accessed from the back of the housing via the twist-off weather caps, as are the individual beam adjusters.
As a note of caution however and no matter what type of riding you might do, a wire or clear plastic headlight guard is highly recommended.
The sealed headlight modules are very expensive and a headlight guard is cheap insurance, as rocks always seem to strike at the most inconvenient time.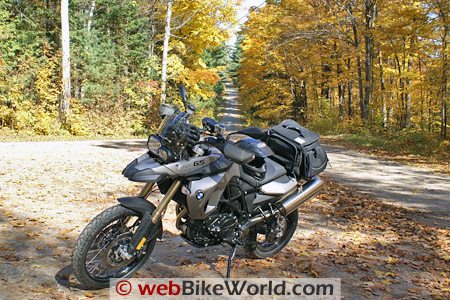 ---
Where to Buy BMW F800GS Review
Check Reviews & Prices on Amazon
Check Reviews & Prices On RevZilla
Check Reviews & Prices On Twisted Throttle
See More Motorcycle Helmets at RevZilla and Amazon
---
Country Charm – Highly Refined, But Likes Getting Dirty
Have I said how much I really, really like the F800GS?  Getting it dirty and throwing long rooster tails is the really fun part of owning this motorcycle. It just begs to be ridden hard, gotten dirty and put away wet but unwashed.
WWith lots of ground clearance, weight that is kept low including the fuel load and a powerful lightweight twin that cranks out power and torque seemingly at any RPM, this 'middleweight' is a real contender among its peers and larger siblings.
While exercising caution when riding off-pavement due to the unknown Bridgestone Battle Wings, of larger concern to me was the wimpy plastic skid plate; it doesn't even protect the oil filter.
This issue was remedied by ordering and installing the (large) Enduro aluminum bash plate, a BMW accessory and arguably the best skid plate and guard for the F800GS available – mine has the scars to prove it.
On smoother surfaces the F800GS is a light-weight and agile two-wheeler that responds to a very light touch. Having an off-road capable machine here in the nation's capital is a good thing, trust me.
Roads that were deteriorating have now started to virtually crumble away due to continued heavy traffic and the ravages of our now-fading winter. The F800GS copes with it all, day in and day out without a whimper. I just think of it as urban dirt riding…
Other Good Things
Regardless of where the F800GS is used, there is one thing that will provide an endless source of entertainment: that sharp bark and rasp of the exhaust system. It still raises the hair on the back of my neck and attracts a lot of spectator attention, in a positive way.
At idle it sits and burbles away, vocalizing its impatience to get going.
While other owners of the F800 models go out of their way to find an after-market exhaust system or canister that provides a more 'mature' tone to the engine and gets rid of the 'buzz-saw' sound, I have always appreciated its lightweight and well-tuned exhaust system and the sound.
The revised state-of-tune GS motor just takes it up to the next level.
For me the best single part of the whole motorcycle is the engine. Like the smaller Versys mill that I find so attractive, the BMW twin excels in so many ways.
Narrow and compact, very little of the engine, less some of the side cases, can be seen from the saddle.
A simple touch of the starter button instantly brings it to life with a sharp bark, followed by a very deep but muted idle. The engine pulls quite hard right off and it loves to rev up, with a commensurate increase in forward momentum, aided by stirring the gearbox.
My transmission has been just about perfect since day one.
I have to look at the gear indicator to know that the transmission has been engaged. A light pull on the clutch and a similar effort on the gear lever will let you move up and down through the gearbox in short order.
First gear is tall, which might seem to be a handicap of sorts, but in reality isn't. I find the ratios just fine for the speeds and roads that I run.
First gear allows both slow trolling and quick bursts of throttle, although a deft touch on the throttle is needed; response is very quick from the FI system.
Highway runs along the 401 and 416 up here and the I-64 in Virginia proved that fourth and fifth are more than adequate for cruising and passing at will.
Sixth gear puts the engine into loaf mode at anything other than 'go to jail' or 'pay a heavy fine' speeds.
Conclusion
It's obvious that I really like my F800GS. With my Versys having gone on to a new home, the little GS is without a doubt the most versatile and popular mount in the stable…even with the HP2 Sport sitting there.
Riding the F800GS on a daily basis is way too much fun, on any surface.
While having avoided the really deep bog holes and large-rock inclines that seem to keep showing up on my travel routes, the little GS has never let me down and always seems to want more.
Some day trips with luggage have served to support my belief that adventure touring will be a piece of cake, which is good, as a major trip south this summer is in the planning stage and the F800GS is my preferred mount for this trip.
The only stock item that I need to address is the seat.
After a few hours of super-slab droning, it becomes a real pain. My sheepskin helps, but only for a short period of time.
On the plus side, there is no shortage of accessories out there and judging by the many posts and pictures that show up on the various forums, owners are busy tailoring their F800GS mounts into whatever they desire.
Part 2: Accessorizing the BMW F800GS
My BMW F800GS
Review Date: April 2009
Colour: Dark Magnesium Metallic
Standard: Heated handgrips
Optional: ABS, Centre Stand, On Board Computer and White Turn Indicators
BMW F800GS Specifications
Accessories Installed
Two RAM handlebar mount assemblies, one is a double ball
Powerlet kit for Garmin 2820 GPS (removed from the BMW Navigator III+ chassis)
2008 R1200GS/GS Adventure hand-guards
FAMSA 244/58 tank bag
BMW Enduro Engine Guard (aluminum bash plate)
SW-Motech ALU-Rack Toprack for use with SW-Motech Quick-Lock adapter plates (soft luggage, SHAD top cases and GIVI Monokey Top Cases)
BMW 51-Liter Sports Softbag
GIVI TN690 Engine Guards
BMW Touring Windscreen (screen kit and mounting bracket kit)
Accessories: Pending
Headlight Guard
Centech Auxiliary Power Fuse Panel
Driving and Fog Lights
BMW Wind Deflector Kit
SW-Motech GPS Holder
Horning Rear Mudguard
BMW Anti-Theft Alarm System
Side pannier bracket kit for use with hard or soft side cases.
Master Listing of All wBW Motorcycle Product Reviews
Note:
 For informational use only. All material and photographs are Copyright © webWorld International, LLC since 2000. All rights reserved. See the webBikeWorld® 
Site Info page
. Product specifications, features and details may change or differ from our descriptions. Always check before purchasing. Read the
Terms and Conditions
!
---
Where to Buy BMW F800GS Review
Check Reviews & Prices on Amazon
Check Reviews & Prices On RevZilla
Check Reviews & Prices On Twisted Throttle
See More Motorcycle Helmets at RevZilla and Amazon
---
Owner Comments and Feedback
---
From "E.T." (October 2013): "I was interested in learning more about what extra parts I might need to do the R1200GS handguards on my F800GS. I like the wind and weather protection that the 1200GS has over the 800GS.
The final clearances needed to align the bar clamp hole in the hand-guard with the actual bar clamp assembly was provided by using a 10 mm plastic spacer with a 6 mm hole to bridge the gap.
This increased offset necessitated the use of a 25 x 4 mm bolt. Also — just so that I understand, are the clamp mounts reversed (R on L and L on R)?"
H.B.C.'s Reply: As noted in the original article, the R1200GS hand guard assembly for the right side was a virtual bolt on to the 2009 F800GS, less a couple of minor clearance issues as noted in the article.
And as also noted, the left side is indeed a bit tighter fit regarding clearances, but the workaround described works, and safely.
To answer one question, no, you don't need to swap the clamp pieces between the left and right. All you need to do is reverse the two small clamps (handlebar) pinch clamps of the left hand pieces.
This puts the bolt head on the bottom as identified in the article and the only other mod needed, to provide some needed clearance, is to insert a 10-12 mm spacer between the plastic hand guard mounting point and the clamp mounting point, with a longer bolt addressing the added depth due to the spacer.
While I did consider swapping the left and right side clamps for a test, it was simply more expedient to just reverse the left clamps and add the spacer to make it work. Here's a drawing: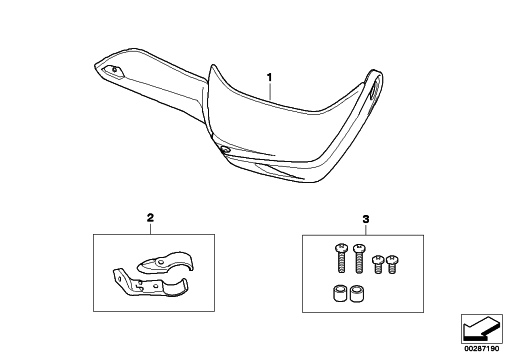 The R1200GS/GSA handguards are indeed a big improvement coverage-wise over the BMW kit for the F800GS, although other brands on the market fit as well, and some are much stronger, with more coverage. But at the time there wasn't much out for the first year F800GS, so it actually worked out well in having the R1200GS pieces fit.
BMW changed the hand guard setup for the 2013 models, and again for my 2014 F800GS Adventure, although coverage is still less than desired. There are (now) lots of options on the market, but in 2008, when I took early delivery of the 2009 F800GS, the only real solution was the R1200GS handguard kit, thankfully.
---
From "L.L." (August 2011):  "Thanks again for a thorough review of the F800GS. I've been riding for 20+yrs and was very excited to buy my smaller GS two summers back. I'm almost at the 40,000 km mark now and loving the bike.
Overall the bike has been great on and off-road. I went for an aftermarket seat for the same reasons your review points out and farkled it with some lights and crash bars from various suppliers.
My only minor beef with the bike would be that once the steering head bearings have worn in the steering becomes very light. I've been on various forums and had the bike in for service as well as reading about the issue in some magazines — it's been confirmed that this characteristic is common in the line.
A few owners have fitted steering dampers and dropped the forks a bit to try and settle the front a bit. I've also discovered that with two-up or a heavy load of luggage the bike handles better. Aside from this one item I'm very impressed with the bike."
---
From "D.P." (02/11): "As per usual love the site and thanks an amazing resource! I have an F800GS myself an the wife has the 650 twin (sweet rides).
What the (heck) is with the fuel tank and how do we fill up with out making a big mess or dribbling the fuel in ultra slowly??? I know its any issue out there and wondering if you have come across any solutions or techniques?
HBC's Reply: I have to admit, if you are used to vented gas cap style of fillers then something like what BMW, and others, now use, can be a pain…maybe the following will help explain.
Like the F-series motorcycles from BMW, and now other models, the underseat fuel cell is designed and constructed to meet ergonomic, functional and safety requirements/standards and two issues bring about the situation:
a. Like most other modern motorcycles today, the fuel cells or gas tanks are positively pressurized or sealed to prevent or minimize the discharge of vapours during use or when filling the tank. The tanks have both a pressurized filler assembly and cap, and a separate safety valve assembly (further to the rear of the tank), and typically this requirement results n a somewhat restrictive (narrow) filler port, as used on the F650/800GS; and
b. The fuel tank assembly used is actually double-walled – it is a long reach down to the actual storage area, as clearly illustrated by the attached picture (BMW Motorrad Repair Manual).
So between a restrictive narrow neck and a longish reach in, filling the tank must be done slowly. And while some fuel nozzles will let you peer down the neck a bit as you fill the tank although the sealing style nozzles will not, so hopefully the cut-off/pressure sensor in the nozzle works. The trick here is to watch if possible and try to listen: fuel will bubble up quickly in the neck, so be ready, to avoid dribbling.
The issue won't (can't) go away per se, and its something owners live with. To be honest, after using this type of filler on new motorcycles for the last five years or more, I don't even think about it anymore. Yes it takes longer to fill up this type of tank compared to older style tanks that had big open neck fillers and vented directly via a pressure cap of sorts.

Other WebBikeWorld Motorcycle Reviews Reviews
wBW Motorcycle Reviews Info